Abstract
The Middle Triassic reptile tracksite of Los Arroturos (Guadalajara, Spain) provides a high scientific and didactic interest. In this site, numerous tracks and trackways of rauisuchian archosaurs are preserved, being an especially characteristic site in the Triassic of Spain. The tracksite is very useful for developing educational goals, such as fieldtrips and teaching activities. In this work, some fieldtrips have been carried out for students of primary and secondary school levels. These type of activities offer a great opportunity to promote interest in geosciences and improve awareness about the importance of palaeontological heritage. Nevertheless, this tracksite is extremely vulnerable, and suffers from continuous degradation caused by weathering. The plan to develop it as an educational site relies on its survival; however, if no adequate protection is provided, the tracks will quickly be completely deteriorated. It is necessary to take urgent measures to protect this site. The surrounding area offers an outstanding cultural heritage and it would be interesting to publicise this tracksite as well as using this publicity to promote its protection.
Access options
Buy single article
Instant access to the full article PDF.
US$ 39.95
Tax calculation will be finalised during checkout.
Subscribe to journal
Immediate online access to all issues from 2019. Subscription will auto renew annually.
US$ 79
Tax calculation will be finalised during checkout.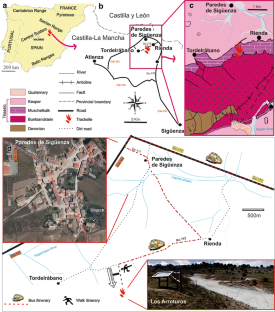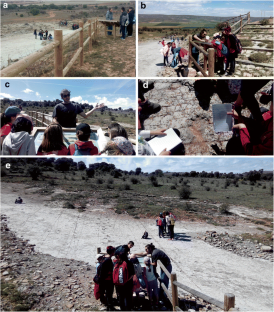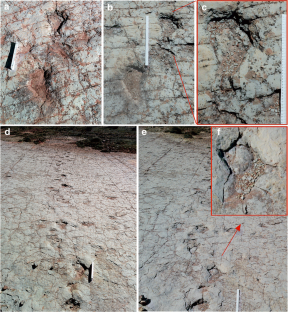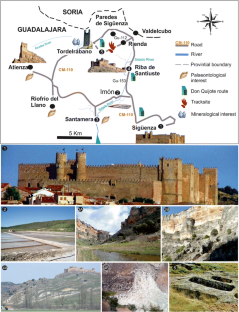 References
Adell Argiles F, González Lodeiro F, Tena-Dávila Ruiz M (1978) Mapa Geológico de España 1:50.000, Hoja n° 434 (Barahona). Instituto Geológico y Minero de España, Madrid

Barco JL, Castanera D, Canudo JI, Pascual C, Rubio CJ, Rubio C (2013) Aula Paleontológica y Ruta de las Icnitas de Soria: un espacio paleontológico musealizado con fines didácticos y turísticos. Paleontological classroom and Icnitas route in Soria: a paleontological space make museum for educational and touristic aims. Paleoymas 1:132–138

Brilha L (2016) Inventory and quantitative assessment of Geosites and geodiversity sites: a review. Geoheritage 8:119–134. doi:10.1007/s12371-014-0139-3

Carcavilla L (2012) Geoconservación. Colección Planeta Tierra. Editorial La Catarata and Instituto Geológico y Minero de España, Madrid

Castanera D, Barco JL, Díaz-Martínez I, Herrero-Gascón J, Pérez-Lorente F, Canudo JI (2011) New evidence of a herd of titanosauriform sauropods from the lower Berriasian of the Iberian range (Spain). Palaeogeogr Palaeoclimatol Palaeoecol 310:227–237. doi:10.1016/j.palaeo.2011.07.015

Castanera D, Vila B, Razzolini NL, Falkingham PL, Canudo JI, Manning PL, Galobart A (2013) Manus track preservation bias as a key factor for assessing trackmaker identity and quadrupedalism in basal ornithopods. PLoS One 8(1):e54177. doi:10.1371/journal.pone.0054177

Cobos A, Alcalá L (2011) La vuelta al mundo de los dinosaurios en diez etapas. Actas de la novena Reunión Nacional de la Comisión de Patrimonio Geológico de la Sociedad Geológica de España, pp 74–79

Crofts R, Gordon JE (2014) Geoheritage conservation in protected areas. Parks 20(2):61–76

Díaz-Martínez E, Díez-Herrero A (2011) Los elementos biológicos y culturales de interés geológico: un patrimonio a conservar. Biological and cultural elements with geological interest: a heritage for conservation. In: Fernández-Martínez E, de Luis CR (eds) Avances y Retos en la Conservación del Patrimonio Geológico en España. Advances and Challenges in the Conservation of Geoheritage, Spain, pp 85–90

Enniouar A, Lagnaoui A, Habib A (2014) A middle Jurassic Sauropod tracksite in the Argana Basin, Western Hight Atlas, Moroco: an example of Palaeoichnological heritage for sustainable geotourism. Proc Geol Assoc 125:114–119

Falkingham PL (2012) Acquisition of high resolution three-dimensional models using free, open-source, photogrammetric software. Palaeontol Electron 15(1):1–15

Fermeli G, Meléndez Hevia G, Koutsouveli A, Dermitzakis M, Calonge A, Steininger F, D'Arpa C, Di Patti C (2015) Geoscience teaching and student interest in secondary schools-preliminary results from an interest research in Greece, Spain and Italy. Geoheritage 7:13–24. doi:10.1007/s12371-013-0094-4

Fuertes-Gutiérrez I, García-Ortiz E, Fernández-Martínez E (2015) Anthropic threats to geological heritage: characterization and management: a case study in the dinosaur tracksites of La Rioja (Spain). Geoheritage 8:135–153. doi:10.1007/s12371-015-0142-3

Fuller IC (2006) What is the value of fieldwork? An answer from New Zealand using two contrasting undergraduate fieldtrips. N Z Geogr 62:215–220

Fuller IC, Gaskin S, Scott I (2003) Student perceptions of geography and environmental science fieldwork in the light of restricted access to the field, caused by foot and mouth disease in the UK in 2001. J Geogr High Educ 27:79–102

García-Gil S (1990) Estudio Sedimentológico y Paleogeográfico del Triásico en el Tercio Noroccidental de la Cordillera Ibérica (Provincias de Guadalajara y Soria), Univ. Complutense de Madrid (ed) Colección Tesis Doctorales

García-Gil S (1991) Las unidades litoestratigráficas del Muschelkalk en el NW de la Cordillera Ibérica (España). Bol R Soc Esp Hist Nat 86(1–4):25–51

García-Gil S (1994) El triásico de la región de Riba de Santiuste-Arcos de Jalón. Field Guide III. Coloquios de estratigrafía y Sedimentología del Triásico y Pérmico de España, Cuenca

García-Ortiz E (2015) Análisis de los yacimientos de icnitas de dinosaurios de La Rioja (N de España) como recurso patrimonial y aplicación de nuevas tecnologías a su estudio. Universidad de León, pp 445

García-Ortiz E, Fuertes-Gutiérrez I, Fernández-Martínez E (2014) Concepts and terminology for the risk of degradation of geological heritage sites: fragility and natural vulnerability, a case study. Proc Geol Assoc 125:463–479. doi:10.1016/j.pgeola.2014.06.003

Gillette DD (1986) Foreword. In: Gillette DD (ed) abstracts and program of first international symposium on dinosaur tracks and traces. New Mexico Museum of Natural History, Albuquerque NM 31

Gray M (2005) Geodiversity and Geoconservation: ¿what, why and how? In: Satntucci VL (ed) Papers presented at the George Wright Forum, pp 4–12

Hocket K (2008) Influence of interpretation on visitors' knowledge gain and respect for fossil resources in a national monument. Dissertation submitted to the faculty of the Virginia Polytechnic Institute and State University in partial fulfillment of the requirements for the degree of Doctor of Philosophy in Forestry

Ley 18/1985 de 25 de junio de Patrimonio Histórico Español. BOE 155. https://www.boe.es/buscar/pdf/1985/BOE-A-1985-12534consolidado.pdf

Ley 42/2007 de 13 de diciembre de Patrimonio Natural y Biodiversidad. BOE 299. http://www.boe.es/boe/dias/2007/12/14/pdfs/A5127551327.pdf

Ley 45/2007 de 13 de diciembre, para el desarrollo sostenible del medio rural. BOE 299. https://www.boe.es/boe/dias/2007/12/14/pdfs/A51339-51349.pdf

Lockley MG, Meyer CA (1997) Sacred ground: walking in the footsteps of our ancestors. In: Huh M, Yang SSY, Lockley MG, Lee YN (eds) Proceedings of the International Dinosaur Symposium for the Uhangri Dinosaur Centre and Theme Park. Chonnam National University, pp 211–220

Mampel L, Cobos A, Alcalá L, Luque L, Royo-Torres R (2009) An integrated system of heritage management applied to dinosaur sites in Teruel (Aragón, Spain). Geoheritage 1:53–73. doi:10.1007/s12371-009-0005-x

Martínez-Graña AM, Goy JL, Zazo CZ (2011) Natural heritage mapping of the las Batuecas-sierra de Francia and Quilamas nature parks (SW Salamanca, Spain). J Maps 2011:600–613

Marty D, Cavin L, Hug WA, Jordan P, Lockley MG, Meyer CA (2004) The protection, conservation and sustainable use of the Courtedoux dinosaur tracksite, Canton Jura, Switzerland. Rev Paléobiol 9:39–49

Meléndez N, Moratalla JJ (2014) Los Arroturos: new reptile tracksite from the Muschelkalk (Middle Triassic) of Paredes de Sigüenza (Guadalajara province, Spain). 74th annual meeting society of vertebrate paleontology, Berlin: 186

Oms O, Galobart A, Vicens E, Vila B (2002) Loss of dinosaur ichnological record in the Fumanya site (Vallecebre-Fígols, Barcelona). In: Pérez-Lorente F (ed) I Congreso Internacional sobre Dinosaurios y otros Réptiles Mesozoicos de España. Abstract Volume: 38

Pettit FM, Avanzini M, Belvedere M, De Gasperi M, Ferretti P, Girardi S, Remondino F, Tomasoni R (2008) Studi Tridentini Scienze Naturali. Acta Geol 83:303–315

Prosser C, Murphy M, Larwood J (2006) Geological conservation: a guide to good practice. English Nature, Peterborough

Rasskin-Gutman D, Hunt G, Chapman RE, Sanz JL, Moratalla JJ (1997) The shapes of tridactyl dinosaur footprints: procedures, problems and potentials. Dinofest Int Proc 1997:377–383

Azevedo Rodrigues, Santos VF (2004) Sauropod Tracks: a geometric morphometric study. In: Ashraf MT Elewa (ed) Morphometrics. Aplication in Biology and Palaeontology, pp 129–142

Sánchez-Moya S, Muñoz A, De Vicente G, Sopeña A (2015) Las cuencas del Pérmico y Triásico en la zona de enlace entre el Sistema central y la Cordillera Ibérica. Reduca (Geología). Ser Itinerarios Didácticos 7(2):1–27

Sharples C (2002) Concepts and principles of Geoconservation. Service, Tasmanian Parks and Wildlife 81 pp

Vasconcelos C, Sousa M, Aires S, Ramos V, Borges L, Marques M, Noronha F (2012) School science and public awareness: a geological walk through time (Foz do Douro - Porto, Portugal). In: Bruguière C, Tiberghien A, Clément (eds) E-book proceedings of the ESERA 2011 conference: science learning and citizenship. Part 8 (co-ed. Miriam Ossevoort and Graça Carvalho). European Science Education Research Association, Lyon

Whitmeyer S, Mogk DW, Pyle EJ (2009) An introduction to historical perspectives on and modern approaches to field Geology education. In: Whitmeyer SJ, Mogk DW, Pyle EJ (eds) Field Geology education: historical perspectives and modern approaches: Geological Society of America Special Paper 461:7–9

Winkler EM (1987) Weathering and weathering rates of natural stones. Environ Geol Water Sci 9(2):85–92
Acknowledgements
Thanks to Dr. Fernando Barroso-Barcenilla from the Universidad de Alcalá for all his help and support during the realization of this work, Jorge González, Mick Green and Francisco Cisneros for their help with the English language, the reviewers of this article whose comments have helped to improve the original paper, the research projects CGL2013-42643-P and CGL2015-66604 Ministerio de Economía y Competitividad (Spain) and Predoctoral helps (economic support) for young research students (CT45/15-CT46/15) UCM.
About this article
Cite this article
Berrocal-Casero, M., Arribas, M. & Moratalla, J.J. Didactic and Divulgative Resources of the Middle Triassic Vertebrate Tracksite of Los Arroturos (Province of Guadalajara, Spain). Geoheritage 10, 375–384 (2018). https://doi.org/10.1007/s12371-017-0244-1
Received:

Accepted:

Published:

Issue Date:
Keywords
Tracksite

Teaching

Fieldtrips

Geoheritage

Conservation