Abstract
The article presents a simple quantitative model for geodiversity evaluation, which merges spatial relationship of geodiversity elements with terrain data. The model is partially automated in geographic information system tools to eliminate the majority of subjectivity in evaluation. As a result, it can be used for different environment types and is applicable for comparative studies. The method was applied to the Škocjan Caves Regional Park, which is one of the most diverse karst areas in the world. The geodiversity element types were identified through remote sensing data and basic field mapping. Their diversity was subsequently defined through block statistic tools in a geographic information system programme. The geodiversity index was calculated from a number of different geodiversity element types within defined spatial units and from the terrain ruggedness index. Areas of high geodiversity index or geodiversity hotspots are in strong correlation with the most diverse areas of the regional park, which are also currently promoted for geotouristic and educational purposes.
Access options
Buy single article
Instant access to the full article PDF.
US$ 39.95
Tax calculation will be finalised during checkout.
Subscribe to journal
Immediate online access to all issues from 2019. Subscription will auto renew annually.
US$ 79
Tax calculation will be finalised during checkout.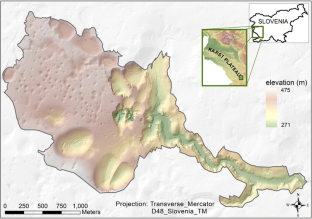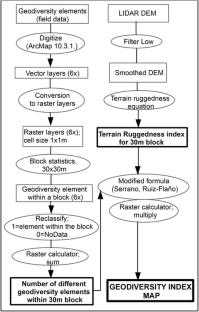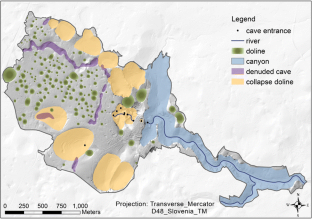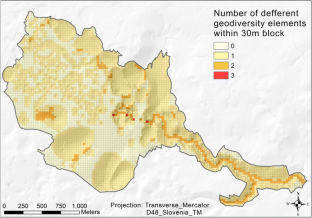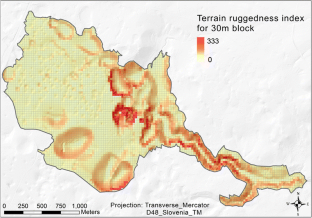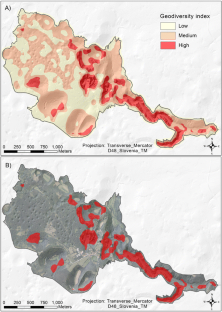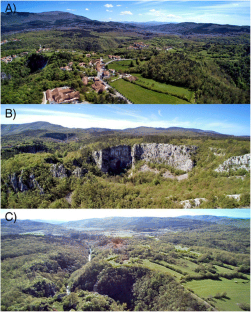 References
ArcGIS for Desktop (2016) How Block Statistics works. http://desktop.arcgis.com/en/arcmap/10.3/tools/spatial-analyst-toolbox/how-block-statistics-works.htm#GUID-9DA38168-4F4A-42AA-9F0F-E29D77BDC88D. Accessed 1 Mar 2016

Benito-Calvo A, Perez-Gonzalez A, Magri O, Meza P (2009) Assessing regional geodiversity: the Iberian Peninsula. Earth Surf Process Landforms 34:1433–1445. doi:10.1002/esp.1840

Buser S (1968) Osnovna geološka karta SFRJ. L 33–76, Gorica. 1 zvd.

de Paula SJ, Rodrigues C, Pereira DI (2014) Mapping and analysis of geodiversity indices in the Xingu river basin, Amazonia, Brazil. Geoheritage 7:337–350. doi:10.1007/s12371-014-0134-8

Gams I (1983) Škocjanski kras kot vzorec kontaktnega krasa = The karst of Škocjan—an exceptional case of the contact. Mednar. Simp. "Zaščita Krasa ob 160-letnici Tur. Razvoj. Škocjanskih jam", Lipica, 7.-9. oktobra 1982 Str. 22–26

Gray M (2013) Geodiversity: valuing and conserving abiotic nature. 2nd Edition. Wiley-Blackwell, Chichester

Hjort J, Luoto M (2010) Geodiversity of high-latitude landscapes in northern Finland. Geomorphology 115:109–116. doi:10.1016/j.geomorph.2009.09.039

Institute of the Republic of Slovenia for Nature Conservation (2013) Nature conservation atlas. http://www.naravovarstveni-atlas.si/nvajavni/profile.aspx?id=NV@ZRSVNJ&culture=en-US. Accessed 1 Mar 2016

Jenks GF (1967) The data model concept in statistical mapping. Int Yearb Cartogr 7:186–190

Kozłowski S (2004) Geodiversity: the concept and scope of geodiversity. Przegląd Geol 52:833–837

Melelli L (2014) Geodiversity: a new quantitative index for natural protected areas enhancement. Geoj Tour Geosites 13:27–37

Mihevc A (1998) Speleogeneza matičnega krasa: doktorska disertacija. Univerza v Ljubljani, Filozofska fakulteta, Ljubljana

Mihevc A (1991a) Morfološke značilnosti ponornega kontaktnega krasa; izbrani primeri iz Slovenskega krasa. Magistrsko delo. Univerza v Ljubljani, Filozofska fakulteta, Ljubljana

Mihevc A (1991b) Morfološke značilnosti ponornega kontaktnega krasa v Sloveniji. Geogr Vestn 63:41–50

Mihevc A (2001) Speleogeneza Divaškega krasa. Zalozba ZRC, ZRC SAZU, Ljubljana

Mihevc A (1984) Nova spoznanja o Kačni jami. Naše jame 26:str. 11–20.

Mihevc A, Stepišnik U (2012) Electrical resistivity imaging of cave Divaška jama, Slovenia. J caves karst Stud 74:235–242

Necheş I-M (2016) Geodiversity beyond material evidence: a geosite type based interpretation of geological heritage. Proc Geol Assoc 127:78–89. doi:10.1016/j.pgeola.2015.12.009

Pavlopoulos K, Evelpidou N, Vassilopoulos A (2009) Mapping geomorphological environments. Springer, Berlin

Pellitero R, Gonzalez-Amuchastegui MJ, Ruiz-Flano P, Serrano E (2011) Geodiversity and geomorphosite assessment applied to a natural protected area: the Ebro and Rudron Gorges Natural Park (Spain). Geoheritage 3:163–174. doi:10.1007/s12371-010-0022-9

Pereira DI, Pereira P, Brilha J, Santos L (2013) Geodiversity assessment of Paraná State (Brazil): an innovative approach. Environ Manag 52:541–552. doi:10.1007/s00267-013-0100-2

Pereira P, Pereira D, Caetano Alves MI (2007) Geomorphosite assessment in Montesinho Natural Park (Portugal). Geogr Helv 62:159–168

Pettersson M, Keskitalo ECH (2013) Adaptive capacity of legal and policy frameworks for biodiversity protection considering climate change. Land Use Policy 34:213–222. doi:10.1016/j.landusepol.2013.03.007

Radinja D (1967) Vremska dolina in Divaški Kras : problematika kraške morfogeneze. Geogr Zb str. 157–269, [4] pril.

Reynard E (2009a) Geomorphosites: definitions and characteristics. In: Reynard E, Coratza P, Regolini-Bissig G (eds) Geomorphosites. Verlag Dr. Fredrich Pfeil, München, pp 9–20

Reynard E (2009b) The assessment of geomorphosites. In: Reynard E, Coratza P, Regolini-Bissig G (eds) Geomorphosites. Verlag Dr. Friedrich Pfeil, München, pp 63–71

Reynard E, Coratza P (2007) Geomorphosites and geodiversity: a new domain of research. Geogr Helv 62:138–139

Reynard E, Fontana G, Kozlik L, Scapozza C (2007) A method for assessing "scientific" and "additional values" of geomorphosites. Geogr Helv 62:148–158

Riley SJ, DeGloria SD, Elliot R (1999) A terrain ruggedness index that quantifies topographic heterogeneity. Intermt J Sci 5:23–27

Ruban DA (2010) Quantification of geodiversity and its loss. Proc Geol Assoc 121:326–333. doi:10.1016/j.pgeola.2010.07.002

Serrano E, González-Trueba JJ (2005) Assessment of geomorphosites in natural protected areas: the Picos de Europa National Park (Spain). Géomorphologie Reli Process Environ 3:197–208. doi:10.4000/geomorphologie.364

Serrano E, Ruiz-Flaño P (2007) Geodiversity: a theoretical and applied concept. Geogr Helv 62:140–147

Serrano E, Ruiz-Flaño P (2009) Geomorphosites and geodiversity. In: Reynard E, Coratza P, Regolini-Bissig G (eds) Geomorphosites. Velag Dr. Friedrich Pfeil, München, pp 49–61

Sharples C (1995) Geoconservation in forest management—principles and procedures. Tasforests 7:37–50

Slovenian Environment Agency (2015) No Title. In: LIDAR data. http://gis.arso.gov.si/evode/profile.aspx?id=atlas_voda_Lidar@Arso. Accessed 1 Mar 2016

Stepišnik U (2008) The application of electrical resistivity imaging in collapse doline floors: Divača karst, Slovenia. Stud Geomorphol carpatho – Balc 42:41–51

Šikić D, Pleničar M, Šparica M (1972) Osnovna geološka karta SFRJ. L 33–89, Ilirska Bistrica. 1 zvd.s

The Surveying and Mapping Authority of the Republic of Slovenia (2014) DOF 050

Zouros NC (2007) Geomorphosite assessment and management in protected areas of Greece: case study of the Lesvos island—coastal geomorphosites. Geogr Helv 62:169–180
About this article
Cite this article
Stepišnik, U., Trenchovska, A. A New Quantitative Model for Comprehensive Geodiversity Evaluation: the Škocjan Caves Regional Park, Slovenia. Geoheritage 10, 39–48 (2018). https://doi.org/10.1007/s12371-017-0216-5
Received:

Accepted:

Published:

Issue Date:
Keywords
Geodiversity

Mapping

Block statistics

Geodiversity hotspot

Karst