Abstract
The Lake Van Basin, located at the collision zone of the Eurasian and Arabian plates, has great potential in terms of geological heritage. The world's largest soda lake which gives its name to the basin contains magnificent geological structures. Lacustrine deposits of the lake represent important clues about seismic activity during the Late Quaternary in addition to its sedimentological and paleontological background. Seismites—deformational structures which are formed during earthquakes in unconsolidated sediments—are very rare geologic phenomena. These structures, formed by earthquakes of magnitude ≥5 under suitable conditions, provide valuable information about the responsible faults and their seismic repetition frequency for the region. Today, rising awareness of geological heritage is a glimmer of hope for the protection and preservation of these rare structures in the Lake Van Basin for the generations to come. Conservation of these structures will also help the protection of other naturally, historically, and culturally significant geological beauties. The responsibility for the promotion and conservation of these geological heritages should be a mission not only for the hosting country but also for the entire geological community.
Access options
Buy single article
Instant access to the full article PDF.
USD 39.95
Price excludes VAT (USA)
Tax calculation will be finalised during checkout.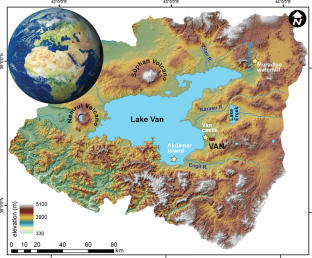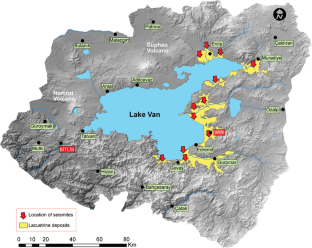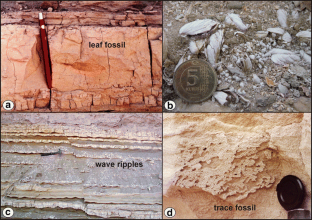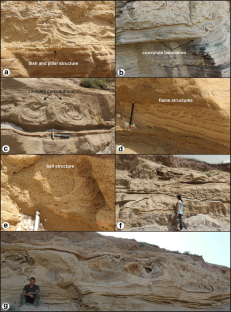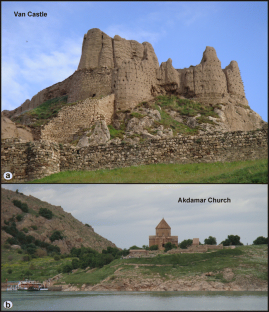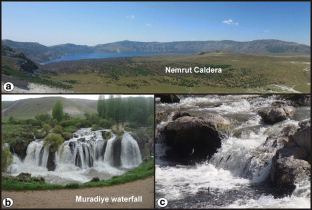 References
Acarlar M, Bilgin AZ, Elibol E, Erkan T, Gedik İ, Güner E, Hakyemez Y, Şen AM, Uğuz MF, Umut M (1991) Van Gölü doğusu ve kuzeyinin jeolojisi [Geology of the eastern and northern part of Lake Van]. The Mineral Research and Exploration Institute of Turkey (MTA) report Nr: 9469. 94 pp

Alfaro P, Delgado J, Estevez A, Molina JM, Moretti M, Soria JM (2002) Liquefaction and fluidization structures in Messinian storm deposits (Bajo Segura Basin, Betic Cordillera, southern Spain). Int J Earth Sci 91:505–513

Ambraseys NN, Finkel CF (1995) The seismicity of Turkey and adjacent areas: a historical review, 1500–1800. Eren Publishers, İstanbul

Bowman D, Korjenkov A, Porat N (2004) Late-Pleistocene seismites from Lake Issyk-Kul, The Tien Shan range, Kyrghyztan. Sediment Geol 163:211–228

Burek C (2012) The role of LGAPs (Local Geodiversity Action Plans) and Welsh RIGS as local drivers for geoconservation within geotourism in Wales. Geoheritage 4(1–2):45–63

Fermeli G, Hevia GM, Koutsouveli A, Dermitzakis M, Calonge A, Steininger F, D'Arpa C, Di Patti C (2015) Geoscience teaching and student interest in secondary schools-preliminary results from an interest research in Greece, Spain and Italy. Geoheritage 7:13–24

Galli P, Meloni F (1993) Nuovo catalogo dei processi di liquefazione avvenuti in occasione dei terremoti storici in Italia. Quaternario 6:271–292

Jones AP, Omoto K (2000) Towards establishing criteria for identifying trigger mechanisms for soft-sediment deformation: a case study of Late Pleistocene lacustrine sands and clays, Onikobe and Nakayamadaira Basins, northeastern Japan. Sedimentology 47:1211–1226

Kempe S, Khoo F, Gürleyik Y (1978) Hydrography of Lake Van and its drainage area. In: Degens ET, Kurtman F (eds) The geology of Lake Van. The Mineral Research and Exploration Institute of Turkey (MTA) Publication 169, pp. 30–44

Koçyiğit A (2013) New field and seismic data about the intraplate strike-slip deformation in Van region, East Anatolian plateau, E. Turkey. J Asian Earth Sci 62:586–605

Lowe DR (1975) Water escape structures in coarse-grained sediments. Sedimentology 22:157–204

Lowe DR, LoPiccolo RD (1974) The characteristics and origins of dish and pillar structures. J Sediment Petrol 44:484–501

Molina JM, Alfaro P, Moretti M, Soria JM (1998) Soft-sediment deformation structures induced by cyclic stress of storm waves in tempestites (Miocene, Guadalquivir basin, Spain). Terra Nov. 10:145–150

Moretti M, Pieri P, Tropeano M, Walsh N (1995) Tyrrhenian seismites in Bari area (Murge–Apulian foreland). Atti dei Convegni Licenci 122:211–216

Obermeier SF (1998) Liquefaction evidence for strong earthquakes of Holocene and latest Pleistocene ages in the states of Indiana and Illinois, USA. Eng Geol 50:227–254

Owen G (1996) Experimental soft-sediment deformation: structures formed by the liquefaction of unconsolidated sands and some ancient examples. Sedimentology 43:279–293

Özkaymak Ç, Sözbilir H, Bozkurt E, Dirik K, Topal T, Alan H, Çağlan D (2011) 23 Ekim 2011 Tabanlı-Van Depreminin Sismik Jeomorfolojisi ve Doğu Anadolu'daki Aktif Tektonik Yapılarla İlişkisi. [Seismic geomorphology of the October 23, 2011 Tabanlı-Van earthquake and its relation to active tectonics of East Anatolia]. J Geol Eng 35(2):175–199

ProGEO (2011) Conserving our shared geoheritage—a protocol on geoconservation principles, sustainable site use, management, fieldwork, fossil and mineral collecting. http://www.progeo.se/progeo-protocol-definitions-20110915.pdf (13 October 2015)

Rodriguez-Pascua MA, Calvo JP, De Vicente G, Gómez-Gras D (2000) Soft sediment deformation structures interpreted as seismites in lacustrine sediments of the Prebetic Zone, SE Spain, and their potential use as indicators of earthquake magnitudes during the Late Miocene. Sediment Geol 135:117–135

Rossetti DF (1999) Soft-sediment deformational structures in late Albian to Cenomanian deposits, Sao Luis Basin, northern Brazil: evidences for paleoseismicity. Sedimentology 46:1065–1081

Seilacher A (1969) Fault-graded beds interpreted as seismites. Sedimentology 13:155–159

Şengör AMC, Kidd WSF (1979) Post-collisional tectonics of the Turkish-Iranian plateau and a comparison with Tibet. Tectonophysics 55:361–376

Şengör AMC, Yılmaz Y (1981) Tethyan evolution of Turkey: a plate tectonic approach. Tectonophysics 75:181–241

Sims JD (1975) Determining earthquake recurrence intervals from deformational structures in young lacustrine sediments. Tectonophysics 29:141–152

Stockhecke M, Kwiecien O, Vigliotti L, Anselmetti FS, Beer J, Çağatay MN, Channell JET, Kipfer R, Lachner J, Litt T, Pickarski N, Sturm M (2014) Chronostratigraphy of the 600,000 year old continental record of Lake Van (Turkey). Quat Sci Rev 104:8–17

Üner S (2014) Seismogenic structures in Quaternary lacustrine deposits of Lake Van (eastern Turkey). GeolSogos 20(2):79–87

Üner S, Yeşilova Ç, Yakupoğlu T, Üner T (2010) Pekişmemiş sedimanlarda depremlerle oluşan deformasyon yapıları (sismitler): Van Gölü Havzası, Doğu Anadolu. [Earthquake-induced soft-sediment deformation structures (seismites): Van Gölü Basin, eastern Anatolia]. Bull Earth Sci 31:53–66

Van Loon AJ (2014) The life cycle of seismite research. Geologos 20(2):61–66

Vanneste K, Meghraoui M, Camelbeeck T (1999) Late Quaternary earthquake-related soft-sediment deformation along the Belgian portion of the Feldbiss Fault, Lower Rhine Graben system. Tectonophysics 309:57–79
Acknowledgments
This study is financially supported by Scientific and Technological Research Council of Turkey (TUBITAK) Scientific Research Project (114Y216). The authors wish to express their thanks to the editor and anonymous reviewers for their valuable and constructive comments and suggestions. We are also grateful to Linda Worley Yılmaz for the English language editing of the final text.
About this article
Cite this article
Üner, S., Alırız, M.G., Özsayın, E. et al. Earthquake Induced Sedimentary Structures (Seismites): Geoconservation and Promotion as Geological Heritage (Lake Van-Turkey). Geoheritage 9, 133–139 (2017). https://doi.org/10.1007/s12371-016-0186-z
Received:

Accepted:

Published:

Issue Date:

DOI: https://doi.org/10.1007/s12371-016-0186-z
Keywords
Geological heritage

Seismites

Late Quaternary

Lake Van

Turkey