Abstract
Although there are several available methods for the assessment and inventory of geomorphosites, when it comes to the comparative study of genetically similar landforms, one can note the need for further studies and analyses. The main reason for this fact is that most methods use criteria generally suitable for the evaluation of any landforms, thus not addressing the specificity of distinct geosites. Therefore, for the assessment of karst gorges in the Apuseni Mountains, a new specific method was used, a method adapted to the main features of the gorges in the study area. The method is based on the assessment of both the intrinsic values of geomorphosites (geomorphological, ecological, and aesthetic) and the functional ones (scientific, cultural, and tourism development). The criteria used to assess these values have been clearly explained, in order to ensure a more transparent assessment. Thus, a comparative study was possible and a hierarchy in terms of geotourism value of the 53 gorges in the Apuseni Mountains was developed, a hierarchy that can be a useful tool for geotourism promoters in the area.
Access options
Buy single article
Instant access to the full article PDF.
USD 39.95
Price excludes VAT (USA)
Tax calculation will be finalised during checkout.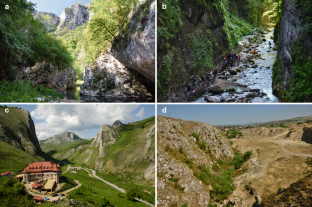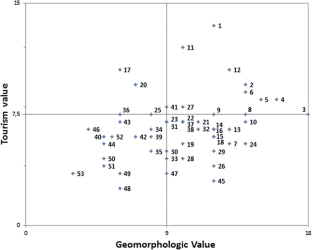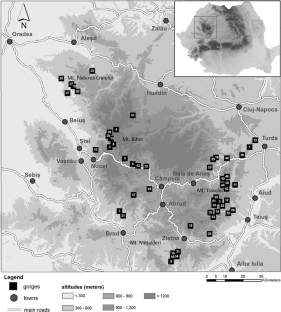 References
Brilha J (2015) Inventory and quantitative assessment of geosites and geodiversity sites: a review. Geoheritage. doi:10.1007/s12371-014-0139-3

Bruschi VM, Cendrero A (2005) Geosite evaluation: can we measure intangible values? Il Quaternario, Geomorphological Sites and Geodiversity 18(1):293–306

Bruschi VM, Coratza P, Piacentini D, Saliba D, Soldati M (2010) Valutazione dei geomorfositi del Majjistral Nature and Historic Park (Malta): due metodologie a confronto. Atti del Convegno Nazionale Il Patrimonio Geologico: una risorsa da proteggere e valorizzare, Sasso di Castalda-Potenza

Cocean G (2011) Munţii Trascău. Relief. Geomorfosituri. Turism. Presa Universitară Clujeană, Cluj-Napoca

Cocean G (2012) The inventory and hierarchy of geomorphosites in the Vlădeasa Massif. Revue Roumaine De Géographie 56(2):175–181

Cocean G (2014) Guidelines for including gorges into the touristic offer of the Apuseni MountainsRomanian Review of Regional Studies, Vol X, 2: 95–102

Cocean P (1984) Potenţialul economic al carstului din Munţii Apuseni. Editura Academiei Republicii Socialiste România, Bucureşti

Cocean P (1988) Chei şi defile din Munţii Apuseni. Bucureşti: Editura Academiei Republicii Socialiste România, Bucureşti

Cocean P (2000) Munţii Apuseni. Procese şi forme carstice. Editura Academiei, Bucureşti

Coratza P, Galve JP, Soldati M, Tonelli C (2012) Recognition and assessment of sinkholes as geosites: lessons from the Island of Gozo (Malta). Questiones Geographicae 31(1):25–35

Dowling RK (2011) Geotourism's global growth. Geoheritage 3(1):1–13

Dowling RK, Newsome D (2010) Geotourism: a global activity. In: Newsome D (ed) Dowling, RK. Global Geotourism Perspectives, Oxford, Goodfellow Publishers, pp. 1–17

Farsani NT, Coelho CO, Costa CM (2013) Rural geotourism: a new tourism product. Acta Geoturistica 4(2):1–10

Feuillet T, Sourp E (2011) Geomorphological heritage of the Pyrenees National Park (France): assessment, clustering, and promotion of geomorphosites. Geoheritage 3:151–162

Goran C (1982) Catalogul sistematic al peşterilor din România. CNEFS, Bucureşti

Ianovici V et al. (1976) Geologia Munţilor Apuseni. Editura Academiei Republicii Socialiste România, Bucureşti

Joyce B (2007) Geotourism, geosites and Geoparks: working together in Australia. The Australian Geologist, Sydney, pp. 26–29

Lima FF, Brilha J, Salamuni E (2010) Inventorying geological heritage in large territories: a methodological proposal applied to Brazil. Geoheritage 2(3–4):91–99

Necheş IM (2013) From geomorphosite evaluation to geotourism interpretation. case study: the Sphinx of Romania's Southern Carpathians. GeoJournal of Tourism and Geosites VI 2(12):145–162

Panizza M, Piacente S (2008) Geomorphology and cultural heritage in coastal environments. Geogr. Fis. Dinam. Quat. 31:205–210

Pereira P, Pereira D (2010) Methodological guidelines for geomorphosite assessment. Geomorphologie: relief, processus, environment 2:215–222

Pereira P, Pereira D, Alves MIC (2007) Geomorphosite assessment in Montesinho Natural Park (Portugal). Geographica Helvetica 62(3):159–168

Pralong JP (2005) A method for assessing tourist potential and use of geomorphological sites. Geomorphologie: relief, processus, environment 3:189–196

Reynard E (2008) Scientific research and tourist promotion of geomorphological heritage. Geogr Fis Dinam Quat 31:225–230

Reynard E, Fontana G, Kozlik L (2007) A method for assessing "scientific" and "additional values" of geomorphosites. Geographica Helvetica 62(3):148–158

Rodigues ML, Fonseca A (2010) Geoheritage assessment based on large-scale geomorphological mapping: contributes from a Portuguese limestone massif example. Geomorphologie: relief, processus, environment 2:189–198

Serrano E, Gonzalez Trueba JJ (2005) Assessment of geomorphosites in natural protected areas: the Picos de Europa National Park (Spain). Geomorphologie: relief, processus, environment 3:197–208

Serrano E, Gonzalez Trueba JJ (2011) Environmental education and landscape leisure. Geotourist map and geomorphosites in the Picos de Europa National Park. GeoJournal of Tourism and Geosites, IV 2(8):295–308

Wimbledon WAP (2010) Geosites—a mechanism for protection, integrating national and international valuation of heritage sites. Atti del Convegno Nazionale Il Patrimonio Geologico: una risorsa da proteggere e valorizzare. Sasso di Castalda–Potenza

Zouros N (2007) Geomorphosite assessment and management in protected areas of Greece. Case study of the Lesvos Island–Coastal Geomorphosites. Geographica Helvetica 62(3):169–180
Acknowledgments
This paper is a result of a postdoctoral research made possible by the financial support of the Sectoral Operational Programme for Human Resources Development 2007–2013, co-financed by the European Social Fund, under the project POSDRU/159/1.5/S/133391: "Doctoral and postdoctoral excellence programs for training highly qualified human resources for research in the fields of Life Sciences, Environment and Earth."
About this article
Cite this article
Cocean, G., Cocean, P. An Assessment of Gorges for Purposes of Identifying Geomorphosites of Geotourism Value in the Apuseni Mountains (Romania). Geoheritage 9, 71–81 (2017). https://doi.org/10.1007/s12371-016-0180-5
Received:

Accepted:

Published:

Issue Date:

DOI: https://doi.org/10.1007/s12371-016-0180-5
Keywords