Abstract
Iceland has a unique geology and a dynamic natural landscape which has long attracted a large number of tourists to the island. Owing to the dynamic geological processes which are still shaping the Icelandic landscape, combined with the country's raw nature, Iceland is often referred to as an open laboratory in geosciences. Geotourism and geoparks are relatively new concepts within tourism. However, both have grown rapidly over the past decade. Geotourism has evolved partially in response to the need to minimize the negative impacts of mass tourism in geologically and geographically situated tourist environments, whilst at the same time providing a catalyst for sustainable rural development. This paper attempts to assess the compatibility of geoconservation and rural development within geotourism by exploring the challenges and potential outcomes of the geotourism development in Iceland; by identifying and analysing the various potential outcomes of geopark development; and by proposing a strategic planning approach for sustainable geotourism planning and management in vulnerable environments. The results indicate nine distinctive sites for geopark development, each of which presents the major challenge of using geological heritage as a basis for informing the area's 'ABC' components such that both visitors and locals are given a holistic appreciation of the area based on an understanding of its geology. The results further emphasize the importance of sustainable management in geotourism development. Only when managed in a sustainable manner is geotourism likely to provide long-term improvements for developments in rural areas.
Access options
Buy single article
Instant access to the full article PDF.
USD 39.95
Price excludes VAT (USA)
Tax calculation will be finalised during checkout.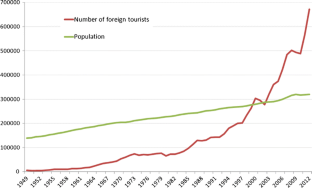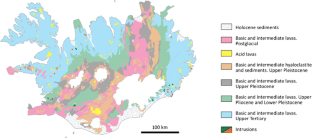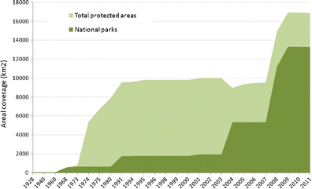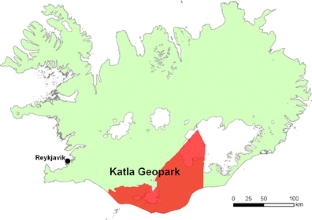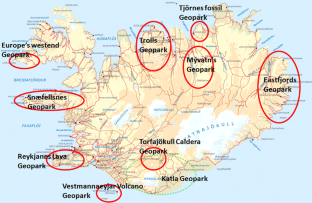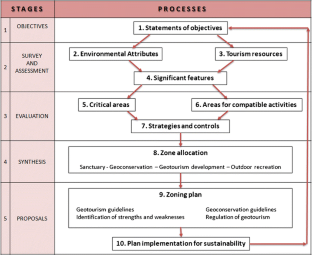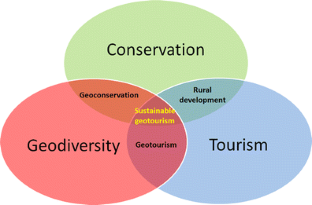 References
Albertsson KJ, Einarsson Þ et al (1982) Um aldur jarðlaga efst á Breiðadalsheiði. In: Þórarinsdóttir (ed) Age of igneous strata in NW Iceland. Eldur er í Norðri. Sögufélagið, Reykjavík, pp 205–210

Arnalds Ó (2011) Náttúrufar [Icelandic nature's physical condition]. In: Aradóttir A, Halldórsson G (eds) Vistheimt á Íslandi [Restoration in Iceland]. Icelandic Agricultural University and Icelandic Soil Conservation Service, 14-18.

Arnalds Ó, Þórarinsdóttir EF, Metúsalemsson S, Jónsson Á, Grétarsson E, Árnasson A (2001) Soil erosion in Iceland. The Soil Conservation Service and the Agricultural Research Institute.

Arnórsson S, Axelsson G, Sæmundsson K (2008) Geothermal systems in Iceland. Jökull 58:269–302

Ashley C, Roe D (1998) Enhancing Community Development in Wildlife Tourism: Issues and Challenges, IIED Wildlife and Development Series No. 11, International Institute for Environment and Development, London.

Björnsson BT (1994) Þingvellir, staðir og leiðir [Þingvellir, places and routes]. Mál og Menning, Reykjavík

Brynjólfsson G (1984) Keflavíkurflugvöllur [Keflavík airport]. Árbók Ferðafélags Íslands 37-38.

Bryson JM, Crosby BC (1992) Leadership for the common good: tackling public problems in a shared-power world. Jossey-Bass, San Francisco

Buckley R (2000) Tourism in the most fragile environments. Tour Recreat Res 25(1):31–40

Caseldine C, Stötter J (1993) 'Little Ice Age' glaciation of Tröllaskagi peninsula, northern Iceland: climatic implications for reconstructed equilibrium line altitudes (ELAS). The Holocene 3(4):357–366

Cimermanova I (2010) Geoparks in Slovakia. Acta Geoturistica 1(2):34–40

Daníelsson Á (2004) Íslenskur sjávarútvegur—auðlindin, rentan, arðsemi og hagvöxtur [The Icelandic fishing industry—resource, rent, profitability and growth]. Fjármálatíðindi 51(2):100–113

Dowling RK (1993) An environmentally based planning model for regional tourism development. J Sustain Tour 1(1):17–37

Dowling RK (1994) Case study: an environmentally based tourism development planning framework, In ENVIREG: Commission of the European Communities, Economic Development and Environmental Protection in Coastal Areas: A Guide to Good Practice; 28. AMBER, ECOTEC Research & Consulting Ltd, Brussels

Dowling RK (1999) Developing tourism in the environmentally sensitive North West Cape Region, Western Australia. In: Singh TV, Singh S (eds) Tourism development in critical environments. Cognizant, New York, pp 163–175

Dowling R (2008) The emergence of geotourism and geoparks. Journal of Tourism IX(2):227–236

Dowling RK (2009) Geotourism's Contribution to Local and Regional Development. In: De Carvalho Cn, Rodrigues J (eds) Geotourism and Local Development. Proceedings of the VIII European Geoparks Conference, Idanha-A-Nova, Portugal, pp. 15-37

Dowling RK (2010) Geotourism's emerging global footprint. IntJ Geogr Teach Assoc Vict 38(2):19–23

Dowling RK (2011) Geotourism's global growth. Geoheritage 3:1–13

Dowling RK, James K (1996) The South West Ecotourism Strategy. In: Ritchins H, Richardson J, Crabtree A (eds) Proceedings of the Ecotourism Association of Australia National Conference Taking the Next Steps, Alice Springs, 18–23 November, 1995. Ecotourism Association of Australia, Brisbane, pp. 25–32.

Dowling RK, Newsome D (2006) Geotourism: sustainability, impacts and management. Elsevier, Oxford

Einarsson Á, Stefánsdóttir G, Jóhannesson H, Ólafsson JS, Gíslason GM, Wakana I, Duðbergsson G, Gardarsson A (2004) The ecology of Lake Mývatn and the River Laxá: variation in space and time. Aquat Ecol 38:317–348

Eiríksson J (1981) Lithostratigraphy of the upper Tjörnes sequence, North Iceland: the Breidavik Group. Acta Naturalia Islandica 29:1–37

Farbrot H, Etzelmüller B, Guðmundsson Á, Humlum O, Kellerer-Pirklbauer A, Eiken T, Wangensteen B (2007) Rock glaciers and permafrost in Tröllaskagi, northern Iceland. Z Geomorphol Suppl Issues 51(2):1–16

Garðarsson A (1995) Svartfugl í íslenskum fuglabjörgum (Numbers and distribution of common murre Uria aalge, thick-billed murre U. lomvia and razorbill Alca torda in Iceland). (In Icelandic, English summary). Bliki 16:47–65

Gestsson M (1971) Látrabjarg: nytjar, björgun, sögur og sagnir (Látrabjarg: rescue, stories and narratives). Skuggsjá, Hafnarfjörður

Gilmore D, Fisher R (1992) Villages, forests and foresters: the philosophy, process and practice of community forestry in Nepal. Shayogi, Kathmandu

Global Geoparks Network (2012) Global Network of National Geoparks. Accessed 22 January 2012 at: www.Globalgeopark.org

Gray M (2004) Geodiversity: valuing and conserving abiotic nature. Wiley, Chichester

Gray M (2005) Geodiversity & geoconservation. George Wri Forum 22(3):4–12

Green Globe International Newsletter (2008) Iceland's Snaefellsnes Peninsula Achieves Green Globe Community Certification. 3-4. Accessed 7 March 2013 at: http://www.greenglobeint.com/upload/GGLB%20Newsletter%20-%20June2008_post.pdf

Grether-Beck S, Muhlberg K, Brenden H, Felsner I, Brynjolfsdottir A, Einarsson S, Krutmann J (2008) Bioactive molecules from the Blue Lagoon: in vitro and in vivo assessment of silica mud and microalgae extracts for their effects on skin barrier function and prevention of skin ageing. Exp Dermatol 17(9):771–779

Guðmundsson Á (1995) Infrastructure and mechanics of volcanic systems in Iceland. J Volcanol Geotherm Res 64:1–22

Hardarson BS, Fitton JG, Ellam RM, Pringle MS (1997) Rift relocation—geochemical and geochronological investigation of a paleo-rift in northwest Iceland. Earth Planet Sci Lett 153:181–196

Icelandic Act on Nature Conservation [Lög um náttúruvernd] no. 60/2013.

Icelandic Act on Nature Conservation [Lög um náttúruvernd] no. 44/1999.

Icelandic Act on Nature Conservation [Lög um náttúruvernd] no. 93/1996.

Icelandic Act on Nature Conservation [Lög um náttúruvernd] no. 47/1971.

Icelandic Act on Nature Conservation [Lög um náttúruvernd] no. 48/1956.

Icelandic Act on Protection of Þingvellir [Lög um friðun Þingvalla] no. 59/1928.

Icelandic regulation no. 608/2008 [Reglugerð um Vatnajökulsþjóðgarð [Regulation of Vatnajökull National Park].

Icelandic Road Administration (2010) Héðinsfjarðargöng vígð, hátíðleg stund í eyðifirði [Héðinsfjörður-tunnel inaugurated, festive moment in a abandoned fjord]. Framkvæmdafréttir no. 22, 2010. Accessed 16 September 2012 at: http://www.vegagerdin.is/vefur2.nsf/Files/fr554-22-2010/$file/fr554-22-2010.pdf

ITB (Icelandic Tourist Board) (2010) Ferðaþjónusta á Íslandi í tölum [Tourism in Iceland in figures]. Accessed 7 July 2012 at: http://ferdamalastofa.is/upload/files/Ferdatjonusta_i_tolum_febr2010%281%29.pdf

ITB (Icelandic Tourist Board) (2012) Tourism in Iceland in figures 2011. Accessed 10 July 2012 at: http://ferdamalastofa.is/upload/files/Tourism_in_Iceland_in_figures_May_%202012.pdf

ITB (Icelandic Tourist Board) (2013) Foreign visitors to Iceland 1949–2013. Accessed 4 April 2013 at: http://www.ferdamalastofa.is/is/tolur-og-utgafur/fjoldi-ferdamanna

Jacoby W, Gudmundsson MT (2007) Hotspot Iceland: an introduction. J Geodyn 43:1–5

Jóhannesson H (1982) Yfirlit um jarðfræði Snæfellsnes [Geology of Snæfellsness—an overview]. Árbók Ferðafélags Íslands 1982:151–172

Jóhannesson H, Sæmundsson K (2009) Geological map of Iceland. 1:600,000. Icelandic Institute of Natural History, Reykjavík

Jónsson, H.H. (2013). Hafið gaf og hafið tók [The sea gave and the sea took]. Accessed 1st of August 2013 at: https://sites.google.com/site/franskispitalinn/hafidh-gaf-og-hafidh-tok

Kristjánsson L (2001) Silfurberg: einstæð saga kristallanna frá Helgustöðum [Iceland spar: spectacular history of the minerals from Helgustaðir]. Jökull 50:95–108

Lonely Planet (2012) Best in Travel Readers' Choice Award: and the winner is…Iceland. Accessed 8 July 2012 at: http://www.lonelyplanet.com/europe/travel-tips-and-articles/76855

Lúðvíksson SJ (1971) Þrautgóðir á raunastund: björgunar- og sjóslysasaga Íslands [The history of accidents and rescue in Icelandic waters], vol 3. Örn og Ölygur, Hraundrangi

Mattsson H, Höskuldsson Á (2003) Geology of the Heimaey volcanic centre, south Iceland: early evolution of a central volcano in a propagating rift? J Volcanol Geotherm Res 127:55–71

Mckeever P, Zouros N, Patzak M (2010) The UNESCO global network of national geoparks. In: Newsome D, Dowling RK (eds) Geotourism. The tourism of geology and landscape. Goodfellow, Oxford, pp 221–230

McKinzey KM, Ólafsdóttir R, Dugmore AJ (2005) Perception, history and science—coherence or disparity in the timing of the Little Ice Age maximum in southeast Iceland? Polar Rec 41(219):319–334

Medeiros de Araujo L, Bramwell B (2000) Stakeholder assessment and collaborative tourism planning: The case of Brazil's Costa Dourada project. In: Bramwell B, Lane B (eds) Tourism collaboration and partnerships: politics, practice and sustainability. Channel View, Clevedon, pp 272–294

Morgunblaðið [The Morning paper], 22nd of October 1988. Ísland kenndi mér jarðfræði [Iceland taught me geology], pp. 28–29.

National Geographic (2012) Best of the world 2012. Accessed 8 July 2012 at: http://travel.nationalgeographic.com/travel/best-trips-2012

Newsome D, Dowling RK (2010) Geotourism. The tourism of geology and landscape. Goodfellow, Oxford

Newsome D, Dowling RK, Moore SA (2005) Wildlife tourism. Channel View, Clevedon

NLSI (National Land Survey of Iceland) (2011) Iceland in statistics. Accessed 30 December 2011 at: http://www.lmi.is/en/island-i-tolum/

Ólafsdóttir R, Jóhannsdóttir ES (2009) Mat á áhrifum Kröfluvirkjunar II á ferðaþjónustu og útivist [Assessment of the impact of Krafla geothermal power plant II on tourism and recreation]. Rannsóknamiðstöð Ferðamála.

Ólafsdóttir R, Guðmundsson H (2002) Holocene land degradation and climatic change in northeastern Iceland. The Holocene 12(2):159–167

Ólafsdóttir R, Júlíusson ÁD (2000) Farmers' perception of land-cover changes in Iceland. Land Degrad Dev 11:439–458

Ólafsdóttir R, Runnström MC (2009) A GIS approach to evaluating ecological sensitivity for tourism development in fragile environments. A case study from SE Iceland. Scand J Hosp Tour 9(1):1–17

Ólafsdóttir R, Runnström MC (2011) How wild is Iceland? Assessing wilderness quality with respect to nature based tourism. Tour Geogr 13(2):280–298

Ólafsdóttir R, Runnström MC (2013) Assessing hiking trails condition in two popular tourist destinations in the Icelandic highlands. J Outdoor Recreat Tour 3–4:57–67

Olafsson JH, Sigurgeirsson B, Palsdottir R (1996) Psoriasis treatment: bathing in a thermal lagoon combined with UVB, versus UVB treatment only. Acta Derm Venereol 76(3):228–230

Old Icelandic literature (1968) [Íslenzk fornrit 1: Íslendingabók; Landnámabók]. Hið íslenska fornritafélag, Reykjavík

PMO (Prime Minister's Office) (2011) Ísland 2020—sókn fyrir atvinnulíf og samfélag [Iceland 2020 - expansion of the economy and society]. [The Icelandic] Prime Minister's Office. Accessed 7 July 2012 at: http://www.forsaetisraduneyti.is/media/Skyrslur/island2020.pdf

Queensland Government (1997) Queensland ecotourism plan. Department of Tourism, Small Business and Industry, Brisbane

Richards G, Hall D (2000) Tourism and sustainable community development. Routledge, London

Sæmundsson K (2009) Torfajökull, Iceland—a rhyolite volcano and its geothermal resource. Accessed 7 July 2012 at: www.os.is/gogn/unu-gtp-sc/UNU-GTP-SC-10-1103.pdf

Sæþórsdóttir AD (2010) Planning nature tourism in Iceland based on tourist attitudes. Tour Geogr 12(1):25–52

Sæþórsdóttir AD, Ólafsson R (2010) Nature tourism assessment in the Icelandic Master Plan for geothermal and hydropower development. Part I: rapid evaluation of nature tourism resources. J Herit Tour 5(4):311–331

Scheyvens R (2002) Tourism for development: empowering communities. Prentice Hall, Pearson Education, Harlow

Sigmundsson F, Hreinsdóttir S, Hooper A, Árnadóttir Th, Pedersen R, Roberts MJ, Óskarsson N, Auriac A, Decriem J, Einarsson P, Geirsson H, Hensch M, Ófeigsson BG, Sturkell E, Sveinbjörnsson H, Feigl KL (2010) Intrusion triggering of the 2010 Eyjafjallajökull explosive eruption. Nature 468:4426–4430

Sigurðsson IA, Jakobsson S (2009) Jarðsaga Vestmannaeyja [Geological history of Westman Islands]. Árbók Ferðafélags Íslands 2009:14–27

Símonarson L, Eiríksson J (2012) Steingervingar og sestlög á Íslandi [Fossils and sediments in Iceland]. Náttúrufræðingurinn 82(1–4):13–26

Singh S, Timothy DJ, Dowling RK (2003) Tourism in destination communities. CABI, Oxon

Soosalu H, White RS (2006) Torfajökull 2005—seismic project. Scientific report, University of Cambridge.

Statistics Iceland (2012a) Population—key figures 1703–2012. Accessed 20 April 2012 at: http://www.statice.is/Statistics/Population

Statistics Iceland (2012b) Þjóðhagsreikningar [National accounts]. Accessed 22 June 2012 at: http://www.hagstofa.is/pages/983

Statistics Iceland (2012c) Hlutur ferðaþjónustu í landsframleiðslu 2000–2009 [Share of tourism in GDP 2000–2009]. Accessed 22 June 2012 at: http://www.hagstofa.is/Hagtolur/Ferdamal-samgongur-uppltaekni/Ferdathjonusta.

Statistics Iceland (2012d) Mannfjöldi eftir sveitarfélögum 1998–2012 [Population according to municipalities 1998–2012]. Accessed 18 September 2012 at: http://hagstofa.is/Hagtolur/Mannfjoldi/Sveitarfelog

Statistics Iceland (2013) Urban nuclei and zip codes. Accessed 2 August 2013 at: http://www.statice.is/Statistics/Population/Urban-nuclei-and-zip-codes

Steinþórsson S (1986) Ísland og heiti reiturinn [Iceland and the hot spot]. Tímarit Háskóla Íslands [Univ Icel Rev] 1(1):100–107

Steinþórsson S (1998) Surtur fer sunnan. In: Undur veraldar (ed) Nokkrir lærdómar af Surtseyjargosinu [What the Surtsey eruption has taught us]. Mál og menning, Reykjavík, pp 63–87

Sturkell E, Sigmundsson F, Geirsson H, Olafsson H, Theodorsson T (2008) Multiple volcano deformation sources in a post-rifting period: 1989–2005 behaviour of Krafla, Iceland constrained by levelling, tilt and GPS observations. J Volcanol Geotherm Res 177(2):405–417

The Environment Agency of Iceland (2012b) Snæfellsjökull National Park. Accessed 7 July 2012 at: http://www.ust.is/snaefellsjokull-national-park

The Environment Agency of Iceland (2012a) Landupplýsingar [Geographical information]. Accessed 7 July 2012 at: http://www.ust.is/atvinnulif/sveitarfelog/landupplysingar/

The Municipality of Fjarðarbyggð (2013). Franski spítalinn [The French hospital]. Accessed 1st of August 2013 at: http://www.fjardabyggd.is/

The Sunday Times Travel Magazine (2012) February 2012. What's hot 2012.

Þórarinsson S (1981) Jarðeldasvæði á nútíma [Volcanic areas during the Holocene period], 2nd edn, In Náttúra Íslands [Icelandic Nature]. Almenna Bókafélagið, Reykjavík, pp 81–120

Þórðarson Þ, Höskuldsson Á (2008) Postglacial volcanism in Iceland. Jökull 58:197–228

Thordarson T, Self S, Larsen G, Rowland SK, Hoskuldsson A (eds) (2009) Studies in volcanology: The legacy of George Walker. IAVCEI Publications 2, Geological Society, London

Thorhallsdóttir TE (2008) Environment and energy in Iceland: a comparative analysis of values and impacts. Environ Impact Assess Rev 27:522–544

UNESCO (2006) Global Geoparks Network. Accessed 7 April 2012 at: http://unesdoc.unesco.org/images/0015/001500/150007e.pdf

UNESCO (2012a) Earth Science for Society. Accessed 7 April 2012 at: http://www.unesco.org/new/en/natural-sciences/environment/earth-sciences/geoparks/

UNESCO (2012b) World Heritage List. Accessed 7 July 2012 at: http://whc.unesco.org/en/list

Vísir (2006) Bandaríski herinn kveður í dag [The U.S. military leaves today]. Vísir (newspaper) 30th of September 2006. Assessed 7 April 2013 at: http://www.visir.is/bandariski-herinn-kvedur-i-dag/article/200660930013

VSÓ Consulting (2012) Þríhnúkagígur. Accessed 7 October 2012 at: http://www.vso.is/A-trihnukar/Verkefni/valin-verkefni-Thrihnukagigur/0-Thrihnukagigur-Forsida.html

Wall G, Mathieson A (2006) Tourism: change, impacts and opportunities. Pearson, Essex
Acknowledgments
We are very grateful to the University of Iceland and the South Iceland University Centre for their financial contribution to the geotourism course in August 2011. We would like to acknowledge Sigurður Sigursveinsson and Hrafnkell Guðnason for their help in organizing the field course. We would also like to thank our students Anna Jónsdóttir, Erla Dóra Vogler, Ingunn Hjaltalín Ingólfsdóttir, Kolbrún Reynisdóttir, Lilja Bjargey Pétursdóttir and Ragnhildur Sveinbjarndardóttir for their contribution to this work. Special thanks are further given to Dr. Gísli Már Gíslason as well as to our anonymous reviewers for valuable comments and suggestions which have led to significant improvements to this paper. Additional thanks are given to Dr. Hugh Atkinson for language correction.
About this article
Cite this article
Ólafsdóttir, R., Dowling, R. Geotourism and Geoparks—A Tool for Geoconservation and Rural Development in Vulnerable Environments: A Case Study from Iceland. Geoheritage 6, 71–87 (2014). https://doi.org/10.1007/s12371-013-0095-3
Received:

Accepted:

Published:

Issue Date:

DOI: https://doi.org/10.1007/s12371-013-0095-3
Keywords
Geotourism

Geoparks

Geoconservation

Rural development

Sustainable tourism

Iceland