Abstract
A key feature of the humanoid social robot is its face. A robot face is not simply a technical choice, as faces communicate identity, affect and interpersonal spatial relations, and can be key to perceptions about the virtuousness of the robot. To address the significance of the robot face we develop a transdisciplinary reading of faces that compares how science, art and philosophy offer critical knowledges to inform the design of social robotics. Science understands face perception as a physiological, neurological and psychological process that perceives identity, emotion and spatial relations. Art provides a diverse repertoire of stylised faces in visual culture that reiterates the role of likeness, affect and social space. Art presents faces as ethically loaded, such as the war face, the blessed face and the abstracted face. Philosophy proposes the influence of a machine of faciality that abstracts the face as black holes on a white wall, invoking subjectivity and significance. In the second half of the paper we use qualitative visual analysis to develop a classification of robot faces: realistic; symbolic; blank; tech; and screen. We argue that design choice has philosophical, aesthetic and ethical consequences, as people are highly sensitive to the appearance, behaviour and social space of people, robots and their faces.
Access options
Buy single article
Instant access to the full article PDF.
USD 39.95
Price includes VAT (USA)
Tax calculation will be finalised during checkout.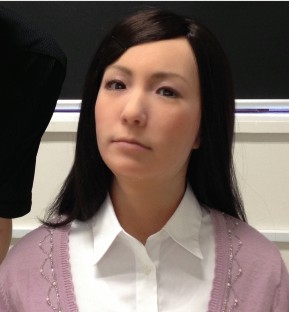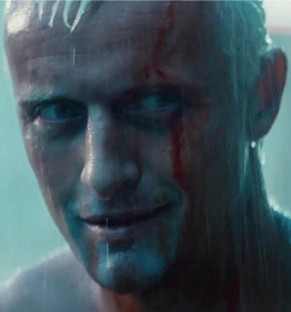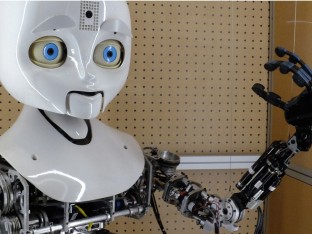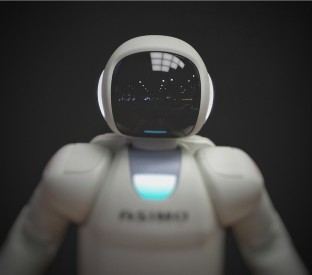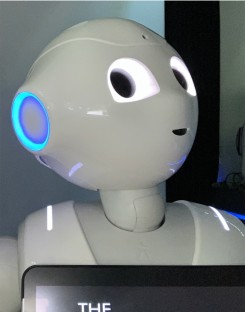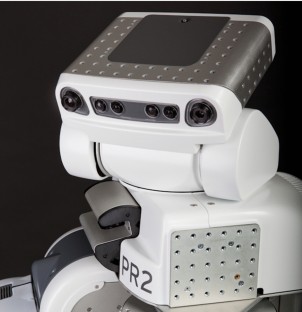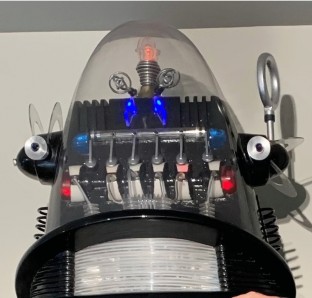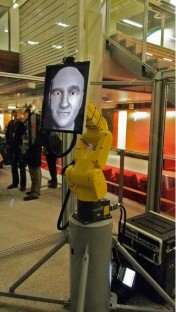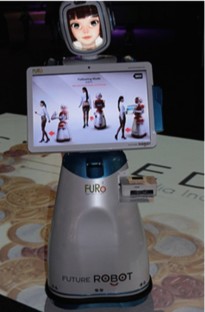 References
1.

Dautenhahn K (2007) Methodology and themes of human-robot interaction: a growing research field. Int J Adv Robot Syst 4:103–108

2.

Bethel CL, Murphy RR (2010) Review of human studies methods in HRI and recommendations. Int J Soc Robot 2:347–359. https://doi.org/10.1007/s12369-010-0064-9

3.

Blackwell AF (2015) HCI as an inter-discipline. Conf Hum Factors Comput Syst Proc 18:503–512. https://doi.org/10.1145/2702613.2732505

4.

Deleuze G, Guattari F, Massumi B (2004) A thousand plateaus. Continuum International Publishing Group, New York

5.

Dobson SD, Sherwood CC (2011) Correlated evolution of brain regions involved in producing and processing facial expressions in anthropoid primates. Biol Lett 7:86–88. https://doi.org/10.1098/rsbl.2010.0427

6.

Pascalis O, Kelly DJ (2009) The origins of face processing in humans phylogeny and ontogeny. Perspect Psychol Sci 4:200–209. https://doi.org/10.1111/j.1745-6924.2009.01119.x

7.

Ekman P (1992) An argument for basic emotions. Cogn Emot 6:169–200. https://doi.org/10.1080/02699939208411068

8.

Barrett R, Katsikitis M (2003) Foreign faces: a voyage to the land of EEPICA. In: Katsikitis M (ed) The human face: measurement and meaning. Springer, Berlin, pp 1063–1065

9.

Argyle M (1973) Social interaction. Transaction Publishers, Piscataway

10.

McMahon AP, MacCurdy E (2006) The notebooks of Leonardo da Vinci. Parnassus 10:33. https://doi.org/10.2307/771608

11.

Little CT, Stein WA (2006) The face in medieval sculpture. In: Timeline art hist. https://www.metmuseum.org/toah/hd/face/hd_face.htm. Accessed 28 Aug 2019

12.

Bennett C, Šabanović S (2015) The effects of culture and context on perceptions of robotic facial expressions. Interact Stud Stud Soc Behav Commun Biol Artif Syst 16:272–302. https://doi.org/10.1075/is.16.2.11ben

13.

Kishi T, Hashimoto K, Takanishi A (2019) Human-like face and head mechanism. In: Goswami A, Vadakkepat P (eds) Humanoid robotics: a reference. Springer, Dortrecht, pp 571–596

14.

Mirnig N, Strasser E, Weiss A et al (2015) Can you read my face? a methodological variation for assessing facial expressions of robotic heads. Int J Soc Robot 7:63–76. https://doi.org/10.1007/s12369-014-0261-z

15.

Brave S, Nass C, Hutchinson K (2005) Computers that care: investigating the effects of orientation of emotion exhibited by an embodied computer agent. Int J Hum Comput Stud 62:161–178. https://doi.org/10.1016/j.ijhcs.2004.11.002

16.

McCloud S (1993) Understanding comics: the invisible art. Harper Collins, New York

17.

Bollmer G (2019) Automation of empathy. Esse Arts + Opin. https://doi.org/10.1177/1754073911421390

18.

Munster A, Barker M (2016) The mutable face. In: Hinkson M (ed) Imaging identity. ANU Press, Canberra, pp 101–116

19.

Dinnen Z, McBean S (2018) The face as technology. New Form 93:122–137. https://doi.org/10.3898/NewF:93.07.2017

20.

Pearl S (2010) About faces. Physiognomy in Nineteenth-century Britain. Harvard University Press, Cambridge

21.

Deleuze G, Guattari F (1994) What is philosophy?. Columbia University Press, New York

22.

Latour B (1988) Science in action: how to follow scientists and engineers through society. Harvard University Press, Cambridge

23.

de Graaf MMA (2016) An ethical evaluation of human–robot relationships. Int J Soc Robot 8:589–598. https://doi.org/10.1007/s12369-016-0368-5

24.

Gonsior B, Sosnowski S, Mayer C et al (2011) Improving aspects of empathy and subjective performance for HRI through mirroring facial expressions. In: Proceedings IEEE international work robot human interaction communication, pp 350–356. https://doi.org/10.1109/ROMAN.2011.6005294

25.

Malle BF, Scheutz M, Forlizzi J, Voiklis J (2016) Which robot am I thinking about? The impact of action and appearance on people's evaluations of a moral robot. In: ACM/IEEE international conference human–robot interaction 2016-April, pp 125–132. https://doi.org/10.1109/HRI.2016.7451743

26.

Haxby JV, Hoffman EA, Gobbini MI (2000) The distributed human neural system for face perception. Trends Cogn Sci 4223–233(4):223–233. https://doi.org/10.1016/S1364-6613(00)01482-0

27.

Domes G, Schulze L, Herpertz SC (2009) Emotion recognition in borderline personality disorder—a review of the literature. J Personal Disord 23:6–19. https://doi.org/10.1521/pedi.2009.23.1.6

28.

Duchenne de Boulogne GB, Cuthbertson R, Andrew R (1990) The mechanism of human facial expression. Cambridge University Press, Cambridge

29.

Darwin C (1872) The expression of the emotions in man and animals. John Murray, London

30.

Allday E (2012) Study gives insight into facial recognition. SF Gate, San Francisco

31.

Lopatina OL, Komleva YK, Gorina YV et al (2018) Neurobiological aspects of face recognition: the role of oxytocin. Front Behav Neurosci 12:1–11. https://doi.org/10.3389/fnbeh.2018.00195

32.

Bennett CC, Šabanović S (2014) Deriving minimal features for human-like facial expressions in robotic faces. Int J Soc Robot 6:367–381. https://doi.org/10.1007/s12369-014-0237-z

33.

Reyes ME, Meza IV, Pineda LA (2019) Robotics facial expression of anger in collaborative human–robot interaction. Int J Adv Robot Syst 16:1–13. https://doi.org/10.1177/1729881418817972

34.

Chesher C (2012) FURO at robotworld: human–robot metacommunication and media studies. Cultural Studies Association of Australia, Adelaide, pp 1–10

35.

Hanheide M, Wrede S, Lang C, Sagerer G (2008) Who am I talking with? A face memory for social robots. In: Proceedings IEEE international conference robot automation, pp 3660–3665. https://doi.org/10.1109/ROBOT.2008.4543772

36.

Microsoft (2019) Facial Recognition. In: Microsoft Azur. https://azure.microsoft.com/en-au/services/cognitive-services/face/. Accessed 3 Sep 2019

37.

Angerer M-L, Bösel B (2016) Total affect control. Digit Cult Soc. https://doi.org/10.14361/dcs-2016-0104

38.

Boas F (2006) Primitive Art. In: Perkins M, Morphy H (eds) The anthropology of art. A reader, Blackwell, Malden MA, pp 39–55

39.

Da Vinci L, Suh H (eds) (2013) Leonardo's notebooks:writing and art of the great master. RunningPress, New York, p 379

40.

Huberman D, Fleischer M, Vogman E (eds), Lillis SB (Trans) (2015) The cube and the face: around a sculpture by Alberto Giocometti. Diaphanes, Zurich

41.

Giacometti A (2015) Cited in Huberman D, Fleischer M, Vogman E (eds), Lillis SB (Trans) (2015) The cube and the face: around a sculpture by Alberto Giocometti. Diaphanes, Zurich, p 15

42.

Fong T, Nourbakhsh I, Dautenhahn K (2003) A survey of socially interactive robots. Rob Auton Syst 42:143–166. https://doi.org/10.1016/s0921-8890(02)00372-x

43.

Kress GR, Van Leeuwen T (2006) Reading images: the grammar of visual design. Routledge, London

44.

Kriz S, Ferro TD, Damera P, Porter JR (2010) Fictional robots as a data source in HRI research: exploring the link between science fiction and interactional expectations. In: Proceedings IEEE international work robot human interaction communication, pp 458–463. https://doi.org/10.1109/ROMAN.2010.5598620

45.

Sandoval EB, Mubin O, Obaid M (2014) Human robot interaction and fiction: a contradiction. In: Beetz M, Johnston B, Williams MA (eds) Social Robotics. ICSR 2014. Lecture Notes in Computer Science, vol 8755. Springer, Cham

46.

Breazeal C (2009) Role of expressive behaviour for robots that learn from people. Philos Trans R Soc B Biol Sci 364:3527–3538

47.

Esau N, Kleinjohann L, Kleinjohann B (2006) Emotional communication with the robot head MEXI. In: 9th international conference control automation robot vision, 2006, ICARCV'06. https://doi.org/10.1109/ICARCV.2006.345162

48.

Floridi L (2014) Smart, autonomous, and social: robots as challenge to human exceptionalism. In: Seibt J, Hakil R, Nørskov M (eds) Sociable robots and the future of social relations. IOS Press, p 11

49.

Kahn PH, Reichert AL, Gary HE et al (2011) The new ontological category hypothesis in human-robot interaction. In: HRI 2011—Proceedings of 6th ACM/IEEE international conference human–robot interaction, pp 159–160. https://doi.org/10.1145/1957656.1957710

50.

Wu T, Butko NJ, Ruvulo P et al (2009) Learning to make facial expressions. In: 2009 IEEE 8th international conference on development learning ICDL 2009, pp 1–6. https://doi.org/10.1109/DEVLRN.2009.5175536

51.

Andreallo F, Chesher C (2019) Prosthetic soul mates: sex robots as media for companionship. M/C J Vol 22, No 5. http://journal.mediaculture.org.au/index.php/mcjournal/article/view/1588. Accessed 17 Feb 2020

52.

Suchman L (2011) Subject objects. Fem Theory 12:119–145. https://doi.org/10.1177/1464700111404205

53.

Softbank (2019) Interacting with pepper. In: Aldebaran doc. http://doc.aldebaran.com/2-4/family/pepper_user_guide/interacting_pep.html. Accessed 18 Sep 2019

54.

Collins K (2014) Meet Jimmy, Intel's 3D-printed robot for consumers. In: Wired. https://www.wired.co.uk/article/intel-jimmy-the-robot. Accessed 22 Dec 2019

55.

Kac E (1997) Foundation and development of robotic art. Art J 56:60–67

56.

Stelarc (2003) STELARC | PROSTHETIC HEAD. http://stelarc.org/?catID=20241. Accessed 12 Dec 2019
Ethics declarations
Conflict of interest
The authors declare that they have no conflict of interest.
Additional information
Publisher's Note
Springer Nature remains neutral with regard to jurisdictional claims in published maps and institutional affiliations.
About this article
Cite this article
Chesher, C., Andreallo, F. Robotic Faciality: The Philosophy, Science and Art of Robot Faces. Int J of Soc Robotics 13, 83–96 (2021). https://doi.org/10.1007/s12369-020-00623-2
Accepted:

Published:

Issue Date:
Keywords
Robot face

Faciality

Social robotics

Philosophy

Deleuze

Guattari

Human–robot interaction