Abstract
Humanity has been dreaming of robots since the ancient times. Historically, robots — originally called automata — have been the products of technology and faith. The relationship between robots and religion has disappeared in the last two centuries, as science and religion parted ways, and have typically been seen in opposition. Nowadays, as robots and AI are going to spread in human society, new possibilities and new ethical challenges are on the horizon. In this paper, we summarise the state of the art in robotics and religion, and propose a taxonomy for robot morphology that takes into account the factor of religion. The taxonomy encompasses the novel concept of 'theomorphic robots', referred to robots that carry the shape of something divine.
Access options
Buy single article
Instant access to the full article PDF.
USD 39.95
Price excludes VAT (USA)
Tax calculation will be finalised during checkout.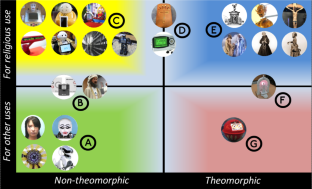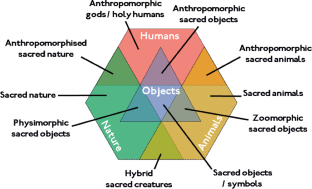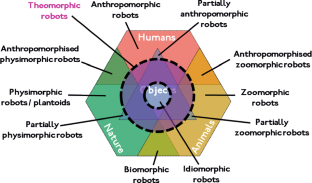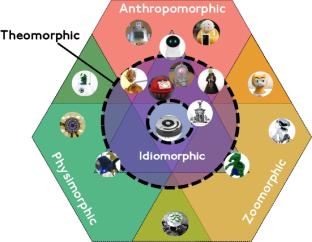 References
Besancon A (2000) The forbidden image: an intellectual history of iconoclasm. University of Chicago Press, Chicago

Yerxa DA (2015) Religion and innovation: antagonists or partners?. Bloomsbury Academic, London

Dianich S (1987) Chiesa in missione. Per un'ecclesiologia dinamica (in Italian), San Paolo Edizioni

Bell G (2006) No more SMS from Jesus: ubicomp, religion and techno-spiritual practices. In: UbiComp 2006: ubiquitous computing, pp 141–158

Muller MJ, Christiansen E, Nardi B, Dray S (2001) Spiritual life and information technology. Commun ACM 44(3):82–83

Kimura T (2017) Robotics and AI in the sociology of religion: a human in imago roboticae. Soc Compass 64(1):6–22

Duffy BR (2003) Anthropomorphism and the social robot. Robot Auton Syst 42(3–4):177–190

Tondu B (2012) Anthropomorphism and service humanoid robots: an ambiguous relationship. Ind Robot Int J 39:609–618

Weiss A, Evers V (2011) Exploring cultural factors in human-robot interaction: a matter of personality?. Presented at the 2nd International Workshop on Comparative Informatics, IWCI 2011, Denmark

Nomura T et al (2008) What people assume about humanoid and animal-type robots: cross-cultural analysis between Japan, Korea, and the United States. Int J Hum Robot 05(01):25–46

Trovato G et al (2013) Towards culture-specific robot customisation: a study on greeting interaction with Egyptians. Presented at the The 22nd IEEE international symposium on robot and human interactive communication (ROMAN 2013), Gueongju, South Korea

Trovato G, Ham JRC, Hashimoto K, et al (2015) Investigating the effect of relative cultural distance on the acceptance of robots. In: Social robotics. Springer, Cham, pp 664–673

Trovato G, Eyssel F (2017) Mind attribution to androids: a comparative study with Italian and Japanese adolescents. In: 2017 26th IEEE international symposium on robot and human interactive communication (RO-MAN), pp 561–566

Arras KO, Cerqui D (2005) Do we want to share our lives and bodies with robots? A 2000 people survey. Technical Report Nr. 0605-001, Autonomous Systems Lab, Swiss Federal Institute of Technology Lausanne (EPFL)

Geraci RM (2006) Spiritual robots: religion and our scientific view of the natural world. Theol Sci 4(3):229–246

Russell B (2017) Robots: the 500-year quest to make machines human. Scala Arts & Heritage Publishers Ltd, London

Taube KA (2012) Creation and cosmology. In: The Oxford handbook of mesoamerican archaeology

The Pew Forum on Religion & Public Life (2012) The Global Religious Landscape. Pew Research center. https://www.pewforum.org/global-religious-landscape.aspx

Hill P, Pargament KI (2003) Advances in the conceptualization and measurement of religion and spirituality. Implications for physical and mental health research. Am Psychol 58:64–74

Okpaku SO (1998) Clinical methods in transcultural psychiatry. American Psychiatric Pub, Philadelphia

Smith A (2014) Older adults and technology use. Internet, Science & Tech, Pew Research Center, Washington

European Commission (2012) Public attitudes towards robots. Special Eurobarometer 382

McIntyre AJ (1979) Romantic transcendence and the robot in Heinrich Von Kleist and E.T.A. Hoffmann. Ger Rev Lit Cult Theory 54(1):29–34

Foerst A (1998) Cog, a humanoid robot, and the question of the image of god. Zygon 33(1):91–111

Higgins RS (2013) Of gods and monsters: supernatural beings in the uncanny valley. Annual meeting of the European association for biblical studies. Leipzig, Germany

Vidal D (2007) Anthropomorphism or sub-anthropomorphism? An anthropological approach to gods and robots. J Roy Anthropol Inst 13:917–933

Durkheim É (1915) The elementary forms of the religious life. G. Allen & Unwin, London

Geraci RM (2007) Robots and the sacred in science and science fiction: theological implications of artificial intelligence. Zygon 42(4):961–980

Foerst A (2005) God in the machine: what robots teach us about humanity and god. Plume

Lindstrom L (1993) Cargo cult: strange stories of desire from melanesia and beyond. Univ of Hawaii Pr, Honolulu

Asimov I (1951) I, Robot. Gnome Press, New York

Adler MJ (1993) The Angels and Us. Paperback

Haslam N (2006) Dehumanization: an integrative review. Pers Soc Psychol Rev 10(3):252–264

Haslam N, Kashima Y, Loughnan S, Shi J, Suitner C (2008) Subhuman, inhuman, and superhuman: contrasting humans with nonhumans in three cultures. Soc Cognit 26(2):248–258

Trovato G, Cuellar F, Nishimura M (2016) Introducing "theomorphic robots". In: 2016 IEEE-RAS 16th international conference on humanoid robots (Humanoids), pp 1245–1250

Trovato G, Lucho C, Huerta-Mercado A, Cuellar F (2018) Design strategies for representing the divine in robots. In: Companion of the 2018 ACM/IEEE international conference on human–robot interaction, New York, NY, USA, pp 29–35

Grant M, Hazel J (2002) Who's who in classical mythology. Psychology Press, New York

Nelson V (2009) The secret life of puppets. Harvard University Press, Cambridge

Chapuis A, Droz E (1958) Automata: a historical and technological study. Neuchâtel: Editions du Griffon, London

Tybjerg K (2003) Wonder-making and philosophical wonder in Hero of Alexandria. Stud Hist Philos Sci Part A 34(3):443–466

Herodotus, Godley AD (1921) Herodotus. With an English translation by AD Godley. Heinemann, London

Mikalson JD (2004) Herodotus and religion in the Persian wars. Univ of North Carolina Press, Chapel Hill, p 2004

Ghosh S, Banerjee UK (2006) Indian puppets. Abhinav Publications, New Delhi

Riskin J (2016) The restless clock: a history of the centuries-long argument over what makes living things tick. University of Chicago Press, Chicago

Gell A (1994) The technology of enchantment and the enchantment of technology. In: Coote J (ed) Anthropology, art, and aesthetics. Clarendon Press, Oxford

Riskin J (2012) Machines in the garden. In: Biagioli M, Riskin J (eds) Nature engaged. Palgrave Macmillan US, Washington, pp 229–248

King E (2002) Clockwork prayer: a sixteenth-century mechanical monk. Blackbird 1(1):1–29

Soós K, Rácz J (1990) Eine Automatenfigur in Budapest (in German "An automaton figure in Budapest). Z Kunsttechnol Konserv 4:207–214

Saif M (2006) The evolution of persian thought regarding art and figural representation in secular and religious life after the coming of Islam. Macalester Islam J 1(2):6

Thomas RM (1987) Computer technology: an example of decision-making in technology transfer. In: Thomas RM, Kobayashi VN (eds) Educational technology—its creation, development and cross-cultural transfer. Pergamum Press, Oxford, pp 25–34

Rogers EM (2003) Diffusion of innovations, 5th edn. Free Press, London

Sharif J (1921) Islam in India or the Qanun I Islam. Oriental Book Reprint Corporation, New Delhi

Speziale F (2007) Il simbolismo mistico del volto umano nel trattato (in urdu) Sūrat-i ma'lūma-yi ṣuwari'ilm di Karīm Allāh'Āshiq (in Italian). J Asiatique 295(2):439–459

Brittlebank K (1995) Sakti and Barakat: the power of Tipu's tiger. An examination of the tiger emblem of Tipu Sultan of Mysore. Mod Asian Stud 29(2):257–269

Riek L et al (2010) Ibn Sina steps out: exploring Arabic attitudes toward humanoid robots. In: Proceedings of the 2nd international symposium on new frontiers in human–robot interaction, vol 1. AISB, Leicester

Vālmīki (1981) The Yoga-vásishtha-mahárámáyana of Válmiki. Bonnerjee and Company

Debroy B (2015) The Mahabharata: complete and unabridged, 2015th edn. Penguin Books India Pvt. Ltd., New Delhi

Ganapati Bappachi Robotic Aarti. Robolab Technologies Pvt Ltd. [Online].https://www.robolab.in/ganapati-bappachi-robotic-aarti/. Accessed 04 Feb 2019

Grimaud E (2008) Dieux & robots: Les théâtres d'automates divins de Bombay (in French). L'Archange Minotaure, Apt

Kaplan F (2004) Who is afraid of the humanoid? Investigating cultural differences in the acceptance of robots. Int J Hum Robot 01(03):465–480

Idel M (1990) Golem: Jewish Magical and Mystical Traditions on the Artificial Anthropoid. State University of New York Press, Albany

Woodruff A, Augustin S, Foucault B (2007) Sabbath day home automation: "It's Like Mixing Technology and Religion". In: Proceedings of the SIGCHI conference on human factors in computing systems, New York, NY, USA, pp 527–536

Dundes A (2002) The shabbat elevator and other sabbath subterfuges: an unorthodox essay on circumventing custom and Jewish character. Rowman & Littlefield Publishers, Lanham

Okakura K (2012) The ideals of the east. Jazzybee Verlag, Loschberg

Mori M (1989) The Buddha in the robot. Kosei Publishing Company, Tokyo

Currell D (2015) Shadow puppets and shadow play. Crowood, Marlborough

Schodt FL (1988) Inside the Robot Kingdom - Japan, Mechatronics, and Coming Robotopia. Kodansha, Tokyo

Yamaguchi M (2005) 'Karakuri: the ludic relationship between man and machine in Tokugawa Japan', in Japan at Play. Routledge, London

Takanishi A (2011) Humanoid robots, and the culture and history of the Japanese people. Acta Philos 20(1):29–52

NISSEI ECO. Pepper Funeral Homes & Cremation Facility, Inc. | Canton PA funeral home and cremation. Pepper Funeral Homes & Cremation Facility, Inc. | Canton PA funeral home and cremation. https://www.PepperFuneralHomes.com/. Accessed 22 Aug 2018

Uriu D, Odom W, Gould H (2018) Understanding automatic conveyor-belt columbaria: emerging sites of interactive memorialization in Japan. In: Proceedings of the 2018 designing interactive systems conference, New York, NY, USA, pp 747–752

Nishio S, Ishiguro H, Hagita N (2007) Geminoid: teleoperated android of an existing person. In: Humanoid robots: new developments. Armando Carlos de Pina Filho. InTech, Vienna, Austria, pp 582–591

Trovato G, Zecca M, Kishi T, Endo N, Hashimoto K, Takanishi A (2013) Generation of humanoid robot's facial expressions for context-aware communication. Int J Hum Robot 10(01):1350013

Nakayasu A, Tomimatsu K (2009) Himawari plant robot: creature expression using shape-memory-alloy actuator crowd robots. In: ACM SIGGRAPH ASIA 2009 art gallery and emerging technologies: adaptation, New York, NY, USA, pp 72–72

'aibo', aibo. http://aibo.com/. Accessed 22 Aug 2018

'The Source for X10 & X10 Pro Genuine Products'. https://www.x10.com/. Accessed 22 Aug 2018

Sherwood H (2017) Robot priest unveiled in Germany to mark 500 years since Reformation. The Guardian, 30-May-2017

'Robot monk blends science and Buddhism at Chinese temple', Reuters, 22 Apr 2016

Gaver W, Blythe M, Boucher A, Jarvis N, Bowers J, Wright P (2010) The prayer companion: openness and specificity, materiality and spirituality. New York, NY, USA, pp 2055–2064

Atheist F, Must-SEE: iranian robot, constructed by Qur'an teacher, instructs Muslim children how to pray. Friendly Atheist

Jds. COSMODROMIUM: Mechanical Devils. COSMODROMIUM, 21 Apr 2011

Trovato G, Lucho C, Ramon A, Ramirez R, Rodriguez L, Cuellar F (2018) The creation of SanTO: a robot with "divine" features. Presented at the 15th international conference on ubiquitous robots, Honululu, USA

Wyche SP, Aoki PM, Grinter RE (2008) Re-placing faith: reconsidering the secular-religious use divide in the United States and Kenya. In: Proceedings of the SIGCHI conference on human factors in computing systems, New York, NY, USA, pp 11–20

Burckhardt T (1967) Sacred art in east and west: its principles and methods. Airlift

Council of Trent (1563) De Invocatione, veneration et reliquiis sanctorum, et de sacris imaginibus, vol 2. Norman P. Tanner, London

Lopez Pinto A (2014) Common sense approach to the restoration of sacred art. Studia Gilsoniana 3:537–545

Leonard SA, McClure M (2003) Myth and knowing: an introduction to world mythology, 1st edn. McGraw-Hill Education, Boston

Rosenberg D (1994) World mythology, 2nd edn. McGraw-Hill Education, Lincolnwood

Latour B (1991) Nous n'avons jamais été modernes (La découverte). English translation revised and augmented: We Have Never Been Modern, Simon and Schuster. 31 England and Harvard University Press

Li D, Rau PLP, Li Y (2010) A cross-cultural study: effect of robot appearance and task. Int J Soc Robot 2(2):175–186

Lohse M, Hegel F, Swadzba A, Rohlfing K, Wachsmuth S, Wrede B (2007) What can I do for you? Appearance and application of robots. In: Workshop on the reign of catz and dogz? The role of virtual creatures in a computerised society

'LG's new Hub Robot can integrate all your home appliances'. CNET. https://www.cnet.com/reviews/lg-hub-robot-preview/. Accessed 19 Aug 2018

van Breemen A, Yan X, Meerbeek B (2005) iCat: an animated user-interface robot with personality. In: Proceedings of the fourth international joint conference on autonomous agents and multiagent systems, New York, NY, USA, pp 143–144

Saldien J, Goris K, Yilmazyildiz S, Verhelst W, Lefeber D (2008) On the design of the huggable robot probo. J Phys Agents 2(2):3–12

Roomba Robot Vacuum | iRobot. https://www.irobot.com/For-the-Home/Vacuuming/Roomba/. Accessed 22 Aug 2018

HEXA the six-legged robot plant chases the sun to look after its succulent. designboom | architecture & design magazine, 13-Jul-2018. https://www.designboom.com/technology/hexa-robot-plant-vincross-succulent-07-13-2018/. Accessed 22 Aug 2018

Hamann H et al. (2017) Flora robotica: an architectural system combining living natural plants and distributed robots. arXiv:1709.04291 [cs]

Mazzolai B, Laschi C, Dario P, Mugnai S, Mancuso S (2010) The plant as a biomechatronic system. Plant Signal Behav 5(2):90–93

Le Petit Prince—the Cute Little Gardener Meant for Mars (w/Video). https://phys.org/news/2009-09-le-petit-prince-cute.html. Accessed 22 Aug 2018

Reeves B, Nass C (1996) The media equation: how people treat computers, television, and new media like real people and places. Cambridge University Press, Cambridge

Cuéllar FF, Peñaloza CI, López JA (2016) Educational robots as promotors of cultural development. In: The eleventh ACM/IEEE international conference on human robot interaction, Piscataway, NJ, USA pp 547–547

Trovato G et al (2015) "Olá, my name is Ana": a study on Brazilians interacting with a receptionist robot. Presented at the the 17th international conference on advanced robotics, Istanbul, Turkey

McCloud S (1994) Understanding comics: the invisible art, Reprint edn. William Morrow Paperbacks, New York

Blow M, Dautenhahn K, Appleby A, Nehaniv CL, Lee D (2006) The art of designing robot faces: dimensions for human–robot interaction. In: Proceedings of the 1st ACM SIGCHI/SIGART conference on human–robot interaction, New York, NY, USA, pp 331–332

Wodehouse AJ, Ion WJ (2010) Information use in conceptual design: existing taxonomies and new approaches. Int J Des 4(3):53–65

Shibata T, Wada K, Tanie K (2004) Tabulation and analysis of questionnaire results of subjective evaluation of seal robot in Japan, U.K., Sweden and Italy. In: 2004 IEEE International Conference on Robotics and Automation, 2004. Proceedings. ICRA'04, 2004, vol 2, pp 1387–1392

AUR Robotic Desk Lamp «  Guy Hoffman. http://guyhoffman.com/aur-robotic-desk-lamp/. Accessed 09 Jul 2018

Basalla G (1988) The evolution of technology. Cambridge University Press, Cambridge

Kaptelinin V (2014) Affordances and design. The Interaction Design Foundation, Copenhagen

Jamone L et al (2017) Affordances in psychology, neuroscience and robotics: a survey. IEEE Trans Cognit Dev Syst PP(99), 1–1

Rajput SA (2016) The source, meanings and use of "mudra" across religions. Int J Comput Res Dev 1(1):36–41

Marzal M (1976) Diez hipótesis de interpretación del catolicismo popular (Ten hypotheses of interpretation of popular Catholicism), Sígueme

Renfrew C (2008) Neuroscience, evolution and the sapient paradox: the factuality of value and of the sacred. Philos Trans R Soc Lond B Biol Sci 363(1499):2041–2047

Deloria V (1999) Spirit and Reason: The Vine Deloria, Jr. Reader. Fulcrum Publishing, Golden

Schonenberg B, Bartneck C (2010) Mysterious machines. Piscataway, NJ, USA, pp 349–350

Watson B (2016) Light: a radiant history from creation to the quantum age. Bloomsbury Publishing, New York

Ferguson G, Ferguson GW (1959) Signs and symbols in Christian art. Oxford University Press, Oxford

Douglas M (2003) Purity and danger: an analysis of concepts of pollution and taboo. Psychology Press, London

Greer MA (2002) Daruma eyes: the sixth century founder of Zen Buddhism and Kung Fu had the earliest recorded Graves' ophthalmopathy. Thyroid 12(5):389–391

IEEE Standards Association. Ethically Aligned Design, Version 2 (EADv2) 2018
Ethics declarations
Conflict of interest
The authors declare that they have no conflict of interest.
Additional information
Publisher's Note
Springer Nature remains neutral with regard to jurisdictional claims in published maps and institutional affiliations.
About this article
Cite this article
Trovato, G., De Saint Chamas, L., Nishimura, M. et al. Religion and Robots: Towards the Synthesis of Two Extremes. Int J of Soc Robotics 13, 539–556 (2021). https://doi.org/10.1007/s12369-019-00553-8
Accepted:

Published:

Issue Date:

DOI: https://doi.org/10.1007/s12369-019-00553-8
Keywords