Abstract
This pilot study explores the feasibility of using the KIBO Robot as an engaging platform to positively impact social and emotional development in children with ASD. KIBO is a programmable toy robot originally designed to teach coding and sequencing to neuro-typical children between 4 and 7 years of age. To assess its use in children with severe ASD, twelve participants were introduced to KIBO and engaged in a variety of activities with the robot over four consecutive days. Their interactions were observed on site by raters and simultaneously videotaped for later analysis. We performed a detailed quantitative and qualitative analysis in two subjects who completed six or more of the eight planned KIBO play sessions. We observed that most of the participants showed sustained interest in the KIBO robot and increased the frequency of their interactions with adults across play sessions. Although the participants demonstrated only a limited understanding of programming principles during the study, they managed to manipulate the KIBO appropriately, engaged socially with the adults in the room and interacted positively with the robot during individual play. The findings suggest that the KIBO robot warrants further study as an engaging educational platform for children with ASD.
This is a preview of subscription content, log in to check access.
Access options
Buy single article
Instant access to the full article PDF.
US$ 39.95
Price includes VAT for USA
Subscribe to journal
Immediate online access to all issues from 2019. Subscription will auto renew annually.
US$ 99
This is the net price. Taxes to be calculated in checkout.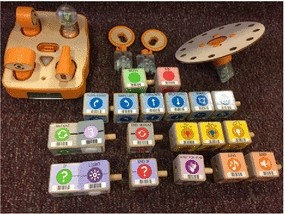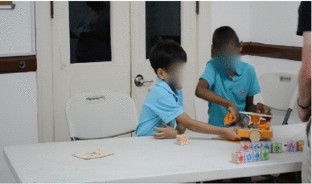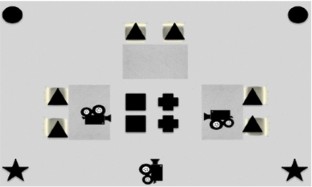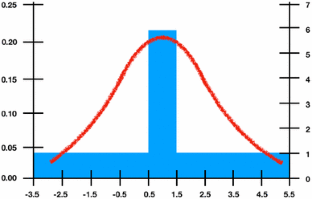 References
1.

American Psychiatric Association (1987) Diagnostic and statistical manual of the mental disorders. DSM-III-R, 107–109

2.

Sicile-Kira C (2004) Autism spectrum disorders: a complete guide to understanding autism, asperger syndrome, pervasive developmental disorder and other ASDs. The Berkley Publishing Group, New York

3.

Wainer J, Ferrari E, Dautenhahn K, Robins B (2010) The effectiveness of using a robotics class to foster collaboration among groups of children with autism in an exploratory study. Pers Ubiquitous Comput 14:45–455

5.

Ben R, Dautenhahn K, Te Boekhorst R, Billard A (2005) Robotic assistants in therapy and education of children with autism: can a small humanoid robot help encourage social interaction skills? Univ Access Inf Soc 4(2):105–120

6.

Werry I, Dautenhahn K, Harwin W (2001) Investigating a robot as a therapy partner for children with autism. Procs AAATE

7.

Reichow B, Volkmar FR (2009) Social skills interventions for individuals with autism: evaluation for evidence-based practiceswithin a best evidence synthesis frameworkD. J Autism Dev Disord 40(2):149–166

8.

Dautenhahn K, Werry I, Rae J, Dickerson P, Stribling P, Ogden B (2002) Robotic playmates: analysing interactive competencies of children with autism playing with a mobile robot. In: Dautenhahn K, Bond A, Canamero L, Edmonds B (eds) Socially intelligent agents–creating relationships with computers and robots. Multiagent systems, artificial societies, and simulated organizations, vol 3. Kluwer Academic Publishers, Kluwer, pp 117–124

9.

LeGoff DB (2004) Use of LEGO as a therapeutic medium for improving social competence. J Autism Dev Disord 5:557–571

10.

LeGoff DB, Sherman M (2006) Long-term outcome of social skills intervention based on interactive LEGO play. Autism 10:317–329

11.

Owens G, Granader Y, Humphrey A (2008) LEGO therapy and the socialuse of language programme: an evaluation of two social skills interventions for children with high functioning autism and Asperger syndrome. J Autism Dev Disord 38:1944–1957

12.

Albo-Canals J, Heerink M, Diaz M, Padillo V, Maristany M, Barco A, Angulo C, Riccio A, Brodsky L, Dufresne S, Heilbron S (2013) Comparing two LEGO robotics-based interventions for social skills training with children with ASD. InRO-MAN, 2013 IEEE 2013 Aug 26. IEEE, pp 638–643

13.

Ferrari E, Ben R, Dautenhahn K (2009) Therapeutic and educational objectives in robot assisted play for children with autism. In: The 18th IEEE international symposium on robot and human interactive communication, 2009, RO-MAN 2009. IEEE, pp 108–114

14.

Dautenhahn K, Werry I (2004) Towards interactive robots in autism therapy: background, motivation and challenges. Pragmat Cognit 12(1):1–35

15.

Sanson F, Aguirre G, Mejia M, Lopez V, Albo-Canals J (2016) LEGO robotics activities feeder for social robotics through a cloud-based architecture. In: Proceedings of international conference on social robotics in therapy and education - new friends, 2016, Barcelona, Spain

16.

Albo-Canals J, Feerst D, de Cordoba D, Rogers C (2015) A cloud robotic system based on robot companions for children with autism spectrum disorders to perform evaluations during LEGO engineering workshops. In: Proceedings of the tenth annual ACM/IEEE international conference on human–robot interaction extended abstracts 2015 Mar 2. ACM, pp 173–174

17.

Bers MU (2017) Coding as a playground: programming and computational thinking in the early childhood classroom, vol 39. Routledge Press, London

18.

Bers MU, Flannery LP, Kazakoff ER, Sullivan A (2014) Computational thinking and tinkering: exploration of an early childhood robotics curriculum. Comput Educ 72:145–157

19.

Bers MU, Seddighin S, Sullivan A (2013) Ready for robotics: bringing together the T and E of STEM in early childhood teacher education. J Technol Teach Educ 21(3):355–377

20.

Elkin M, Sullivan A, Bers MU (2014) Implementing a robotics curriculum in an early childhood Montessori classroom. J Inf Technol Educ Innov Pract 13:153–169

21.

Flannery LP, Bers MU (2013) Let's dance the "Robot Hokey-Pokey!": children's programming approaches and achievement throughout early cognitive development. J Res Technol Educ 46(1):81–101

22.

Sullivan A, Bers MU (2013) Gender differences in kindergarteners' robotics and programming achievement. Int J Technol Des Educ 23(3):691–702

23.

Sullivan A, Bers MU (2015) Robotics in the early childhood classroom: Learning outcomes from an 8-week robotics curriculum in pre-kindergarten through second grade. Int J Technol Des Educ (online first)

24.

Bers MU (2014) Tangible kindergarten: learning how to program robots in early childhood. In: Sneider CI (ed) The go-to guide for engineering curricula PreK-5: choosing and using the best instructional materials for your students. Corwin, Thousand Oaks, pp 133–145

25.

Kazakoff E, Sullivan A, Bers MU (2013) The effect of a classroom-based intensive robotics and programming workshop on sequencing ability in early childhood. Early Child Educ J 41(4):245–255. https://doi.org/10.1007/s10643-012-0554-5

26.

Kazakoff ER, Bers MU (2014) Put your robot in, put your robot out: sequencing through programming robots in early childhood. J Educ Comput Res 50(4):553–573

27.

Sullivan A, Elkin M, Bers MU (2015) KIBO robot demo: engaging young children in programming and engineering. In: Proceedings of the 14th international conference on interaction design and children (IDC '15). ACM, Boston, MA, USA

28.

Strawhacker AL, Bers MU (2014) "I want my robot to look for food": comparing children's programming comprehension using tangible, graphical, and hybrid user interfaces. Int J Technol Des Educ. (advance online publication)

29.

Elkin M, Sullivan A, Bers MU (2016) Programming with the KIBO robotics kit in Preschool Classrooms. Comput Sch 33(3):169–186

30.

Lee K, Sullivan A, Bers MU (2013) Collaboration by design: using robotics to foster social interaction in Kindergarten. Comput Sch 30(3):271–281

31.

Sullivan A, Bers MU (2017) Dancing robots: integrating art, music, and robotics in Singapore's early childhood centers. Int J Technol Des Educ. https://doi.org/10.1007/s10798-017-9397-0

32.

Bers MU (2012) Designing digital experiences for positive youth development: from playpen to playground. Oxford, Cary

33.

Heerink M, Díaz M, Albo-Canals J, Angulo C, Barco A, Casacuberta J, Garriga C (2012) A field study with primary school children on perception of social presence and interactive behavior with a pet robot. In: RO-MAN, 2012 IEEE. IEEE, pp 1045–1050

34.

Friard O, Gamba M (2016) BORIS: a free, versatile open-source event-logging software for video/audio coding and live observations. Methods Ecol Evol 7(11):1324–1330. https://doi.org/10.1111/2041-210X.12584

35.

Mazzone L, Vitiello B (2016) Psychiatric symptoms and comorbidities in autism spectrum disorder. Springer, Switzerland

36.

Hauck M, Fein D, Waterhouse L, Feinstein C (1995) Social Initiations by autistic children to adults and other children. J Autism Dev Disord 25:579–95

37.

Lewis JB, Lupton L, Watson VS (2000) Relationships between symbolic play, functional play, verbal and non-verbal ability in young children. Int J Lang Commun Disord 35(1):117–127

38.

Happé F, Vital P (2009) What aspects of autism predispose to talent? Philos Trans R Soc Lond B Biol Sci 364(1522):1369–1375. https://doi.org/10.1098/rstb.2008.0332

39.

Valenzuela E, Barco A, Albo-Canals J (2015) Learning social skills through LEGO-based social robots for children with autism spectrum disorder at CASPAN center in Panama. In: Proceedings of international conference on social robotics in therapy and education—new friends 2015, Almere, The Neatherlands

40.

Dautenhahn K, Werry I (2002) A quantitative technique for analysing robot-human interactions. In: IEEE/RSJ international conference on intelligent robots and systems, vol 2. https://doi.org/10.1109/IRDS.2002.1043883

41.

Sullivan A, Kazakoff ER, Bers MU (2013) The wheels on the bot go round and round: robotics curriculum in pre-kindergarten. J Inf Technol Educ Innov Pract 12:203–219
Acknowledgements
This research project is funded by NSF Grant No. DRL-1118897 and the Government of Panama, as well as a Tufts University FRAC Grant.
Ethics declarations
Conflict of interest
The authors declared that they have no conflict of interest.
Additional information
Publisher's Note
Springer Nature remains neutral with regard to jurisdictional claims in published maps and institutional affiliations.
About this article
Cite this article
Albo-Canals, J., Martelo, A.B., Relkin, E. et al. A Pilot Study of the KIBO Robot in Children with Severe ASD. Int J of Soc Robotics 10, 371–383 (2018). https://doi.org/10.1007/s12369-018-0479-2
Accepted:

Published:

Issue Date:
Keywords
Education

Robots

Social activities

KIBO

Learning

Social skills

Autism spectrum disorder

Programming