Abstract
We present a novel concept of interactive devices, called "transitional wearable companions" (TWCs), usable to support therapy and foster social skill development in children with autism spectrum disorder (ASD). TWCs have two distinctive features. First, they are soft interactive devices, which look like tender animals, able to arise attachment emotions and give a continuous reassuring physical contact. Second, TWCs are embedded social robots responding to the child's manipulations by emitting lights, sounds, or vibrations usable for multiple purposes, for example to enhance the child's engagement. TWCs can have additional important features. First, the input–output rules with which they respond to the child's actions can be changed by the therapist/caregiver, for example through a tablet, thus opening a large number of possibilities to foster social interaction. Second, TWCs can have biosensors gathering information on the child's physiological and emotional state, thus offering multiple ways to support the interaction with the child during therapy and daily life. The paper presents the principles underlying TWC design, their possible future enhancements, a first prototype (+me) of social TWC, and possible empirical experiment procedures to test the effectiveness of TWC in controlled experiments. For their multifaceted and flexible features, TWCs might become an important tool to enhance ASD children's social abilities in ecological and therapeutic contexts.
Access options
Buy single article
Instant access to the full article PDF.
US$ 39.95
Tax calculation will be finalised during checkout.
Subscribe to journal
Immediate online access to all issues from 2019. Subscription will auto renew annually.
US$ 79
Tax calculation will be finalised during checkout.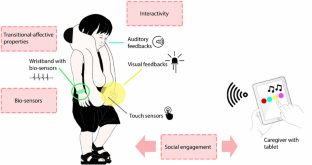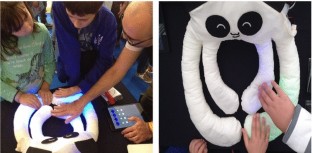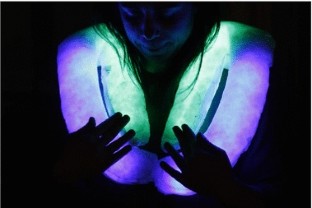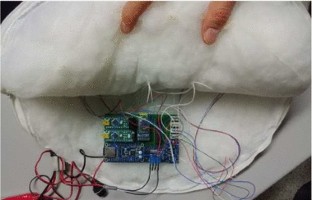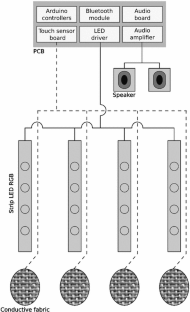 Notes
1.

Commercial products for physiological data recording are now becoming available at relatively low prices, e.g. see www.empatica.com.

2.

3.
References
1.

van Rijn H, Stappers PJ (2008) The puzzling life of autistic toddlers: design guidelines from the LINKX project. Adv Hum-Comput Interact 2008:1–8

2.

Baron-Cohen S, Golan O, Ashwin E (2009) Can emotion recognition be taught to children with autism spectrum conditions? Philos Trans R Soc B: Biol Sci 364(1535):3567–3574

3.

el Kaliouby R, Robinson P (2003) Therapeutic versus prosthetic assistive technologies: the case of autism. Computer Laboratory, University of Cambridge. Technical Report

4.

Konstantinidis EI, Luneski A, Frantzidis CA, Costas P, Bamidis PD (2009) A proposed framework of an interactive semi-virtual environment for enhanced education of children with autism spectrum disorders. In: 22nd IEEE international symposium on computer based mediac systems. IEEE, August 2009, Albuquerque, pp 1–6

5.

Funahashi A, Gruebler A, Aoki T, Kadone H, Suzuki K (2014) Brief report: the smiles of a child with autism spectrum disorder during an animal-assisted activity may facilitate social positive behaviors-quantitative analysis with smile-detecting interface. J Autism Dev Disord 44(3):685–693

6.

Jimenez A (2013) Physiological sensor. Ph.D. dissertation, Departement of Electrical and Computer Engineering, University of Louisville

7.

Welch K (2012) Physiological signals of autistic children can be useful. IEEE Instrum Meas Mag 15(1):28–32

8.

Takano Y, Suzuki K (2014) Affective communication aid using wearable devices based on biosignals. In: Proceedings of the 2014 conference on interaction design and children - IDC '14, pp. 213–216

9.

Dsouza A, Barretto M, Raman V (2010) Uncommon sense: interactive sensory toys that encourage social interaction among children with autism. Workshop paper presented at IDC, vol 12

10.

Baron-Cohen S (1995) Mindblindness: an essay on autism and theory of mind Ba, Ed. MIT press, Cambridge

11.

Pennisi P, Tonacci A, Tartarisco G, Billeci L, Ruta L, Gangemi S, Pioggia G (2016) Autism and social robotics: a systematic review. Autism Res 9(2):165–183

12.

Powell S (1996) The use of computers in teaching people with autism. In: Autism on the agenda: papers from a national autistic society conference. London

13.

Farr W, Yuill N, Raffle H (2010) Social benefits of a tangible user interface for children with autistic spectrum conditions. Autism: Int J Res Pract 14(3):237–252

14.

Luyster R, Gotham K, Guthrie W, Coffing M, Petrak R, Pierce K, Bishop S, Esler A, Hus V, Oti R et al (2009) The autism diagnostic observation scheduletoddler module: a new module of a standardized diagnostic measure for autism spectrum disorders. J Autism Dev Disord 39(9):1305–1320

15.

Pioggia G, Igliozzi R, Ferro M, Ahluwalia A, Muratori F, De Rossi D (2005) An android for enhancing social skills and emotion recognition in people with autism. IEEE Trans Neural Syst Rehabil Eng 13(4):507–515

16.

Robins B, Dautenhahn K, Boekhorst RT, Billard a (2005) Robotic assistants in therapy and education of children with autism: can a small humanoid robot help encourage social interaction skills? Univers Access Inf Soc 4(2):105–120

17.

Trimingham M (2010) Objects in transition: the puppet and the autistic child. J Appl Arts Health 1(3):251–265

18.

Winnicott DW (1953) Transitional objects and transitional phenomena a study of the first not-me possession. Int J Psychoanal 34:89–97

19.

Stevenson O (1954) The first treasured possession: a study of the part played by specially loved objects and toys in the lives of certain children. Psychoanal Study Child 9:199–217

20.

Özcan B (2014) Motivating children with autism to communicate and interact socially through the + me wearable Device. In: Paglieri F, Ferretti F (eds) Nea-Science: Giornale Italiano di Neuroscienze, Psicologia e Riabilitazione. Salerno, Italy, pp 65–71

21.

Elias JZ, Morrow PB, Streater J, Gallagher S, Fiore SM (2011) Towards triadic interactions in autism and beyond: transitional objects, joint attention, and social robotics. Proc Hum Factors Ergonom Soc 55(1):1486–1490

22.

Brok JCJ, Barakova EI (2010) Engaging autistic children in imitation and turn-taking games with multiagent system of interactive lighting blocks. In: Entertainment computing ICEC 2010, series (Lecture notes in computer science), vol 6243. Springer 2010, pp 115–126

23.

Caligiore D, Tommasino P, Sperati V, Baldassarre G (2014) Modular and hierarchical brain organization to understand assimilation, accommodation and their relation to autism in reaching tasks: a developmental robotics hypothesis. Adapt Behav 22(5):304–329

24.

Kientz JA, Hayes GR, Westeyn TL, Starner T, Abowd GD (2007) Pervasive computing and autism: assisting caregivers of children with special needs. IEEE Pervasive Comput 1:28–35

25.

Picard RW (2009) Future affective technology for autism and emotion communication. Philos Trans R Soc B: Biol Sci 364(1535):3575–3584

26.

Chang MC, Parham LD, Blanche EI, Schell A, Chou C-P, Dawson M, Clark F (2012) Autonomic and behavioral responses of children with autism to auditory stimuli. Am J Occup Ther 66(5):567–576

27.

Kushki A, Drumm E, Mobarak MP, Tanel N, Dupuis A, Chau T, Anagnostou E (2013) Investigating the autonomic nervous system response to anxiety in children with autism spectrum disorders. PLoS One 8(4):e59730

28.

Fletcher RR, Poh MZ, Eydgahi H (2010) Wearable sensors: opportunities and challenges for low-cost health care. In: Proceedings of 32nd international conference of the IEEE engineering in medicine and biology society (EMBC'10), Buenos Aires, Argentina, September 2010, pp 1763–1766

29.

Campbell M, Schopler E, Cueva JE, Hallin A (1996) Treatment of autistic disorder. J Am Acad Child Adolesc Psychiatry 35(2):134–143

30.

Lofthouse N, Hendren R, Hurt E, Arnold LE, Butter E (2012) A review of complementary and alternative treatments for autism spectrum disorders. Autism Res Treat, vol 2012, article ID 870391

31.

Harris A, Rick J, Bonnett V, Yuill N, Fleck R, Marshall P, Rogers Y (2009) Around the table: are multiple-touch surfaces better than single-touch for children's collaborative interactions? In: Proceedings of the 9th international conference on computer supported collaborative learning (CSCL09), vol 1, pp 335–344

32.

Scassellati B, Admoni H, Matarić M (2012) Robots for use in autism research. Annu Rev Biomed Eng 14(1):275–294

33.

McPartland JC, Coffman M, Pelphrey KA (2011) Recent advances in understanding the neural bases of autism spectrum disorder. Curr Opin Pediatr 23(6):628–632

34.

Winkielman P (2010) Embodied and disembodied processing of emotional expressions: insights from autism spectrum disorders. Behav Brain Sci 33(6):463–464

35.

Kozima H, Nakagawa C, Yasuda Y (2005) Interactive robots for communication-care: a case-study in autism therapy. In: International workshop on robot and human interactive communication, (ROMAN 2005). IEEE, pp 341–346

36.

Andreae H, Andreae P, Low J, Brown D (2014) A study of auti: a socially assistive robotic toy. In: Proceedings of the 2014 conference on interaction design and children (IDC '14), 2014, pp 245–248

37.

Owens G, Granader Y, Humphrey A, Baron-Cohen S (2008) Lego therapy and the social use of language programme: an evaluation of two social skills interventions for children with high functioning autism and asperger syndrome. J Autism Dev Disord 38(10):1944–1957

38.

Schachter S, Singer J (1962) Cognitive, social, and physiological determinants of emotional state. Psychol Rev 69(5):379–399

39.

Liu C, Conn K, Sarkar N, Stone W (2008) Physiology-based affect recognition for computer-assisted intervention of children with autism spectrum disorder. Int J Hum-Comput Stud 66(9):662–677

40.

Ming X, Bain JM, Smith D, Brimacombe M, Von-Simson GG, Axelrod FB (2011) Assessing autonomic dysfunction symptoms in children: a pilot study. J Child Neurol 26(4):420–427

41.

Schaaf RC, Benevides TW, Leiby BE, Sendecki JA (2013) Autonomic dysregulation during sensory stimulation in children with autism spectrum disorder. J Autism Dev Disord 45(2):461–472

42.

Smeekens I, Didden R, Verhoeven EWM (2013) Exploring the relationship of autonomic and endocrine activity with social functioning in adults with autism spectrum disorders. J Autism Dev Disord 45(2):495–505

43.

Wang Y, Hensley MK, Tasman A, Sears L, Casanova MF, Sokhadze EM (2016) Heart rate variability and skin conductance during repetitive TMS course in children with autism. Appl Psychophysiol Biofeedback 41(1):47–60

44.

Klusek J, Roberts JE, Losh M (2015) Cardiac autonomic regulation in autism and Fragile X syndrome: a review. Psychol Bull 141(1):141–175

45.

Patriquin MA, Lorenzi J, Scarpa A (2013) Relationship between respiratory sinus arrhythmia, heart period, and caregiver-reported language and cognitive delays in children with autism spectrum disorders. Appl Psychophysiol Biofeedback 38(3):203–207

46.

Porges SW (2001) The polyvagal theory: phylogenetic substrates of a social nervous system. Int J Psychophysiol 42(2):123–146

47.

Hutt C, Forrest SJ, Richer J (1975) Cardiac arrhythmia and behaviour in autistic children. Acta Psychiatr Scand 51(5):361–372

48.

Hirstein W, Iversen P, Ramachandran VS (2001) Autonomic responses of autistic children to people and objects. Proc R Soc Lond Ser B: Biol Sci 268:1883–1888

49.

Palkovitz RJ, Wiesenfeld AR (1980) Differential autonomic responses of autistic and normal children. J Autism Dev Disord 10(3):347–360

50.

Tegler B, Sharp M, Johnson MA (2001) Ecological monitoring and assessment network's proposed core monitoring variables: an early warning of environmental change. Environ Monit Assess 67(1–2):29–56

51.

Poh M-Z, Swenson NC, Picard RW (2010) A wearable sensor for unobtrusive, long-term assessment of electrodermal activity. IEEE Trans Biomed Eng 57(5):1243–1252

52.

Albinali F, Goodwin MS, Intille SS (2009) Recognizing stereotypical motor movements in the laboratory and classroom: a case study with children on the autism spectrum. In: Proceedings of the 11th international conference on Ubiquitous computing, pp 71–80

53.

Pan C-Y, Tsai C-L, Hsieh K-W, Chu C-H, Li Y-L, Huang S-T (2011) Accelerometer-determined physical activity among elementary school-aged children with autism spectrum disorders in taiwan. Res Autism Spectr Disord 5(3):1042–1052

54.

Haswell CC, Izawa J, Dowell LR, Mostofsky SH, Shadmehr R (2009) Representation of internal models of action in the autistic brain. Nat Neurosci 12(8):970–972

55.

Rani P, Sarkar N (2004) Emotion-sensitive robots: a new paradigm for human-robot interaction. In: 4th IEEE/RAS/international conference on humanoid robots. IEEE, 2004. Los Angeles, pp 149–167

56.

Hyun KH, Kim EH, Kwak YK (2010) Emotional feature extraction method based on the concentration of phoneme influence for humanrobot interaction. Adv Robot 24:47–67

57.

Jani JM, Leary M, Subic A, Gibson MA (2014) A review of shape memory alloy research, applications and opportunities. Mater Des 56:1078–1113

58.

Ratna D, Karger-Kocsis J (2008) Recent advances in shape memory polymers and composites: a review. J Mater Sci 43(1):254–269

59.

Hu J (2007) Shape memory polymers and textiles. Elsevier, New York

60.

Hu J, Chen S (2010) A review of actively moving polymers in textile applications. J Mater Chem 20(17):3346–3355

61.

Vili YYC (2007) Investigating smart textiles based on shape memory materials. Text Res J 77(5):290–300

62.

Van Langenhove L, Hertleer C, Schwarz A (2012) Smart textiles: an overview. In: Intelligent textiles and clothing for ballistic and NBC protection, vol 2012. Springer, New York, pp 119–136
Acknowledgments
This research has received funds from the European Commission under the 7th Framework Programme (FP7/2007-2013), ICT Challenge 2 "Cognitive Systems and Robotics", project "IM-CLeVeR - Intrinsically Motivated Cumulative Learning Versatile Robots", grant agreement no. ICT-IP-231722. The authours would like to thank M. Aliberti, S. Scaffaro, A. Medda from INI Institute, Villa Dante for the collaboration in developing the TWC general idea, and M. Cicorella from MakeInBo for his help in developing the +me hardware.
About this article
Cite this article
Özcan, B., Caligiore, D., Sperati, V. et al. Transitional Wearable Companions: A Novel Concept of Soft Interactive Social Robots to Improve Social Skills in Children with Autism Spectrum Disorder. Int J of Soc Robotics 8, 471–481 (2016). https://doi.org/10.1007/s12369-016-0373-8
Accepted:

Published:

Issue Date:
Keywords
Autism

Social interaction

Therapy

Interactivity

Wearable

Biosensors

Emotional state