Abstract
Ring spot caused by Leptosphaeria sacchari is a very common disease of sugarcane in humid tropical conditions. We have conducted a detailed study on status of disease resistance to the disease in our major Saccharum spp collections of Saccharum officinarum. All the S. officinarum clones exhibited ring spot disease with varying intensity as 70.14% clones showed resistant reaction, 24.3% clones showed intermediate reaction and 5.5% clones showed susceptible reaction. The disease appears in the month of June and remains until the harvest. Maximum average disease severity (29.33%) was observed in the July. The accessions analysed also showed significant difference with respect to origin. Multiple comparisons indicated that mean rank of Thailand accessions (682.50) was significantly highest as compared to those of other. Stalk height and leaf length showed significantly weak correlation with ring spot incidence, and other morphological factors were not significant. Disease severity with leaf colour and canopy type was found significant. Purple-leaved clones recorded lower disease incidence than other clones. Very strong positive correlation was observed with rainfall, evening relative humidity and rainy days, whereas maximum temperature showed significant negative correlation. This study clearly indicated the role played by the morphological factors, juice quality traits and weather factors in determining resistance in germplasm to ring spot disease in sugarcane.
Access options
Buy single article
Instant access to the full article PDF.
US$ 39.95
Tax calculation will be finalised during checkout.
Subscribe to journal
Immediate online access to all issues from 2019. Subscription will auto renew annually.
US$ 79
Tax calculation will be finalised during checkout.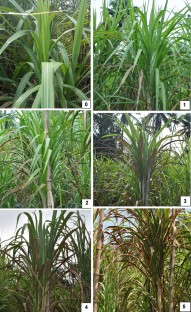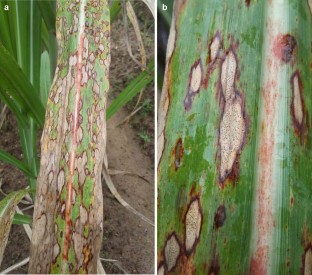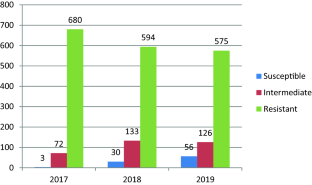 References
Ayodele, V.O. 2018. Data for the description of fungal diseases and agronomic parameters of Mango ginger (Curcuma amadaRoxb.). Data in Brief 21: 2536–2542.

Bell, Arthur F. 1929. A key for the field identification of sugarcane diseases. Bureau of Sugar Experimental Station Queensland, Division of Pathology Bulletin 2: 63.

Bourne, B.A. 1930. The occurrence of the ring-spot disease of sugar-cane in Florida. Phytopathology 20: 364–365.

Bourne, B.A. 1934. Studies on the ring spot disease of sugarcane. Florida Agricultural Experimental Station Bulletin 267: 76.

Chakraborty, S., A.V. Tiedemann, and P.S. Teng. 2000. Climate change: potential impact on plant diseases. Environmental Pollution 108: 317–326.

Chandrajini Devi, H., V. PrasannaKumari, and P.H. Sobita Devi. 2019. Morphological and phenotypic variability in blackgram genotypes with varying reaction to mungbean yellow mosaic virus infection. Journal of Pharmacognosy and Phytochemistry 8(4): 1606–1610.

Chaulagain, B., I.M. Small, J.M. Shine Jr., C.W. Fraisse, R.N. Raid, and P. Rot. 2020. Weather-based predictive modelling of orange rust of sugarcane in Florida. Phytopathology 110(3): 626–632.

Cheng, G-X., R-J. Li, M. Wang, L-J. Huang, A. Khan, M. Ali, and Z-H. Gong. 2018. Variation in leaf color and combine effect of pigments on physiology and resistance to whitefly of pepper (Capsicum annuum L.). Scientia Horticulturae 229: 215–225.

Croft, B.J. 2000. Ring spot. In A guide to sugarcane diseases, ed. P. Rott, R.A. Bailey, J.C. Comstock, B.J. Croft, and A.S. Saumtally, 167–69. Montpellier, France: CIRAD/ISSCT, La Librairie du Cirad.

Duba, A., K. Goriewa-Duba, U. Wachowska, K. Głowacka, and M. Wiwart. 2019. The associations between leaf morphology, phenylalanine ammonia lyase activity, reactive oxygen species, and Fusarium resistance in selected species of wheat with different ploidy levels. Plants 8(10): 360.

Echavez-Badel, R. 1990. Incidence of ring spot disease in sugarcane. Journal of Agriculture University of Puerto-Rico 74(4): 457–459.

Giusti M.M, and R.E. Wrolstad. 2003. Acylated anthocyanins from edible sources and their applications in food systems. Biochemical Engineering Journal 14: 217–225.

Heim, D., R.L. Nicholson, S.F. Pascholati, A.E. Hagerman, and W. Billet. 1983. Etiolated maize mesocotyls: a tool for investigating disease interactions. Phytopathology 73: 424–428.

Hsieh, W.H. 1979. The causal organism of sugarcane leaf blight. Mycologia 71(5): 892–898.

Huang, Y.-K., W.-F. Li, R.-Y. Zhang, and X.-Y. Wang. 2018. Color illustration of diagnosis and control for modern sugarcane diseases, pests, and weeds. NewYork: China Agriculture Press and Springer nature Singapore Pte Ltd.

Johnson, E.T., M.A. Berhow, and P.F. Dowd. 2008. Coloured and white sectors from star patterned petunia flowers display differential resistance to corn earworm and cabbage looper larvae. Journal of Chemical Ecology 34: 757–765.

Joshi, A.K., and R. Chand. 2002. Variation and inheritance of leaf angle, and its association with spot blotch (Bipolaris sorokiniana) severity in wheat (Triticum aestivum). Euphytica 124: 283–291.

Kangatharalingam, N., M.L. Pierce, M.B. Bayles, and M. Essenberg. 2002. Epidermal anthocyanin production as an indicator of bacterial blight resistance in cotton. Physiological and Molecular Plant Pathology 61: 189–195.

Lu, Y., Q. Chen, Y. Bu, R. Luo, S. Hao, J. Zhang, J. Tian, and Y. Yao. 2017. Flavonoid accumulation plays an important role in the rust resistance of Malus plant leaves. Frontiers in Plant Science 18(8): 1286.

Maan, D., A.K. Bhatia, and M. Rathi. 2017. Correlation studies on association of morphological and biochemical traits for potato apical leaf-curl disease resistance or susceptibility. International Journal of Current Microbiology and Applied Science 6(5): 759–775.

Martin, J.P. 1938. Sugarcane diseases in Hawai. Honolulu Hawaii: Hawaii Advertiser Publication Corporation.

McElrone, A.J., J.L. Sherald, and I.N. Forseth. 2003. Interactive effects of water stress and xylem limited bacterial infection on the water relations of a host vine. Journal of Experimental Botany 54: 419–430.

Nayak, S.N., J. Song, A. Villa, B. Pathak, T. Ayala-Silva, et al. 2014. Promoting utilization of Saccharumspp genetic resources through genetic diversity analysis and core collection construction. PLoS One 9(10): e110856. https://doi.org/10.1371/journal.pone.0110856.

Neumeister, L. 2010. Climate change and crop protection: Anything can happen. Penang, Malaysia: PAN Asia Pacific.

Pallavi, R., S. Elakkiya, Sai Siva Ram. Tennety, and P. Suganya Devi. 2012. Anthocyanin analysis and its anticancer property from sugarcane (Saccharum Officinarum L) Peel. International Journal of Research in Pharmacy and Chemistry 2(2): 2231–2781.

Paswan, S., Md. Minnatullah, M. Kumar, and A. Sattar. 2018. Impact of weather factors on development of red rot disease of sugarcane agro-ecosystem. International Journal of Current Microbiology and Applied Science 7(2): 8–12.

Prateeksha, M., and R.K. Sahu. 2015. Correlation and regression of meteorological factors with sugarcane smut disease cause by Sporisorium Scitaminea (Syn. Ustilago Scitaminea). The Bioscan 10(4): 1691–1693.

Rao, A. 1994. Studies on ring spot disease of sugarcane. Thesis submitted to College of Agriculture, Andhra Pradesh Agricultural University, Hyderabad, Andhra Pradesh

Rao, G.P., M. Singh, N. Rishi, and K.S. Bhargava. 2002. Century status of sugarcane virus diseases research in India. In Sugarcane crop management, ed. S.B. Singh, G.P. Rao, and S. Easwaramoorthy, 223–254. Houstan: SCI Tech Publishing LLC.

Rao, G.P., R. Viswanathan, and S.B. Singh. 2002. Current situation of sugarcane diseases in India. In Sugarcane Crop Management, 734, ed. S.B. Singh, G.P. Rao, and S. Easwaramoorthy. Houstan: SCI Tech Publishing LLC.

Rott, P., R.A. Bailey, J.C. Comstock, B.J. Croft, and S.S. Saumtally. 2000. A guide to sugarcane diseases. Montepellier: CIRADISSCT, CIRAD Publication Services.

Rott, P., J.C. Comstock., H.S. Sandhu, and R.N Raid. 2015. Sugarcane Ring Spot, Publication #PP321, one of a series of the plant pathology department, UF/IFAS Extension, September 2015.

Sivankalyani, V., O. Feygenberga, S. Diskin, B. Wright, and N. Alkan. 2016. Increased anthocyanin and flavonoids in mango fruit peel are associated with cold and pathogen resistance. Post-harvest Biology and Technology 111: 132–139.

Tanaka, Y., and A. Ohmiya. 2008. Seeing is believing: engineering anthocyanin and carotenoid biosynthetic pathways. Current Opinion in Biotechnol 19: 190–197.

Victoria, J.I., O. Ochoa, and C. Cassalett. 1984. Mancha de anillo. Enfermedades de la Cana de Azucar en Colombia. CENICANA. Serie Tecnica No. 2. Cali, Colombia.

Viswanathan, R. 2001. Accumulation of anthocyanin compounds in sugarcane tissues as a factor responsible for red rot resistance. Madras Agricultural Journal 88: 571–575.

Viswanathan, R. 2010. Plant disease: Red rot of sugarcane. New Delhi: Anmol Publications Pvt Ltd.

Viswanathan, R. 2012. Molecular basis of red rot resistance in sugarcane. Functional Plant Science and Biotechnology 6(2): 40–50.

Viswanathan, R., and G.P. Rao. 2011. Disease scenario and management of major sugarcane diseases in India. Sugar Tech 13: 336–353.

Viswanathan, R., D. Mohanraj, and P. Padmanaban. 2000. Possible involvement of anthocyanin compounds in resistance of sugarcane red rot. Indian Phytopathology 53: 311–313.

Wang, H., L. Conchou, J.M. Bessière, G. Cazals, B. Schatz, and E. Imbert. 2013. Flower color polymorphism in Iris lutescens (Iridaceae): Biochemical analyses in light of plant-insect interactions. Phytochemistry 94: 123–134.

Winkel-Shirley, B. 2001. Flavonoid biosynthesis. A colorful model for genetics, biochemistry cell biology and biotechnology. Plant Physiology 126(2): 485–493.

Zhao, D., and Y.-R. Li. 2015. Climate change and sugarcane production: Potential impact and mitigation strategies. International Journal of Agronomy. https://doi.org/10.1155/2015/547386.

Zhao, D., R.W. Davidson, M. Baltazar, and J.C. Comstock. 2015. Field evaluation of sugarcane orange rust for first clonal stage of the CP cultivar development program. American Journal of Agricultural and Biological Sciences 10(1): 1–11.

Zhao, Z., H. Yan, R. Zheng, K.M. Saeed, X. Fu, Z. Tao, and Z. Zhang. 2018. Anthocyanin characterization and antioxidant activities of sugarcane (Saccharum officinarum L.) rind extracts. Industrial Crops and Products 113: 38–45.
Acknowledgements
Authors are thankful to the Director, ICAR-Sugarcane Breeding Institute, Coimbatore, for facilitating us to carry out this research.
Ethics declarations
Conflict of interest
Authors declare that they have no conflict of interest.
Additional information
Publisher's Note
Springer Nature remains neutral with regard to jurisdictional claims in published maps and institutional affiliations.
About this article
Cite this article
Gopi, R., Mahendran, B., Chandran, K. et al. Plant and Weather Factors on Resistance of Saccharum officinarum Germplasm Against Ring Spot Disease. Sugar Tech (2021). https://doi.org/10.1007/s12355-020-00943-7
Received:

Accepted:

Published:
Keywords
Sugarcane

Germplasm

Leptosphaeria sacchari

Disease