Abstract
To assess the impact of humic acid and three potential growth regulators as salicylic acid (SA), gibberellic acid (GA3) and ascorbic acid (AsA) on sugar beet under drought stress, a field experiment as a split plot based on completely randomized block design was performed. The main plots comprised three watering regimes, well-watered, 60% field capacity (mild water stress) and 45% field capacity (severe water stress). Foliar application of humic acid, SA, GA3 and AsA was allocated into sub-plots. Both drought stress regimes caused a decline in root yield, sugar content, chlorophyll content, relative water content and leaf area index. In contrast, drought stress resulted in a marked rise superoxide dismutase, peroxidase and catalase activities as well as the levels of proline, glycine betaine, malondialdehyde and hydrogen peroxide in sugar beet plants. However, foliar application of humic acid, SA, GA3 and AsA reasonably increased the activities/levels of enzymatic and non-enzymatic antioxidants and vita organic osmolytes. The current findings suggest that exogenous application of humic acid is effective in tailoring the sugar plants to thrive well on drought-prone areas.
Access options
Buy single article
Instant access to the full article PDF.
US$ 39.95
Tax calculation will be finalised during checkout.
Subscribe to journal
Immediate online access to all issues from 2019. Subscription will auto renew annually.
US$ 79
Tax calculation will be finalised during checkout.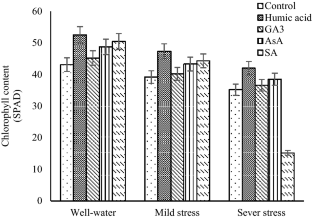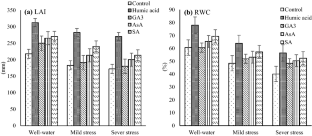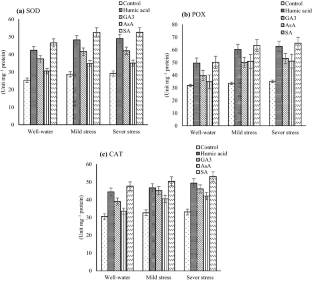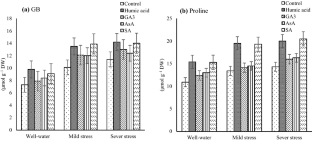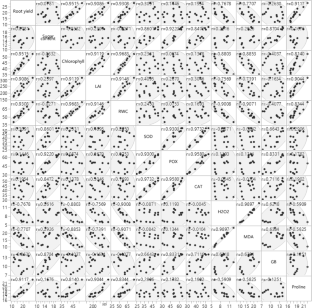 References
Ashraf, M., and M. Foolad. 2007. Roles of glycine betaine and proline in improving plant abiotic stress resistance. Journal of Environmental and Experimental Botany 59(2): 206–216.

Ashraf, M., and P.J. Harris. 2013. Photosynthesis under stressful environments: An overview. Photosynthetica 51(2): 163–190.

Bahrami, M., M. Honarvar, K. Ansari, and B. Jamshidi. 2020. Measurement of quality parameters of sugar beet juices using near-infrared spectroscopy and chemometrics. Journal of Food Engineering 271: 109775.

Bates, L.S., R.P. Waldren, and I.D. Teare. 1973. Rapid determination of free proline for water-stress studies. Plant and Soil 39(1): 205–207.

Chance, B., and A. Maehly. 1955. Assay of catalases and peroxidases. Methods in Enzymology 2: 764–775.

Chavoushi, M., F. Najafi, A. Salimi, and S. Angaji. 2020. Effect of salicylic acid and sodium nitroprusside on growth parameters, photosynthetic pigments and secondary metabolites of safflower under drought stress. Scientia Horticulturae 259: 108823.

Dotto, L., and V. Silva. 2017. Beet seed priming with growth regulators. Semina: Ciências Agrárias 38(4): 1785–1798.

El-All, A., and B. Makhlouf. 2017. Response of sugar beet to continuous deficit Irrigation and foliar application of some micronutrients under sandy soil conditions. Journal of Soil Sciences and Agricultural Engineering 8(12): 749–760.

El-Gamal, I., M. Abd El Aal, S. El Desouky, Z. Khedr, and K. Abo Shady. 2016. Effect of some growth substances on growth, chemical compositions and root yield productivity of sugar beet (Beta vulgaris L.) plant. Journal Middle East Journal of Agriculture Research 5: 171–185.

Farooq, M., S. Basra, A. Wahid, N. Ahmad, and B. Saleem. 2009. Improving the drought tolerance in rice (Oryza sativa L.) by exogenous application of salicylic acid. Journal of Agronomy and Crop Science 195(4): 237–246.

Ghaffari, H., M. Tadayon, M. Nadeem, J. Razmjoo, and M. Cheema. 2020. Foliage applications of jasmonic acid modulate the antioxidant defense under water deficit growth in sugar beet. Spanish Journal of Agricultural Research 17(4): 1–12.

Giannopolitis, C., and S. Ries. 1977. Superoxide dismutases: I. Occurrence in higher plants. Plant Physiology 59(2): 309–314.

Grieve, C., and S. Grattan. 1983. Rapid assay for determination of water soluble quaternary ammonium compounds. Plant and Soil 70(2): 303–307.

Havir, E., and N. McHale. 1987. Biochemical and developmental characterization of multiple forms of catalase in tobacco leaves. Plant Physiology 84(2): 450–455.

Hoffmann, C. 2010. Sucrose accumulation in sugar beet under drought stress. Journal of Agronomy and Crop Science 196(4): 243–252.

Khan, A., and N. Chaudhry. 2006. GA3 improves flower yield in some cucurbits treated with lead and mercury. Journal of African Journal of Biotechnology 5(2): 149–153.

Li, G., H. Wu, Y. Sun, and S. Zhang. 2013. Response of chlorophyll fluorescence parameters to drought stress in sugar beet seedlings. Russian Journal of Plant Physiology 60(3): 337–342.

Moharramnejad, S., A. Azam, J. Panahandeh, Z. Dehghanian, and M. Ashraf. 2019a. Effect of methyl jasmonate and salicylic acid on in vitro growth, stevioside production, and oxidative defense system in Stevia rebaudiana. Sugar Tech 21(6): 1031–1038.

Moharramnejad, S., O. Sofalian, M. Valizadeh, A. Asghari, M. Shiri, and M. Ashraf. 2019b. Response of maize to field drought stress: Oxidative defense system, osmolytes' accumulation and photosynthetic pigments. Pakistan Journal of Botany 51(3): 799–807.

Mubarak, M., M. Zahir, S. Ahmad, and A. Wakeel. 2016. Sugar beet yield and industrial sugar contents improved by potassium fertilization under scarce and adequate moisture conditions. Journal of Integrative Agriculture 15(11): 2620–2626.

Rassam, G., A. Dadkhah, A. Yazdi, and M. Dashti. 2015. Impact of humic acid on yield and quality of sugar beet (Beta vulgaris L.) grown on calcareous soil. Notulae Scientia Biologicae 7(3): 367–371.

Shaki, F., H. Ebrahimzadeh Maboud, and V. Niknam. 2019. Effects of salicylic acid on hormonal cross talk, fatty acids profile, and ions homeostasis from salt-stressed safflower. Journal of Plant Interactions 14(1): 340–346.

Sharma, A., B. Shahzad, V. Kumar, S.K. Kohli, G.P.S. Sidhu, A.S. Bali, N. Handa, D. Kapoor, R. Bhardwaj, and B. Zheng. 2019. Phytohormones regulate accumulation of osmolytes under abiotic stress. Biomolecules 9(7): 1–36.

Wei, L., B. Lv, X. Li, M. Wang, H. Ma, H. Yang, R. Yang, Z. Piao, Z. Wang, and J. Lou. 2017. Priming of rice (Oryza sativa L.) seedlings with abscisic acid enhances seedling survival, plant growth, and grain yield in saline-alkaline paddy fields. Journal of Field Crops Research 203: 86–93.

Zhang, L., M. Gao, L. Zhang, B. Li, M. Han, A. Alva, and M. Ashraf. 2013. Role of exogenous glycinebetaine and humic acid in mitigating drought stress-induced adverse effects in Malus robusta seedlings. Turkish Journal of Botany 37(5): 920–929.

Zhu, J. 2016. Abiotic stress signaling and responses in plants. Cell 167(2): 313–324.
Additional information
Publisher's Note
Springer Nature remains neutral with regard to jurisdictional claims in published maps and institutional affiliations.
About this article
Cite this article
Khodadadi, S., Chegini, M.A., Soltani, A. et al. Influence of Foliar-Applied Humic Acid and Some Key Growth Regulators on Sugar Beet (Beta vulgaris L.) Under Drought Stress: Antioxidant Defense System, Photosynthetic Characteristics and Sugar Yield. Sugar Tech 22, 765–772 (2020). https://doi.org/10.1007/s12355-020-00839-6
Received:

Accepted:

Published:

Issue Date:
Keywords
Gibberellic acid

Foliar spray

Chlorophyll content

Salicylic acid

Ascorbic acid