Abstract
Levulinic acid (LA) is an important biomass-based chemical. The preparation of LA from bagasse is of great practical significance for the comprehensive and efficient utilization of biomass. Biomass bagasse is mainly composed of cellulose, hemicellulose, and lignin. The cellulose is mainly degraded to glucose, and hemicellulose is mainly degraded to xylose, with dilute acid treatment at high temperature. In this research, we produced the LA from bagasse with dilute acid treatment at high temperature. The influences of residence time (10–60 min), reaction temperature (170–240 °C), liquid-to-solid ratio (5:1–25:1 mL/g), and acid concentration (1–5%) on the synthesis of LA were investigated by statistical methods, achieving a maximum LA yield of 16.25%. Additionally, LA was isolated and extracted from bagasses hydrolysate by ion exchange and vacuum distillation. The adsorption capacity of different resins was determined and compared. The optimal resin to acquire better adsorption capacity was determined. The better adsorption capacity was obtained when the D301 resin was selected as the filter for ion exchange. The height-to-diameter rate, eluent flow rate, elution volume of ion exchange column were 10, 0.84 BV/h, 56.4 mL, respectively. The eluent was then distilled under vacuum, collecting the components at 130–140 °C. The total yield and purity of LA were 67.1% and 78%, respectively.
Access options
Buy single article
Instant access to the full article PDF.
US$ 39.95
Tax calculation will be finalised during checkout.
Subscribe to journal
Immediate online access to all issues from 2019. Subscription will auto renew annually.
US$ 79
Tax calculation will be finalised during checkout.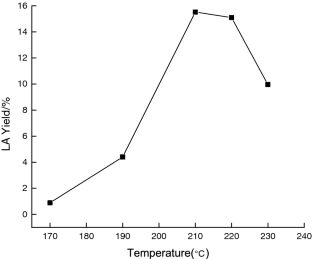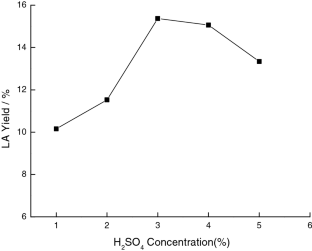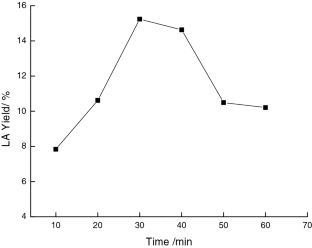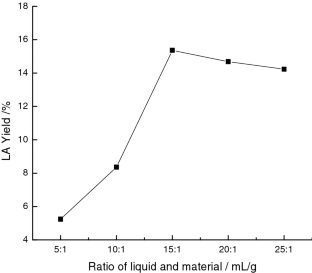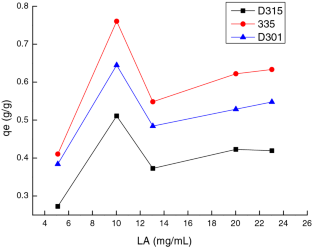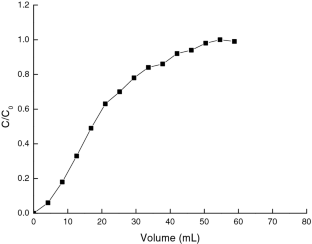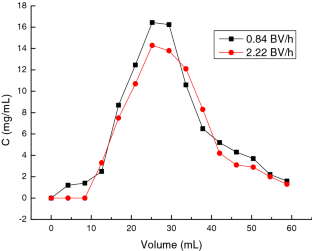 References
Alcocer-García, H., J.G. Segovia-Hernández, O.A. Prado-Rubio, E. Sánchez-Ramírez, and J.J. Quiroz-Ramírez. 2019. Multi-objective optimization of intensified processes for the purification of levulinic acid involving economic and environmental objectives. Chemical Engineering and Processing-Process Intensification 136: 123–137.

Asghar, A., A.A.A. Raman, and W.M.A.W. Daud. 2014. A comparison of central composite design and Taguchi method for optimizing Fenton process. The Scientific World Journal 2014: 1–14.

Baylan, N., and S. Çehreli. 2018. Ionic liquids as bulk liquid membranes on levulinic acid removal: A design study. Journal of Molecular Liquids 266: 299–308.

Cao, X.J., H. Liu, J.N. Wei, X. Tang, X.H. Zeng, Y. Sun, T.Z. Lei, G. Zhao, and L. Lin. 2019. Effective production of γ-valerolactone from biomass-derived methyl levulinate over CuOx–CaCO3 catalyst. Chinese Journal of Catalysis 40(2): 192–203.

Cha, J.Y., and M. Hanna. 2002. Levulinic acid production based on extrusion and pressurized batch reaction. Industrial Crops and Products 16(2): 109–118.

Chang, C. 2006. Biomass preparation of a new platform compound levulinic acid. PhD Thesis, pp. 146, Zhejiang University, Hangzhou, China.

Corma, A., S. Iborra, and A. Velty. 2007. Chemical routes for the transformation of biomass into chemicals. Chemical Reviews 107(6): 2411–2502.

Duan, X.L., W.W. Guo, W.C. Wen, F.W. Liang, and L. Qiang. 2011. Desorption of D001 resin after adsorption of iron ions. Industrial Water and Wastewater 42(3): 64–67.

El-Gendy, N.S., H.R. Madian, and S.S.A. Amr. 2013. Design and optimization of a process for sugarcane molasses fermentation by Saccharomyces cerevisiae using response surface methodology. International Journal of Microbiology 2013: 1–9.

Gai, Y.Y., L.J. Fa, S.R. Xia, and Z. Yin. 2018. Ni/SiO2–Al2O3 catalyzes the hydrogenation of levulinic acid to γ-valerolactone. Molecular Catalysis 32(5): 415–424.

Liu, B.J. 2007. Theory and process research on separation and purification of levulinic acid. PhD Thesis, pp 136, Zhejiang University, Hangzhou, China.

Liu, H.L., H.F. Jiang, Y.G. Wang, and P. Liu. 2004. Chemical synthesis and application of novel photodynamic compound 5-aminolevulinic acid. Modern Chemical Industry 24(13): 18–20.

Liu, Y., Y.N. Hong, Y.L. Yao, L. Xu, S.L. Xing, X.W. Hu, and Y.Y. Gao. 2017. Analysis of the current situation of comprehensive utilization of sugarcane bagasse in China. Tropical Agricultural Sciences 37(02): 91–95.

Luan, Q.J., L.J. Liu, S.W. Gong, J. Lu, X. Wang, and D.M. Lv. 2018. Clean and efficient conversion of renewable levulinic acid to levulinate esters catalyzed by an organic-salt of H4SiW12O40. Process Safety and Environmental Protection 117: 341–349.

Qing, Q., Q. Guo, L.L. Zhou, X.H. Gao, and Y. Zhang. 2018. Study on the efficient preparation of levulinic acid from corncob by SnCl4. Journal of Changzhou University (Natural Science Edition) 30(02): 14–22.

Rackemann, D.W., J.P. Bartley, and W.O.S. Doherty. 2014. Methanesulfonic acid-catalyzed conversion of glucose and xylose mixtures to levulinic acid and furfural. Industrial Crops and Products 52: 46–57.

Schmidt, L.M., L.D. Mthembu, P. Reddy, N. Deenadayalu, M. Kaltschmitt, and I. Smirnova. 2017. Levulinic acid production integrated into a sugarcane bagasse based biorefinery using thermal-enzymatic pretreatment. Industrial Crops and Products 99: 172–178.

Uppal, S.K., and R. Kaur. 2011. Hemicellulosic furfural production from sugarcane bagasse using different acids. Sugar Technology 13(2): 166–169.

Uppal, S.K., R. Kaur, and P. Sharma. 2011. Optimization of chemical pretreatment and acid saccharification for conversion of sugarcane bagasse to ethanol. Sugar Technology 13(3): 214–219.

Uslu, H., S.I. Kırbaşlar, and K.L. Wasewar. 2009. Reactive extraction of levulinic acid by amberlite LA-2 extractant. Journal of Chemical and Engineering Data 54(3): 712–718.

Valentin, E., H.G. Nam, P.H. Kim, H.W. Joo, H.J. Shim, Y.K. Chang, and S. Mun. 2014. Application of a Dowex-50WX8 chromatographic process to the preparative-scale separation of galactose, levulinic acid, and 5-hydroxymethylfurfural in acid hydrolysate of agarose. Separation and Purification Technology 133: 297–302.

Wang, P., C.Y. Wang, X.H. Qi, Z.H. Jin, and Y.Y. Zhuang. 2008. SO42−/TiO2 Catalyzed hydrolysis of cellulose to levulinic acid. Modern Chemicals 28(2): 194–196.

Wang, Y.L., X.J. Ma, and C. Chang. 2007. kinetic study on adsorption of levulinic acid by ion exchange resin. Ion Exchange and Adsorption 23(4): 330–336.

Xu, L.L., L. Liu, S.J. Li, W.J. Zheng, Y.Y. Cui, R. Liu, and W.D. Sun. 2019. Xylitol production by Candida tropicalis 31949 from sugarcane bagasse hydrolysate. Sugar Technology 21(2): 341–347.

Yang, H., L.Q. Wang, L.S. Jia, C.C. Qiu, Q. Pang, and X.W. Pan. 2014. Selective decomposition of cellulose into glucose and levulinic acid over Fe-resin catalyst in NaCl solution under hydrothermal conditions. Industrial and Engineering Chemistry Research 53(15): 6562–6568.

Yang, L., and Y. Liu. 2012. Preparation of levulinic acid by atmospheric pressure acid hydrolysis of peanut shells. Peanut Journal 41(03): 27–32.

Yang, Y., X. Xiang, D.M. Tong, C.W. Hu, and M.M. Abu-Omar. 2012. One-pot synthesis of 5-hydroxymethylfurfural directly from starch over SO42−/ZrO2–Al2O3 solid catalyst. Bioresource Technology 116: 302–306.

Zhang, M. 2005. Study on the analysis and separation of biomass hydrolysate-levulinic acid, formic acid and glucose. Hangzhou: Zhejiang University.

Zhang, J.L. 2006. Preparation of levulinic acid from starch and wood chips. Zhengzhou: Zhengzhou University.

Zhang, L.X., and Q. Yang. 2000. Preparation of levulinic acid and activated carbon from residual liquid of xylose production. Modern Chemical Industry 02: 34–36.

Zhang, M., B.J. Liu, Q.L. Ren, X.Y. Lv, F.Q. Chen, and X.L. Zhan. 2006. Static adsorption performance of levulinic acid, formic acid and glucose on alkaline resin. Jiangnan University Journal (Natural Science Edition) 5(2): 211–215.

Zhang, X.F., G.J. Zhan, and K.B. Wang. 2013. Preparation of levulinic acid by hydrolysis of peanut shells by silicotungstic acid. Journal of Inner Mongolia Agricultural University (Natural Science Edition) 01: 155–158.

Zhao, Z.H., L.H. Cao, S.G. Song, J. Chen, and K.B. Wang. 2011. Preparation of levulinic acid by catalytic hydrolysis of potato starch with silicotungstic acid. Journal of Inner Mongolia Agricultural University (Natural Science Edition) 32(04): 293–296.

Zheng, W.J., Y.Y. Cui, L.L. Xu, L. Liu, S.J. Li, and W.D. Song. 2018. Research status of preparation process of levulinic acid. Cane Sugar Industry 02: 59–64.

Zuo, Y., Y. Zhang, and Y. Fu. 2014. Catalytic conversion of cellulose into levulinic acid by a sulfonated chloromethyl polystyrene solid acid catalyst. ChemCatChem 6(3): 753–757.
Acknowledgements
The study was supported by Study on enzymatic hydrolysis of hemicellulose from bagasse pretreated with ultrasonic and acid (AE120067). The authors would like to express their gratitude to professor Sun Weidong and Zheng Wenjing for their help and advice. The authors thank International Science Editing (http://www.internationalscienceediting.com) for editing this manuscript.
Funding
This study was funded by study on enzymatic hydrolysis of hemicellulose from bagasse pretreated with ultrasonic and acid (AE120067).
Ethics declarations
Conflict of interest
We have no financial and personal relationships with other people or organizations that can inappropriately influence our work. And there is no professional or other personal interest of any nature or kind in any product, service, and company that could be construed as influencing position.
Additional information
Publisher's Note
Springer Nature remains neutral with regard to jurisdictional claims in published maps and institutional affiliations.
About this article
Cite this article
Chen, S., Zheng, W., Liu, W. et al. Optimization and Purification of Levulinic Acid Extracted from Bagasse. Sugar Tech 22, 830–841 (2020). https://doi.org/10.1007/s12355-020-00819-w
Received:

Accepted:

Published:

Issue Date:
Keywords
Optimization

Separation and purification

Levulinic acid

Bagasse