Abstract
A pilot-scale filtration unit has been modified and operated at the Southern Regional Research Center of the US Department of Agriculture for scaled-up trials to test the efficacy of powdered activated carbon in the removal of color impurities from sugar beet extract (SBE). As a by-product of sugar beet processing, additional sucrose can be recovered from high color SBE by recycling it from the chromatography system back into the crystallization unit. Large amounts of color compounds can make this process unfeasible. Color and other impurities can be reduced prior to further processing into white refined sugar, by application of high surface area powdered activated carbon (PAC). Pilot-plant trials were undertaken to determine the feasibility of using PAC to adsorb both natural and process-induced colorants from SBE. Experiments were performed using a batch decolorization process to maximize color removal and determine optimal PAC distribution as either body feed or filter pre-coat. With initial colors at 4275 ± 114, 4256 ± 223 and 4774 ± 157 ICU for color measured at pH 4, 7 and 9, respectively, a target of 50% color removal was achieved using 4000 ppm on volume of PAC, with a recommended distribution of 75% as pre-coat in the filter and 25% as body feed in the feed tank. A 50/50 PAC distribution also reached the target color removal rate. A "merry-go-round" experiment was undertaken to simulate a semi-continuous process to achieve continuous color removal over time. Overall, PAC performance was slightly better for the removal of native sugar beet colorants than colorants produced during processing. Addition of PAC did not lead to significant sucrose losses nor affected the pH of beet extract.
This is a preview of subscription content,
to check access.
Access this article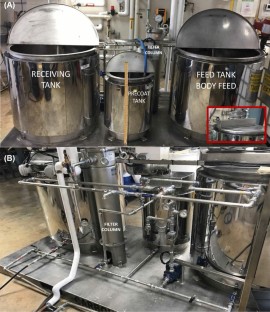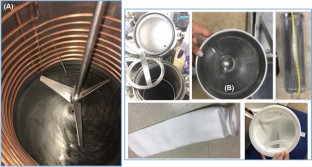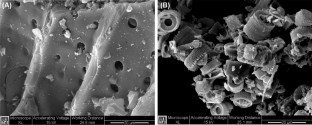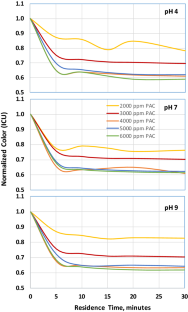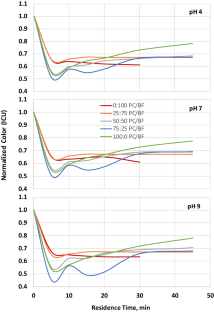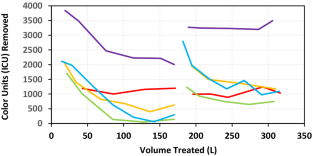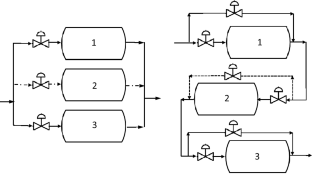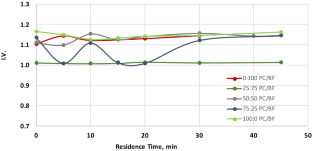 Similar content being viewed by others
References
Bento, L.S.M., and S. Sá. 1998. Study of high-molecular weight compounds in sugar using gel-permeation chromatography with an evaporative light scattering detector. Carbohydrate Polymers 37: 257–261.

Bichsel, S.E. 1987. An overview of the U.S. beet sugar industry. In: M.A. Clarke, M.A. Godshall (eds.), Chemistry and processing of sugarbeet and sugarcane. Proceedings of the Symposium on the chemistry and processing of sugar beet. Vol 9, Elsevier, Denver, Colorado. pp. 1–8.

Coca, M., M. Teresa García, G. González, M. Peña, and J.A. García. 2004. Study of colored components formed in Sugar beet processing. Food Chemistry 86: 421–433.

Davis, S.B. 2001. The chemistry of colour removal: A processing perspective. Proceedings South Africa Sugar Technologists Association 75: 328–336.

Dominguez, A.R., and A.Y. Hyndshaw. 1977. Activated carbon for refining sugar. Proceedings International Society Sugar Cane Technologists 16 (3): 2645–2656.

Eggleston, G., and H. Amorim. 2006. Reasons for the chemical destruction of sugar during the processing of sugarcane for raw sugar and fuel alcohol production. International Sugar Journal 108: 271–282.

Eggleston, G., B. Legendre, and M.A. Godshall. 2017. Sugar and other sweeteners. In Handbook of industrial chemistry and biotechnology, 13th ed, ed. J.A. Kent, 933–978. New York, NY: Springer International Publishing.

Escudero, I., and M.O. Ruiz. 2011. Extraction of betaine from beet molasses using membrane contactors. Journal Membranes Science 372 (1–2): 258–268.

Finkenstadt, V.L. 2014. A review on the complete utilization of the sugarbeet. Sugar Tech 16: 339–346.

Giacobello, S., G. Storti, and G. Tola. 2000. Design of a simulated moving bed unit for sucrose-betaine separations. Journal Chromatography A 872 (1–2): 23–35.

Heikkilä, H.O., J.A. Melaja, D.E.D. Millner, and J.J. Virtanen. 1982. Betaine Recovery Process. U.S. Patent #4359430.

Heitz, F. 1995. Les colorants en sucrerie. Actualités techniques et industrielles, 538–544.

Kotsiopoulou, N.G., T.I. Liakos, and N.K. Lazaridis. 2016. Melanoidin chromophores and betaine osmoprotectant separation from aqueous solutions. Journal Molecular Liquids 216: 496–502.

Lima, I., G. Eggleston, E. Sarir, C. Donado, J. Thompson, and E. Saint-Cyr. 2016. Mechanism of removal of undesirable residual amylase, insoluble starch, and select colorants from refinery streams by powdered activated carbons. International Sugar Journal 118: 352–362.

NASS-USDA 2018. National Agricultural Statistics Service. National Statistics for Sugar beets.

Parker, K.J. 1970. Chemical problems in the sucrose industry. La Sucrerie Belge 89: 119–126.

Schlumbach, K., A. Pautov, and E. Flöter. 2017. Crystallization and analysis of beet and cane sugar blends. Journal Food Engineering 196: 159–169.

Stevanato, P., and L. W. Panella, 2013. History of Sugarbeets, 17–21. Idaho Falls: Sugar Producer Magazine.

Tomlins, K.I., D.M. Baker, and I.J. McDowell. 1990. HPLC method for the analysis of organic acids, sugars, and alcohol in extracts of fermenting cocoa beans. Chromatographia 29 (11–12): 557–561.
Acknowledgments
The authors thank Carson Discher, Margaret Hayes and Sophia Wojkowski for help with the pilot-plant runs and Dr. Terri Von Hoven for scanning electron microscopy analysis. Mention of trade names or commercial products in this publication is solely for the purpose of providing specific information and does not imply recommendation or endorsement by the US Department of Agriculture. USDA is an equal opportunity provider and employer.
Funding
This study was funded by the United States Department of Agriculture, Agricultural Research Service. No grants or other forms of outside funding were used
Ethics declarations
Conflict of interest
The authors declare that they have no conflict of interest.
Additional information
Publisher's Note
Springer Nature remains neutral with regard to jurisdictional claims in published maps and institutional affiliations.
About this article
Cite this article
Lima, I.M., Clayton, C., Tir, A. et al. Design and Operation of a Scaled-up Pilot Plant for the Removal of Sugar Beet Extract Colorants using Powdered Activated Carbon. Sugar Tech 23, 167–177 (2021). https://doi.org/10.1007/s12355-020-00812-3
Received:

Accepted:

Published:

Issue Date:

DOI: https://doi.org/10.1007/s12355-020-00812-3
Keywords