Abstract
Freshly extracted sugarcane juice was subjected to high-pressure treatment (HPP) at 523 MPa/50 °C/11 min and thermal treatment at 90 °C/5 min and studied for changes in physicochemical, enzymatic, nutritional qualities and microbial load during 30 days of storage at ambient temperature. Results showed that significant changes were recorded in HPP treated juice in terms of color, antioxidants and phenolic content; however, the change was substantially low when compared to thermal treated samples, thus indicating that HPP treated sugarcane juice can better retain quality parameters. During storage, the total color difference increased significantly in both HPP and TP samples. HPP of sugarcane juice resulted in inactivation of 64% of polyphenol oxidase and 58% of peroxidase enzyme, whereas the corresponding values recorded for thermal were 85% and 75%, respectively. The residual activity of these enzymes decreased during storage. The loss in ascorbic acid was observed to be 11% in HPP treated samples, whereas it was 25% in TP samples. The vegetative microorganism present in the juice was below the detection limit (1 log CFU/mL) up to 25 days. The study indicated that the shelf-life of HPP and TP samples stored at 25 °C was estimated to be 25 and 10 days, respectively, based on sensory qualities, ascorbic acid retention and total color difference. Thus, HPP has a potential to develop packed ready-to-drink sugarcane juice and enhances for its commercialization.
Access options
Buy single article
Instant access to the full article PDF.
US$ 39.95
Tax calculation will be finalised during checkout.
Subscribe to journal
Immediate online access to all issues from 2019. Subscription will auto renew annually.
US$ 79
Tax calculation will be finalised during checkout.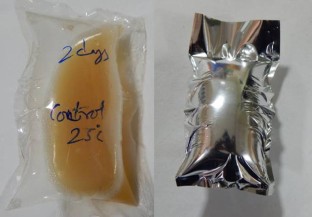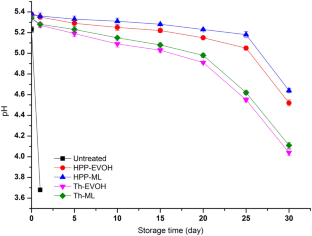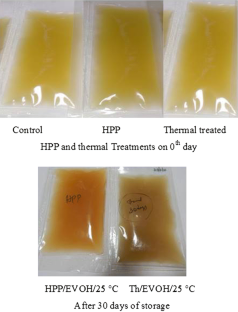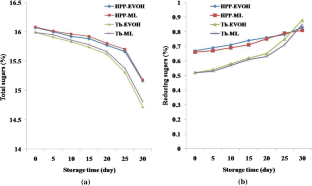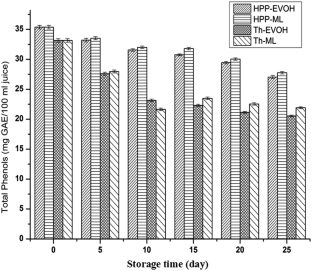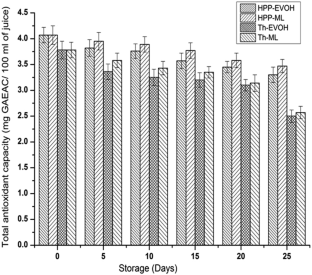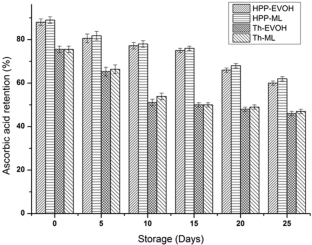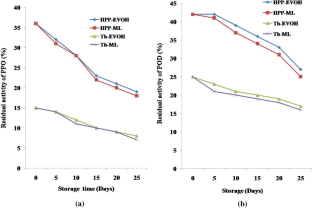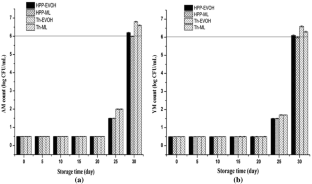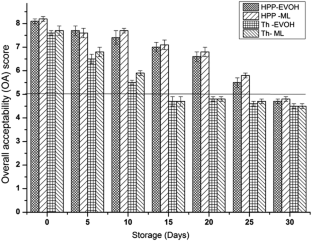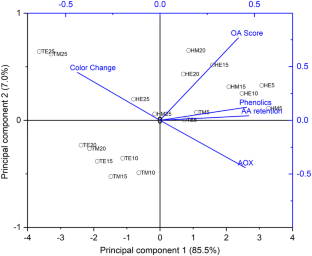 References
American Public Health Association (APHA). 2001. Culture methods for enumeration of microorganisms. In Compendium of methods for the microbiological examination of foods, ed. P.D. Frances and I. Keith, 53–67. Washington, DC: APHA.

American Society for Testing and Materials (ASTM). 2004. Standard test method E1885-04. In: Standard test method for sensory analysis—triangle test. West Conshohocken, PA: ASTM International.

Aneja, K.R., R. Dhiman, N.K. Aggarwal, and A. Aneja. 2014. Emerging preservation techniques for controlling spoilage and pathogenic microorganisms in fruit juices. International Journal of Microbiology 2014: 1–14.

Bayindirli, A., H. Alpas, F. Bozoglu, and M. Hızal. 2006. Efficiency of high pressure treatment on inactivation of pathogenic microorganisms and enzymes in apple, orange, apricot and sour cherry juices. Food Control 17(1): 52–58.

Barba, F.J., M.J. Esteve, and A. Frigola. 2013. Physicochemical and nutritional characteristics of blueberry juice after high pressure processing. Food Research International 50(2): 545–549.

Brochier, B., G.D. Mercali, and L.D.F. Marczak. 2016. Influence of moderate electric field on inactivation kinetics of peroxidase and polyphenol oxidase and on phenolic compounds of sugarcane juice treated by ohmic heating. LWT-Food Science and Technology 74: 396–403.

Bucheli, C.S., and S.P. Robinson. 1994. Contribution of enzymic browning to color in sugarcane juice. Journal of Agricultural and Food Chemistry 42(2): 257–261.

Bull, M.K., K. Zerdin, E. Howe, D. Goicoechea, P. Paramanandhan, R. Stockman, and C.M. Stewart. 2004. The effect of high pressure processing on the microbial, physical and chemical properties of Valencia and Navel orange juice. Innovative Food Science and Emerging Technologies 5(2): 135–149.

Bull, M.K., R.J. Steele, M. Kelly, S.A. Olivier, and B. Chapman. 2010. Packaging under pressure: Effects of high pressure, high temperature processing on the barrier properties of commonly available packaging materials. Innovative Food Science and Emerging Technologies 11(4): 533–537.

Cao, X., X. Bi, W. Huang, J. Wu, X. Hu, and X. Liao. 2012. Changes of quality of high hydrostatic pressure processed cloudy and clear strawberry juices during storage. Innovative Food Science and Emerging Technologies 16: 181–190.

Chakraborty, S., P.S. Rao, and H.N. Mishra. 2015. Effect of combined high pressure–temperature treatments on color and nutritional quality attributes of pineapple (Ananas comosus L.) puree. Innovative Food Science and Emerging Technologies 28: 10–21.

Chakraborty, S., P.S. Rao, and H.N. Mishra. 2016. Changes in quality attributes during storage of high-pressure and thermally processed pineapple puree. Food and Bioprocess Technology 9(5): 768–791.

Chauhan, O.P., S. Dhar Singh, M. Tyagi, and D.K. Balyan. 2002. Studies on preservation of sugarcane juice. International Journal of Food Properties 5(1): 217–229.

Chauhan, O.P., N. Ravi, N. Roopa, S. Kumar, and P.S. Raju. 2017. High pressure, temperature and time-dependent effects on enzymatic and microbial properties of fresh sugarcane juice. Journal of Food Science and Technology 54(12): 4135–4138.

FAO (Food and Agriculture Organization of the United Nations). 2018. FAO statistical database 2017-18 [WWW page]. http://www.fao.org/faostat/en/#data/QC/visualize. Accessed 7 Oct 2018.

Garcia, A.F., P. Butz, A. Bognar, and B. Tauscher. 2001. Antioxidative capacity, nutrient content and sensory quality of orange juice and an orange-lemon-carrot juice product after high pressure treatment and storage in different packaging. European Food Research and Technology 213(4–5): 290–296.

Government of India 2018, Ministry of Agriculture, Cooperation and farmers welfare, Department of Agriculture, cooperation and farmer's welfare, Directorate of economics and statistics, http://eands.dac.net.in/APY_96_to_16.htm. Accessed 07 Oct 2018.

Halim, L., M.A. Pascall, J. Lee, and B. Finnigan. 2009. Effect of pasteurization, high-pressure processing, and retorting on the barrier properties of nylon 6, nylon 6/ethylene vinyl alcohol, and nylon 6/nanocomposites films. Journal of Food Science 74(1): N9–N15.

Huang, H.W., Y.H. Chang, and C.Y. Wang. 2015. High pressure pasteurization of sugarcane juice: evaluation of microbiological shelf life and quality evolution during refrigerated storage. Food and Bioprocess Technology 8(12): 2483–2494.

Hulle, N.R.S., and P.S. Rao. 2016. Effect of high pressure and thermal processing on quality changes of aloe vera-litchi mixed beverage (ALMB) during storage. Journal of Food Science and Technology 53(1): 359–369.

Jayachandran, L.E., S. Chakraborty, and P.S. Rao. 2015. Effect of high pressure processing on physicochemical properties and bioactive compounds in litchi based mixed fruit beverage. Innovative Food Science & Emerging Technologies 28: 1–9.

Karmakar, R., A.K. Ghosh, and H. Gangopadhyay. 2010. Study on the nutritional and microbiological changes of sugarcane juice and determination of optimum conditions during pasteurization. Asian Journal of Food and Agro-Industry 3(4): 453–461.

Kaushik, N., B.P. Kaur, P.S. Rao, and H.N. Mishra. 2014. Effect of high pressure processing on color, biochemical and microbiological characteristics of mango pulp (Mangifera indica cv. Amrapali). Innovative Food Science and Emerging Technologies 22: 40–50.

Lane, J.H., and L. Eynon. 1923. Methods for determination of reducing and nonreducing sugars. Journal of Science 42: 32–37.

Mishra, B.B., S. Gautam, and A. Sharma. 2011. Shelf life extension of sugarcane juice using preservatives and gamma radiation processing. Journal of Food Science 76(8): 573–578.

Murchie, L.W., M. Cruz-Romero, J.P. Kerry, M. Linton, M.F. Patterson, M. Smiddy, and A.L. Kelly. 2005. High pressure processing of shellfish: A review of microbiological and other quality aspects. Innovative Food Science and Emerging Technologies 6(3): 257–270.

Parvathy, K. 1983. Bottling of sugarcane juice. In Proceedings of the scheme for studies on Post harvest technology (ICAR), Coimbatore Centre, Annual Report 1983, Feb 13–16.

Patrignani, F., L. Vannini, S.L.S. Kamdem, R. Lanciotti, and M.E. Guerzoni. 2009. Effect of high pressure homogenization on Saccharomyces cerevisiae inactivation and physico-chemical features in apricot and carrot juices. International Journal of Food Microbiology 136(1): 26–31.

Plaza, L., C. Sanchez-Moreno, P. Elez-Martinez, B. De Ancos, O. Martin-Belloso, and M.P. Cano. 2006. Effect of refrigerated storage on vitamin C and antioxidant activity of orange juice processed by high-pressure or pulsed electric fields with regard to low pasteurization. European Food Research and Technology 223(4): 487–493.

Polydera, A.C., N.G. Stoforos, and P.S. Taoukis. 2003. Comparative shelf life study and vitamin C loss kinetics in pasteurized and high pressure processed reconstituted orange juice. Journal of Food Engineering 60(1): 21–29.

Ramaswamy, R., V.M. Balasubramaniam, and S.K. Sastry. 2007. Thermal conductivity of selected liquid foods at elevated pressures up to 700 MPa. Journal of Food Engineering 83(3): 444–451.

Ranganna, S. 2007. Handbook of analysis and quality control for fruit and vegetable products, 9–10. New Delhi: Tata McGraw-Hill Publishing Co., Ltd.

Romero, C., F.J. Morales, and S. Jimenez-Perez. 2001. Effect of storage temperature on galactose formation in UHT milk. Food Research International 34(5): 389–392.

Sankhla, S., A. Chaturvedi, A. Kuna, and K. Dhanlakshmi. 2012. Preservation of sugarcane juice using hurdle technology. Sugar Tech 14(1): 26–39.

Saxena, J., H. Ahmad Makroo, and B. Srivastava. 2017. Effect of ohmic heating on polyphenol oxidase (PPO) inactivation and color change in sugarcane juice. Journal of Food Process Engineering 40(3): e12485.

Schauwecker, A., V.M. Balasubramaniam, G. Sadler, M.A. Pascall, and C. Adhikari. 2002. Influence of high-pressure processing on selected polymeric materials and on the migration of a pressure-transmitting fluid. Packaging Technology and Science: An International Journal 15(5): 255–262.

Singh, A., U.R. Lal, H.M. Mukhtar, P.S. Singh, G. Shah, and R.K. Dhawan. 2015. Phytochemical profile of sugarcane and its potential health aspects. Pharmacognosy Reviews 9(17): 45.

Stannard, C. 1997. Development and use of microbiological criteria for foods. Food Science and Technology Today 11(3): 137–177.

Terefe, N.S., T. Kleintschek, T. Gamage, K.J. Fanning, G. Netzel, C. Versteeg, and M. Netzel. 2013. Comparative effects of thermal and high pressure processing on phenolic phytochemicals in different strawberry cultivars. Innovative Food Science and Emerging Technologies 19: 57–65.

Tomas-Barbern, F.A., and J.C. Espin. 2001. Phenolic compounds and related enzymes as determinants of quality in fruits and vegetables. Journal of the Science of Food and Agriculture 81(9): 853–876.

Yen, G.C., and H.T. Lin. 1999. Changes in Volatile Flavor Components of Guava Juice with High-Pressure Treatment and Heat Processing and during Storage. Journal of Agricultural and Food Chemistry 47(5): 2082–2087.

Yusof, S., L.S. Shian, and A. Osman. 2000. Changes in quality of sugar-cane juice upon delayed extraction and storage. Food Chemistry 68(4): 395–401.

Zerdin, K., M.L. Rooney, and J. Vermue. 2003. The vitamin C content of orange juice packed in an oxygen scavenger material. Food Chemistry 82(3): 387–395.

Zhang, J., J. Wang, W. Zhang, and H. Wang. 2008. Effect of ultra high pressure treatment on flavor components in mango juice. Journal of Chinese Institute of Food Science and Technology 8: 118–122.
Acknowledgements
The first author expresses gratitude to the Acharya N.G. Ranga Agricultural University, A.P, India, for providing sponsorship during the research work. Instrumental facilities and logistics provided by Indian Institute of Technology are highly acknowledged.
Additional information
Publisher's Note
Springer Nature remains neutral with regard to jurisdictional claims in published maps and institutional affiliations.
About this article
Cite this article
Pandraju, S., Rao, P.S. High-Pressure Processing of Sugarcane Juice (Saccharum officinarum) for Shelf-Life Extension During Ambient Storage. Sugar Tech 22, 340–353 (2020). https://doi.org/10.1007/s12355-019-00769-y
Received:

Accepted:

Published:

Issue Date:
Keywords
High-pressure processing

Sugarcane juice

Physicochemical properties

Ascorbic acid

Color

Shelf-life