Abstract
Collection, conservation, characterization, maintenance and utilization of plant genetic resources are essential components of crop improvement programs. Sugarcane Germplasm Database was developed for 45 descriptors on 131 germplasm accessions using MySQL 5.6 server, Dreamweaver web design tool, JAVA programming language and Apache Tomcat server to rationalize storage, retrieve, update, query and report data for multiuser environment. The information included data on 27 distinct, uniform and stable descriptors as described in PPV & FRA, India, 18 agronomic and quality descriptors and pictures in JPEG format on the most distinctive features. The database will be useful to sugarcane breeders to identify the accessions and in selecting parents for targeted traits in hybridization and crop improvement in sugarcane.
Access options
Buy single article
Instant access to the full article PDF.
USD 39.95
Price excludes VAT (USA)
Tax calculation will be finalised during checkout.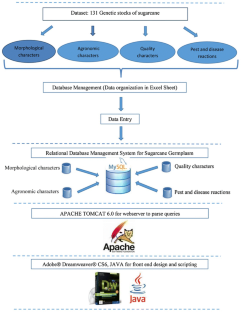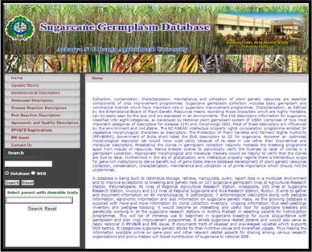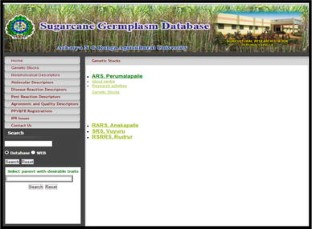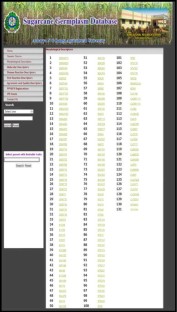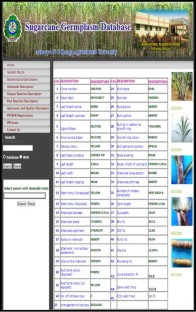 References
Hamelin, C., G. Sempere, V. Jouffe, and M. Ruiz. 2012. TropGeneDB, the multi-tropical crop information system updated and extended. Nucleic Acids Res 41: D1172–D1175.

Kumudini, T., N. Rayabarapu, S. Moosa, V. Talla, B. Bhyravbhatla, and S. Rao. 2013. InDiaMed: A comprehensive database of Indian medicinal plants for diabetes. Bioinformation 9(5): 378–380.

Mundil, D., K. Ramdoyal, L. Rivet, F.M. Ng See Cheong, and E. Chintaram. 2005. Information technology as a tool to improve the utilisation and management of sugar cane germplasm at the MSIRI, 111–118. Reduit, Mauritius: MAS, Food and Agricultural Research Council.

Rajagopal, V., M. Ramaswamy, K. Devakumar, Rajesh, A. Karun, V. Niral, G. Murali, A. Shamina, M. Gunasekaran, M. Ramesh Kumar, and A. Chandrasekhar. 2005. A database for coconut crop improvement. Bioinformation 1(2): 75–77.

Ruiz, M., M. Rouard, L.M. Raboin, M. Lartaud, P. Lagoda, and B. Courtois. 2004. TropGENE-DB, a multi-tropical crop information system. Database issue Nucleic Acids Research 32: D364–D367.

Savita, K., M. Kavita, C.T. Satyavathi, P.G. Karmakar, and S.P. Tiwari. 2001. Database and information retrieval system for soybean varieties of India. Indore: National Research centre for soybean.

Scaria, R., E. Jose, P.R. Shidhi, and R. Keshavachandran. 2011. MEDBASE: A database on medicinal plants in Kerala. In Proceeding of Silver Jubilee Symposium on Bioinformatics: BTISNET in India (1986–2011), Centre for Bioinformatics, Pondicherry University:51.

Singh, W.A., S.B. Gopalrao, T. Gourshyam, P.J. Handique, and H.S. Devi. 2013. DEBDOM: Database exploring banana diversity of Manipur. Bioinformation 9(5): 270–273.
Acknowledgments
We are thankful to the Coordinator, Bioinformatics Infrastructure Facility, Department of Bioinformatics, Sri Venkateswara Institute of Medical Sciences for providing computational facilities to build the database.
About this article
Cite this article
Praveen, K., Hemanth Kumar, M., Umamaheshwari, A. et al. SGDB: A Sugarcane Germplasm Database. Sugar Tech 17, 150–155 (2015). https://doi.org/10.1007/s12355-014-0307-4
Received:

Accepted:

Published:

Issue Date:

DOI: https://doi.org/10.1007/s12355-014-0307-4
Keywords
Sugarcane

Germplasm

Database