Abstract
A reliable protocol for micropropagation was developed for an anti-diabetic medicinal plant species, Stevia rebaudiana. In the present investigation the highest percentage of response was shown by nodal segment (98.00 ± 1.22) and both MS full and half strength performed well and were almost equally effective. Callus along with multiple shoots was obtained from nodal segments of S. rebaudiana on half strength Murashige and Skoog (MS) media supplemented with various concentrations of benzyl amino purine (BAP) and indole-3-butyric acid (IBA) (0.2, 0.5, 1.0, 1.5 mg l−1 each). The in vitro shoots produced along with callus were re-cultured on one-fourth strength MS media supplemented with kinetin (Kn) (0.5 mg l−1), IBA (1.0 mg l−1), activated charcoal (50 mg l−1), polyvinylpolypyrrolidone (100 mg l−1) and gibberellic acid (1 mg l−1) to obtain optimum shoot regeneration. Shoot multiplication and simultaneous rooting of S. rebaudiana was observed. The results obtained showed multiple shooting (18–20) with shoot length (6.5–7.2 cm), number of leaves (42–50), number of roots (12–14) and root length (5.8–6.2 cm), after 4 weeks of re-culturing of callus. Among different auxins and cytokinins used for secondary callus formation in half strength MS media. 2, 4-D (0.5 mg l−1) showed maximum growth index (266.384), after 8 weeks of callus culture. In vitro raised plantlets were transferred for hardening in plastic pots containing garden soil and perlite (1:1). A total of 80 % survival rate was observed. Quantitative analysis of stevioside content of in vitro and field grown plants was carried out by HPLC which showed increase of about 2 % stevioside content in the regenerants as compared to field grown plants. The genetic fidelity of micropropagated plantlets was confirmed by ISSR analysis confirming that in vitro plants obtained from callus showed genetic variation during the period of culturing, whereas those from nodal segments did not. Overall, this system results in mass multiplication of S. rebaudiana with simultaneous production of callus within short period. The high stevioside content in micropropagated plants may be of immense use to the pharmaceutical industry.
This is a preview of subscription content,
to check access.
Access this article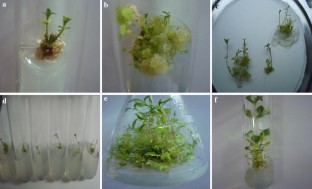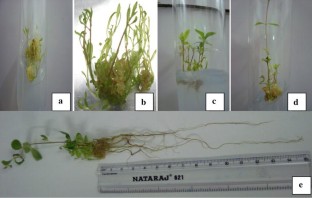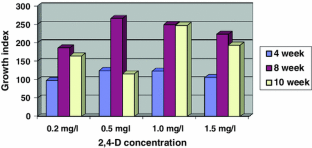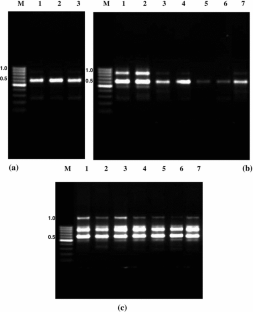 Similar content being viewed by others
References
Bharati, N. 2003. Stevia-the calorie free natural sweetener. Natural Product Radiance 2: 120–123.

Cassells, A.C., and R.F. Curry. 2002. Oxidative stress and physiological, epigenetic and genetic variability in plant tissue culture: Implications for micropropagators and genetic engineers. Plant Cell, Tissue and Organ Culture 64: 145–157.

Doyle, J.J., and J.L. Doyle. 1990. Isolation of plant DNA from fresh tissue. Focus 12: 13–15.

Duncan, D.B. 1955. Multiple range and multiple F-tests. Biometrics 11: 1.

Fraternale, D., L. Giamperi, D. Ricci, and M.B.L. Rocchi. 2002. Micropropagation of Bupleurm fruticosum: The effect of triacontanol. Plant Cell, Tissue and Organ Culture 69: 135–140.

Gupta, P., S. Sharma, and S. Saxena. 2010. Callusing in Stevia rebaudiana (natural sweetener) for steviol glycoside production. International Journal of Agricultural and Biological Science 1(1): 30–34.

Kaur, H. 2011. Chromatographic determination of stevioside in leaf parts of in vitro and in vivo regenerated plants of Stevia rebaudiana. International Journal of Natural Products Research 1(4): 44–48.

Liu, J., and S.F.Y. Li. 1995. Separation and determination of Stevia sweeteners by capillary electrophoresis and high performance liquid chromatography. Journal of Liquid Chromatography 18(9): 1703–1719.

Madan, S., A. Sayeed, G.N. Singh, K. Kohli, Y. Kumar, and M. Garg. 2010. Stevia rebaudiana (Bertoni): A review. Indian Journal of Natural Products and Resources 1(3): 267–286.

Mitra, A., and A. Pal. 2007. In vitro regeneration of Stevia rebaudiana (Bert) from the nodal explants. Journal of Plant Biochemistry and Biotechnology 16(1): 59–62.

Moktaduzzaman, M., and S.M.M. Rahman. 2009. Regeneration of Stevia rebaudiana and analysis of somaclonal variation by RAPD. Biotechnology 8(4): 449–455.

Mulabagal, V., C.Y. Lee, S.F. Lo, S.M. Nalawade, C.Y. Lin, and H.S. Tsay. 2004. Studies on the production of some important secondary metabolites from the medicinal plants by plant tissue cultures. Botanical Bulletin of Academia Sinica 45: 1–2.

Murashige, T., and F. Skoog. 1962. A revised medium for rapid growth and bioassays in tobacco tissue cultures. Physiologia Plantarum 15: 473–497.

Patel, R.M., and R.R. Shah. 2009. Regeneration of Stevia plant through callus culture. Indian Journal of Pharmaceutical Sciences 71: 46–50.

Preethi, D., T.M. Sridhar, and C.V. Naidu. 2011. Carbohydrate concentration influences on in vitro plant regeneration in Stevia rebaudiana. Journal of Phytology 3: 61–64.

Senthilkumar, P., and S. Paulsamy. 2010. Conservation of an endemic medicinal plant, Anaphalis eliptica DC. By employing plant tissue culture technique. Journal of Applied and Natural Science 2(1): 17.

Singh, N., K. Yadav, S. Kumari, and Renu. 2011. Metabolic changes during differentiation in callus cultures of Stevia rebaudiana (Bertoni). Journal of Phytology 3: 63–67.

Singh, P., and P. Dwivedi. 2013. Two-stage culture procedure using thidiazuron for efficient micropropagation of Stevia rebaudiana, an anti-diabetic medicinal herb. Biotech. doi:10.1007/s13205-013-0172-y.

Singh, P., P. Dwivedi, and N. Atri. 2012. In vitro shoot regeneration of Stevia rebaudiana through callus and nodal segments. International Journal of Agriculture Environment and Biotechnology 5(2): 101–108.

Singh, S.D., and G.P. Rao. 2005. Stevia: the herbal sugar of 21st century. Sugar Tech 7(1): 17–24. doi:10.1007/BF02942413.

Sivaram, L., and U. Mukundan. 2003. In vitro culture studies on Stevia rebaudiana. Vitro Cellular and Developmental Biology 39(5): 520–523.

Susek, A., B. Javornik, and B. Bohanec. 2002. Factors affecting direct organogenesis from flower explants of Allium giganteum. Plant Cell, Tissue and Organ Culture 68: 27–33.

Uddin, M.S., M.S.H. Chowdhury, M.M.M.H. Khan, M.B. Uddin, R. Ahmed, and M.A. Baten. 2006. In vitro propagation of Stevia rebaudiana Bert in Bangladesh. African Journal of Biotechnology 5(13): 1238–1240.

Ushiyama, and Fujita Takahashi. 1991. Rokem et al, 1984; Matsumoto et al., 1980; Ushiyama, K. In Plant Cell Culture in Japan, ed. A. Komamine, M. Misawa, and F. dicosmo, 92–98. Tokyo: CMC.

Vanek, T., A. Nepovim, and P. Valicek. 2001. Determination of stevioside in plant material and fruit teas. Journal of Food Composition and Analysis 14: 383–388.
Acknowledgments
The authors are thankful to the University Grants Commission (UGC), New Delhi for the financial assistance in the form of a major research project.
About this article
Cite this article
Singh, P., Dwivedi, P. & Atri, N. In Vitro Shoot Multiplication of Stevia and Assessment of Stevioside Content and Genetic Fidelity of the Regenerants. Sugar Tech 16, 430–439 (2014). https://doi.org/10.1007/s12355-013-0292-z
Received:

Accepted:

Published:

Issue Date:

DOI: https://doi.org/10.1007/s12355-013-0292-z
Keywords