Abstract
The present investigation was conducted to access the agro-potentiality of sugar mill effluent (SME) as fertigant, and an alternative of irrigation water. Fertigation response of 20, 40, 60, 80 and 100 % of SME doses on Sorghum bicolor L., cv. CSH 9, in the rainy and summer seasons was investigated. The fertigant concentration produced significant (P < 0.01) changes in EC, pH, OC, Na+, Ca2+, K+, Mg2+, TKN, PO4 3−, SO4 2−, Fe2+, Zn, Cd, Cu, Mn and Cr of the soil in both seasons. The agronomic performance of S. bicolor gradually increased from 20 to 40 % concentration and decreased at 60 to 100 % concentration of SME fertigation in both seasons compared to controls. The optimum growth of S. bicolor was recorded with 40 % concentration of SME. The accumulation of heavy metals increased in soil and S. bicolor from 20 % to 100 % SME concentrations in both seasons. Biochemical components like crude proteins, crude fiber and crude carbohydrates were found maximum with 40 % SME in both seasons. The contamination factor of various heavy metals was in order of Mn > Zn > Cu > Cr > Cd for soil and Cu > Mn > Zn > Cr > Cd for S. bicolor in both seasons after fertigation with SME.
Access options
Buy single article
Instant access to the full article PDF.
USD 39.95
Price excludes VAT (USA)
Tax calculation will be finalised during checkout.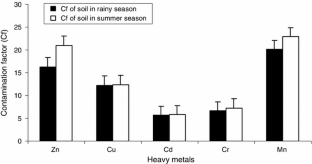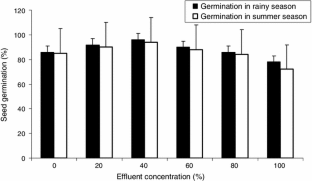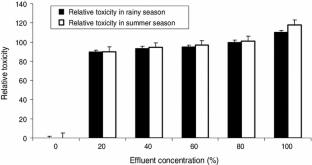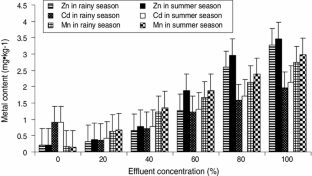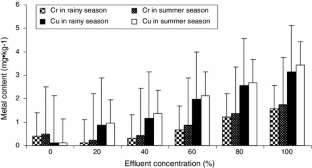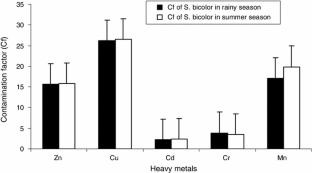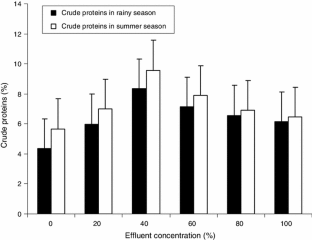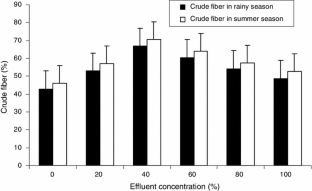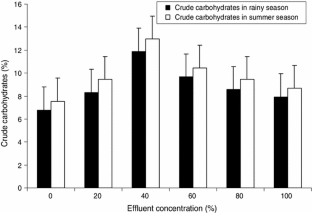 Abbreviations
ANOVA:

Analysis of variance

BD:

Bulk density

BIS:

Bureau of Indian Standards

HI:

Harvest index

LAI:

Leaf area index

SME:

Sugar mill effluent

WHC:

Water holding capacity
References
Abdel-Nasser, G., and S.M. El-Shazly. 2001. Response of Picual olive trees to potassium and boron fertigation. 1-Vegetative growth and leaf constituents. Journal of Advance Agriculture Research 6: 631–649.

Abdul Kabir Khan Achakzai. 2011. Effect of water stress on imbibitions, germination and seedling growth of sorghum cultivars. Sarhad Journal of Agriculture 27(4): 603–610.

Al-Jaloud, A.A., G.A.J. Hussian, Al-Saati, and S. Karimulla. 1995. Effect of wastewater irrigation on mineral composition of corn and sorghum plants in a pot experiment. Journal of Plant Nutrition 18: 1677–1692.

Almodares, A., and M.E. Sharif. 2007. Effects of irrigation water qualities on biomass and sugar contents of sugar beet and sweet sorghum cultivars. Journal of Environmental Biology 28(2): 213–218.

Al-Tahir, A., Y.A. Osman, Al-Nabulsi, and A.M. Helalia. 1997. Effects of water quality and frequency of irrigation on growth and yield of barley (Hordeum vulgare L.). Agriculture Water Management 34: 17–24.

Anonymous. 1980. Official methods of analysis. Washington, DC: Association of Official Analytical Communities.

Anonymous. 1991. Indian standards for drinking water—specification (BIS 10500:1991). Available on-line at: www.bis.org.in/.

Anonymous. 2005. Standard methods for the examination of water and wastewater, 21st ed. Washington, DC: American Public Health Association.

Arya, R.L., K.P. Niranjan, and A. Singh. 1997. Effect of nitrogen and phosphorus on the productivity of grain sorghum (Sorghum bicolor) dolichos (Dolichos) intercropping system. Indian Journal of Agronomy 42(3): 401–404.

Azza Mazher, A.M., E.M. Fatma, EL-Quensi, and M.M. Farahat. 2007. Responses of ornamental plants and woody trees to salinity. World Journal of Agriculture Science 3(3): 386–395.

Baruah, A.K., R.N. Sharma, and G.C. Borah. 1993. Impact of sugar mill and distillery effluent on water quality of river Galabil, Assam. Indian Journal of Environmental Health 35: 288–293.

Baskaran, L., K. Sankar Ganesh, A.L.A. Chidambaram, and P. Sundaramoorthy. 2009. Amelioration of sugar mill effluent polluted soil and its effect of green gram (Vigna radiata L.). Botany Research International 2(2): 131–135.

Bharagava, R.N., R. Chandra, and V. Rai. 2008. Phytoextraction of trace elements and physiological changes in Indian mustard plants (Brassica nigra L.) grown in post methanated distillery effluent (PMDE) irrigated soil. Bioresource Technology 99(17): 8316–8324.

Biswas, A.K., M. Mohanty, K.M. Hati, and A.K. Misra. 2009. Distillery effluents effect on soil organic carbon and aggregate stability of a Vertisol in India. Soil Tillage Research 104(2): 241–246.

Borole, D.D., and P.R. Patil. 2004. Studies on physicochemical parameters and concentration of heavy metals in sugar industry. Pollution Research 23: 83–89.

Cerning, J., and J. Guilhot. 1973. Changes in carbohydrates composition during maturation of wheat and barley kernel. Cereal Chemistry 50: 220–224.

Chandrasekar, N., A. Subramani, and S. Saravana. 1998. Effect of sugar mill effluent on germination and early seeding growth of black gram (Vigna mungo (L) Hepper Var. ADT-3). Journal of Industrial Pollution Control 14: 73–78.

Channappagoudar, B.B., N.R. Biradar, J.B. Patil, and S.M. Hiremath. 2007. Assessment of sweet Sorghum genotype for come yield, juice characters and sugar levels. Karnataka Journal of Agriculture Science 20: 294–296.

Charman, P.E.V., and B.W. Murphy. 1991. Soils their properties and management. Soil conservation handbook for New South Wales. Sydney: Sydney University Press.

Chaturvedi, R.K., and K. Sankar. 2006. Laboratory manual for the physico-chemical analysis of soil, water and plant. Dehradun: Wildlife Institute of India.

Chapagain, N. 1991. Physiological impact of Dhobikhola (Kathmandu) water pollution on Persicaria perfoliata L. leaves and germination of some vegetable seeds. M.Sc Thesis, Kathmandu, Nepal: Central Department of Botany, Tribunal University.

Chopra, A.K., C. Pathak, and G. Parasad. 2009. Scenario of heavy metal contamination in agricultural soil and its management. Journal of Applied and Natural Science 1(1): 99–108.

Chopra, A.K., Sachin Srivastava, Vinod Kumar and Chakresh Pathak. 2012. Agro-potentiality of distillery effluent on soil and agronomical characteristics of Abelmoschus esculentus L. (okra). Environmental Monitoring Assessment. doi:10.1007/s10661-012-3052-8.

Denison, R.F., and R. Russotti. 1997. Field estimates of green leaf area index using laser-induced chlorophyll fluorescence. Field Crops Research 52: 143–150.

Devkota, B., and G.H. Schmidt. 2000. Accumulation of heavy metals in food plants and grasshoppers from the Taigetos Mountains, Greece. Agriculture Ecosystem and Environment 78: 85–91.

El-Naggar, A.H. 2005. Effect of foliar nutrition on growth, flowering, corms and cormels production of gladiolus plants. Alexander Science Exchange 26(1): 19–27.

Ezhilvannan, D., P.S. Sharavanan, and M. Vijayaragavan. 2011. Effect of sugar mill effluent on changes of growth and amino acid and protein contents of maize (Zea mays L.) plants. Journal of Ecobiotechnology 3(7): 26–29.

Ferguson, E.J. 1990. Heavy metals in plants. In The heavy elements, chemistry, environmental impact and health effects, ed. E.J. Ferguson, 7–30. Oxford, UK: Pergamon Press.

Frost, H.L., and L.H. Ketchum. 2000. Trace metal concentration in durum wheat from application of sewage sludge and commercial fertilizer. Advanced Environmental Research 4: 347–355.

Ghafoor, A., A. Rauf, M. Arif, and V. Muzaffar. 1994. Chemical composition of effluents from different industries of the Faisalabad city. Pakistan Journal of Agriculture Science 31: 367–369.

Gill, P.S., S.M. Tahir, A.H. Al-Younis, and M.A. Younis. 1977. Preliminary studies on the cultivation of sweet sorghum (Sorghum bicolor L. Moench) for the production of sugar in Iraq. Iraqi Journal of Agriculture Science 12: 3–9.

Håkanson, L. 1980. An ecological risk index for aquatic pollution control. A sedimentological approach. Water Research 14: 975–1001.

Hati, K.M., A.K. Biswas, K.K. Bandyopadhyay, and A.K. Misra. 2007. Soil properties and crop yields on a vertisol in India with application of distillery effluent. Soil Tillage and Research 92(1–2): 60–68.

Itanna, F. 2002. Metals in leafy vegetables grown in Addis Ababa and toxicological implications. Ethiopian Journal of Health Development 6: 295–302.

Kaushik, A., B.R. Kadyan, and C.P. Kaushik. 2004. Sugar mill effluent effects on growth, photosynthetic pigments and nutrient uptake in wheat seedlings in aqueous vs. soil medium. Water, Air, and Soil pollution 87: 39–46.

Kimberly, M.F.H., and H. William. 1999. Trace metals in Montreal urban soils and the leaves of Teraxacum officinale. Canadian Journal of Soil Science 79: 385–387.

Kumar, V., and A.K. Chopra. 2010. Effect of industrial effluent irrigation on agronomical characteristics of two leguminous crops, Phaseolus vulgaris (L.) and Vigna radiata (L.), Ph.D. Thesis. Haridwar: Department of Zoology and Environmental Science, Gurukula Kangri University.

Kumar, V., and A.K. Chopra. 2012. Fertigation effect of distillery effluent on agronomical practices of Trigonella foenum-graecum L. (Fenugreek). Environmental Monitoring Assessment. doi:10.1007/s10661-011-2033-7.

Mehmood, S., A. Bashir, A. Ahmad, Z. Akram, N. Jabeen, and M. Gulfraz. 2008. Molecular characterization of regional Sorghum bicolor varieties from Pakistan. Pakistan Journal of Botany 40: 2015–2021.

Mendoza, J., G. Tatiana, C. Gabriala, and S.M. Nilsa. 2006. Metal availability and uptake by sorghum plants grown in soil amended with sludge from different treatments. Chemosphere 65: 2304–23012.

Milner, C., and R.E. Hughes. 1968. Methods for the measurement of primary production of grassland. IBP Handbook No.6 Oxford: Blackwell.

Moazzam Ali Khan, S. Shahid Shaukat, Atif Shahzad, and Hamda Arif. 2012.Growth and yield responses of pearl millet (Pennisetum Glaucum [L.] R.Br.) irrigated with treated effluent from waste stabilization ponds. Pakistan Journal of Botany 44(3): 905–910.

Moazzam Ali Khan, S., Shahid Shaukat, Omme Hany, and Suriya Jabeen. 2010. Irrigation of sorghum crop with waste stabilization pond effluent: Growth and yield responses. Pakistan Journal of Botany 42(3): 1665–1674.

El-Sawaf, Nadia. 2005. Response of Sorghum spp. to sewage waste-water irrigation. International Journal of Agriculture Biology 7(6): 869–874.

Naeem, M., J. Iqbal, and M.A.A.H.A. Bakhsh. 2006. Comparative study of inorganic fertilizers and organic manures on yield and yield components of Mung bean (Vigna radiata L.). Journal of Agriculture and Social Science 2(4): 227–229.

Nasir, E.B., M. Dambroth, and G.H.L. Gerhard. 1990. Sweet sorghum—a new source of row material for the sugar industry. Plant Research Development 31: 7–17.

Owuama, C.I. 1997. Sorghum, a cereal with larger beer brewing potential. Word Journal of Microbial and Biotechnology 13: 253–260.

Pandey, S.N., B.D. Nautiyal, and C.P. Sharma. 2008. Pollution level in distillery effluent and its phytotoxic effect on seed germination and early growth of maize and rice. Journal of Environmental Biology 29(2): 267–270.

Phalsen, S., D.E.B. Higgs, and A. Suksri. 2001. Effects of nitrogen and potassium fertilizers on growth chemical component and seed yields of forage sorghum (Sorghum bicolor L. Moench) growth on Oxic polenstults soil, North East Thailand. Pakistan Journal of Biological Science 4(1): 27–31.

Porra, R.J. 2002. The chequered history of the development and use of simultaneous equations for the accurate determination of chlorophylls a and b. Photosynthesis Research 73: 149–156.

Rathore, N.P., S.A. Iqbal, and K.S. Pawan. 2000. Role of sugar industry effluent in agriculture. Indian Journal of Applied Pure Biology 19: 91–94.

Sakellariou, M.M., S. Papalexis, N. Nakos, and I.K. Kalavrouziotis. 2007. Effect of modern irrigation methods on growth and energy production of sweet sorghum (Var. Keller) on a dry year in central Greece. Agriculture Water Management 90: 181–189.

Sauve, S., W. Henderson, and H.E. Allen. 2000. Solid-solution partitioning of metals in contaminated soils: Dependence on pH, total metal burden, and organic matter. Environmental Science and Technology 34: 1125–1131.

Shuichi, Oyama, and Kondo Fumi. 2007. Sorghum cultivation and soil fertility preservation under Bujimi Slash-and-Burn cultivation in Northwestern Zambia. African Study Monographs 34: 115–135.

Sinclair, T.R. 1998. Historical changes in harvest index and crop nitrogen accumulation. Crop Science 38: 638–643.

Sunseri, F., D. Palazzo, N. Montemurro, and F. Montemurro. 1998. Salinity tolerance in sweet sorghum (Sorghum bicolor L. Moench): Field performance under salt stress. Italian Journal of Agronomy 2: 111–116.

Zalawadia, N.M., and S. Raman. 1994. Effect of distillery wastewater with graded fertilizer levels on sorghum yield and soil properties. Journal of Indian Society of Soil Science 42: 575–579.
Acknowledgments
The University Grants Commission, New Delhi, India is acknowledged for providing the financial support in the form of UGC research fellowship (F.7-70/2007-2009 BSR) to Dr. Vinod Kumar.
About this article
Cite this article
Kumar, V., Chopra, A.K. Response of Sweet Sorghum After Fertigation with Sugar Mill Effluent in Two Seasons. Sugar Tech 15, 285–299 (2013). https://doi.org/10.1007/s12355-013-0226-9
Received:

Accepted:

Published:

Issue Date:

DOI: https://doi.org/10.1007/s12355-013-0226-9
Keywords
Sorghum bicolor

Sugar mill effluent

Fertigation

Heavy metals

Rainy and summer season