Abstract
Colletotrichum falcatum causing red rot in sugarcane is a dynamic pathogen exhibiting enormous variation. As pathogen variability plays a crucial role in the breakdown of red rot resistance in sugarcane, investigations were made to characterize possible factors responsible for the development of newer pathotypes in the fungal pathogen. We have studied production of metabolites viz., toxin and melanin and hydrolytic enzymes in relation to disease expression with wild and temperature adapted mutants which are deficient in pathogenicity on sugarcane hosts. The nine major pathotypes used for disease screening programme were found to vary significantly in toxin production. It was found that symptom production on leaves by the pathotypes and loss of electrolytes caused by them on the host tissues increased with their virulence. The pathotypes varied in the production of pectinolytic and cellulolytic enzymes particularly exo-PG and its production corresponded with virulence. Production of melanin during host pathogen interaction was found to have a positive relation with virulence when pathogenicity assay was conducted in stalks and leaves.
Access options
Buy single article
Instant access to the full article PDF.
USD 39.95
Price excludes VAT (USA)
Tax calculation will be finalised during checkout.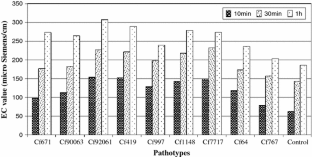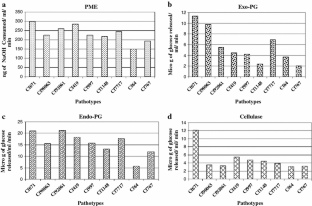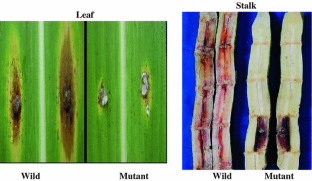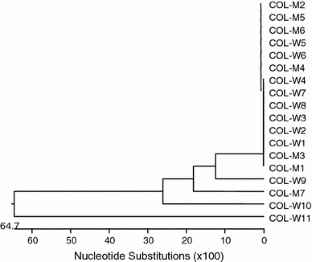 References
Abang, M.M., W.R. Abraham, R. Asiedu, P. Hoffmann, G. Wolf, and S. Winter. 2009. Secondary metabolite profile and phytotoxic activity of genetically distinct forms of Colletotrichum gloeosporioides from yam (Dioscorea spp.). Mycological Research 113: 130–140.

Abbott, E.V. 1933. Physiologic forms of Colletotrichum falcatum Went. Phytopathology 23: 557–559.

Abbott, E.V. 1935. Physiological specialization in Colletotrichum falcatum Went. Proceedings of International Sugarcane Technology 5: 730–736.

Carbone, I., and L.M. Kohn. 1999. A method for designing primer sets for speciation studies in filamentous Ascomycetes. Mycologia 91: 553–556.

Chen, Z., M.A. Nunes, M.C. Silva, and C.J. Rodrigues. 2004. Appressorium turgar pressure of Colletotrichum kahawae might have a role in coffee cuticle penetration. Mycologia 96(6): 1199–1208.

Chona, B.L., and D.N. Srivastava. 1960. Variation in Colletotrichum falcatum Went the causal organism of red rot of sugarcane. Indian Phytopathology 13: 158–160.

Edgerton, C.W., and C.C. Moreland. 1920. Effect of fungi on the germination of sugarcane. Louisiana Agriculture Experiment Station Bulletin 169.

Guerber, J.C., B. Liu, C. Correll, and P.R. Johnston. 2003. Characterization of diversity in Colletotrichum acuttum sensu lato by sequence analysis of two introns, mtDNA and intron RFLPs and mating compatibility. Mycologia 3: 872–895.

Gupta, S.C., M.P. Singh, and U.C. Upadhyay. 1980. A new biotype of Colletotrichum falcatum Went. Current Science 49: 600–601.

Malathi, P., R. Viswanathan, and R. Jothi. 2006. Specific adaptation of Colletotrichum falcatum pathotypes to sugarcane cultivars. Sugar Tech 8(1): 52–56.

Malathi, P., C. Jaehyuk, R. Viswanathan, P. Padmanaban, and Y.H. Lee. 2008. Molecular characterization of Colletotrichum falcatum isolates from sugarcane in India (Abstr.). Presented at the 9th European Conference on Fungal Genetics held, 5–8. Scotland: University of Edinburgh, April, 2008.

Malathi, P., R. Viswanathan, A. Ramesh Sundar, N. Prakasam, P. Padmanaban, R. Jothi, S.R. Renuka Devi, and M. Poongothai. 2010. Variability among Colletotrichum falcatum pathotypes used for screening red rot resistance in sugarcane. Sugar Cane International 28(2): 47–52.

Malathi, P., R. Viswanathan, A. Ramesh Sundar, P. Padmanaban, N. Prakasam, D. Mohanraj, and R. Jothi. 2011. Phylogenetic analysis of Colletotrichum falcatum isolates causing red rot in sugarcane. Journal of Sugarcane Research 1(1): 69–74.

Martinz-Culebras, P.V., A. Querol, M.B. Surez-Fernandez, M.D. Garcia-Lopez, and E. Barrio. 2003. Phylogenetic relationships among Colletotrichum pathogens of strawberry and design of PCR primers for their identification. Journal of Phytopathology 151: 135–143.

Mohanraj, D., S. Kumaresan, and T.V. Sreenivasan. 2002. Molecular characterization of isolates of the sugarcane red rot pathogen Colletotrichum falcatum Went. Indian Phytopathology 55: 147–151.

Mohanraj, D., P. Padmanaban, and M. Karunakaran. 2002. Association of phytotoxin produced by Colletotrichum falcatum Went in the red rot disease of sugarcane. Sugarcane 20(3): 21–23, 30.

Mohanraj, D., P. Padmanaban, and M. Karunakaran. 2003. Pathogen toxin-induced electrolyte leakage and phytoalexin accumulation as indices of red-rot (Colletotrichum falcatum Went) resistance in sugarcane. Phytopathologia Mediteterranea 42: 129–134.

Padmanaban, P., D. Mohanraj, R. Viswanathan, M.M. Rao, N. Prakasam, R. Jothi, and K.C. Alexander. 1996. Differential interaction of sugarcane clones to pathotypes of Colletotrichum falcatum Went. Sugar Cane 4: 16–20.

Rafay, S.A., and V.B. Singh. 1957. A new strain of Glomerella tucumanensis. Current Science 26: 19–20.

Raid, R.N., and R.S. Lentini. 2002. Sugarcane red-rot disease. Florida: Sugarcane Handbook, UF/IFAS Publication SS-AGR-206.

Saghai-Maroof, M.A., K.M. Soliman, R.A. Jorgensen, and R.W. Allard. 1984. Ribosomal DNA spacer-length polymorphism in barley: Mendelian inheritance, chromosomal location and population dynamics. Proceedings of National Academy of Science USA 81: 8014–8019.

Singh, R.P., and S. Lal. 1999. Red Rot. In: A guide to sugarcane diseases. CIRAD-ISSCT publications, pp 153–158, ISBN 2-87614-386-0.

Srinivasan, K.V., and N.R. Bhat. 1961. Criteria for grading resistance of sugarcane varieties to red rot (Glomeralla tucumanensis). Current Science 30(11): 425.

Suman, A., Sunita Lal, A.K. Shasany, Asha Gaur, and Pushpa Singh. 2005. Molecular assessment of diversity among pathotypes of Colletotrichum falcatum prevalent in sub-tropical Indian sugarcane. World Journal of Microbiology and Biotechnology 21: 1135–1140.

Taborda, C.P., M.B. DA Silva, J.D. Nosanchuk, and L.R. Travassons. 2008. Melanin as a virulence factor of Paracoccidioides brasiliensis and other dimorphic pathogenic fungi: minireview. Mycopathologia 165: 331–339.

Thompson, J.D., T.J. Gibson, F. Plewniak, F. Jeanmougin, and D.G. Higgins. 1997. The CUSTALX windows interface: Flexible strategies for multiple sequence alignment aided by quality analysis tools. Nucleic Acids Research 25: 4876–4882.

Viswanathan, R. 2010. Plant disease: Red rot of sugarcane, 301. New Delhi: Anmol Publishers.

Viswanathan, R., P. Malathi, and P. Padmanaban. 2003. Variation in sugarcane red rot pathogen Colletotrichum falcatum Went. In Frontiers of fungal diversity in India, ed. G.P. Rao, C. Manoharachari, D.J. Bhat, R.C. Rajak, and T.N. Lakhanpal, 639–667. Lucknow: International Book Distributing Co.

Viswanathan, R., P. Malathi, A. Ramesh Sunder, S. Aarthi, S.M. Prem Kumari, and P. Padmanaban. 2005. Differential induction of chitinases and thaumatin like proteins in sugarcane in response to infection by Colletotrichum falcatum causing red rot disease. Journal of Plant Diseases and Protection 112(5): 417–425.

Wijesundera, R.L.C., J.A. Bailey, R.J.W. Byrde, and A.H. Fielding. 1989. Cell wall degrading enzymes of Colletotrichum lindemuthianum: Their role in the development of bean anthracnose. Physiological and Molecular Plant Pathology 34: 403–413.
About this article
Cite this article
Malathi, P., Viswanathan, R. Identification of Pathogenicity Determinants in Colletotrichum falcatum Using Wild and Mutant Cultures. Sugar Tech 14, 383–390 (2012). https://doi.org/10.1007/s12355-012-0161-1
Received:

Accepted:

Published:

Issue Date:

DOI: https://doi.org/10.1007/s12355-012-0161-1
Keywords