Abstract
Variation in red rot pathogen Colletotrichum falcatum Went was studied in detail in relation to host resistance in 12 genotypes belonging to six sugarcane species viz., S. officinarum, S. barberi, S. sinense, S. robustum, S. spontaneum and Erianthus sp. In which the host resistance and sucrose content of different species have been correlated with pathogenic virulence. It was observed that S. officinarum genotypes had high brix than other species of Saccharum and allied genera. Cultural studies indicated that C. falcatum virulence related factors viz., growth, sporulation and conidial germination had negative correlation with the host resistance and positive correlation with sucrose content of various sugarcane species juice. Influence of unautoclaved host extract on pathogenic characters indicates that the factors other than sucrose content plays role in deciding the host resistance. Pathogenicity studies showed that there is selectivity in differentiating the host resistance of various species by C. falcatum pathotypes especially less virulent isolates reacted well in clones with low sucrose content. Hence selection of genotypes from different species depends on pathotype virulence and the selection must be from well reacted and distinguished isolates for effective screening.
Access options
Buy single article
Instant access to the full article PDF.
USD 39.95
Price excludes VAT (USA)
Tax calculation will be finalised during checkout.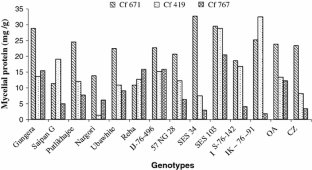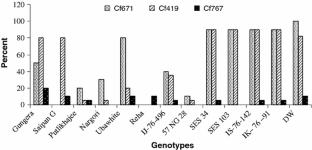 References
Abbott, E.V. 1935. Physiologic specialization in Colletotrichum falcatum. Proceedings of International Sugarcane Technology 5: 730–736.

Ahmed, M., R. Ali, and S. Fushi. 1986. Effect of different infection levels of red rot of sugarcane on cane weight and juice quality. Journal of Agriculture Research 24(2): 129–131.

Alexander, K.C., P.A. Kandasami, T.C.R. Rao, D. Mohanraj, and M.M. Rao. 1979. A new approach to genetic defence against red rot disease of sugarcane. Indian Sugar 28: 695–696.

Alexander, K.C., and M.M. Rao. 1972. Comparative evaluation of genotypes in the centres in India for resistance to red rot and smut. Proceedings of Diamond Jubilee Symposium of Sugarcane Breeding Institute, Coimbatore.

Alexander, C.C., M.M. Rao, and D. Mohanraj. 1983. Disease reaction: Catalogue on genetic resource. I. Saccharum spontaneum L. Pab. Coimbatore: Sugar cane Breeding Institute.

Alexander, C.C., M.M. Rao, and D. Mohanraj. 1985. Disease reactions: Catalogne on a genetic resources. II. Pub. Coimbatore: Sugarcane Breeding Institute.

Beniwal, M.S., and Virk K.S. Satyavir. 1989. Pathogenic variability in Colletotrichum falcatum incitant of red rot of sugarcane. Indian Phytopathology 42: 95–98.

Bradford, M.M. 1976. A rapid and sensitive method for quantification of microgram quantities of protein utilizing the principles of protein binding. Analytical Biochemistry 72: 245–254.

Khirbat, S.K., Satyavir, and M.S. Beniwal. 1980. Physiological and pathological variability in sugarcane red rot pathogen Colletotrichum falcatum Went in Haryana. Indian Phytopathology 33: 296–299.

Malathi, P., C. Jaehyuk, R. Viswanathan, P. Padmanaban, and Y.H. Lee. 2008. Molecular Characterization of Colletotrichum falcatum isolates from sugarcane in India (Abstr.). Presented at the 9th European Conference on Fungal Genetics held at University of Edinburgh, Scotland from 5th to 8th April 2008.

Malathi, P., R. Viswanathan, A. Ramesh Sundar, N. Prakasam, P. Padmanaban, R. Jothi, S.R. Renuka Devi, and M. Poongothai. 2010. Variability among Colletotrichum falcatum pathotypes used for screening red rot resistance in sugarcane. Sugarcane International 28(2): 47–52.

Meade, G.P., and J.P. Chen. 1977. Cane sugar handbook. New York: Wiley.

Natarajan, U.S., N. Balasundaram, T.C.R. Rao, P. Padmanaban, D. Mohanraj, S. Karthikeyan, and S. Dhamodaran. 2001. Role of Saccharum spontaneum in imparting stable resistance against sugarcane red rot. Sugarcane International 1: 17–20.

Padmanaban, P., D. Mohanraj, R. Viswanathan, M.M. Rao, N. Prakasam, R. Jothi, and K.C. Alexander. 1996. Differential interaction of sugarcane clones to pathotypes of Colletotrichum falcatum Went. Sugar Cane 4: 16–20.

Sathyanarayan, V., and M.A. Rao. 1984. Evidence on the existence of two physiological different strains in the light race isolates of Physalospora tucumanensis. Speg. in Andrapradesh. Sugar cane 3: 6.

Sathyanarayan, V., and M.A. Rao. 1995. Investigations on the race flora of Colletotrichum falcatum, incitant of red rot disease of sugarcane, pp 285–293. In: Proceedings of National Seminar on Sugarcane Production constraints and strategies for Research and Management of red rot. Part II edited by V.P. Agnihotri, O.K. Sinha and R.P. Singh. Lucknow: IISR.

Singh, R.P., and Kamal. 1979. Growth of Colletotrichum falcactum on media containing juice of differential sugar cane varieties. Sugar cane Pathologists. New letter 23:27–28.

Srinivasan, K.V., and K.C. Alexander. 1971. Sources of resistance in the different species of Saccharum to red rot and smut disease of sugarcane. Sugarcane Pathologists' Newsletter 6: 6–7.

Srinivasan, K.V., and N.R. Bhat. 1961. Criteria for grading resistance of sugarcane varieties to red rot (Glomeralla tucumanensis). Current Science 30(11): 425.

Viswanathan, R. 2010. Plant disease: Red rot of sugarcane, 301. New Delhi: Anmol Publishers.

Viswanathan, R., P. Malathi, and P. Padmanaban. 2003. Variation in sugarcane red rot pathogen Colletotrichum falcatumWent. In Frontiers of fungal diversity in India, ed. G.P. Rao, C. Manoharachari, D.J. Bhat, R.C. Rajak, and T.N. Lakhanpal, 639–667. Lucknow: International Book Distributing Co.
Acknowledgments
Authors are grateful to Dr. N. Vijayan Nair, Director of the Institute for providing the facilities to carry out this research work and for his sustained encouragement.
About this article
Cite this article
Malathi, P., Viswanathan, R. Variation in Colletotrichum falcatum-Red Rot Pathogen of Sugarcane in Relation to Host Resistance. Sugar Tech 14, 181–187 (2012). https://doi.org/10.1007/s12355-012-0150-4
Received:

Accepted:

Published:

Issue Date:

DOI: https://doi.org/10.1007/s12355-012-0150-4
Keywords