Abstract
Saccharum edule is grown in Pacific islands for its edible, aborted inflorescence. This species is not amenable for conventional hybridization programme for improvement of sugarcane as it does not produce normal flowers. For in vitro multiplication of this species, immature inflorescence slices of 1 mm thick were inoculated on modified MS medium supplemented with 1 mg l−1 NAA + 2,4-D (5–50 mg l−1). Compact and nodular calli were observed in medium supplemented with 40 mg l−1 2,4-D. This calli were sub-cultured on medium supplemented with 1 mg l−1 NAA + BAP (2–10 mg l−1), good regeneration (327 shoots/Explant) were obtained. The regenerated plants were planted in field after rooting and hardening. The field grown plants were morphologically similar to the parental clones with similar aborted inflorescence.
Access options
Buy single article
Instant access to the full article PDF.
US$ 39.95
Tax calculation will be finalised during checkout.
Subscribe to journal
Immediate online access to all issues from 2019. Subscription will auto renew annually.
US$ 79
Tax calculation will be finalised during checkout.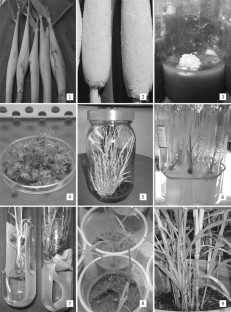 References
Chen, W.H., M.R. Davey, J.B. Power, and E.C. Cocking. 1988. Control and maintenances of plant regeneration in sugarcane calli cultures. Journal of Experimental Botany 39: 251–261.

Daniel, J., and B.T. Roach. 1987. Taxonomy and evolution. In Sugarcane improvement through breeding, ed. D.J. Heinz, 7–84. Amsterdam: Elsevier.

Desai, N.S., P. Suprasanna, and V.A. Bapat. 2004. Simple and reproducible protocol for direct somatic embryogenesis from cultured immature inflorescence segments of sugarcane (Saccharum spp.). Current Science 87(6): 764–768.

Gandanou, Ch., T. Errabii, J. Abrini, M. Idaomar, F. Chibi, and N. Skali Senhaji. 2005. Effect of genotype on callus induction and plant regeneration from leaf explants of sugarcane (Saccharum sp.). African Journal of Biotechnology 4(11): 1250–1255.

Grivet, L., C. Daniel, J.C. Glaszmann, and A. D'Hont. 2004. A review of recent molecular genetic evidence for sugarcane evolution and domestication. Ethnobotany Research and Application 2: 9–17.

Jalaja N.C., D. Neelamathi, and T.V. Sreenivasan (2008). Micropropagation for quality seed production in sugarcane in Asia and the Pacific. Food and Agriculture Organization of the United Nations, Rome; Asia–Pacific Consortium on Agricultural Biotechnology, New Delhi; Asia-Pacific Association of Agricultural Research Institutions, Bangkok.

Karim, M.Z., M.N. Amin, M.A. Hossain, S. Islam, Faruk. Hossain, and R. Alam. 2002. Micropropagation of two sugarcane varieties from callus culture. Online Journal of Biotechnological Sciences 2(10): 682–685.

Karun, Anitha, E.A. Siril, E. Radha, and V.A. Partha Sarathy. 2004. Somatic embryogenesis and plantlet regeneration form leaf and inflorescence explants of Arecanut (Areca catechu L.). Current Science 86(12): 1623–1628.

Lakshmanan, P., R. Jason Geijskes, Lifang Wang, Adrian Elliott, Christopher P.L. Grof, Nils Berding, and Grant.R. Smith. 2005. Sugarcane biotechnology: The challenges and opportunities. In Vitro Cellular & Development Biology 41(4): 345–363.

Lennoux, C.G. 1939. Sugarcane collection in New Guinea during 1937. Proceedings of the International Society of Sugar Cane Technologists 6: 171–182.

Naz, S., Fayyaz Ahmed Siddique, Aamir Ali, and Javed Iqbal. 2009. Virus indexation of in vitro regenerated sugarcane plants. Pakistan Journal of Botany 41(4): 1931–1939.

Sweby, D.L., B.L. Huckett, and F.C. Botha. 1994. Minimizing somaclonal variation in tissue culture of sugarcane. Proceedings of the Annual Congress South African Sugar Technologists Association 68: 46–50.

Teixeira, J.B., M.R. Sondahl, and E.G. Kirby. 1994. Somatic embryogenesis from immature inflorescence of oil palm. Plant Cell Reports 13: 247–250.

Tiel, Kenia, Gil A. Enriquez, Yanaysi Ceballo, Natacha Soto, Alejandrao D. Fuentes, Aleines Ferreira, Yamilet Coll, and Merardo Pujol. 2006. Development of a system for rapid regeneration from in vitro sugarcane (Saccharum officinarum L.) meristematic tissue. Biotecnologia Applicada 23(1): 22–24.
About this article
Cite this article
Chandran, K. In Vitro Regeneration of Saccharum edule From Immature Inflorescence. Sugar Tech 13, 170–173 (2011). https://doi.org/10.1007/s12355-011-0082-4
Received:

Accepted:

Published:

Issue Date:
Keywords
In vitro regeneration

Micropropagtion

Saccharum edule

Sugarcane