Abstract
Increasing competition among various companies has led supply chain managers to devise ways to reduce costs and production times. An important branch of the supply chain, namely the pharmaceutical supply chain network, which plays a significant role in people's lives, is considered in this paper. When it comes to human life, time and accuracy are the most important factors. In this paper, a multi-objective stochastic model is developed to reduce the time of delivering drugs to patients and minimize operating costs of the supply chain, considering congestion in production centers and scheduling jobs in flexible flow shop systems. Reducing greenhouse gas emissions is also addressed in this research. Two multi-objective methods, LP-metric and goal attainment, are used to solve the proposed multi-objective model. Finally, to illustrate the performance of the proposed model, several numerical test problems from small to a large extent are solved with a detailed sensitivity analysis. Through analyzing the computational results, confliction among objective functions is analyzed. Moreover, it is concluded that LP-metric outperforms the goal attainment approach profoundly by comparing two solution approaches.
Access options
Buy single article
Instant access to the full article PDF.
US$ 39.95
Tax calculation will be finalised during checkout.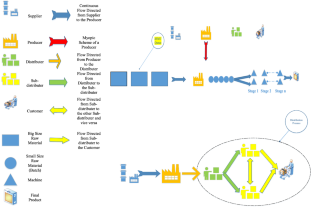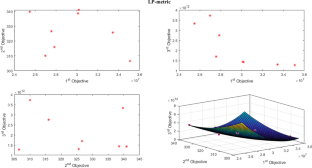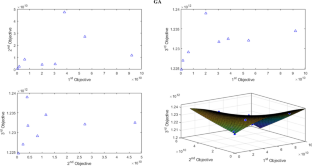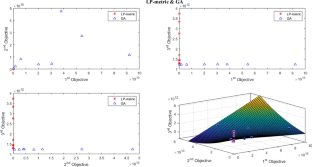 References
Azaron A, Katagiri H, Kato K, Sakawa M (2006) Modelling complex assemblies as a queueing network for lead time control. Eur J Oper Res 174:150–168

Bala K, Brcanov D, Gvozdenović N (2017) Two-echelon location routing synchronized with production schedules and time windows. Cent Eur J Oper Res 25:525–543

Ball OM, Lin LF (1993) A reliability model applied to emergency service vehicle location. Oper Res 41(1):2–234

Bhat UN (2015) An introduction to queueing theory. Birkhäuser Boston, Boston, MA

Bhattacharya K, Kumar De S (2020) A robust two layer green supply chain modelling under performance based fuzzy game theoretic approach. Comput Ind Eng 152:107005

Chen X, Yang H, Wang X (2019) Effects of price cap regulation on the pharmaceutical supply chain. J Bus Res 97:281–290

Damodaran P, Rao AG, Mestry S (2013) Particle swarm optimization for scheduling batch processing machines in a permutation flowshop. Int J Adv Manuf Technol 64:989–1000

De M, Giri BC (2020) Modelling a closed-loop supply chain with a heterogeneous fleet under carbon emission reduction policy. Transp Res E Logist Transp Rev 133:101813

Fahimnia B, Jabbarzadeh A, Ghavamifar A, Bell M (2017) Supply chain design for efficient and effective blood supply in disasters. Int J Prod Econ 183:700–709

Firoozi Z, Ismail N, Ariafar S et al (2013) Distribution network design for fixed lifetime perishable products: a model and solution approach. J Appl Math 2013:1–13

Franco C, Alfonso-Lizarazo E (2017) A structured review of quantitative models of the pharmaceutical supply chain. Complexity 3:1–13

Franco C, Alfonso-Lizarazo E (2020) Optimization under uncertainty of the pharmaceutical supply chain in hospitals. Comput Chem Eng 135:106689

Gatica G, Papageorgiou LG, Shah N (2003) Capacity planning under uncertainty for the pharmaceutical industry. Chem Eng Res Des 81:665–678

Giallanza A, Puma GL (2020) Fuzzy green vehicle routing problem for designing a three echelons supply chain. J Clean Prod 259:120774

Golestani M, Moosavirad SH, Asadi Y, Biglari S (2021) A multi-objective green hub location problem with multi item-multi temperature joint distribution for perishable products in cold supply chain. Sustain Prod Consum 27:1183–1194

Haleem RM, Salem MY, Fatahallah FA, Abdelfattah LE (2015) Quality in the pharmaceutical industry: a literature review. Saudi Pharm J 23:463–469

Halim I, Ang P, Adhitya A (2019) A decision support framework and system for design of sustainable pharmaceutical supply chain network. Clean Technol Environ Policy 21:431–446

Hansen KRN, Grunow M (2015) Planning operations before market launch for balancing time-to-market and risks in pharmaceutical supply chains. Int J Prod Econ 161:129–139

Hasani A, Mokhtari H, Fattahi M (2021) A multi-objective optimization approach for green and resilient supply chain network design: a real-life case study. J Clean Prod 278:123199

Hiassat A, Diabat A, Rahwan I (2017) A genetic algorithm approach for location-inventory-routing problem with perishable products. J Manuf Syst 42:93–103

Hwang CL, Masud ASM (1979) Multiple objective decision making methods and applications, a state of the art survey. Lecture Notes in Economics and Mathematical Systems

Iacocca KM, Mahar S (2019) Cooperative partnerships and pricing in the pharmaceutical supply chain. Int J Prod Res 57:1724–1740

Iqbal MW, Kang Y, Jeon HW (2020) Zero waste strategy for green supply chain management with minimization of energy consumption. J Clean Prod 245:118827

Jain S, Raghavan NRS (2009) A queuing approach for inventory planning with batch ordering in multi-echelon supply chains. Cent Eur J Oper Res 17:95–110

Jarumaneeroj P, Laosareewatthanakul N, Akkerman R (2021) A multi-objective approach to sugarcane harvest planning in Thailand: balancing output maximization, grower equity, and supply chain efficiency. Comput Ind Eng 154:107129

Jemai J, Chung B Do, Sarkar B (2020) Environmental effect for a complex green supply-chain management to control waste: a sustainable approach. J Clean Prod 277:122919

Jiang S, Ye F, Lin Q (2020) Managing green innovation investment in a Co-opetitive supply chain under capital constraint. J Clean Prod 291:125254

Kreiter T, Pferschy U (2019) Integer programming models versus advanced planning business software for a multi-level mixed-model assembly line problem. Cent Eur J Oper Res 28:1141–1177

Kumar N, Jha A (2018) Quality risk management during pharmaceutical 'good distribution practices': a plausible solution. Bull Fac Pharm Cairo Univ 56:18–25

Laínez JM, Schaefer E, Reklaitis GV (2012) Challenges and opportunities in enterprise-wide optimization in the pharmaceutical industry. Comput Chem Eng 47:19–28

Liu Y, Dehghani E, Jabalameli MS, et al (2020) A coordinated location-inventory problem with supply disruptions: A two-phase queuing theory–optimization model approach. Comput Ind Eng 142:106326

Lücker F, Seifert WR (2017) Building up resilience in a pharmaceutical supply chain through inventory, dual sourcing and agility capacity. Omega 73:114–124

Masoumi AH, Yu M, Nagurney A (2012) A supply chain generalized network oligopoly model for pharmaceuticals under brand differentiation and perishability. Transp Res E Logist Transp Rev 48:762–780

Melo MT, Nickel S, Saldanha-da-Gama F (2009) Facility location and supply chain management: a review. Eur J Oper Res 196:401–412

Mohammadi M (2020) Designing an integrated reliable model for stochastic lot-sizing and scheduling problem in hazardous materials supply chain under disruption and demand uncertainty. J Clean Prod 274

Mohtashami Z, Aghsami A, Jolai F (2020) A green closed loop supply chain design using queuing system for reducing environmental impact and energy consumption. J Clean Prod 242:122621

Morales Chavez MM, Sarache W, Costa Y, Soto J (2020) Multiobjective stochastic scheduling of upstream operations in a sustainable sugarcane supply chain. J Clean Prod 276:123305

Moslemi S, Zavvar Sabegh MH, Mirzazadeh A et al (2017) A multi-objective model for multi-production and multi-echelon closed-loop pharmaceutical supply chain considering quality concepts: NSGAII approach. Int J Syst Assur Eng Manag 8:1717–1733

Nematollahi M, Hosseini-Motlagh S-M, Ignatius J et al (2018) Coordinating a socially responsible pharmaceutical supply chain under periodic review replenishment policies. J Clean Prod 172:2876–2891

Niziolek L, Chao Chiam T, Yih Y (2012) A simulation-based study of distribution strategies for pharmaceutical supply chains. IIE Trans Healthcare Syst Eng 2(3):181–189

Panja S, Mondal SK (2020) Exploring a two-layer green supply chain game theoretic model with credit linked demand and mark-up under revenue sharing contract. J Clean Prod 250:119491

Pinedo ML (2016) Scheduling: Theory, algorithms, and systems, 5th edn. Springer, New York

RezaHoseini A, Noori S, Ghannadpour SF (2021) Integrated scheduling of suppliers and multi-project activities for green construction supply chains under uncertainty. Autom Constr 122:103485

Salehi Sadghiani N, Torabi SA, Sahebjamnia N (2015) Retail supply chain network design under operational and disruption risks. Transp Res E Logist Transp Rev 75:95–114

Savadkoohi E, Mousazadeh M, Torabi SA (2018) A possibilistic location-inventory model for multi-period perishable pharmaceutical supply chain network design. Chem Eng Res Des 138:490–505

Settanni E, Harrington TS, Srai JS (2017) Pharmaceutical supply chain models: A synthesis from a systems view of operations research. Oper Res Perspect 4:74–95

Shamsuzzoha A, Ndzibah E, Kettunen K (2020) Data-driven sustainable supply chain through centralized logistics network: Case study in a Finnish pharmaceutical distributor company. Curr Res Environ Sustain 2:100013

Sousa RT, Shah N, Papageorgiou LG (2005) Global supply chain network optimisation for pharmaceuticals. Comput Aided Chem Eng 20:1189–1194

Susarla N, Karimi IA (2012) Integrated supply chain planning for multinational pharmaceutical enterprises. Comput Chem Eng 42:168–177

Tautenhain CPS, Barbosa-Povoa AP, Mota B, Nascimento MCV (2021) An efficient Lagrangian-based heuristic to solve a multi-objective sustainable supply chain problem. Eur J Oper Res 294:70–90

Teimoury E, Modarres M, Khondabi IG, Fathi M (2012) A queuing approach for making decisions about order penetration point in multiechelon supply chains. Int J Adv Manuf Technol 63:359–371

Tian X, Sarkis J (2020) Expanding green supply chain performance measurement through emergy accounting and analysis. Int J Prod Econ 225:107576

Torabi SA, Hassini E (2008) An interactive possibilistic programming approach for multiple objective supply chain master planning. Fuzzy Sets Syst 159:193–214

Tsolakis N, Srai JS (2018) Mapping supply dynamics in renewable feedstock enabled industries: A systems theory perspective on 'green' pharmaceuticals. Oper Manag Res 11:83–104

Uthayakumar R, Priyan S (2013) Pharmaceutical supply chain and inventory management strategies: optimization for a pharmaceutical company and a hospital. Oper Res Heal Care 2:52–64

Wang G (2021) Integrated supply chain scheduling of procurement, production, and distribution under spillover effects. Comput Oper Res 126:105105

Weraikat D, Zanjani MK, Lehoux N (2016) Coordinating a green reverse supply chain in pharmaceutical sector by negotiation. Comput Ind Eng 93:67–77

Xia Q, Zhi B, Wang X (2021) The role of cross-shareholding in the green supply chain: green contribution, power structure and coordination. Int J Prod Econ 234:108037

Yang LY, Lu XW (2017) Two-Agent Supply Chain Scheduling Problem to Minimize the Sum of the Total Weighted Completion Time and Batch Cost. J Oper Res Soc China 5:257–269

Younis H, Sundarakani B, O'Mahony B (2020) Investigating the relationship between green supply chain management and corporate performance using a mixed method approach: developing a roadmap for future research: Green supply chain management and corporate performance. IIMB Manag Rev 32(3):305–324

Zahiri B, Tavakkoli-Moghaddam R, Mohammadi M, Jula P (2014) Multi-objective design of an organ transplant network under uncertainty 72: 101–124

Zahiri B, Jula P, Tavakkoli-Moghaddam R (2017) Design of a pharmaceutical supply chain network under uncertainty considering perishability and substitutability of products 423: 257–283

Zeleny M (1974) Linear multiobjective programming. Springer, New York

Zeleny M (1982) Multiple criteria decision making. MCGraw-Hill, New York

Zeleny M, Cochrane JL (1973) Compromise programming in multiple criteria decision making. University of South Calorina, Pess
Additional information
Publisher's Note
Springer Nature remains neutral with regard to jurisdictional claims in published maps and institutional affiliations.
Appendix
Appendix
This section includes the indices used to develop our mathematical model. Due to a large number of indices, we organized indices into the following three categories:
Supply chain network

Scheduling and sequencing

Queues formed in plants
Supply chain network
Indices, which are related to the supply chain network, as follows:
$$ i \in \left\{ {1,2,...,IT} \right\}\;\;{\text{Supplier}} $$
$$ j \in \left\{ {1,2,...,JT} \right\}\;\;{\text{Producer}} $$
$$ k,k^{^{\prime}} \in \left\{ {1,2,...,KT} \right\}\;\;{\text{DC}} $$
$$ l \in \left\{ {1,2,...,LT} \right\}\;\;{\text{Customer}} $$
$$ p \in \left\{ {1,2,...,PT} \right\}\;\;{\text{Product}} $$
$$ h,h^{^{\prime}} \in \left\{ {1,2,...,HT} \right\}\;\;{\text{Transportation}}\;{\text{mode}} $$
$$ t \in \left\{ {1,2,...,TT} \right\}\;\;{\text{Time}}\;{\text{period}} $$
$$ r \in \left\{ {1,2,...,RT} \right\}\;\;{\text{Production}}\;{\text{time}}\;{\text{period}} $$
$$ e \in \left\{ {1,2,...,ET} \right\}\;\;{\text{Delivery}}\;{\text{time}}\;{\text{period}} $$
Scheduling and sequencing
Indices, which are related to the scheduling and sequencing issue, as follows:
$$ s \in \left\{ {1,2,...,ST} \right\}\;\;{\text{Stages}} $$
$$ c \in \left\{ {1,2,...,CT} \right\}\;\;{\text{Machine}} $$
Queues in production centers
Indices, which are related to the queues in plants issue, as follows:
$$ b,b^{^{\prime}} \in \left\{ {1,...,BT} \right\}\;\;{\text{Batch}} $$
About this article
Cite this article
Rekabi, S., Ghodratnama, A. & Azaron, A. Designing pharmaceutical supply chain networks with perishable items considering congestion. Oper Res Int J (2021). https://doi.org/10.1007/s12351-021-00674-x
Received:

Revised:

Accepted:

Published:
Keywords
Supply chain management

Queueing systems

Flexible flow systems

Green supply chains