Abstract
Increasing interest in the incorporation of sustainability concerns at different levels of the decision-making process has taken place over the years. This means that firm activity should not be exclusively driven by economic objectives, but also take into account both environmental demands and social needs. It is widely known that business projects are one of the most effective ways to promote change in organizations. For this reason, business projects in the real estate industry are of great importance for countries' economies, namely due to the significant impact that the real estate sector has on the environment and the society. This paper sought to develop a composite sustainability index for real estate projects by using multiple criteria decision making (MCDM) methods. After validation, the practical application of our index ranked environmental criteria in first place. These were followed by social criteria and then economic criteria. The results also reveal that the involvement of additional stakeholders can affect the structure of the composite index. Advantages, shortcomings and managerial implications of our proposal are also discussed.
Access options
Buy single article
Instant access to the full article PDF.
US$ 39.95
Tax calculation will be finalised during checkout.
Subscribe to journal
Immediate online access to all issues from 2019. Subscription will auto renew annually.
US$ 79
Tax calculation will be finalised during checkout.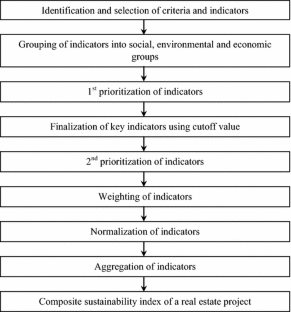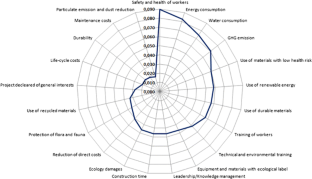 References
Antuchevičienė J, Zakarevičius A, Zavadskas E (2011) Measuring congruence of ranking results applying particular MCDM methods. Informatica 22(3):319–338

Baležentis A, Štreimikienė D (2013) Integrated sustainability index: the case study of Lithuania. Intelektinė Ekonomika 7(3):289–303

Banihashemi S, Hosseini R, Golizadeh H, Sankaran S (2017) Critical success factors (CSFs) for integration of sustainability into construction project management practices in developing countries. Int J Proj Manage 35(6):1103–1119

Bebbington J, Brown J, Frame B (2007) Accounting technologies and sustainability assessment models. Ecol Econ 61(2):224–236

Bell S, Morse S (2013) Groups and facilitators within problem structuring processes. J Oper Res Soc 64(7):959–972

Bernoider E, Stix V (2007) A method using weight restrictions in data envelopment analysis for ranking and validity issues in decision making. Comput Oper Res 34:2637–2647

Boggia A, Cortina C (2010) Measuring sustainable development using a multi-criteria model: a case study. J Environ Manage 91(11):2301–2306

Bolis I, Morioka S, Sznelwar L (2017) Are we making decisions in a sustainable way? A comprehensive literature review about rationalities for sustainable development. J Clean Prod 145:310–322

Bond A, Morrison-Saunders A, Pope J (2012) Sustainability assessment: the state of the art. Impact Assess Proj Appraisal 30(1):53–62

Carvalho M, Rabechini R (2017) Can project sustainability management impact project success? An empirical study applying a contingent approach. Int J Proj Manage 35(6):1120–1132

Chakraborty S (2011) Applications of the MOORA method for decision making in manufacturing environment. Int J Adv Manuf Technol 54(9/12):1155–1166

Chen Y, Okudan G, Riley D (2010) Sustainable performance criteria for construction method selection in concrete buildings. Autom Constr 19(2):235–244

Cinelli M, Coles S, Kirwan K (2014) Analysis of the potentials of multi criteria decision analysis methods to conduct sustainability assessment. Ecol Indic 46:138–148

Dahl A (2012) Achievements and gaps in indicators for sustainability. Ecol Indic 17:14–19

Dobrovolskienė N (2016) Financial resource allocation in a project portfolio taking into account sustainability considerations. Doctoral dissertation, Vilnius Gediminas Technical University (VGTU)

Dobrovolskienė N, Tamošiūnienė R (2015) An index to measure sustainability of a business project in the construction industry: Lithuanian case. Sustainability 8(1):14

Dobrovolskienė N, Tamošiūnienė R (2016) Sustainability-oriented financial resource allocation in a project portfolio through multi-criteria decision-making. Sustainability 8(5):485

Dobrovolskienė N, Tvaronavičienė M, Tamošiūnienė R (2017) Tackling projects on sustainability: a Lithuanian case study. Entrep Sustain Issues 4(4):477–488

Fernandes I, Ferreira F, Bento P, Jalali M, António N (2017) Assessing sustainable development in urban areas using cognitive mapping and MCDA. Int J Sustain Dev World Ecol. https://doi.org/10.1080/13504509.2017.1358221

Fernández-Sánchez G, Rodríguez-López F (2010) A methodology to identify sustainability indicators in construction project management—application to infrastructure projects in Spain. Ecol Indic 10(6):1193–1201

Ferreira F (2016) Are you pleased with your neighborhood? A fuzzy cognitive mapping-based approach for measuring residential neighborhood satisfaction in urban communities. Int J Strateg Prop Manage 20(2):130–141

Ferreira F, Santos S (2016) Comparing trade-off adjustments in credit risk analysis of mortgage loans using AHP Delphi and MACBETH. Int J Strateg Prop Manage 20(1):44–63

Ferreira F, Spahr R, Sunderman M (2016) Using multiple criteria decision analysis (MCDA) to assist in estimating residential housing values. Int J Strateg Prop Manage 20(4):354–370

Ferretti V (2016) From stakeholders analysis to cognitive mapping and multi-attribute value theory: an integrated approach for policy support. Eur J Oper Res 253(2):524–541

Fishburn PC (1967) Letters to the editor—additive utilities with incomplete product sets: application to priorities and assignments. Oper Res 15(3):537–542

Galariotis E, Guyot A, Doumpos M, Zopounidis C (2016) A novel multi-attribute benchmarking approach for assessing the financial performance of local governments: empirical evidence from France. Eur J Oper Res 248(1):301–317

Gallopin G (1996) Environmental and sustainability indicators and the concept of situational indicators. A systems approach. Environ Model Assess 1(3):101–117

Giambona F, Vassallo E (2014) Composite indicator of social inclusion for European countries. Soc Indic Res 116(1):269–293

Gutiérrez M (2014) Applying PRiSM methodology in the Canadian construction sector. PM World J 3:1–10

Hak T, Kovanda J, Weinzettel J (2012) A method to assess the relevance of sustainability indicators: application to the indicator set of the Czech Republic's sustainable development strategy. Ecol Indic 17:46–57

Hatefi S, Torabi S (2010) A common weight MCDA-DEA approach to construct composite indicators. Ecol Econ 70:114–120

Kaklauskas A, Zavadskas E, Radzevicienė A, Ubartė I, Podviezko A, Podvezko V, Kuzminskė A, Banaitis A, Binkytė A, Bucinskas V (2018) Quality of city life multiple criteria analysis. Cities 72:82–93

Kivilä J, Martinsuo M, Vuorinen L (2017) Sustainable project management through project control in infrastructure projects. Int J Proj Manage 35(6):1167–1183

Lee C, Zhong J (2015) Construction of a responsible investment composite index for renewable energy industry. Renew Sustain Energy Rev 51:288–303

Legendre P (2005) Species associations: the Kendall coefficient of concordance revisited. J Agric Biol Environ Stat 10(2):226–245

Legendre P (2010) Coefficient of concordance. In: Salkind N (ed) Encyclopedia of research design. Sage Publications, Los Angeles, pp 164–169

Liou J, Tzeng G (2012) Comments on "multiple criteria decision making (MCDM) methods in economics: an overview". Technol Econ Dev Econ 18(4):672–695

Mainali B, Silveira S (2015) Using a sustainability index to assess energy technologies for rural electrification. Renew Sustain Energy Rev 41:1351–1365

Marcelino-Sádaba S, González-Jaen L, Pérez-Ezcurdia A (2015) Using project management as a way to sustainability. From a comprehensive review to a framework definition. J Clean Prod 99:1–16

Mardani A, Jusoh A, Nor K, Khalifah Z, Zakwan N, Valipour A (2015a) Multiple criteria decision-making techniques and their applications—a review of the literature from 2000 to 2014. Econ Res—Ekonomska Istraživanja 28(1):516–571

Mardani A, Jusoh A, Zavadskas E (2015b) Fuzzy multiple criteria decision-making techniques and applications—two decades review from 1994 to 2014. Expert Syst Appl 42(8):4126–4148

Marinakis V, Doukas H, Xidonas P, Zopounidis C (2017) Multicriteria decision support in local energy planning: an evaluation of alternative scenarios for the sustainable energy action plan. Omega—Int J Manage Sci 69:1–16

Martens M, Carvalho M (2017) Key factors of sustainability in project management context: a survey exploring the project managers' perspective. Int J Proj Manage 35(6):1084–1102

Martinez-Alier J, Munda G, O'Neill J (1998) Weak comparability of values as a foundation for ecological economics. Ecol Econ 26(3):277–286

Martín-Gamboa M, Iribarren D, García-Gusano D, Dufour J (2017) A review of life-cycle approaches coupled with data envelopment analysis within multi-criteria decision analysis for sustainability assessment of energy systems. J Clean Prod 150(1):164–174

Marttunen M, Belton V, Lienert J (2017a) Are objectives hierarchy related biases observed in practice? A meta-analysis of environmental and energy applications of multi-criteria decision analysis. Eur J Oper Res. https://doi.org/10.1016/j.ejor.2017.02.038

Marttunen M, Lienert J, Belton V (2017b) Structuring problems for multi-criteria decision analysis in practice: a literature review of method combinations. Eur J Oper Res 263(1):1–17

Mendoza GA, Prabhu R (2000) Multiple criteria decision making approaches to assessing forest sustainability using criteria and indicators: a case study. For Ecol Manage 131(1):107–126

Moldan B, Janoušková S, Hák T (2012) How to understand and measure environmental sustainability: indicators and targets. Ecol Indic 17:4–13

Nardo M, Saisana M, Saltelli A, Tarantola S, Hoffman A, Giovannini E (2008) Handbook on constructing composite indicators: methodology and user guide. Organisation for Economic Co-operation and Development (OECD) Publishing, Paris

Ness B, Urbel-Piirsalu E, Anderberg S, Olsson L (2007) Categorising tools for sustainability assessment. Ecol Econ 60:498–508

Nooteboom S (2007) Impact assessment procedures for sustainable development: a complexity theory perspective. Environ Impact Assess Rev 27(7):645–665

O'Ryan R, Pereira M (2015) Participatory indicators of sustainability for the salmon industry: the case of Chile. Mar Policy 51:322–330

Økland A (2015) Gap analysis for incorporating sustainability in project management. Procedia Comput Sci 64:103–109

Oliveira R, Lopes J, Sousa H, Abreu M (2017) A system for the management of old building retrofit projects in historical centres: the case of Portugal. Int J Strateg Prop Manage 21(2):199–211

Pagell M, Klassen R, Johnston D, Shevchenko A, Sharma S (2015) Are safety and operational effectiveness contradictory requirements: the roles of routines and relational coordination. J Oper Manage 36:1–14

Paredes-Gazquez J, Rodriguez-Fernandez J, Cuesta-Gonzalez M (2015) Measuring corporate social responsibility using composite indices: mission impossible? The case of the electricity utility industry. Revista de Contabilidad: Spanish Accounting Review 19(1):142–153

Pimentel B, Gonzalez E, Barbosa G (2016) Decision-support models for sustainable mining networks: fundamentals and challenges. J Clean Prod 112:2145–2157

Pintér L, Hardi P, Martinuzzi A, Hall J (2012) Bellagio STAMP: principles for sustainability assessment and measurement. Ecol Indic 17:20–28

Podvezko V (2008) Comprehensive evaluation of complex quantities. Bus Theory Pract 9:160–168

Podvezko V (2011) The comparative analysis of MCDA methods SAW and COPRAS. Eng Econ 22(2):134–146

Report Brundtland (1987) Our common future: report of the world commission on environment and development. Oxford University, Oxford

Ruiz F, Cabello J, Pérez-Gladish B (2017) Building ease-of-doing-business synthetic indicators using a double reference point approach. Technol Forecast Soc Change. https://doi.org/10.1016/j.techfore.2017.06.005

Saaty T (1979) Applications of analytical hierarchies. Math Comput Simul 21(1):1–20

Sánchez M (2015) Integrating sustainability issues into project management. J Clean Prod 96:319–330

Shakouri G, Nabaee M, Aliakbarisani S (2014) A quantitative discussion on the assessment of power supply technologies: DEA (data envelopment analysis) and SAW (simple additive weighting) as complementary methods for the "Grammar". Energy 64(1):640–647

Siew R, Balatbat M, Carmichael D (2016) A proposed framework for assessing the sustainability of infrastructure. Int J Constr Manage 16(4):281–298

Silvius A (2016) Sustainability as a competence of project managers. PM World J 9:1–13

Silvius A, Kampinga M, Paniagua S, Mooi H (2017) Considering sustainability in project management decision making: an investigation using Q-methodology. Int J Proj Manage 35(6):1133–1150

Singh R, Murty H, Gupta S, Dikshit A (2007) Development of composite sustainability performance index for steel industry. Ecol Indic 7(3):565–588

Singh R, Murty H, Gupta S, Dikshit A (2012) An overview of sustainability assessment methodologies. Ecol Indic 15:281–299

Triantaphyllon E (2000) Multi-criteria decision making methods: a comparative study. Applied optimization, vol 44. Springer, Boston

Turskis Z, Zavadskas E, Peldschus F (2009) Multi-criteria optimization system for decision making in construction design and management. Eng Econ 1(61):7–17

Van Cauwenbergh N, Biala K, Bielders C, Brouckaert V, Franchois L, Cidad V, Hermy M, Mathijs E, Muys B, Reijnders J (2007) SAFE: a hierarchical framework for assessing the sustainability of agricultural systems. Agric Ecosyst Environ 120(2):229–242

Van de Kerk G, Manuel A (2008) A comprehensive index for a sustainable society: the SSI—the sustainable society index. Ecol Econ 66(2):228–242

Waas T, Hugé J, Block T, Wright T, Benitez-Capistros F, Verbruggen A (2014) Sustainability assessment and indicators: tools in a decision-making strategy for sustainable development. Sustainability 6(9):5512–5534

Wang P, Zhu Z, Wang Y (2016) A novel hybrid MCDM model combining the SAW, TOPSIS and GRA methods based on experimental design. Inf Sci 345(1):27–45

Xidonas P, Mavrotas G, Hassapis C, Zopounidis C (2017) Robust multiobjective portfolio optimization: a minimax regret approach. Eur J Oper Res 262(1):299–305

Zavadskas E, Turskis Z (2011) Multiple criteria decision making (MCDM) methods in economics: an overview. Technol Econ Dev Econ 17(2):397–427

Zavadskas E, Turskis Z, Kildienė S (2014) State of art surveys of overviews on MCDM/MADM methods. Technol Econ Dev Econ 20(1):165–179

Zavadskas E, Bausys R, Kaklauskas A, Ubarte I, Kuzminskė A, Gudienė N (2017) Sustainable market valuation of buildings by the single-valued neutrosophic MAMVA method. Appl Soft Comput 57:74–87

Zhou L, Tokos H, Krajnc D, Yang Y (2012) Sustainability performance evaluation in industry by composite sustainability index. Clean Technol Environ Policy 14(5):789–803

Zhou H, Yang Y, Chen Y, Zhu J (2018) Data envelopment analysis application in sustainability: the origins, development and future directions. Eur J Oper Res 264(1):1–16
About this article
Cite this article
Dobrovolskienė, N., Tamošiūnienė, R., Banaitis, A. et al. Developing a composite sustainability index for real estate projects using multiple criteria decision making. Oper Res Int J 19, 617–635 (2019). https://doi.org/10.1007/s12351-017-0365-y
Received:

Revised:

Accepted:

Published:

Issue Date:
Keywords
Sustainability

Sustainability assessment

Composite sustainability index

Real estate

Multiple criteria decision making
Mathematics Subject Classification