Abstract
In this paper we apply a relational additive two-stage data envelopment analysis model in order to create sustainability efficiency indices for European regions. The sustainability efficiency indices are decomposed into production efficiency and eco-efficiency indicators in the first and the second stage respectively. The production efficiency is defined as the ratio of the financial output over the inputs and the eco-efficiency is defined as the ratio of the bad output over the financial output which serves as an intermediate variable. We treat the heterogeneity among countries using a metafrontier framework. The results reveal inequalities among the examined regions for the eco-efficiency stage.
Access options
Buy single article
Instant access to the full article PDF.
US$ 39.95
Tax calculation will be finalised during checkout.
Subscribe to journal
Immediate online access to all issues from 2019. Subscription will auto renew annually.
US$ 79
Tax calculation will be finalised during checkout.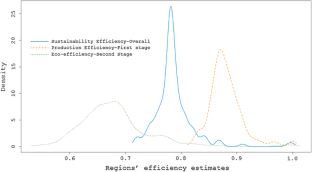 Notes
1.

2.

3.

We can assume either constant returns to scale (CRS) or variable returns to scale (VRS) in both stages. The model can not handle an extreme case where one needs to assume CRS in one stage and VRS in the other stage.

4.

Even though that the results have been calculated under the VRS assumption, we have applied the models also for the CRS case (for robustness check). Furthermore, we have calculated the Spearman rank correlation in order to examine whether the results of the rankings are different between CRS and VRS models. The results were 0.926 for the overall sustainability efficiency, 0.911 for the first stage production efficiency and 0.979 for second stage eco-efficiency, indicating that there are not any significant differences between CRS and VRS efficiency estimates. Finally, the estimated efficiency scores under the CRS assumption are available upon request.

5.

6.

7.

Other variables (pollutants) such as SO2, and NOx emissions can be incorporated in order to for the model to grasp the more aspects on the eco-efficiency stage, however, this was not possible due to data availability.

8.

The two-stages can not be compared directly since they are different DEA models and measure different aspects of the overall process. However, since they are the sub-components of an overall index if the decision maker wishes to improve the overall index, it has to be decided whether to improve production efficiency or eco-efficiency. In this case we propose that eco-efficiency has relatively more potential for improvement than production efficiency because the later is close to its full potential.

9.

As has been stated, year 2008 marks the beginning of the first commitment period of Kyoto protocol. It is likely that a future study after year 2012, when the first commitment period ends, might yield different results. Considering the empirical findings, our suggestion to the decision maker about the improvement of the eco-efficiency index, rather than the production efficiency index, in order to improve the overall sustainability index, seems more realistic.
References
Arcelus FJ, Arocena P (2005) Productivity differences across OECD countries in the presence of environmental constraints. J Oper Res Soc 56:1352–1362

Barros CP, Managi S, Matousek R (2012) The technical efficiency of the Japanese banks: non-radial directional performance measurement with undesirable outputs. Omega 40:1–8

Battese GE, Rao DSP, O'Donnell CJ (2004) A metafrontier production function for estimation of technical efficiencies and technology gaps for firms operating under different technologies. J Prod Anal 21:91–103

Brundtland H (1987) Our common future. World Commission on Environment and Development, United Nations

Chen Y, Zhu J (2004) Measuring information technology's indirect impact on firm performance. Inf Technol Manage 5:9–22

Chen Y, Cook WD, Li N, Zhu J (2009) Additive efficiency decomposition in two-stage DEA. Eur J Oper Res 196:1170–1176

Chen Y, Du J, Sherman HD, Zhu J (2010) DEA model with shared resources and efficiency decomposition. Eur J Oper Res 207:339–349

Chen C, Zhu J, Yu J-Y, Noori H (2012) A new methodology for evaluating sustainable product design performance with two-stage network data envelopment analysis. Eur J Oper Res 221:348–359

Cheng G, Zervopoulos P (2014) Estimating the technical efficiency of health care systems: a cross-country comparison using the directional distance function. Eur J Oper Res 238:899–910

Choi Y, Zhang N, Zhou P (2012) Efficiency and abatement costs of energy-related CO2 emissions in China: a slacks-based efficiency measure. Appl Energ 98:198–208

Cook WD, Liang L, Zhu J (2010a) Measuring performance of two-stage network structures by DEA: a review and future perspective. Omega 38:423–430

Cook WD, Zhu J, Bi G, Yang F (2010b) Network DEA: additive efficiency decomposition. Eur J Oper Res 207:1122–1129

De Koeijer TJ, Wossink GAA, Struik PC, Renkema JA (2002) Measuring agricultural sustainability in terms of efficiency: the case of Dutch sugar beet growers. J Environ Manage 66:9–17

Fare R, Grosskopf S (2010) Directional distance functions and slacks-based measures of efficiency. Eur J Oper Res 200:320–322

Färe R, Grosskopf S (1996) Intertemporal production frontiers: with dynamic DEA. Kluwer Academic Publishers, Boston

Färe R, Grosskopf S (2003) Nonparametric productivity analysis with undesirable outputs: comment. Am J Agr Econ 85:1070–1074

Färe R, Grosskopf S (2004) Modeling undesirable factors in efficiency evaluation: comment. Eur J Oper Res 157:242–245

Färe R, Grosskopf S (2009) A comment on weak disposability in nonparametric production analysis. Am J Agr Econ 91:535–538

Färe R, Grosskopf S, Lovell CAK, Pasurka C (1989) Multilateral productivity comparisons when some outputs are undesirable: a nonparametric approach. Rev Econ Stat 71:90–98

Fukuyama H, Weber WL (2009) A directional slacks-based measure of technical efficiency. Socio Econ Plan Sci 43:274–287

Fukuyama H, Yoshida Y, Managi S (2011) Modal choice between air and rail: a social efficiency benchmarking analysis that considers CO2 emissions. Environ Econ Policy Stud 13:89–102

Hailu A (2003) Nonparametric productivity analysis with undesirable outputs: reply. Am J Agr Econ 85:1075–1077

Hailu A, Veeman TS (2001) Non-parametric productivity analysis with undesirable outputs: an application to the Canadian pulp and paper industry. Am J Agr Econ 83:605–616

Halkos GE, Tzeremes NG, Kourtzidis SA (2014) A unified classification of two-stage DEA models. Surv Oper Res Manage S 19:1–16

Hall RE, Jones CI (1999) Why do some countries produce so much more output per worker than others? Q J Econ 114:83–116

Holzinger K, Knill C (2005) Causes and conditions of cross-national policy convergence. J Eur Public Policy 12:775–796

Huppes G, Ishikawa M (2005) Eco-efficiency and its terminology. J Ind Ecol 9:43–46

IPCC (2007) Climate change 2007: Mitigation of climate change. In: Metz B, Davidson OR, Bosch PR, Dave R, Meyer LA (eds) Contribution of working group III to fourth assessment report of the intergovernmental panel on climate change. Cambridge University Press, Cambridge, UK

Kao C (2009) Efficiency decomposition in network data envelopment analysis: a relational model. Eur J Oper Res 192:949–962

Kao C, Hwang S (2008) Efficiency decomposition in two-stage data envelopment analysis: an application to non-life insurance in Taiwan. Eur J Oper Res 185:418–429

Knill C, Lenschow A (1998) Coping with Europe: the impact of British and German administrations on the implementation of EU environmental policy. J Eur Public Policy 5:595–614

Kontolaimou A, Tsekouras KD (2010) Are cooperatives the weakest link in European banking? A non-parametric metafrontier approach. J Bank Financ 34:1946–1957

Kounetas K, Mourtos I, Tsekouras KD (2009) Efficiency decompositions for heterogeneous technologies. Eur J Oper Res 99:209–218

Kumar S, Khanna N (2009) Measurement of environmental efficiency and productivity: a cross-country analysis. Environ Dev Econ 14(4):473–495

Kuosmanen T (2005) Weak disposability in nonparametric production analysis with undesirable outputs. Am J Agr Econ 87:1077–1082

Kuosmanen T, Kortelainen M (2005) Measuring eco-efficiency of production with data envelopment analysis. J Ind Ecol 9:59–72

Kuosmanen T, Matin RK (2011) Duality of weak disposable technology. Omega 39:504–512

Kuosmanen T, Podinovski V (2009) Weak disposability in nonparametric production analysis: a reply to Fare and Grosskopf. Am J Agr Econ 91:539–545

Lansink AO, Bezlepkin I (2003) The effect of heating technologies on CO2 and energy efficiency of Dutch greenhouse firms. J Environ Manage 68:73–82

Liang L, Yang F, Cook WD, Zhu J (2006) DEA models for supply chain efficiency evaluation. Ann Oper Res 145:35–49

Liang L, Cook WD, Zhu J (2008) DEA models for two-stage processes: game approach and efficiency decomposition. Nav Res Log 55:643–653

Lovell CAK, Pastor JT, Turner JA (1995) Measuring macroeconomic performance in the OECD: a comparison of European and non-European countries. Eur J Oper Res 87:507–518

Lu WM, Lo SF (2007) A closer look at the economic-environmental disparities for regional development in China. Eur J Oper Res 183:882–894

Mahlberg B, Sahoo BK (2011) Radial and non-radial decompositions of Luenberger productivity indicator with an illustrative application. Int J Prod Econ 131:721–726

Mickwitz P, Melanen M, Rosenstrom U, Seppälä J (2006) Regional eco-efficiency indicators—a participatory approach. J Clean Prod 14:1603–1611

Mihalcea I, Verdes CE (2013) European environmental policy. Manage Strateg J 23:241–250

Nicolli F, Mazzanti M, Iafolla V (2012) Waste dynamics, country heterogeneity and European environmental policy effectiveness. J Environ Policy Plan 14:371–393

Nishide K, Ohyama A (2009) Using real options theory to a country's environmental policy: considering the economic size and growth. Oper Res Int J 9:229–250

O'Donnell CJ, Rao DSP, Battese GE (2008) Metafrontier frameworks for the study of firm-level efficiencies and technology ratios. Empirical Econ 34:231–255

Picazo-Tadeo AJ, Reig-Martinez E, Hernandez-Sancho F (2005) Directional distance function and environmental regulation. Resour Energy Econ 27:131–142

Ramanathan R (2006) A multi-factor efficiency perspective to the relationships among world GDP, energy consumption and carbon dioxide emissions. Technol Forecast Soc 73:483–494

Rao DSP, O'Donnell JC, Battese GE (2003) Metafrontier functions for the study of inter-regional productivity differences. CEPA working paper no. 01/2003

Reinhard S, Lovell CAK, Thijssen GJ (2000) Environmental efficiency with multiple environmentally detrimental variables, estimated with SFA and DEA. Eur J Oper Res 121:287–303

Rennings K (2000) Redefining innovation—eco-innovation research and the contribution from ecological economics. Ecol Econ 32:319–332

Seiford LM, Zhu J (1999) Profitability and marketability of the top 55 U.S. commercial banks. Manage Sci 45:1270–1288

Seiford LM, Zhu J (2002) Modeling undesirable factors in efficiency evaluation. Eur J Oper Res 142:16–20

Seiford LM, Zhu J (2005) A response to comments on modeling undesirable factors in efficiency evaluation. Eur J Oper Res 161:579–581

Seppäläa J, Melanen M, Mäenpää I, Koskela S, Tenhunen J, Marja-Riitta H (2005) How can the eco-efficiency of a region be measured and monitored? J Ind Ecol 9:117–130

Sexton TR, Lewis HF (2003) Two-stage DEA: an application to major league baseball. J Prod Anal 19:227–249

Wang CH, Gopal RD, Zionts S (1997) Use of data envelopment analysis in assessing information technology impact on form performance. Ann Oper Res 73:191–213

Wang K, Huang W, Wu J, Liu YN (2014) Efficiency measure of the Chinese commercial banking system using an additive two-stage DEA. Omega 44:5–20

Wursthorn S, Poganietz WR, Schebek L (2011) Economic-environmental monitoring indicators for European countries: a disaggregated sector-based approach for monitoring eco-efficiency. Ecol Econ 70:487–496

Zaim O (2004) Measuring environmental performance of state manufacturing through changes in pollution intensities: a DEA framework. Ecol Econ 48:37–47

Zaim O, Taskin F (2000a) Environmental efficiency in carbon dioxide emissions in the OECD: a non-parametric approach. J Environ Manage 58:95–107

Zaim O, Taskin F (2000b) A Kuznets curve in environmental efficiency: an application on OECD countries. Environ Resour Econ 17:21–36

Zhang XP, Cheng XM, Yuan JH, Gao XJ (2011) Total-factor energy efficiency in developing countries. Energ Policy 39:644–650

Zhang N, Zhou P, Choi Y (2013) Energy efficiency, CO2 emission performance and technology gaps in fossil fuel electricity generation in Korea: a meta-frontier non-radial directional distance function analysis. Energ Policy 56:653–662

Zhou P, Ang BW, Wang H (2012) Energy and CO2 emission performance in electricity generation: a non-radial directional distance function approach. Eur J Oper Res 221:625–635

Zofio JL, Prieto AM (2001) Environmental efficiency and regulatory standards: the case of CO2 emissions from OECD countries. Resour Energy Econ 23:63–83
Acknowledgments
We would like to thank Constantin Zopounidis (the Editor) and two anonymous reviewers for their useful comments made on earlier versions of the paper. Finally, we would like to thank the participants of the first Panhellenic Conference on "Environmental and Resource Economics: Climate change" which took place on March 26–27 at the University of Thessaly, Volos, Greece for the valuable comments and suggestions. Any remaining errors are solely the authors' responsibility.
About this article
Cite this article
Halkos, G.E., Tzeremes, N.G. & Kourtzidis, S.A. Regional sustainability efficiency index in Europe: an additive two-stage DEA approach. Oper Res Int J 15, 1–23 (2015). https://doi.org/10.1007/s12351-015-0170-4
Received:

Revised:

Accepted:

Published:

Issue Date:
Keywords
Additive two-stage DEA

Sustainability efficiency index

European regions