Abstract
Increased demand variability between the discrete tiers of a supply chain is perhaps the most significant criterion for strategic supply chain decisions, for example facility location and supply chain network design, as it directly affects the efficient operation of the whole supply chain. In this paper, we describe a real-life case of pursuing remedy to the demand variability problem by elaborating a reference model focusing on supply chain processes, which encapsulate critical demand related decisions, currently ill-treated, underestimated or even worse, overlooked. The paper focuses on the basis reference model selection stage of our research and provides details of analytic hierarchy process (AHP's) application, in an operations research/supply chain management interdisciplinary context, to support the decision of selecting the most appropriate reference model to serve as the basis for the development of a supply chain reference model, focusing on demand variability management. In doing so, a group of two academic professors and three supply-chain experts was formed under the supervision of the AHP study facilitator. The AHP process resulted in a unanimous decision to shortlist SCOR and GSCF models, as providing the best coverage of the criteria list items. Finally, the GSCF model is selected as an initial basis for the development of the supply chain reference model for managing demand variability, introduced and presented at the end of the paper.
Access options
Buy single article
Instant access to the full article PDF.
USD 39.95
Price excludes VAT (USA)
Tax calculation will be finalised during checkout.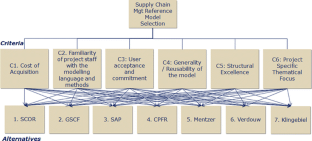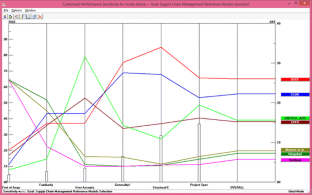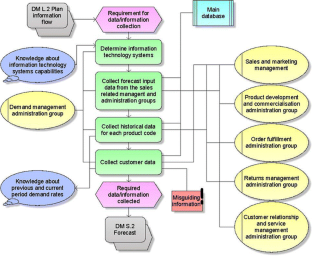 References
Aczel J, Saaty TL (1983) Procedures for synthesizing ratio judgements. J Math Psychol 27:93–102. doi:10.1016/0022-2496(83)90028-7

Adel El-Baz M (2011) Fuzzy performance measurement of a supply chain in manufacturing companies. Expert Syst Appl 38:6681–6688. doi:10.1016/j.eswa.2010.11.067

Ahmadabadi MN, Najafi M, Gholami P, Gholami P (2013) Using analytic hierarchy process (AHP) to select and rank a strategy based technology. Int J Comput Sci Bus Inform 4:1–12. doi:10.1016/j.techfore.2008.10.004

Arunkumar N, Karunamoorthy L, Muthukumar S (2011) Supplier evaluation and selection for a manufacturing industry using analytical hierarchy process: a case study. Int J Ind Syst Eng 8:346–365. doi:10.1108/17410380610688241

Attaran M, Attaran S (2007) Collaborative supply chain management: the most promising practice for building efficient and sustainable supply chains. Bus Process Manag J 13:390–404. doi:10.1108/14637150710752308

Azadnia AH, Ghadimi P, Saman MZM, Wong KY, Heavey C (2013) An integrated approach for sustainable supplier selection using fuzzy logic and fuzzy AHP. Appl Mech Mater 315:206–210. doi:10.4028/www.scientific.net/AMM.315.206

Bard JF, Sousk SA (1990) Tradeoff analysis for rough terrain cargo handlers using the AHP: an example of group decision making. IEEE Trans Eng Manag EM 37:222–228. doi:10.1109/17.104292

Barker TJ, Zabinsky ZB (2011) A multicriteria decision making model for reverse logistics using analytical hierarchy process. Omega 39:558–573. doi:10.1016/j.omega.2010.12.002

Barzilai J (1998) Consistency measures for pairwise comparison matrices. J Multi-Criteria Decis Anal 132:123–132. doi:10.1002/(SICI)1099

Bhagwat R, Sharma MK (2007) Performance measurement of supply chain management using the analytical hierarchy process. Prod Plan Control 18:666–680. doi:10.1080/09537280701614407

Borade AB, Kannan G, Bansod SV (2013) Analytical hierarchy process-based framework for VMI adoption. Int J Prod Res 1:963–978. doi:10.1080/00207543.2011.650795

Brans JP, Vincke P (1985) A preference ranking organisation method: (the PROMETHEE method for multiple criteria decision-making). Manage Sci 31:647–656. doi:10.1287/mnsc.31.6.647

CAB E Costa, Vansnick JC (1997) A theoretical framework for measuring attractiveness by a categorical based evaluation technique (MACBETH). Multicriteria Anal, Springer, Berlin Heidelberg, pp 15–24

Camargo EM, Zanandrea G, Pacheco MTM, Malafaia GC, da Motta MEV (2013) Supply chain management operations reference (SCOR): study bibliometric. Int J Oper Logist Manag 2:1–13

Chan FTS, Chan HK (2010) An AHP model for selection of suppliers in the fast changing fashion market. Int J Adv Manuf Technol 51:1195–1207. doi:10.1007/s00170-010-2683-6

Chang C-L, Chao YC (2012) Using the analytical hierarchy process to assess the environmental vulnerabilities of basins in Taiwan. Environ Monit Assess 184:2939–2945. doi:10.1007/s10661-011-2162-z

Charnes A, Cooper WW, Rhodes E (1978) Measuring the efficiency of decision making units. Eur J Oper Res 2:429–444

Croxton KL, Garcia-Dastugue SJ, Lambert DM, Rogers DS (2001) The supply chain management processes. Int J Logist Manag 12:13–36. doi:10.1108/09574090110806271

Daim TU (2013) Use of analytic hierarchy process (AHP) for selection of 3PL providers. J Manuf Technol Manag 24:28–51. doi:10.1108/17410381311287472

Dey PK, Cheffi W (2013) Green supply chain performance measurement using the analytic hierarchy process: a comparative analysis of manufacturing organisations. Prod Plan Control 24:702–720. doi:10.1080/09537287.2012.666859

Dyer RF, Forman EH (1992) Group decision support with the analytic hierarchy process. Decis Support Syst 8:99–124. doi:10.1016/0167-9236(92)90003-8

Dyer JS, Sarin RK (1979) Measurable multiattribute value functions. Oper Res 27:810–822. doi:10.1287/opre.27.4.810

Estampe D, Lamouri S, Paris JL, Brahim-Djelloul S (2013) A framework for analysing supply chain performance evaluation models. Int J Prod Econ 142:247–258. doi:10.1016/j.ijpe.2010.11.024

Farooq S, O'Brien C (2012) A technology selection framework for integrating manufacturing within a supply chain. Int J Prod Res 50:2987–3010. doi:10.1080/00207543.2011.588265

Frank U (2007) Evaluation of reference models. In: Fettke P, Loss P (eds) Reference modeling for business systems analysis. IGI Global, PA, pp 118–140

Gayialis SP, Ponis ST, Tatsiopoulos IP, Panayiotou NA, Stamatiou ID-R (2013) Knowledge-based reference model to support demand management in contemporary supply chains. In: 14th European conference on knowledge management—ECKM 2013, Kaunas University of Technology, Kaunas, Lithuania, 5–6 September 2013. Academic Conferences and Publishing International Limited, Reading, pp 236–245

Gnanasekaran S, Velappan S, Manimaran P (2010) An integrated model for supplier selection using fuzzy analytical hierarchy process: a steel plant case study. Int J Procure Manag 3:292–315. doi:10.1504/IJPM.2010.033447

Govindan K, Sarkis J, Palaniappan M (2013) An analytic network process-based multicriteria decision making model for a reverse supply chain. Int J Adv Manuf Technol 68:863–880. doi:10.1007/s00170-013-4949-2

Govindan K, Kaliyana M, Kannan H, Haq AN (2014) Barriers analysis for green supply chain management implementation in Indian industries using analytic hierarchy process. Int J Prod Econ 147:555–568. doi:10.1016/j.ijpe.2013.08.018

Guo W (2012) Selection model of third-party reverse logistics service providers under supply chain management. In: Proceedings of the 2012 24th Chinese control and decision conference, CCDC 2012. College of Business Administration, Capital University of Economics and Business, Beijing, 100070, China, pp 1761–1764

Hartwich F (1999) Weighing of agricultural research results: strength and limitations of the analytical hierarchy process (AHP). https://entwicklungspolitik.uni-hohenheim.de/uploads/media/DP_09_1999_Hartwich.pdf. Accessed 03 Dec 2013

Hwang CL, Lai YJ, Liu TY (1993) A new approach for multiple objective decision making. Comput Oper Res 20:889–899

Ishizaka A, Labib A (2011) Selection of new production facilities with the group analytic hierarchy process ordering method. Expert Syst Appl 38:7317–7325. doi:10.1016/j.eswa.2010.12.004

Ishizaka A, Nemery P (2013) Multi-Criteria decision analysis: methods and software, 1st edn. West Sussex, UK

Kallrath J, Maindl TI (2006) Real optimization with SAP APO [electronic resource]. Springer, Berlin

Kannan G, Murugesan P, Haq AN (2009) 3PRLP's selection using an integrated analytic hierarchy process and linear programming. Int J Serv Technol Manage 12:61–80. doi:10.1504/IJSTM.2009.025036

Klingebiel K (2008) A BTO reference model for high-level supply chain design. In: Parry G, Graves A (eds) Build to order: the road to the 5-Day car. Springer, London, pp 257–276

Knolmayer GF, Mertens P, Zeier A (2002) Supply chain management based on SAP systems: order management in manufacturing companies. Springer, Berlin, Heidelberg, New York

Lambert DM, García-Dastugue SJ, Croxton KL (2005) An evaluation of process-oriented supply chain management frameworks. J Bus Logist 26:25–51. doi:10.1002/j.2158-1592.2005.tb00193.x

Lee SM (1972) Goal programming for decision analysis. Auerbach, Philadelphia, p 387

Liu P, Huang SH, Mokasdar A, Zhou H, Hou L (2013) The impact of additive manufacturing in the aircraft spare parts supply chain: supply chain operation reference (SCOR) model based analysis. Production planning & control, (ahead-of-print):1–13. doi:10.1080/09537287.2013.808835

Lockamy A, McCormack K (2004) The development of a supply chain management process maturity model using the concepts of business process orientation. Supply Chain Manag Int J 9:272–278. doi:10.1108/13598540410550019

Madu C, Kuei CH (1995) Stability analyses of group decision making. Comput Ind Eng 28:881–892. doi:10.1016/0360-8352(95)00004-K

Mentzer JT et al (2001) Defining supply chain management. J Bus Logist 22:1–25. doi:10.1002/j.2158-1592.2001.tb00001.x

Najmi A, Makui A (2010) Providing hierarchical approach for measuring supply chain performance using AHP and DEMATEL methodologies. Int J Ind Eng Comput 1:199–212. doi:10.5267/j.ijiec.2010.02.008

Najmi A, Makui A (2012) A conceptual model for measuring supply chain's performance. Prod Plan Control 23:694–706. doi:10.1080/09537287.2011.586004

Naslund D, Williamson S (2010) What is management in supply chain management?—a critical review of definitions, frameworks and terminology. J Manag Policy Pract 11:11–28

Panayiotou N, Gayialis S, Domenicos H, Vasilikiotis N (2005) An application of multicriteria analysis for ERP software selection in a Greek industrial company. Oper Res Int J 5:435–458. doi:10.1007/BF02941130

Perçin S (2009) Evaluation of third-party logistics (3PL) providers by using a two-phase AHP and TOPSIS methodology. Benchmarking Int J 16:588–604. doi:10.1108/14635770910987823

Pitchipoo P, Venkumar P, Rajakarunakaran S (2012) A distinct decision model for the evaluation and selection of a supplier for a chemical processing industry. Int J Prod Res 50:4635–4648. doi:10.1080/00207543.2011.624560

Ponis ST (2006) A reference model to support knowledge logistics management in virtual enterprises: a proposed methodology. Int J Knowl Cult Change Manag 5:1–9. doi:10.4018/978-1-61520-607-0

Raharjo H, Endah D (2006) Evaluating relationship of consistency ratio and number of alternatives on rank reversal in the AHP. Qual Eng 18:39–46. doi:10.1080/08982110500403516

Ramanathan U (2013) Aligning supply chain collaboration using Analytic Hierarchy Process. Omega 41:431–440. doi:10.1016/j.omega.2012.03.001

Ramanathan R, Ganesh L (1994) Group preference aggregation methods employed in AHP: an evaluation and an intrinsic process for deriving members' weightages. Eur J Oper Res 79:249–265. doi:10.1016/0377-2217(94)90356-5

Roy B (1990) The outranking approach and the Foundations of ELECTRE methods'. In: Bana e Costa CA (ed) Readings in multiple criteria decision aid. Springer, Berlin, pp 155–183

Roy B, Bouyssou D (1993) Aide multicritere `a la decision: Methodes et cas. Economica, Paris

Saaty TL (1977) A scaling method for priorities in hierarchical structures. J Math Psychol 15:234–281. doi:10.1016/0022-2496(77)90033-5

Saaty TL (1988) Mathematical models for decision support. NATO ASI Series 48:109–121

Saaty TL (2004) Fundamentals of the analytic network process—dependence and feedback in decision-making with a single network. J Syst Sci Syst Eng 13:129–157

Saaty TL, Vargas LG (2007) Dispersion of group judgements. Math Comput Modell 46:918–925. doi:10.1016/j.mcm.2007.03.004

Saaty TL, Vargas LG (2012) How to make a decision. models, methods concepts & applications of the analytic hierarchy process. Springer, New York, pp 1–21

Sae-Lim P, Komen H, Kause A, van Arendonk JAM, Barfoot AJ, Martin KE, Parsons JE (2012) Defining desired genetic gains for rainbow trout breeding objective using analytic hierarchy process. J Anim Sci 90:1766–1776. doi:10.2527/jas.2011-4267

Samaras GD, Matsatsinis NF, Zopounidis C (2008) A multicriteria DSS for stock evaluation using fundamental analysis. Eur J Oper Res 187:1380–1401. doi:10.1016/j.ejor.2006.09.020

Sarfaraz A, Jenab K, D'Souza AC (2012) Evaluating ERP implementation choices on the basis of customisation using fuzzy AHP. Int J Prod Res 50:7057–7067. doi:10.1080/00207543.2012.654409

Sari K (2008) On the benefits of CPFR and VMI: a comparative simulation study. Int J Prod Econ 113:575–586. doi:10.1016/j.ijpe.2007.10.021

Stephens S (2001) Supply chain operations reference model version 5.0: a new tool to improve supply chain efficiency and achieve best practice. Info Syst Frontiers 3:471–476. doi:10.1023/A:1012881006783

Subramanian N, Ramanathan R (2012) A review of applications of analytic hierarchy process in operations management. Int J Prod Econ 138:215–241. doi:10.1016/j.ijpe.2012.03.036

Trkman P, Štemberger MI, Jaklic J, Groznik A (2007) Process approach to supply chain integration. Supply Chain Manag Int J 12:116–128. doi:10.1108/13598540710737307

van der Aalst WMP (2013) Business process management: a comprehensive survey. ISRN Softw Eng 2013:1–37. doi:10.1155/2013/507984

Verdouw CN, Beulens AJM, Trienekens JH, Wolfert J (2010) Process modelling in demand-driven supply chains: a reference model for the fruit industry. Comput Electron Agric 73:174–187. doi:10.1080/09537287.2010.486384

Wang WY, Chan HK, Pauleen DJ (2010) Aligning business process reengineering in implementing global supply chain systems by the SCOR model. Int J Prod Res 48:5647–5669. doi:10.1080/00207540903168090

Warren J (2004) Uncertainties in the analytic hierarchy process. http://www.dsto.defence.gov.au/publications/3476/DSTO-TN-0597.pdf. Accessed 02 Dec 2013

Wondergem J (2001). Supply chain operations reference-model includes all elements of demand satisfaction. http://www.supplyknowledge.com/focusareas/wondergem.pdf. Accessed 11 Mar 2013

Yücenur GN, Vayvay Ö, Demirel NÇ (2011) Supplier selection problem in global supply chains by AHP and ANP approaches under fuzzy environment. Int J Adv Manuf Technol 56:823–833. doi:10.1007/s00170-011-3220-y
Acknowledgments
This research has been co-financed by the European Union (European Social Fund - ESF) and Greek national funds through the Operational Program "Education and Lifelong Learning" of the National Strategic Reference Framework (NSRF) - Research Funding Program: THALES - Investing in knowledge society through the European Social Fund. We also thank the Editor-in-Chief and the two anonymous reviewers for their meaningful suggestions, their constructive comments and their support throughout the paper's review process.
About this article
Cite this article
Ponis, S.T., Gayialis, S.P., Tatsiopoulos, I.P. et al. An application of AHP in the development process of a supply chain reference model focusing on demand variability. Oper Res Int J 15, 337–357 (2015). https://doi.org/10.1007/s12351-014-0163-8
Received:

Revised:

Accepted:

Published:

Issue Date:

DOI: https://doi.org/10.1007/s12351-014-0163-8
Keywords
Supply chain management

Process modeling

Supply chain reference models

Analytic hierarchy process

SCOR

GSCF