Abstract
Background
Sexual dimorphism in the manifestation of coronary artery disease (CAD) has unleashed a call to reconsider cardiovascular risk assessment. Alterations of bone mineral density (BMD) have been associated with congestive heart failure and appear to be modified by sex. However, the sex-specific association between BMD, myocardial perfusion, and cardiovascular outcomes is currently unknown.
Methods
A total number of 491 patients (65.9 ± 10.7 years, 32.4% women) underwent 13N-ammonia positron emission tomography/computed tomography for evaluation of CAD, and were tracked for major adverse cardiac events (MACEs).
Results
Event-free survival (median follow-up time of 4.3 ± 2.0 years) was significantly reduced in patients with low (≤ 100 Hounsfield units) compared to those with higher BMD (log-rank P = .037). Accordingly, reduced BMD was chosen as significant predictor of MACE in a fully adjusted proportional hazards regression model (P = .015). Further, a first-order interaction term consisting of sex and BMD was statistically significant (P = .007). BMD was significantly lower in patients with abnormal myocardial perfusion or impaired left ventricular ejection fraction (P < .05). This difference, however, was noticed in men, but not in women.
Conclusions
The association between low BMD and cardiovascular disease is sex dependent. Our data suggest that quantification of BMD during myocardial perfusion imaging for evaluation of CAD may be particularly useful in men.
Spanish Abstract
Antecedentes
El dimorfismo sexual en la enfermedad arterial coronaria (EAC) hace reconsiderar la evaluación del riesgo cardiovascular. Las alteraciones de la densidad mineral ósea (DMO) se han asociado con la presencia de falla cardíaca congestiva y parecen estar influenciadas por el sexo. Sin embargo, actualmente se desconoce la asociación específica por sexo entre la DMO, la perfusión miocárdica y el impacto en los resultados cardiovasculares.
Métodos
Un total de 491 pacientes (con edad de 65.9 ± 10.7 años y 32.4% mujeres) se sometieron a estudio de tomografía por emisión de positrones/tomografía computarizada (PET/TC) con 13N-amoníaco, para la evaluación de EAC y se dio seguimiento de eventos cardíacos adversos mayores (MACE).
Resultados
en un tiempo de seguimiento de 4.3 ± 2.0 años, la supervivencia libre de eventos se redujo significativamente en pacientes con DMO baja (≤ 100 Unidades Hounsfield) en comparación a aquellos con mayor DMO (P = .037). En consecuencia, se seleccionó la reducción de la DMO como predictor significativo de MACE en un modelo de regresión de riesgos proporcionales totalmente ajustado (P = .015). Además, un término de interacción de primer orden que consistía en sexo y DMO fue estadísticamente significativo (P = .007). La DMO fue significativamente menor en pacientes con perfusión miocárdica anormal o fracción de eyección del ventrículo izquierdo reducida (P < .05). Esta diferencia, sin embargo, se notó en hombres, pero no en mujeres.
Conclusiones
la asociación entre DMO reducida y la enfermedad cardiovascular depende del sexo. Nuestros datos sugieren que la cuantificación de la DMO durante la imagen de perfusión miocárdica para la evaluación de la EAC puede ser particularmente útil en los hombres.
Chinese Abstract
背景
冠状动脉疾病 (CAD) 表现中的性别差异, 促使人们重新考虑心血管风险的评估。骨矿物质密度 (BMD) 的改变与充血性心力衰竭有关并且存在性别差异。然而, BMD, 心肌灌注和心血管终点之间的性别特异性目前尚不清楚。
方法
共计 491 例患者 (65.9 ± 10.7 岁, 32.4% 女性) 接受 13N-氨正电子发射断层扫描/计算机断层扫描 (PET/CT) 来评估 CAD, 并随访记录主要不良心脏事件 (MACE)。
结果
与 BMD 较高的患者 (对数秩检验 P = .037) 相比, 低 BMD 患者 (≤ 100 Hounsfield 单位) 的无事件生存率 (随访时间为 4.3 ± 2.0 年) 显著降低。因此, 在完全调整的比例风险回归模型中, 下降的 BMD 被选为 MACE 的重要预测因子 (P = .015) 。此外, 由性别和 BMD 组成的一级相互作用项具有统计学意义 (P = 0.007) 。心肌灌注异常或左心室射血分数较小的患者的 BMD 显著较低 (P < .05) 。然而, 这种差异只在男性患者中显著存在, 在女性患者中没有。
结论
低 BMD 与心血管疾病的关联性有性别差异。数据表明, 用于评估 CAD 的心肌灌注成像期间 BMD 的量化可能对男性患者特别有用。
French Abstract
Contexte
le dimorphisme sexuel dans la manifestation de la maladie coronarienne a amené à reconsidérer l'évaluation du risque cardiovasculaire. Des altérations de la densité minérale osseuse (DMO) ont été observées en association à une insuffisance cardiaque congestive et semblaient être modifiée par le sexe. Néanmoins, le rôle spécifique du genre dans l'association entre la DMO, la perfusion myocardique et les maladies cardiovasculaires est actuellement inconnue.
Méthodes
Un nombre total de 491 patients (65,9 ± 10,7 ans, 32,4% de femmes) ont été évalués par tomographie à émission de positron (13N-PET/CT) pour l'évaluation de la maladie coronaire et ont été suivis pour éventuels accidents cardiaques (MACE).
Résultats
La survie sans accident cardiaque (temps de suivi de 4,3 ± 2,0 ans) s'est avérée significativement réduite chez les patients présentant une densité osseuse basse (≤ 100 unités Hounsfield) par rapport au patients ayant une DMO plus élevée (P = 0,037). En conséquence, le paramètre de DMO a été choisi comme facteur prédictif significatif des accidents cardiaques en utilisant un modèle de régression des risques proportionnels ajustés (P = 0,015). Une interaction de premier ordre composée du genre et de la DMO s'est révélée statistiquement significative (P = 0,007). Dans notre étude, la DMO est apparue significativement inferieure chez les patients présentant une perfusion myocardique anormale ou une diminution de fraction d'éjection ventriculaire gauche (P < 0,05). Cependant cette différence fut observée chez les hommes seulement et pas chez les femmes.
Conclusions
La relation entre une DMO basse et une maladie cardiovasculaire dépend du sexe. Nos données suggèrent que la quantification de la DMO au cours de l'imagerie de perfusion myocardique pour l'évaluation de la coronaropathie pourrait être particulièrement utile chez les hommes.
Access options
Buy single article
Instant access to the full article PDF.
USD 39.95
Price excludes VAT (USA)
Tax calculation will be finalised during checkout.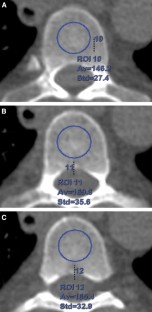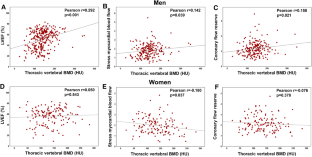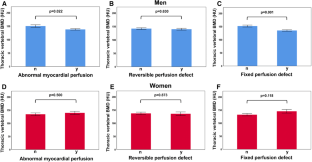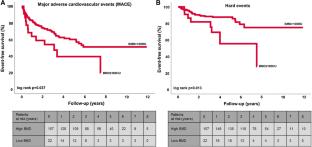 Abbreviations
BMD:

Bone mineral density

CAD:

Coronary artery disease

CFR:

Coronary flow reserve

DXA:

Dual energy x-ray absorptiometry

HU:

Hounsfield units

LVEF:

Left ventricular ejection fraction

MACE:

Major adverse cardiovascular events

MBF:

Myocardial blood flow

MPI:

Myocardial perfusion imaging

PET/CT:

Positron emission tomography/computed tomography
References
Herzog BA, Husmann L, Valenta I, Gaemperli O, Siegrist PT, Tay FM, et al. Long-term prognostic value of 13N-ammonia myocardial perfusion positron emission tomography added value of coronary flow reserve. J Am Coll Cardiol 2009;54:150-6.

Fiechter M, Ghadri JR, Gebhard C, Fuchs TA, Pazhenkottil AP, Nkoulou RN, et al. Diagnostic value of 13N-ammonia myocardial perfusion PET: Added value of myocardial flow reserve. J Nucl Med 2012;53:1230-4.

Nkoulou R, Fuchs TA, Pazhenkottil AP, Kuest SM, Ghadri JR, Stehli J, et al. Absolute myocardial blood flow and flow reserve assessed by gated SPECT with cadmium–zinc–telluride detectors using 99mTc-tetrofosmin: Head-to-head comparison with 13N-ammonia PET. J Nucl Med 2016;57:1887-92.

Wilmot KA, O'Flaherty M, Capewell S, Ford ES, Vaccarino V. Coronary heart disease mortality declines in the United States from 1979 through 2011: Evidence for stagnation in young adults, especially women. Circulation 2015;132:997-1002.

Safdar B, Ong P, Camici PG. Identifying myocardial ischemia due to coronary microvascular dysfunction in the emergency department: Introducing a new paradigm in acute chest pain evaluation. Clin Ther 2018;40:1920-30.

Guaricci AI, Carrabba N, Aquaro GD, Rabbat MG, Gaemperli O, Bucciarelli Ducci C, et al. Advanced imaging techniques (CT and MR): Gender-based diagnostic work-up in ischemic heart disease? Int J Cardiol 2018. https://doi.org/10.1016/j.ijcard.2018.11.010.

Hernlund E, Svedbom A, Ivergard M, Compston J, Cooper C, Stenmark J, et al. Osteoporosis in the European Union: Medical management, epidemiology and economic burden. A report prepared in collaboration with The International Osteoporosis Foundation (IOF) and The European Federation of Pharmaceutical Industry Associations (EFPIA). Arch Osteoporos 2013;8:136.

Laudisio A, Marzetti E, Antonica L, Cocchi A, Bernabei R, Zuccala G. Association of left ventricular function with bone mineral density in older women: A population-based study. Calcif Tissue Int 2008;82:27-33.

Aluoch AO, Jessee R, Habal H, Garcia-Rosell M, Shah R, Reed G, et al. Heart failure as a risk factor for osteoporosis and fractures. Curr Osteoporos Rep 2012;10:258-69.

Adler RA. Update on osteoporosis in men. Best Pract Res Clin Endocrinol Metab 2018;32:759-72.

Frost M, Wraae K, Gudex C, Nielsen T, Brixen K, Hagen C, et al. Chronic diseases in elderly men: Underreporting and underdiagnosis. Age Ageing 2012;41:177-83.

Fiechter M, Gebhard C, Ghadri JR, Fuchs TA, Pazhenkottil AP, Nkoulou RN, et al. Myocardial perfusion imaging with 13N-ammonia PET is a strong predictor for outcome. Int J Cardiol 2013;167:1023-6.

Hendel RC, Berman DS, Di Carli MF, Heidenreich PA, Henkin RE, Pellikka PA, et al. ACCF/ASNC/ACR/AHA/ASE/SCCT/SCMR/SNM 2009 appropriate use criteria for cardiac radionuclide imaging: A report of the American College of Cardiology Foundation Appropriate Use Criteria Task Force, The American Society of Nuclear Cardiology, The American College of Radiology, The American Heart Association, The American Society of Echocardiography, The Society of Cardiovascular Computed Tomography, The Society for Cardiovascular Magnetic Resonance, and The Society of Nuclear Medicine. Circulation 2009;119:e561-87.

Machac J, Bacharach SL, Bateman TM, Bax JJ, Beanlands R, Bengel F, et al. Positron emission tomography myocardial perfusion and glucose metabolism imaging. J Nucl Cardiol 2006;13:e121-51.

Chow BJ, Beanlands RS, Lee A, Da Silva JN, de Kemp RA, Alkahtani A, et al. Treadmill exercise produces larger perfusion defects than dipyridamole stress N-13 ammonia positron emission tomography. J Am Coll Cardiol 2006;47:411-6.

Yoshinaga K, Chow BJ, Williams K, Chen L, de Kemp RA, Garrard L, et al. What is the prognostic value of myocardial perfusion imaging using rubidium-82 positron emission tomography? J Am Coll Cardiol 2006;48:1029-39.

Siegrist PT, Gaemperli O, Koepfli P, Schepis T, Namdar M, Valenta I, et al. Repeatability of cold pressor test-induced flow increase assessed with H(15)(2) O and PET. J Nucl Med 2006;47:1420-6.

Wyss CA, Koepfli P, Fretz G, Seebauer M, Schirlo C, Kaufmann PA. Influence of altitude exposure on coronary flow reserve. Circulation 2003;108:1202-7.

Koepfli P, Wyss CA, Namdar M, Klainguti M, von Schulthess GK, Luscher TF, et al. Beta-adrenergic blockade and myocardial perfusion in coronary artery disease: Differential effects in stenotic versus remote myocardial segments. J Nucl Med 2004;45:1626-31.

Muzik O, Beanlands RS, Hutchins GD, Mangner TJ, Nguyen N, Schwaiger M. Validation of nitrogen-13-ammonia tracer kinetic model for quantification of myocardial blood flow using PET. J Nucl Med 1993;34:83-91.

Hutchins GD, Schwaiger M, Rosenspire KC, Krivokapich J, Schelbert H, Kuhl DE. Noninvasive quantification of regional blood flow in the human heart using N-13 ammonia and dynamic positron emission tomographic imaging. J Am Coll Cardiol 1990;15:1032-42.

Kim YW, Kim JH, Yoon SH, Lee JH, Lee CH, Shin CS, et al. Vertebral bone attenuation on low-dose chest CT: Quantitative volumetric analysis for bone fragility assessment. Osteoporos Int 2017;28:329-38.

Gerety EL, Hopper MA, Bearcroft PW. The reliability of measuring the density of the L1 vertebral body on CT imaging as a predictor of bone mineral density. Clin Radiol 2017;72:e9-15.

Pickhardt PJ, Pooler BD, Lauder T, del Rio AM, Bruce RJ, Binkley N. Opportunistic screening for osteoporosis using abdominal computed tomography scans obtained for other indications. Ann Intern Med 2013;158:588-95.

Li YL, Wong KH, Law MW, Fang BX, Lau VW, Vardhanabuti VV, et al. Opportunistic screening for osteoporosis in abdominal computed tomography for Chinese population. Arch Osteoporos 2018;13:76.

Ahmadi N, Mao SS, Hajsadeghi F, Arnold B, Kiramijyan S, Gao Y, et al. The relation of low levels of bone mineral density with coronary artery calcium and mortality. Osteoporos Int 2018;29:1609-16.

Nordstrom A, Eriksson M, Stegmayr B, Gustafson Y, Nordstrom P. Low bone mineral density is an independent risk factor for stroke and death. Cerebrovasc Dis 2010;29:130-6.

Farhat GN, Strotmeyer ES, Newman AB, Sutton-Tyrrell K, Bauer DC, Harris T, et al. Volumetric and areal bone mineral density measures are associated with cardiovascular disease in older men and women: The health, aging, and body composition study. Calcif Tissue Int 2006;79:102-11.

McFarlane SI, Muniyappa R, Shin JJ, Bahtiyar G, Sowers JR. Osteoporosis and cardiovascular disease: Brittle bones and boned arteries, is there a link? Endocrine 2004;23:1-10.

Shanahan CM, Cary NR, Metcalfe JC, Weissberg PL. High expression of genes for calcification-regulating proteins in human atherosclerotic plaques. J Clin Investig 1994;93:2393-402.

Bostrom K, Watson KE, Horn S, Wortham C, Herman IM, Demer LL. Bone morphogenetic protein expression in human atherosclerotic lesions. J Clin Investig 1993;91:1800-9.

Montalcini T, Emanuele V, Ceravolo R, Gorgone G, Sesti G, Perticone F, et al. Relation of low bone mineral density and carotid atherosclerosis in postmenopausal women. Am J Cardiol 2004;94:266-9.

Bucay N, Sarosi I, Dunstan CR, Morony S, Tarpley J, Capparelli C, et al. Osteoprotegerin-deficient mice develop early onset osteoporosis and arterial calcification. Genes Dev 1998;12:1260-8.

Samelson EJ, Kiel DP, Broe KE, Zhang Y, Cupples LA, Hannan MT, et al. Metacarpal cortical area and risk of coronary heart disease: The Framingham Study. Am J Epidemiol 2004;159:589-95.

Mussolino ME, Madans JH, Gillum RF. Bone mineral density and mortality in women and men: The NHANES I Epidemiologic Follow-up Study. Ann Epidemiol 2003;13:692-7.

Kajikawa M, Oda N, Kishimoto S, Maruhashi T, Iwamoto Y, Iwamoto A, et al. Increasing risk of osteoporotic fracture is associated with vascular dysfunction and abnormal vascular structure in both men and women. Circ J 2017;81:862-9.

Golds G, Houdek D, Arnason T. Male hypogonadism and osteoporosis: The effects, clinical consequences, and treatment of testosterone deficiency in bone health. Int J Endocrinol 2017;2017:4602129.

Kloner RA, Carson C III, Dobs A, Kopecky S, Mohler ER III. Testosterone and cardiovascular disease. J Am Coll Cardiol 2016;67:545-57.

Gubbels Bupp MR, Potluri T, Fink AL, Klein SL. The confluence of sex hormones and aging on immunity. Front Immunol 2018;9:1269.

Dimai HP. Use of dual-energy X-ray absorptiometry (DXA) for diagnosis and fracture risk assessment; WHO-criteria, T- and Z-score, and reference databases. Bone 2017;104:39-43.

Marinova M, Edon B, Wolter K, Katsimbari B, Schild HH, Strunk HM. Use of routine thoracic and abdominal computed tomography scans for assessing bone mineral density and detecting osteoporosis. Curr Med Res Opin 2015;31:1871-81.

Romme EA, Murchison JT, Phang KF, Jansen FH, Rutten EP, Wouters EF, et al. Bone attenuation on routine chest CT correlates with bone mineral density on DXA in patients with COPD. J Bone Miner Res 2012;27:2338-43.

Banks LM, Lees B, MacSweeney JE, Stevenson JC. Effect of degenerative spinal and aortic calcification on bone density measurements in post-menopausal women: Links between osteoporosis and cardiovascular disease? Eur J Clin Investig 1994;24:813-7.

Seeman E. Growth in bone mass and size—Are racial and gender differences in bone mineral density more apparent than real? J Clin Endocrinol Metab 1998;83:1414-9.

Zou D, Li W, Deng C, Du G, Xu N. The use of CT Hounsfield unit values to identify the undiagnosed spinal osteoporosis in patients with lumbar degenerative diseases. Eur Spine J 2018. https://doi.org/10.1007/s00586-018-5776-9.

Mao SS, Li D, Syed YS, Gao Y, Luo Y, Flores F, et al. Thoracic quantitative computed tomography (QCT) can sensitively monitor bone mineral metabolism: Comparison of thoracic QCT vs lumbar QCT and dual-energy X-ray absorptiometry in detection of age-relative change in bone mineral density. Acad Radiol 2017;24:1582-7.
Acknowledgments
We would like to thank the Staff at the Department of Nuclear Medicine in the University Hospital of Zurich for their valuable contribution to this study.
Ethics declarations
Disclosures
The University Hospital of Zurich holds a Research Contract with GE Healthcare. CG has received Research Grants from the Novartis Foundation, Switzerland.
Additional information
Publisher's Note
Springer Nature remains neutral with regard to jurisdictional claims in published maps and institutional affiliations.
JNC thanks Erick Alexanderson MD, Carlos Guitar MD, and Diego Vences MD, UNAM, Mexico, for providing the Spanish abstract; Zhuo He BS, Haipeng Tang MS, Zhixin Jiang MD, and Weihua Zhou PhD, for providing the Chinese abstract; and Jean-Luc Urbain, MD, PhD, CPE, Past President CANM, Chief Nuclear Medicine, Lebanon VAMC, PA, for providing the French abstract.
Funding
CG was supported by grants from The Swiss National Science Foundation (SNSF); The Olga Mayenfisch Foundation, Switzerland; The OPO Foundation, Switzerland; The Novartis Foundation, Switzerland; The Swissheart Foundation, and The Helmut Horten Foundation, Switzerland. MF was supported by the Swiss Paraplegic Center, Nottwil, Switzerland. MM was supported by The Iten-Kohaut Foundation, Switzerland.
Electronic supplementary material
Below is the link to the electronic supplementary material.
About this article
Cite this article
Fiechter, M., Bengs, S., Roggo, A. et al. Association between vertebral bone mineral density, myocardial perfusion, and long-term cardiovascular outcomes: A sex-specific analysis. J. Nucl. Cardiol. 27, 726–736 (2020). https://doi.org/10.1007/s12350-019-01802-z
Received:

Accepted:

Published:

Issue Date:

DOI: https://doi.org/10.1007/s12350-019-01802-z
Keywords