A simple practical technique to alleviate the problem of interfering subdiaphragmatic intestinal activity on myocardial perfusion imaging
Introduction
Myocardial perfusion imaging as a validated diagnostic tool for cardiac evaluation, can be influenced by many factors including technical ones. Handling of these technical factors may be challenging for technologists to prevent imaging artifacts.
Case History
A 56-year-old male was referred to our department for preoperative cardiac evaluation. A dipyridamole myocardial perfusion SPECT was performed with same-day stress-rest protocol. Stress images were unremarkable but on rest images (Figure
1
), a high amount of subdiaphragmatic activity was detected adjacent to inferior wall of left ventricle. Delayed imaging was not helpful (Figure
2
). The scan was repeated immediately after drinking of three glasses of plain water (Figure
3
).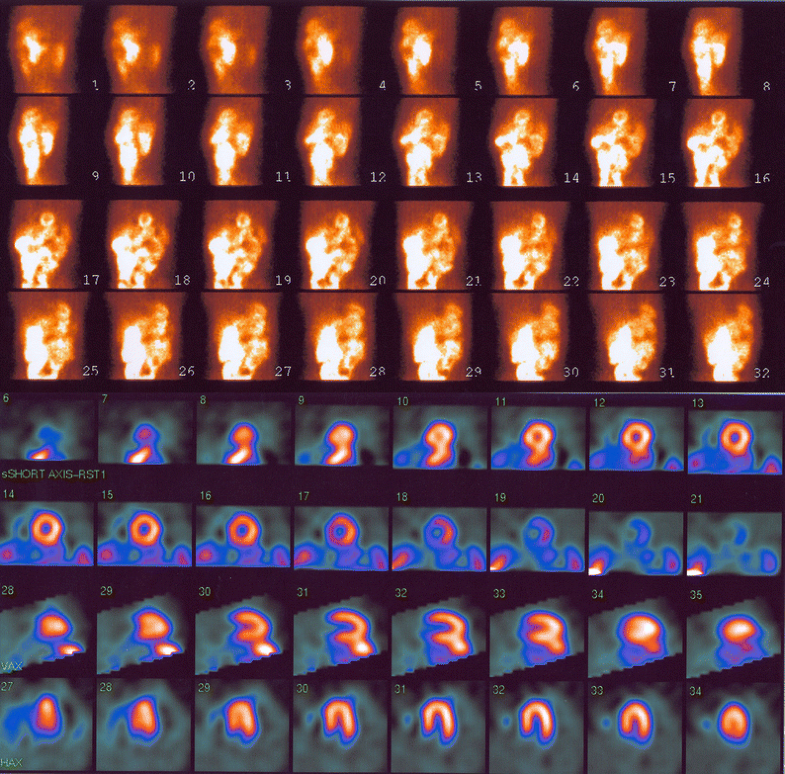 Notes
Acknowledgments
We are grateful to the residents and personnel of Nuclear Medicine Department of Taleghani Hospital.
Disclosure
No conflict of interests is declared.
References
1.

Depuey EG. Single-photon emission computed tomography artifact. In: Zaret BL, Beller GA, editors. Clinical nuclear cardiology: state of the art and future directions. Philadelphia: Mosby Elsevier; 2010. p. 72-95.

CrossRef

Google Scholar

2.

Peace RA, Lloyd JJ. The effect of imaging time, radiopharmaceutical, full fat milk and water on interfering extra-cardiac activity in myocardial perfusion single photon emission computed tomography. Nucl Med Commun 2005;26:17-24.

CrossRef

PubMed

Google Scholar

3.

Malhotra G, Upadhye TS, Nabar A, Asopa RV, Nayak UN, Rajan MG. Can carbonated lime drink intake prior to myocardial perfusion imaging with Tc-99m MIBI reduce the extracardiac activity that degrades the image quality and leads to fallacies in interpretation? Clin Nucl Med 2010;35:160-4.

CrossRef

PubMed

Google Scholar
Copyright information
© American Society of Nuclear Cardiology 2017