Abstract
Background
The aim of this study was to evaluate reporting compliance of laboratories applying for serial accreditation by the Intersocietal Accreditation Commission (IAC) and compare compliance based on laboratory characteristics.
Methods
All laboratories applying for IAC accreditation for the first time in 2008 and then twice more (2011-2014) were evaluated for compliance with 18 reporting elements. The elements were ranked into three severity groups (high/moderate/low).
Results
Reports from 523 laboratories were evaluated. The percentage of laboratories with reporting issues by cycle was 66.2% for cycle 1, 36.7% for cycle 2, and 43.8% for cycle 3 (p < .001). For most of the 18 elements, there was a significant decrease in the percentage of labs with issues. Less moderate and high severity errors were seen over time. Also, the mean non-compliant elements per laboratory decreased from 5.78 ± 2.72 at cycle 1, down to 1.25 ± 1.77 at cycle 3.
Conclusions
In facilities applying for 3 consecutive IAC accreditation cycles, reporting compliance with IAC Standards improved between cycles 1-2 and 1-3. No significant improvement occurred between cycles 2-3. Although the quality of reports improved overall, problems remain in quantifying myocardial perfusion defects, documenting report approval date, and integrating stress and imaging reports.
Access options
Buy single article
Instant access to the full article PDF.
USD 39.95
Price excludes VAT (USA)
Tax calculation will be finalised during checkout.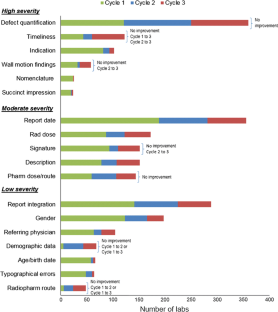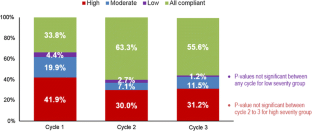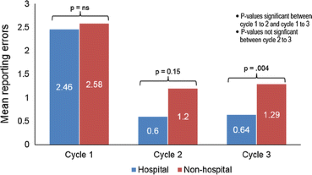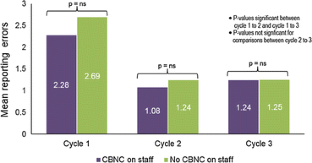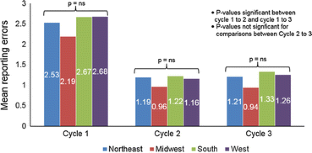 Abbreviations
ASNC:

American Society of Nuclear Cardiology

CBNC:

Certification Board of Nuclear Cardiology

IAC:

Intersocietal Accreditation Commission

MPI:

Myocardial perfusion imaging
References
Cerqueira MD. The user-friendly nuclear cardiology report: What needs to be considered and what is included. J Nucl Cardiol. 1996;3:350-5.

Tilkemeier PL, Cooke CD, Grossman GB, McCallister BD, Ward RP. Standardized reporting of radionuclide myocardial perfusion and function. J Nucl Cardiol. 2009;16:650.

The IAC Standards and Guidelines for Nuclear/PET Accreditation. Ellicott City, MD: Intersocietal Accreditation Commission; 2012:47.

Holly TA, Abbott BG, Al-Mallah M, et al. Single photon-emission computed tomography. J Nucl Cardiol. 2010;17:941-73.

Tilkemeier PL, Serber ER, Farrell MB. The nuclear cardiology report: Problems, predictors, and improvement. A report from the ICANL database. J Nucl Cardiol. 2011;18:858-68.

U.S. Census Bureau, Economic Census: Regions and Divisions. http://www.census.gov/econ/census/help/geography/regions_and_divisions.html. Accessed 14 Aug 2014.

Intersocietal Accreditation Commission Policies and Procedures 2015. http://www.intersocietal.org/iac/legal/policies.htm Accessed 21 June 2016.

Franc B, Cohen J. Diagnostic error in medicine: A critical role for diagnostic imaging in finding and facilitating solutions. Appl Radiol. 2014;43:3-4.

H.R. 6331 - 110th Congress: Medicare Improvements for Patients and Providers Act of 2008" Rangel C, trans. 110th ed2008.

McLoughlin RF, So CB, Gray RR, Brandt R. Radiology reports: How much descriptive detail is enough? Am J Roentgenol. 1995;165:803-6.

Gunderman R, Ambrosius WT, Cohen M. Radiology reporting in an academic children's hospital: What referring physicians think. Pediatr Radiol. 2000;30:307-14.

Lafortune M, Breton G, Baudouin JL. The radiological report: What is useful for the referring physician? Can Assoc Radiol J. 1988;39:140-3.

Tragardh E, Hoglund P, Ohlsson M, Wieloch M, Edenbrandt L. Referring physicians underestimate the extent of abnormalities in final reports from myocardial perfusion imaging. EJNMMI Res. 2012;2:27.

Hachamovitch R, Rozanski A, Shaw LJ, et al. Impact of ischaemia and scar on the therapeutic benefit derived from myocardial revascularization vs. medical therapy among patients undergoing stress-rest myocardial perfusion scintigraphy. Eur Heart J. 2011;32:1012-24.

Reiner BI. Strategies for radiology reporting and communication. Part 1: Challenges and heightened expectations. J Digit Imaging. 2013;26:610-3.

Pool F, Goergen S. Quality of the written radiology report: A review of the literaure. J Am Coll Radiol. 2010;8:634-43.

Graber ML. The incidence of diagnostic error in medicine. BMJ Qual Saf. 2013;22 Suppl 2:ii21-ii27.

Goddard P, Leslie A, Jones A, Wakeley C, Kabala J. Error in radiology. Br J Radiol. 2001;74:949-51.

Renfrew DL. E A Franken J, Berbaum KS, Weigelt FH, Abu-Yousef MM. Error in radiology: Classification and lessons in 182 cases presented at a problem case conference. Radiology. 1992;183:145-50.

Jerome SD, Farrell MB, Godiwala T, et al. Facility perception of nuclear cardiology accreditation: Results of an Intersocietal Accreditation Commission (IAC) survey. J Nucl Cardiol. 2015;22:496-503.

ACC's 2012 Practice census shows continued changes in practice landscape. American College of Cardiology website. http://www.acc.org/latest-in-cardiology/articles/2012/07/24/11/55/acc-practice-census-2012. Accessed 7 April 2017.
Author Contributions
Study concept and design: Tilkemeier and Farrell. Acquisition, analysis, or interpretation of data: All authors. Drafting of the manuscript: All authors. Critical revision of the manuscript for important intellectual content: All authors. Statistical analysis: Ewing. Obtained funding: Not applicable. Administrative, technical, or material support: Farrell. Study supervision: Tilkemeier and Farrell.
Disclosure
Farrell is an employee of the Intersocietal Accreditation Commission. Maddux, Ewing, and Tilkemeier have no conflicts of interest. No financial support was received for this research.
Additional information
The authors of this article have provided a PowerPoint file, available for download at SpringerLink, which summarises the contents of the paper and is free for re-use at meetings and presentations. Search for the article DOI on SpringerLink.com.
Electronic supplementary material
Below is the link to the electronic supplementary material.
About this article
Cite this article
Maddux, P.T., Farrell, M.B., Ewing, J.A. et al. Improving compliance with Intersocietal Accreditation Commission (IAC) reporting standards: A serial comparison of 523 labs over seven years. J. Nucl. Cardiol. 25, 2044–2052 (2018). https://doi.org/10.1007/s12350-017-0904-1
Received:

Revised:

Published:

Issue Date:

DOI: https://doi.org/10.1007/s12350-017-0904-1
Keywords
Nuclear cardiology

reporting

compliance

accreditation

Intersocietal Accreditation Commission