Abstract
Background
Risk stratification and early detection of cardiac allograft vasculopathy (CAV) is essential in orthotopic heart transplantation (OHT) patients. This study assesses the changes in myocardial blood flow (MBF) noninvasively in OHT patients using quantitative cardiac PET with regadenoson.
Methods
Twelve patients (Group 1) (8 males, 4 females, mean age 55 ± 7 years) with no history of post OHT myocardial ischemia were enrolled 5.4 ± 2.0 years after OHT. Fifteen patients (Group 2) (9 males, 6 females, mean age 71 ± 9 years) with intermediate pretest probability but not documented evidence for coronary artery disease (CAD) were also included to serve as control. Global and regional MBFs were assessed using dynamic 13N-NH3 PET at rest and during regadenoson-induced hyperemia. The coronary flow reserve (CFR) was also calculated as the ratio of hyperemic to resting MBF.
Results
Mean regadenoson-induced rate-pressure products were similar in both groups, while there was an increase in resting rate-pressure product in Group 1 patients. Both mean and median values of resting MBF were higher in Group 1 than Group 2 patients (1.33 ± 0.31 and 1.01 ± 0.21 mL/min/g for Groups 1 and 2, respectively, P < .001), while mean hyperemic MBF values were similar in both Groups (2.68 ± 0.84 and 2.64 ± 0.94 mL/min/g, P = NS) but median hyperemic MBF values were lower in Group 1 than Group 2 patients (2.0 vs. 2.60 mL/min/g, P = .018). Both mean and median CFR values demonstrated a significant reduction for Group 1 compared to Group 2 patients (2.07 ± 0.74 vs 2.63 ± 0.48, P = .025).
Conclusions
This study suggests that the MBF in OHT patients may be abnormal at resting state with diminished CFR. This hints that the epicardial and microvascular coronary subsystem may be exacerbated after OHT leading to the gradual progression of CAV.
French Abstract
Contexte
Cette étude pilote par tomographie a positrons évalue de manière quantitative les changements de perfusion myocardique et le risque de vasculopathie coronaire après transplantation cardiaque chez l'être humain.
Méthodes
Douze patients (groupe 1) (8 hommes, 4 femmes, âge moyen 55 ± 7 ans) sans antécédents d'ischémie myocardique post-chirurgicale ont été étudiés après 5,4 ± 2,0 ans après transplantation cardiaque. Quinze patients (groupe 2) (9 hommes, 6 femmes, âge moyen 71 ± 9 ans) avec une probabilité intermédiaire mais sans signes objectifs de maladie coronarienne ont servi de contrôles. Les donnes de perfusion myocardique globales et régionales ont été évaluées par tomographie à positrons l'aide de 13N-NH3 au repos et durant l'hyperémie induite par le vasodilatateur coronarien régadénoson. La réserve de flux coronarien a été calculée sur base du rapport entre le flux myocardique hyperhémique induit par le régadénoson et le flux myocardique au repos.
Résultats
les double produits (fréquence cardiaque x tension artérielle) moyens après régadénoson furent similaires chez les deux groups de patients. Par contre le double produit au repos était plus élevé dans le groupe de patient transplantés. Les valeurs moyennes et médianes de perfusion myocardique globale au repos ont été calculées à 1.33 ± 0.31 ml/min/g dans le groupe de patients transplantés et 1.01 ± 0.21 ml/min/g dans le groupe control (P < 0.001). Après régadénoson, les valeurs moyennes de perfusion myocardique se sont avérées similaires dans les deux groupes (2,68 ± 0,84 et 2,64 ± 0,94 ml/min/g, P > 0.05). Néanmoins les valeurs médianes se sont avérées inferieures dans le groupe 1 comparativement au groupe control (2,0 versus 2,60 ml/min/g; P = 0,018). Les valeurs moyennes et médianes de réserve de flux myocardique mesurées étaient significativement réduites chez les patient transplantés (2,07 ± 0,74) en comparaison aux patients du groupe 2 (2,63 ± 0,48; P = 0.025).
Conclusion
La perfusion myocardique au repos peut s'avérer anormale après transplantation cardiaque et s'accompagner d'une diminution de la réserve du flux coronaire. Cette étude pilote suggère que les vaisseaux épicardiques et la micro-vascularisation du myocarde peuvent être atteints après transplantation et conduire à la maladie coronaire du greffon.
Spanish Abstract
Antecedentes
la estratificación de riesgo y detección temprana de la vasculopatía del aloinjerto cardiaco (VAC) es esencial en los pacientes con trasplante cardiaco ortotópico (TCO). El presente estudio evalúa de forma no invasiva los cambios en el flujo sanguíneo miocárdico (FSM) en pacientes con TCO utilizando el PET cardiaco cuantitativo con regadenoson.
Métodos
Doce pacientes (Grupo 1) (8 hombres, 4 mujeres, edad promedio 55 ± 7 años) sin historia de isquemia miocárdica posterior al TCO fueron incluidos después de 5.4 ± 2.0 años de ser trasplantados. Quince pacientes (Grupo 2) (9 hombres, 6 mujeres, edad promedio 71 ± 9 años) con probabilidad pre-prueba intermedia pero sin evidencia documentada de enfermedad arterial coronaria (EAC) fueron incluidos como grupo control. El FSM global y regional fueron evaluados utilizando el estudio PET dinámico con 13N-NH3 en reposo y durante la inducción de hiperemia con regadenoson. La reserva de flujo coronario (RFC) también fue calculada como la proporción entre el FSM hiperémico y el de reposo.
Resultados
el producto de velocidad-presión promedio inducido por regadenoson fue similar en ambos grupos, mientras que existió un incremento de este producto velocidad-presión durante el reposo en el Grupo 1 de pacientes. Los valores de la media y mediana del FSM de reposo fueron mayores en el Grupo 1 que el Grupo 2 de pacientes (1.33 ± 0.31 y 1.01 ± 0.21 mL/min/g para los Grupos 1 y 2, respectivamente, P < 0.001). La media de los valores del FSM hiperémico fueron similares en ambos grupos (2.68 ± 0.84 and 2.64 ± 0.94 mL/min/g, P = NS), sin embargo la mediana fue menor en el Grupo 1 que en el Grupo 2 (2.0 vs. 2.60 mL/min/g, P = .018). Tanto la media como la mediana para los valores de la RFC demostraron una disminución significativa en el Grupo 1 comparada con el Grupo 2 (2.07 ± 0.74 vs. 2.63 ± 0.48, P = 0.025).
Conclusiones
El presente estudio sugiere que el FSM en pacientes con TCO puede estar alterado en reposo con una RFC disminuida. Esto indica que los sistemas coronarios epicardico y microvascular pudieran estar inflamados posterior al TCO conduciendo a una progresión gradual de la VAC.
Chinese Abstract
背景
对于原位心脏移植 (OHT) 病人, 早期检测移植心脏血管病变 (CAV) 和进行危险分层是必要的。 本研究拟通过类伽腺苷定 心脏 PET 显像, 非侵入性地评估 OHT 病人心肌血流 (MBF) 的变化。
方法
研究对象分为两组。 第一组, 12个病人 (8 男, 4女, 平均 55 ± 7岁), OHT 后 5.4 ± 2.0 年, 没有 OHT 后心肌缺血。 第二组 (对照组), 15 个病人 (9 男, 6 女, 平均 71 ± 9 岁), 中等冠心病可能, 但尚未确诊。 分别于静息及类伽腺苷药物负荷下, 动态采集 13N-NH3 PET 图像, 获得整体和局部 MBF。冠脉血流储备 (CFR) 通过负荷 MBF /静息 MBF 计算而得。
结果
类伽腺苷负荷时, 反映心肌耗氧 的心率血压乘积在两组间没有差异, 但在静息时, 第一组明显高于第二组。静息时, 第一组 MBF 的平均值高于第二组 (1.33 ± 0.31 vs. 1.01 ± 0.21 mL/min/g, P < 0.001); 负荷时, 两组 MBF 的平均值无差异 (2.68 ± 0.84 vs. 2.64 ± 0.94 mL/min/g, P = NS), 但 MBF 的中位数第一组要低于第二组 (2.0 vs. 2.60 mL/min/g, P = 0.018), 且第一组 CFR 的平均值明显低于第二组 (2.07 ± 0.74 vs. 2.63 ± 0.48, P = 0.025)。
结论
在原位心脏移植病人中, 冠脉血流储备以及静息心肌血流 均呈现明显异常。提示原位心脏移植后, 冠状动脉心外膜血管与微小血管功能均受损, 进而将逐渐导致移植心脏血管病变。
关键词
动态PET, 类伽腺苷, 冠状动脉血流储备, 原位心脏移植, 移植心脏血管病变。
Access options
Buy single article
Instant access to the full article PDF.
US$ 39.95
Tax calculation will be finalised during checkout.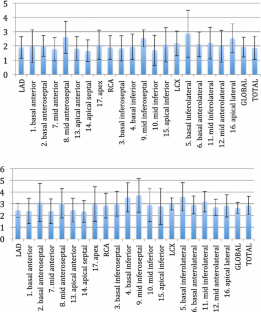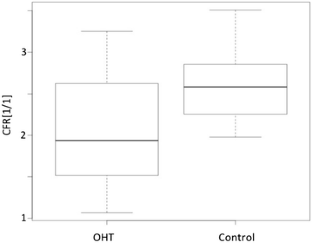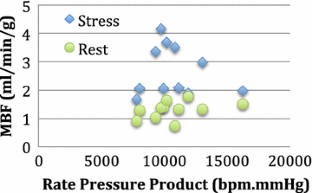 Abbreviations
CA:

Coronary angiography

CABG:

Coronary bypass graft surgery

CAD:

Coronary artery disease

CAV:

Cardiac allograft vasculopathy

CFR:

Coronary flow reserve

IVUS:

Intravascular ultrasonography

LAD:

Left anterior descending artery

LCX:

Left circumflex artery

MBF:

Myocardial blood flow

OHT:

Orthotopic heart transplantation

RCA:

Right coronary artery
References
1.

Gao SZ, Schroeder JS, Alderman EL, Hunt SA, Valantine HA, Wiederhold V, Stinson EB. Prevalence of accelerated coronary artery disease in heart transplant survivors. Comparison of cyclosporine and azathioprine regimens. Circulation. 1989;80:III100-5.

2.

Schmauss D, Weis M. Cardiac allograft vasculopathy: Recent developments. Circulation. 2008;117:2131-41.

3.

Zimmer RJ, Lee MS. Transplant coronary artery disease. JACC Cardiovasc Interv. 2010;3:367-77.

4.

Hollenberg SM, Klein LW, Parrillo JE, Scherer M, Burns D, Tamburro P, Oberoi M, Johnson MR, Costanzo MR. Coronary endothelial dysfunction after heart transplantation predicts allograft vasculopathy and cardiac death. Circulation. 2001;104:3091-6.

5.

Lund LH, Edwards LB, Kucheryavaya AY, Benden C, Christie JD, Dipchand AI, Dobbels F, Goldfarb SB, Levvey BJ, Meiser B, Yusen RD, Stehlik J. The registry of the International Society for Heart and Lung Transplantation: Thirty-first official adult heart transplant report-2014; focus theme: retransplantation. J Heart Lung Transplant. 2014;33:996-1008.

6.

Wellnhofer E, Stypmann J, Bara CL, Stadlbauer T, Heidt MC, Kreider-Stempfle HU, Sohn HY, Zeh W, Comberg T, Eckert S, Dengler T, Ensminger SM, Hiemann NE. Angiographic assessment of cardiac allograft vasculopathy: Results of a consensus conference of the task force for thoracic organ transplantation of the german cardiac society. Transplant Int. 2010;23:1094-104.

7.

Costanzo MR, Naftel DC, Pritzker MR, Heilman JK 3rd, Boehmer JP, Brozena SC, Dec GW, Ventura HO, Kirklin JK, Bourge RC, Miller LW. Heart transplant coronary artery disease detected by coronary angiography: A multiinstitutional study of preoperative donor and recipient risk factors. Cardiac transplant research database. J Heart Lung Transplant. 1998;17:744-53.

8.

Kobashigawa JA, Tobis JM, Starling RC, Tuzcu EM, Smith AL, Valantine HA, Yeung AC, Mehra MR, Anzai H, Oeser BT, Abeywickrama KH, Murphy J, Cretin N. Multicenter intravascular ultrasound validation study among heart transplant recipients: Outcomes after five years. J Am Coll Cardiol. 2005;45:1532-7.

9.

Tuzcu EM, Kapadia SR, Sachar R, Ziada KM, Crowe TD, Feng J, Magyar WA, Hobbs RE, Starling RC, Young JB, McCarthy P, Nissen SE. Intravascular ultrasound evidence of angiographically silent progression in coronary atherosclerosis predicts long-term morbidity and mortality after cardiac transplantation. J Am Coll Cardiol. 2005;45:1538-42.

10.

Kobashigawa JA, Pauly DF, Starling RC, Eisen H, Ross H, Wang SS, Cantin B, Hill JA, Lopez P, Dong G, Nicholls SJ. Cardiac allograft vasculopathy by intravascular ultrasound in heart transplant patients: Substudy from the everolimus versus mycophenolate mofetil randomized, multicenter trial. JACC Heart Fail. 2013;1:389-99.

11.

Gao SZ, Alderman EL, Schroeder JS, Hunt SA, Wiederhold V, Stinson EB. Progressive coronary luminal narrowing after cardiac transplantation. Circulation. 1990;82:IV269-75.

12.

Schindler TH, Schelbert HR, Quercioli A, Dilsizian V. Cardiac pet imaging for the detection and monitoring of coronary artery disease and microvascular health. JACC Cardiovasc Imaging. 2010;3:623-40.

13.

Lieu HD, Shryock JC, von Mering GO, Gordi T, Blackburn B, Olmsted AW, Belardinelli L, Kerensky RA. Regadenoson, a selective a2a adenosine receptor agonist, causes dose-dependent increases in coronary blood flow velocity in humans. J Nucl Cardiol. 2007;14:514-20.

14.

Cerqueira MD, Nguyen P, Staehr P, Underwood SR, Iskandrian AE. Effects of age, gender, obesity, and diabetes on the efficacy and safety of the selective a2a agonist regadenoson versus adenosine in myocardial perfusion imaging integrated advance-mpi trial results. JACC Cardiovasc Imaging. 2008;1:307-16.

15.

Mahmarian JJ, Cerqueira MD, Iskandrian AE, Bateman TM, Thomas GS, Hendel RC, Moye LA, Olmsted AW. Regadenoson induces comparable left ventricular perfusion defects as adenosine: A quantitative analysis from the advance mpi 2 trial. JACC Cardiovasc Imaging. 2009;2:959-68.

16.

Jackson S, Anders NM, Mangraviti A, Wanjiku TM, Sankey EW, Liu A, Brem H, Tyler B, Rudek MA, Grossman SA. The effect of regadenoson-induced transient disruption of the blood-brain barrier on temozolomide delivery to normal rat brain. J Neurooncol. 2016;126:433-9.

17.

Hutchins GD, Schwaiger M, Rosenspire KC, Krivokapich J, Schelbert H, Kuhl DE. Noninvasive quantification of regional blood flow in the human heart using n-13 ammonia and dynamic positron emission tomographic imaging. J Am Coll Cardiol. 1990;15:1032-42.

18.

van den Hoff J, Burchert W, Borner AR, Fricke H, Kuhnel G, Meyer GJ, Otto D, Weckesser E, Wolpers HG, Knapp WH. [1-(11)c]acetate as a quantitative perfusion tracer in myocardial pet. J Nucl Med. 2001;42:1174-82.

19.

Fang YH, Muzic RF Jr. Spillover and partial-volume correction for image-derived input functions for small-animal 18f-fdg pet studies. J Nucl Med. 2008;49:606-14.

20.

Schelbert HR, Phelps ME, Huang SC, Macdonald NS, Hansen H, Kuhl DE. N-13 ammonia as an indicator of myocardial blood-flow. Circulation. 1981;63:1259-72.

21.

Cavalcante JL, Barboza J, Ananthasubramaniam K. Regadenoson is a safe and well-tolerated pharmacological stress agent for myocardial perfusion imaging in post-heart transplant patients. J Nucl Cardiol. 2011;18:628-33.

22.

Stolker JM, Lim MJ, Shavelle DM, Morris DL, Angiolillo DJ, Guzman LA, Kennedy KF, Weber E, Zareh M, Neumayr RH, Zenni MM. Pooled comparison of regadenoson versus adenosine for measuring fractional flow reserve and coronary flow in the catheterization laboratory. Cardiovasc Revasc Med. 2015;16:266-71.

23.

Chan SY, Brunken RC, Czernin J, Porenta G, Kuhle W, Krivokapich J, Phelps ME, Schelbert HR. Comparison of maximal myocardial blood flow during adenosine infusion with that of intravenous dipyridamole in normal men. J Am Coll Cardiol. 1992;20:979-85.

24.

Senneff MJ, Hartman J, Sobel BE, Geltman EM, Bergmann SR. Persistence of coronary vasodilator responsivity after cardiac transplantation. Am J Cardiol. 1993;71:333-8.

25.

Chilian WM, Eastham CL, Marcus ML. Microvascular distribution of coronary vascular resistance in beating left ventricle. Am J Physiol. 1986;251:H779-88.

26.

Di Carli MF, Tobes MC, Mangner T, Levine AB, Muzik O, Chakroborty P, Levine TB. Effects of cardiac sympathetic innervation on coronary blood flow. N Engl J Med. 1997;336:1208-15.

27.

Wilson RF, Christensen BV, Olivari MT, Simon A, White CW, Laxson DD. Evidence for structural sympathetic reinnervation after orthotopic cardiac transplantation in humans. Circulation. 1991;83:1210-20.

28.

Preumont N, Lenaers A, Goldman S, Vachiery JL, Wikler D, Damhaut P, Degre S, Berkenboom G. Coronary vasomotility and myocardial blood flow early after heart transplantation. Am J Cardiol. 1996;78:550-4.

29.

Chan SY, Kobashigawa J, Stevenson LW, Brownfield E, Brunken RC, Schelbert HR. Myocardial blood flow at rest and during pharmacological vasodilation in cardiac transplants during and after successful treatment of rejection. Circulation. 1994;90:204-12.

30.

Kofoed KF, Czernin J, Johnson J, Kobashigawa J, Phelps ME, Laks H, Schelbert HR. Effects of cardiac allograft vasculopathy on myocardial blood flow, vasodilatory capacity, and coronary vasomotion. Circulation. 1997;95:600-6.

31.

Preumont N, Berkenboom G, Vachiery J, Jansens J, Antoine M, Wikler D, Damhaut P, Degre S, Lenaers A, Goldman S. Early alterations of myocardial blood flow reserve in heart transplant recipients with angiographically normal coronary arteries. J Heart Lung Transplant. 2000;19:538-45.

32.

Allen-Auerbach M, Schoder H, Johnson J, Kofoed K, Einhorn K, Phelps ME, Kobashigawa J, Czernin J. Relationship between coronary function by positron emission tomography and temporal changes in morphology by intravascular ultrasound (ivus) in transplant recipients. J Heart Lung Transplant. 1999;18:211-9.
Acknowledgments
Authors would like to thank nuclear medicine technologists and cyclotron and clinical staff at UCSF China Basin imaging facility for conducting patient scans. The study was supported in part by the National Institutes of Health under grant R01 HL050663.
Disclosure
The authors have no conflict of interest.
Additional information
JNC thanks Erick Alexanderson MD, Carlos Guitar MD, and Diego Vences MD, UNAM, Mexico, for providing the Spanish abstract, and Haipeng Tang MS, Zhixin Jiang MD, and Weihua Zhou PhD, for providing the Chinese abstract, and Jean-Luc Urbain, MD, PhD, CPE, Past President CANM, Chief Nuclear Medicine, Lebanon VAMC, PA, for providing the French abstract.
An audio interview was held September 8th, 2016 between the Associate Editor, Ernest V. Garcia, and Miguel Hernandez, co-author of this article. An audio file of the interview is available as an. mp3 download at the article webpage on SpringerLink.com, and can be found by searching for doi:10.1007/s12350-016-0761-3. Please note: at 3 min and 50 sec, the observation should instead state that "…the resting rate-pressure product of the transplant patients was HIGHER than the control group…".
Electronic Supplementary Material
About this article
Cite this article
Pampaloni, M.H., Shrestha, U.M., Sciammarella, M. et al. Noninvasive PET quantitative myocardial blood flow with regadenoson for assessing cardiac allograft vasculopathy in orthotopic heart transplantation patients. J. Nucl. Cardiol. 24, 1134–1144 (2017). https://doi.org/10.1007/s12350-016-0761-3
Received:

Revised:

Published:

Issue Date:
Keywords
Dynamic PET

regadenoson

coronary flow reserve

orthotopic heart transplant

cardiac allograft vasculopathy