Abstract
Background
In 2011, Tilkemeier et al reported significant nuclear cardiology laboratory noncompliance with reporting standards. The aim of this study was to identify and examine noncompliant reporting elements with the Intersocietal Accreditation Commission Nuclear/PET (IAC) Reporting Standards and to compare compliance between 2008 and 2014.
Methods
This was a retrospective study of compliance with 18 reporting elements utilizing accreditation findings from all laboratories applying for accreditation in 2008 and 2014.
Results
1816 labs applying for initial or subsequent accreditation were analyzed for compliance. The mean reporting noncompliance per lab decreased from 2008 to 2014 (2.48 ± 2.67 to 1.24 ± 1.79, P < .001). Noncompliance decreased across lab types, labs with Certification Board of Nuclear Cardiology physicians on staff, and by geographic region (P < .001). Overall severity of reporting issues decreased. Facilities with compliant reports increased from 35.0% in 2008 to 57.1% in 2014 (P < .001).
Conclusion
Continuing medical education, accreditation, and other instructional activities aimed at improving nuclear cardiology reporting appear to have made a positive impact over time with the number and severity of noncompliance decreased. More labs are now compliant with the IAC Standards and, thus, reporting guidelines. However, the need for continued educational efforts remains.
Access options
Buy single article
Instant access to the full article PDF.
USD 39.95
Price excludes VAT (USA)
Tax calculation will be finalised during checkout.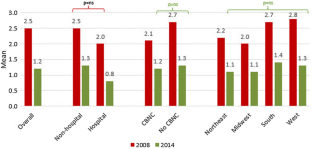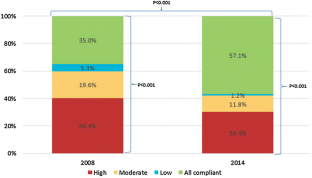 Abbreviations
ASNC:

American Society of Nuclear Cardiology

CBNC:

Certification Board of Nuclear Cardiology

IAC:

Intersocietal Accreditation Commission
References
Cerqueira MD. The user-friendly nuclear cardiology report: What needs to be considered and what is included. J Nucl Cardiol 1996;3:350-5.

Graham MM. The PET/CT report: The most important part of the study. J Nucl Med 2010;51:5-6.

Reiner B, Siegel E. Radiology reporting: Returning to our image-centric roots. AJR Am J Roentgenol 2006;187:1151-5.

Reiner BI, Knight N, Siegel EL. Radiology reporting, past, present, and future: The radiologist's perspective. J Am Coll Radiol 2007;4:313-9.

Wackers FJ. Intersocietal Commission for the Accreditation of Nuclear Medicine Laboratories (ICANL) position statement on standardization and optimization of nuclear cardiology reports. J Nucl Cardiol 2000;7:397-400.

Weiner SN. Radiology by nonradiologists: Is report documentation adequate? Am J Manag Care 2005;11:781-5.

Anagnostopoulos C, Harbinson M, Kelion A, et al. Procedure guidelines for radionuclide myocardial perfusion imaging. Nucl Med Commun 2003;24:1105-19.

Hesse B, Lindhardt TB, Acampa W, et al. EANM/ESC guidelines for radionuclide imaging of cardiac function. Eur J Nucl Med Mol Imaging 2008;35:851-85.

Tilkemeier PL, Cooke CD, Grossman GB, McCallister BD, Ward RP. Standardized reporting of radionuclide myocardial perfusion and function. J Nucl Cardiol 2009;16:650.

IAC standards and guidelines for nuclear/PET. Ellicott City, MD: Intersocietal Accreditation Commission; 2012.

Tilkemeier PL, Serber ER, Farrell MB. The nuclear cardiology report: Problems, predictors, and improvement. A report from the ICANL database. J Nucl Card 2011;18:858-68.

U.S. Census Bureau, Economic Census: Regions and Divisions. http://www.census.gov/econ/census/help/geography/regions_and_divisions.html. Accessed August 14, 2014.

Coleman RE, Hillner BE, Shields AF, et al. PET and PET/CT reports: Observations from the National Oncologic PET Registry. J Nucl Med 2010;51:158-63.

Holly TA, Abbott BG, Al-Mallah M, et al. ASNC imaging guidelines for nuclear cardiology procedures—single photon-emission computed tomography. J Nucl Cardiol 2010;17:941-73.

Tragardh E, Hoglund P, Ohlsson M, Wieloch M, Edenbrandt L. Referring physicians underestimate the extent of abnormalities in final reports from myocardial perfusion imaging. EJNMMI Res. 2012;2:27.

Cerqueira MD, Arrighi JA, Geiser EA. Physician certification in cardiovascular imaging: Rationale, process, and benefits. JACC Cardiovasc Imaging 2008;1:801-8.
Disclosures
Author Farrell is an employee of the Intersocietal Accreditation Commission. Authors Tilkemeier, Maddux, and Ewing have no conflict of interest.
Additional information
Funding
No financial support was received for this project.
Electronic supplementary material
Below is the link to the electronic supplementary material.
About this article
Cite this article
Maddux, P.T., Farrell, M.B., Ewing, J.A. et al. Improved compliance with reporting standards: A retrospective analysis of Intersocietal Accreditation Commission Nuclear Cardiology Laboratories. J. Nucl. Cardiol. 25, 986–994 (2018). https://doi.org/10.1007/s12350-016-0713-y
Received:

Accepted:

Published:

Issue Date:

DOI: https://doi.org/10.1007/s12350-016-0713-y
Keywords
Nuclear cardiology

reporting

compliance

accreditation

continuing education