Abstract
Background
Technetium pyrophosphate (99mTc-PYP) imaging to diagnose transthyretin cardiac amyloidosis (ATTR-CA) has been increasingly utilized. The objective of this study is to provide a standardized 99mTc-PYP imaging protocol to diagnose ATTR-CA.
Methods
104 scans from 45 subjects with biopsy-proven ATTR-CA or light-chain cardiac amyloidosis (AL) were assessed. Multiple scans were obtained using different counts (750 vs 2000 K), times to acquisition (1 vs 2 to 4 hours), processing matrix (256 vs 128), and 99mTc-PYP dose. Image quality and extracardiac activity was assessed. Quantitative methods using heart-to-contralateral ratios (H/CL) and a visual semiquantitative scale were used to diagnose ATTR-CA.19 The correlation between H/CL ratios and reproducibility of semiquantitative visual scores, acquired using various imaging parameters, were evaluated.
Results
All imaging parameters had good to excellent image quality. 750 vs 2000 K counts, 1 hour acquisition and 256 matrix, had lower extracardiac activity (P = .00018). 10 mCi of 99mTc-PYP v. higher doses showed excellent image quality and less extracardiac activity (P = .0015). Correlation of H/CL ratios was strong (r ≥ 0.92) and reproducibility of semiquantitative visual scores was high (Kappa = 95%).
Conclusion
An imaging protocol using 750 K counts, 10 mCi of 99mTc-PYP, and a 256 matrix was chosen as the standardized imaging protocol since it provided the shortest overall study time (1 vs 2 to 4 hours) and lowest radiation exposure (3 vs 8 to 10 mSv).
This is a preview of subscription content, log in to check access.
Access options
Buy single article
Instant access to the full article PDF.
US$ 39.95
Price includes VAT for USA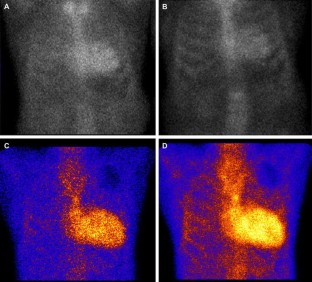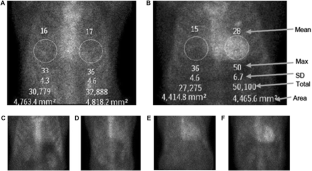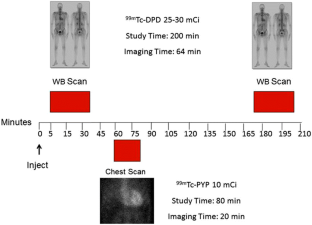 Abbreviations
AL:

Amyloid light-chain

ATTR:

CA transthyretin cardiac amyloidosis

HFpEF:

Heart failure preserved ejection fraction

99mTc-PYP:

Technetium pyrophosphate

99mTc-DPD:

Technetium-99m 3,3-diphosphono-1,2-propanodicarboxylic acid

mCi:

millicurie
References
1.

Ruberg FL, Maurer MS, Judge DP, Zeldenrust S, Skinner M, Kim AY, et al. Prospective evaluation of the morbidity and mortality of wild-type and V122I mutant transthyretin amyloid cardiomyopathy: The Transthyretin Amyloidosis Cardiac Study (TRACS). Am Heart J 2014;164:222-8.

2.

Dharmarajan KK, Maurer MS. Transthyretin cardiac amyloidoses in older North Americans. J Am Geriatr Soc 2012;60:765-74.

3.

Rapezzi C, Lorenzini M, Longhi S, Milandri A, Gagliardi C, Bartolomei I, et al. Cardiac amyloidosis: The great pretender. Heart Fail Rev 2015;20:117-24.

4.

Rapezzi C, Merlini G, Quarta CC, Riva L, Longhi S, Leone O, et al. Systemic cardiac amyloidoses disease profiles and clinical courses of the 3 main types. Circulation 2009;120:1203-12.

5.

Sipe JD, Benson MD, Buxbaum JN, Ikeda S, Merlini G, Saraiva MJM, et al. Nomenclature 2014: Amyloid fibril proteins and clinical classification of the amyloidosis. Amyloid 2014;21:221-4.

6.

Jacobson DR, Gorevic PD, Buxbaum JN. A homozygous transthyretin variant associated with senile systemic amyloidosis: Evidence for a late-onset disease of genetic etiology. Am J Hum Genet 1990;47:127.

7.

Givens RC, Russo C, Green P, Maurer MS. Comparison of cardiac amyloidosis due to wild-type and V122I transthyretin in older adults referred to an academic medical center. Aging Health 2013;9:229-35.

8.

Castaño A, Drachman BM, Judge D, Maurer MS. Natural history and therapy of TTR-cardiac amyloidosis: Emerging disease-modifying therapies from organ transplantation to stabilizer and silencer drugs. Heart Fail Rev 2014;20:163-78.

9.

Satoskar AA, Efebera Y, Hasan A, Brodsky S, Nadasdy G, Dogan A, et al. Strong tranthyretin immunostaining, potential pitfall in cardiac amyloid typing. Am J Surg Pathol 2011;35:168-90.

10.

Chee CE, Lacy MQ, Dogan A, Zeldenrust SR, Gertz MA. Pitfalls in the diagnosis of primary amyloidosis. Clin Lymphoma Myeloma Leuk 2010;10:177-80.

11.

Vrana JA, Gamez JD, Madden BJ, Theis JD, Bergen HR III, Dogan A. Classification of amyloidosis by laser microdissection and mass spectrometry-based proteomic analysis in clinical biopsy specimens. Blood 2009;114:4957-9.

12.

Bokhari S, Shahzad R, Castano A, Maurer MS. Nuclear imaging modalities for cardiac amyloidosis. J Nucl Cardiol 2014;21:175-84.

13.

Rapezzi C, Quarta CC, Guidalotti PL, Longhi S, Pettinato C, Leone O, et al. Usefulness and limitations of 99mTc-3, 3-diphosphono-1, 2-propanodicarboxylic acid scintigraphy in the aetiological diagnosis of amyloidotic cardiomyopathy. Eur J Nucl Med Mol Imaging 2011;38:470-8.

14.

Janssen S, Piers DA, van Rijswijk MH, Meijer S, Mandema E. Soft-tissue uptake of 99m-Tc-diphosphonate and 99mTc-pyrophosphate in amyloidosis. Eur J Nucl Med 1990;16:663-70.

15.

Lee S, Lee ES, Choi H, Im H, Koh Y, Lee M, et al. 11 C-Pittsburgh B PET imaging in cardiac amyloidosis. JACC: Cardiovasc Imaging 2014;8:50-9.

16.

Antoni G, Lubberink M, Estrada S, Axelsson J, Carlson K, Lindsjo L, et al. In vivo visualization of amyloid deposits in the heart with 11C-PIB and PET. J Nucl Med 2013;54:213-20.

17.

Dorbala S, Vangala D, Semer J, Strader C, Bruyere JR, Di Carli MF, et al. Imaging cardiac amyloidosis: A pilot study using 18F-florbetapir positron emission tomography. Eur J Nucl Med Mol Imaging 2014;41:1652-62.

18.

Osborne DR, Acuff SN, Stuckey A, Wall JS. A routine PET/CT protocol with simple calculations for assessing cardiac amyloid using 18F-Florbetapir. Front Cardiovasc Med 2015;2:23.

19.

Bokhari S, Castano A, Pozniakoff T, Deslisle S, Latif F, Maurer MS. 99mTc-pyrophosphate scintigraphy for differentiating light-chain cardiac amyloidosis from the transthyretin-related familial and senile cardiac amyloidoses. Circ Cardiovasc Imaging 2013;6:195-201.

20.

Bokhari S, Reehan S, Mathew MS. Radionuclide imaging in cardiac amyloidosis: Are nuclear bone tracers a foreseeable future? Curr Cardiovasc Imaging Rep 2015;8:1-7.

21.

Yamamoto Y, Onoguchi M, Haramoto M, Kodani N, Komatsu A, Kitagaki H, et al. Novel method for quantitative evaluation of cardiac amyloidosis using 201TlCl and 99mTc-PYP SPECT. Ann Nucl Med 2012;26:634-43.

22.

Wizenberg TA, Muz J, Sohn YH, Samlowski W, Weissler AM. Value of positive myocardial technetium-99m-pyrophosphate scintigraphy in the noninvasive diagnosis of cardiac amyloidosis. Am Heart J 1982;103:468-73.

23.

Gertz MA, Brown ML, Hauser MF, Kyle R. Utility of technetium Tc 99m pyrophosphate bone scanning in cardiac amyloidosis. Arch Intern Med 1987;147:1039-44.

24.

AlJaroudi WA, Desai MY, Tang WHW, Phelan D, Cerqueira MD, Jaber WA. Role of imaging in the diagnosis and management of patients with cardiac amyloidosis: State of the art review and focus on emerging nuclear techniques. J Nucl Cardiol 2014;21:271-83.

25.

Chen W, Vasken D. Molecular imaging of amyloidosis: Will the heart be the next target after the brain? Curr Cardiol Rep 2012;14:226-33.

26.

Olson HG, Lyons KP, Aronow WS, Brown WT, Greenfield RS. Follow-up technetium-99m stannous pyrophosphate myocardial scintigrams after acute myocardial infarction. Circulation 1977;56:181-7.

27.

Willerson JT, Parkey RW, Bonte FJ, Meyer SL, Atkins JM, Stokely EM. Technetium stannous pyrophosphate myocardial scintigrams in patients with chest pain of varying etiology. Circulation 1975;51:1046-52.

28.

Karp K, Naslund U, Backman C, Eriksson P. Technetium-99m pyrophosphate single-photon emission computed tomography of the heart in familial amyloid polyneuropathy. Int J Cardiol 1987;14:365-9.
Acknowledgments
The authors would like to acknowledge Ketan Bhatia and Amsala Robi. Additionally, we would like to thank all the patients who participated in the study and contributed to our efforts to improve the management and treatment of cardiac amyloidosis.
Disclosure
M.S.M.'s institution, Columbia University Medical Center, receives funding for research and serving on advisory boards and DSMBSs from Pfizer, Inc, Alnylam Pharmaceuticals Inc, ISIS Pharmaceuticals, and Prothena Inc.
About this article
Cite this article
Bokhari, S., Morgenstern, R., Weinberg, R. et al. Standardization of 99mTechnetium pyrophosphate imaging methodology to diagnose TTR cardiac amyloidosis. J. Nucl. Cardiol. 25, 181–190 (2018). https://doi.org/10.1007/s12350-016-0610-4
Received:

Accepted:

Published:

Issue Date:
Keywords
ATTR-CA

99mTc-PYP

standardized imaging protocol

non-invasive

amyloidosis

amyloid