Abstract
Background
Inflammatory infiltrations in EAT which releases inflammatory cytokines correspond anatomically to the atheromatous plaques in underlying coronary vessels. However, it is unknown whether inflammatory activity of pericoronary adipose tissue (PCAT) promotes coronary atherosclerosis.
Methods and Results
35 non-diabetic patients with confirmed CAD and 35 non-CAD controls matched for age and BMI underwent 18F-FDG-PET/CT. Maximal SUV normalized by LA blood activity was measured on the sections corresponding to the respective coronaries (RCA, LCX, LAD), as well, as in subcutaneous fat, visceral fat, and epicardial fat. Extent of CAD was determined by % stenosis in segments corresponding to 18F-FDG-PET/CT sections in coronarography using quantitative coronary analysis. PCAT SUV was significantly greater than SUV in other fat locations, as well as PCAT SUV in the controls. In CAD patients with BMI >25, PCAT SUV was positively related to % stenosis of a respective coronary artery (RCA: 0.43; P < .05; LCX 0.58; P < .05; LAD 0.65; P < .05). PCAT SUV was the only independent predictor of coronary stenosis of LAD and RCA.
Conclusions
Inflammatory activity of PCAT is greater than in other fat locations, in CAD is greater than in non-CAD controls, and is independently associated with coronary stenosis. In overweight patients, PCAT SUV correlates with the extent of CAD.
Access options
Buy single article
Instant access to the full article PDF.
US$ 39.95
Tax calculation will be finalised during checkout.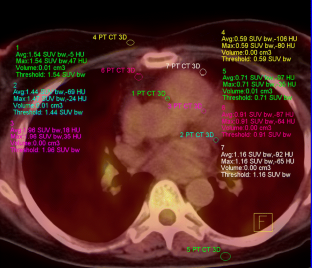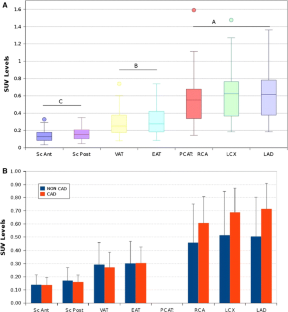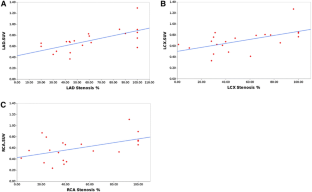 Abbreviations
18F-FDG-PET/CT:

Fludeoxyglucose F 18 uptake measured at positron emission tomography integrated with 64-detector row computed tomography

EAT:

Epicardial adipose tissue

PCAT:

Pericoronary adipose tissue

CAD:

Coronary artery disease

BMI:

Body mass index

SUV:

Standardized uptake value

LA:

Left atrium

RCA:

Right coronary artery

LCX:

Left circumflex artery

LAD:

Left anterior descending artery
References
1.

Libby P. Inflammation in atherosclerosis. Arterioscler Thromb Vasc Biol 2012;32:2045-51.

2.

Zhang L, Zalewski A, Liu Y, Mazurek T, Cowan S, Martin JL, et al. Diabetes-induced oxidative stress and low-grade inflammation in porcine coronary arteries. Circulation 2003;108:472-8.

3.

Yudkin JS, Eringa E, Stehouwer CDA. "Vasocrine" signaling from perivascular fat: A mechanism linking insulin resistance to vascular disease. Lancet 2005;365:1817-20.

4.

Fain JN, Madan AK, Hiler ML, Cheema P, Bahouth SW. Comparison of the release of adipokines by adipose tissue, adipose tissue matrix, and adipocytes from visceral and subcutaneous abdominal adipose tissues of obese humans. Endocrinology 2004;145:2273-82.

5.

Mazurek T, Zhang L, Zalewski A, Mannion JD, Diehl JT, Arafat H, et al. Human epicardial adipose tissue is a source of inflammatory mediators. Circulation 2003;108:2460-6.

6.

Gorter PM, van Lindert AS, de Vos AM, Meijs MF, van der Graaf Y, Doevendans PA, et al. Quantification of epicardial and peri-coronary fat using cardiac computed tomography; reproducibility and relation with obesity and metabolic syndrome in patients suspected of coronary artery disease. Atherosclerosis 2008;197:896-903.

7.

Iacobellis G, Willens HJ, Barbaro G, Sharma AM. Threshold values of high-risk echocardiographic epicardial fat thickness. Obesity 2008;16:887-92.

8.

Fox CS, Gona P, Hoffmann U, Porter SA, Salton CJ, Massaro JM, et al. Pericardial fat, intrathoracic fat, and measures of left ventricular structure and function. The Framingham heart study. Circulation 2009;119:1586-91.

9.

Mazurek T. Proinflammatory capacity of adipose tissue: New insights in the pathophysiology of atherosclerosis. Kardiol Pol 2009;67(10):1119-24.

10.

Mazurek T, Opolski G. Pericoronary adipose tissue: A novel therapeutic target in obesity-related coronary atherosclerosis. J Am Coll Nutr 2015;34(3):244-54.

11.

Aziz K, Berger K, Claycombe K, Huang R, Patel R, Abela GS. Noninvasive detection and localization of vulnerable plaque and arterial thrombosis with computed tomography angiography/positron emission tomography. Circulation 2008;117:2061-70.

12.

Bucerius J, Mani V, Moncrieff C, Machac J, Fuster V, Farkouh ME, et al. Optimizing (18)F-FDG PET/CT imaging of vessel wall inflammation: The impact of (18)F-FDG circulation time, injected dose, uptake parameters, and fasting blood glucose levels. Eur J Nucl Med 2014;41:369-83.

13.

Mazurek T, Kiliszek M, Kobylecka M, Kochman J, Filipiak K, Królicki L, et al. Proinflammatory activity of epicardial adipose tissue may affect the occurrence of atrial fibrillation. Am J Cardiol 2014;113:1505-8.

14.

Mazurek T, Kochman J, Kobylecka M, Wilimski R, Filipiak K, Królicki L, et al. Inflammatory activity of pericoronary adipose tissue may affect plaque composition in patients with acute coronary syndrome without persistent ST-segment elevation: Preliminary results. Kardiol Pol 2014;72:410-6.

15.

Joshi NV, Vesey AT, Williams MC, Shah AS, Calvert PA, Craighead FH, et al. 18F-fluoride positron emission tomography for identification of ruptured and high-risk coronary atherosclerotic plaques: A prospective clinical trial. Lancet 2013;S0140-6736:61754-7.

16.

Kramer CK, Zinman B, Retnakaran R. Are metabolically healthy overweight and obesity benign conditions? A systematic review and meta-analysis. Ann Intern Med 2013;159:758-69.

17.

Karastergiou K, Evans I, Ogston N, Miheisi N, Nair D, Kaski JC, et al. Epicardial adipokines in obesity and coronary artery disease induce atherogenic changes in monocytes and endothelial cells. Arterioscler Thromb Vasc Biol 2010;30:1340-6.

18.

Bigornia SJ, Farb MG, Mott MM, Hess DT, Carmine B, Fiscale A, et al. Relation of depot-specific adipose inflammation to insulin resistance in human obesity. Nutr Diabetes 2012;2:1-6.

19.

Weikert C, Westphal S, Berger K, Dierkes J, Mohling M, Spranger J, et al. Plasma resistin levels and risk of myocardial infarction and ischemic stroke. J Clin Endocrinol Metab 2008;93:2647-53.

20.

Cheng VY, Dey D, Tamarappoo B, Nakazato R, Gransar H, Miranda-Peats R, et al. Pericardial fat burden on ECG-gated noncontrast CT in asymptomatic patients who subsequently experience adverse cardiovascular events. J Am Coll Cardiol Imaging 2010;3:352-60.

21.

Chen O, Sharma A, Ahmad I, Bourji N, Nestoiter K, Hua P, et al. Correlation between pericardial, mediastinal, and intrathoracic fat volumes with the presence and severity of coronary artery disease, metabolic syndrome, and cardiac risk factors. Eur Heart J Cardiovasc Imaging 2015;16:37-46.

22.

Mahabadi AA, Lehmann N, Kälsch H, Robens T, Bauer M, Dykun I, et al. Association of epicardial adipose tissue with progression of coronary artery calcification is more pronounced in the early phase of atherosclerosis. Results from the Heinz Nixdorf Recall Study. J Am Coll Cardiol Imaging 2014;9:909-16.

23.

Tawakol A, Singh P, Rudd JHF, Soffer J, Cai G, Vucic E, et al. Effect of treatment for 12 weeks with Rilapladib, a lipoprotein-associated phospholipase A2 inhibitor, on arterial inflammation as assessed with 18F-fluorodeoxyglucose-PET imaging. J Am Coll Cardiol 2014;63:86-8.

24.

Mäki-Petäjä KM, Elkhawad M, Cheriyan J, Joshi FR, Ostor AJK, Hall FC, et al. Anti-tumor necrosis factor-α therapy reduces aortic inflammation and stiffness in patients with rheumatoid arthritis. Circulation 2012;126:2473-80.

25.

Tawakol A, Fayad ZA, Mogg R, Alon A, Klimas MT, Dansky H, et al. Intensification of statin therapy results in a rapid reduction in atherosclerotic inflammation: Results of a multi-center FDG-PET/CT feasibility study. J Am Coll Cardiol 2013;62:909-17.

26.

Elkhawad M, Rudd JH, Sarov-Blat L, Cai G, Wells R, Davies LC, et al. Effects of p38 mitogen-activated protein kinase inhibition on vascular and systemic inflammation in patients with atherosclerosis. J Am Coll Cardiol Imaging 2012;5:911-22.
Acknowledgments
This study was supported by an unrestricted grant from the Polish Ministry of Science and Higher Education (No. N402 383538).
Disclosure
All authors declare that they have no conflict of interest.
Research Involving Animal and Human Rights
All procedures performed in studies involving human participants were in accordance with the ethical standards of the institutional and/or national research committee and with the 1964 Helsinki declaration and its later amendments or comparable ethical standards. This article does not contain any studies with animals performed by any of the authors.
Informed Consent
Informed consent was obtained from all individual participants included in the study.
About this article
Cite this article
Mazurek, T., Kobylecka, M., Zielenkiewicz, M. et al. PET/CT evaluation of 18F-FDG uptake in pericoronary adipose tissue in patients with stable coronary artery disease: Independent predictor of atherosclerotic lesions' formation?. J. Nucl. Cardiol. 24, 1075–1084 (2017). https://doi.org/10.1007/s12350-015-0370-6
Received:

Accepted:

Published:

Issue Date:
Keywords
FDG-PET/CT

adipose tissue

atherosclerosis

stable coronary artery disease