Prognosis in the era of comparative effectiveness research: Where is nuclear cardiology now and where should it be?
Major Achievements in Nuclear Cardiology
Introduction
Since our last review of the prognostic accuracy of stress myocardial perfusion SPECT,
1
numerous advances in the field have promulgated tremendous (and oft characterized as excessive) growth in the utilization of nuclear cardiology services over the past few decades.
2
-
4
The overall procedural utilization for stress myocardial perfusion imaging (MPI) reached its height in ~2008 with over 10 million procedures performed and Medicare expenditures in excess of $1 billion.
3
Although many have focused culpability for growth on high reimbursement levels, the published evidence base also figured prominently in supporting healthcare coverage decisions and promoting utilization. Figure
1
plots the relationship between publications on nuclear cardiology and Medicare payments to physicians for stress MPI.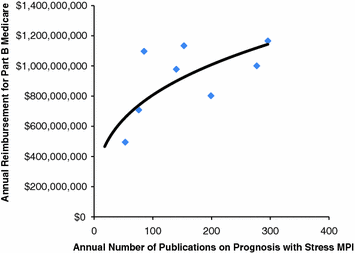 Keywords
Myocardial Perfusion Imaging 
Nuclear Cardiology 
Coronary Compute Tomographic Angiography 
Regadenoson 
Stress Myocardial Perfusion Imaging 
These keywords were added by machine and not by the authors. This process is experimental and the keywords may be updated as the learning algorithm improves.
References
1.

2.

Levin DC, Intenzo CM, Rao VM, Frangos AJ, Parker L, Sunshine JH. Comparison of recent utilization trends in radionuclide myocardial perfusion imaging among radiologists and cardiologists. J Am Coll Radiol 2005;2:821-4.

PubMed

CrossRef

Google Scholar

3.

Shaw LJ, Marwick TH, Zoghbi WA, Hundley WG, Kramer CM, Achenbach S, et al. Why all the focus on cardiac imaging? JACC Cardiovasc Imaging 2010;3:789-94.

PubMed

CrossRef

Google Scholar

4.

Shaw LJ, Min JK, Hachamovitch R, Peterson ED, Hendel RC, Woodard PK, et al. Cardiovascular imaging research at the crossroads. JACC Cardiovasc Imaging 2010;3:316-24.

PubMed

CrossRef

Google Scholar

5.

Shaw LJ, Berman DS, Maron DJ, Mancini GB, Hayes SW, Hartigan PM, et al. Optimal medical therapy with or without percutaneous coronary intervention to reduce ischemic burden: Results from the clinical outcomes utilizing revascularization and aggressive drug evaluation (COURAGE) trial nuclear substudy. Circulation 2008;117:1283-91.

PubMed

CrossRef

Google Scholar

6.

7.

Levin DC, Rao VM, Parker L, Frangos AJ, Sunshine JH. Recent trends in utilization of cardiovascular imaging: How important are they for radiology? J Am Coll Radiol 2005;2:736-9.

PubMed

CrossRef

Google Scholar

8.

Levin DC, Rao VM, Parker L, Frangos AJ, Sunshine JH. Recent shifts in place of service for noninvasive diagnostic imaging: Have hospitals missed an opportunity? J Am Coll Radiol 2009;6:96-9.

PubMed

CrossRef

Google Scholar

9.

10.

11.

12.

Grady D, Redberg RF. Less is more: How less health care can result in better health. Arch Intern Med 2010;170:749-50.

PubMed

CrossRef

Google Scholar

13.

Hendel RC, Patel MR, Kramer CM, Poon M, Carr JC, Gerstad NA, et al. ACCF/ACR/SCCT/SCMR/ASNC/NASCI/SCAI/SIR 2006 appropriateness criteria for cardiac computed tomography and cardiac magnetic resonance imaging: A report of the American College of Cardiology Foundation Quality Strategic Directions Committee Appropriateness Criteria Working Group, American College of Radiology, Society of Cardiovascular Computed Tomography, Society for Cardiovascular Magnetic Resonance, American Society of Nuclear Cardiology, North American Society for Cardiac Imaging, Society for Cardiovascular Angiography and Interventions, and Society of Interventional Radiology. J Am Coll Cardiol 2006;48:1475-97.

PubMed

CrossRef

Google Scholar

14.

Hendel RC, Berman DS, Di Carli MF, Heidenreich PA, Henkin RE, Pellikka PA, et al. ACCF/ASNC/ACR/AHA/ASE/SCCT/SCMR/SNM 2009 appropriate use criteria for cardiac radionuclide imaging: A report of the American College of Cardiology Foundation Appropriate Use Criteria Task Force, The American Society of Nuclear Cardiology, The American College of Radiology, The American Heart Association, The American Society of Echocardiography, The Society of Cardiovascular Computed Tomography, The Society for Cardiovascular Magnetic Resonance, and the Society of Nuclear Medicine. J Am Coll Cardiol 2009;53:2201-29.

PubMed

CrossRef

Google Scholar

15.

Nandalur KR, Dwamena BA, Choudhri AF, Nandalur SR, Reddy P, Carlos RC. Diagnostic performance of positron emission tomography in the detection of coronary artery disease: A meta-analysis. Acad Radiol 2008;15:444-51.

PubMed

CrossRef

Google Scholar

16.

Underwood SR, Anagnostopoulos C, Cerqueira M, Ell PJ, Flint EJ, Harbinson M, et al. Myocardial perfusion scintigraphy: The evidence. Eur J Nucl Med Mol Imaging 2004;31:261-91.

PubMed

CrossRef

Google Scholar

17.

Hamon M, Fau G, Nee G, Ehtisham J, Morello R. Meta-analysis of the diagnostic performance of stress perfusion cardiovascular magnetic resonance for detection of coronary artery disease. J Cardiovasc Magn Reson 2010;12:29.

PubMed

CrossRef

Google Scholar

18.

Bettencourt N, Rocha J, Ferreira N, Pires-Morais G, Carvalho M, Leite D, et al. Incremental value of an integrated adenosine stress-rest MDCT perfusion protocol for detection of obstructive coronary artery disease. J Cardiovasc Comput Tomogr 2011;5:392-405.

PubMed

CrossRef

Google Scholar

19.

Feuchtner G, Goetti R, Plass A, Wieser M, Scheffel H, Wyss C, et al. Adenosine stress high-pitch 128-slice dual-source myocardial computed tomography perfusion for imaging of reversible myocardial ischemia: Comparison with magnetic resonance imaging. Circ Cardiovasc Imaging 2011;4:540-9.

PubMed

CrossRef

Google Scholar

20.

Cury RC, Magalhaes TA, Borges AC, Shiozaki AA, Lemos PA, Junior JS, et al. Dipyridamole stress and rest myocardial perfusion by 64-detector row computed tomography in patients with suspected coronary artery disease. Am J Cardiol 2010;106:310-5.

PubMed

CrossRef

Google Scholar

21.

Rocha-Filho JA, Blankstein R, Shturman LD, Bezerra HG, Okada DR, Rogers IS, et al. Incremental value of adenosine-induced stress myocardial perfusion imaging with dual-source CT at cardiac CT angiography. Radiology 2010;254:410-9.

PubMed

CrossRef

Google Scholar

22.

Blankstein R, Shturman LD, Rogers IS, Rocha-Filho JA, Okada DR, Sarwar A, et al. Adenosine-induced stress myocardial perfusion imaging using dual-source cardiac computed tomography. J Am Coll Cardiol 2009;54:1072-84.

PubMed

CrossRef

Google Scholar

23.

Dorbala S, Beller GA, Shaw LJ, Udelson JE, Iskandrian AE. Advancing the research mission of ASNC. J Nucl Cardiol 2011;18:534-5.

PubMed

CrossRef

Google Scholar

24.

Bourque JM, Beller GA. Stress myocardial perfusion imaging for assessing prognosis: An update. JACC Cardiovasc Imaging 2011;4:1305-19.

PubMed

CrossRef

Google Scholar

25.

Berman DS, Shaw LJ, Min JK, Hachamovitch R, Abidov A, Germano G, et al. SPECT/PET myocardial perfusion imaging versus coronary CT angiography in patients with known or suspected cad. Q J Nucl Med Mol Imaging 2010;54:177-200.

PubMed

Google Scholar

26.

Naya M, Di Carli MF. Myocardial perfusion PET/CT to evaluate known and suspected coronary artery disease. Q J Nucl Med Mol Imaging 2010;54:145-56.

PubMed

Google Scholar

27.

Mudrick DW, Velazquez E, Borges-Neto S. Does myocardial perfusion imaging provide incremental prognostic information to left ventricular ejection fraction? Curr Cardiol Rep 2010;12:155-61.

PubMed

CrossRef

Google Scholar

28.

Hatta T, Nishimura S, Nishimura T. Prognostic risk stratification of myocardial ischaemia evaluated by gated myocardial perfusion SPECT in patients with chronic kidney disease. Eur J Nucl Med Mol Imaging 2009;36:1835-41.

PubMed

CrossRef

Google Scholar

29.

Momose M, Nakajima K, Nishimura T. Prognostic significance of stress myocardial gated SPECT among Japanese patients referred for coronary angiography: A study of data from the j-access database. Eur J Nucl Med Mol Imaging 2009;36:1329-37.

PubMed

CrossRef

Google Scholar

30.

Hakeem A, Bhatti S, Dillie KS, Cook JR, Samad Z, Roth-Cline MD, et al. Predictive value of myocardial perfusion single-photon emission computed tomography and the impact of renal function on cardiac death. Circulation 2008;118:2540-9.

PubMed

CrossRef

Google Scholar

31.

Okuyama C, Nakajima K, Hatta T, Nishimura S, Kusuoka H, Yamashina A, et al. Incremental prognostic value of myocardial perfusion single photon emission computed tomography for patients with diabetes and chronic kidney disease. Nucl Med Commun 2011;32:913-9.

PubMed

CrossRef

Google Scholar

32.

Al-Mallah MH, Hachamovitch R, Dorbala S, Di Carli MF. Incremental prognostic value of myocardial perfusion imaging in patients referred to stress single-photon emission computed tomography with renal dysfunction. Circ Cardiovasc Imaging 2009;2:429-36.

PubMed

CrossRef

Google Scholar

33.

Nakata T, Hashimoto A, Wakabayashi T, Kusuoka H, Nishimura T. Prediction of new-onset refractory congestive heart failure using gated myocardial perfusion SPECT imaging in patients with known or suspected coronary artery disease subanalysis of the j-access database. JACC Cardiovasc Imaging 2009;2:1393-400.

PubMed

CrossRef

Google Scholar

34.

Hachamovitch R, Kang X, Amanullah AM, Abidov A, Hayes SW, Friedman JD, et al. Prognostic implications of myocardial perfusion single-photon emission computed tomography in the elderly. Circulation 2009;120:2197-206.

PubMed

CrossRef

Google Scholar

35.

Kang X, Shaw LJ, Hayes SW, Hachamovitch R, Abidov A, Cohen I, et al. Impact of body mass index on cardiac mortality in patients with known or suspected coronary artery disease undergoing myocardial perfusion single-photon emission computed tomography. J Am Coll Cardiol 2006;47:1418-26.

PubMed

CrossRef

Google Scholar

36.

Duvall WL, Croft LB, Corriel JS, Einstein AJ, Fisher JE, Haynes PS, et al. SPECT myocardial perfusion imaging in morbidly obese patients: Image quality, hemodynamic response to pharmacologic stress, and diagnostic and prognostic value. J Nucl Cardiol 2006;13:202-9.

PubMed

Google Scholar

37.

Elhendy A, Schinkel AF, van Domburg RT, Bax JJ, Valkema R, Biagini E, et al. Prognostic stratification of obese patients by stress 99mtc-tetrofosmin myocardial perfusion imaging. J Nucl Med: Off Publ Soc Nucl Med 2006;47:1302-6.

Google Scholar

38.

Barmpouletos D, Stavens G, Ahlberg AW, Katten DM, O'Sullivan DM, Heller GV. Duration and type of therapy for diabetes: Impact on cardiac risk stratification with stress electrocardiographic-gated SPECT myocardial perfusion imaging. J Nucl Cardiol 2010;17:1041-9.

PubMed

CrossRef

Google Scholar

39.

Shaw LJ, Berman DS, Hendel RC, Alazraki N, Krawczynska E, Borges-Neto S, et al. Cardiovascular disease risk stratification with stress single-photon emission computed tomography technetium-99m tetrofosmin imaging in patients with the metabolic syndrome and diabetes mellitus. Am J Cardiol 2006;97:1538-44.

PubMed

CrossRef

Google Scholar

40.

Matsuo S, Nakajima K, Yamasaki Y, Kashiwagi A, Nishimura T. Prognostic value of normal stress myocardial perfusion imaging and ventricular function in Japanese asymptomatic patients with type 2 diabetes—a study based on the j-access-2 database. Circ J 2010;74:1916-21.

PubMed

CrossRef

Google Scholar

41.

Young LH, Wackers FJ, Chyun DA, Davey JA, Barrett EJ, Taillefer R, et al. Cardiac outcomes after screening for asymptomatic coronary artery disease in patients with type 2 diabetes: The diad study: A randomized controlled trial. JAMA 2009;301:1547-55.

PubMed

CrossRef

Google Scholar

42.

Berman DS, Kang X, Hayes SW, Friedman JD, Cohen I, Abidov A, et al. Adenosine myocardial perfusion single-photon emission computed tomography in women compared with men. Impact of diabetes mellitus on incremental prognostic value and effect on patient management. J Am Coll Cardiol 2003;41:1125-33.

PubMed

CrossRef

Google Scholar

43.

Hachamovitch R, Berman DS, Kiat H, Cohen I, Friedman JD, Shaw LJ. Value of stress myocardial perfusion single photon emission computed tomography in patients with normal resting electrocardiograms: An evaluation of incremental prognostic value and cost-effectiveness. Circulation 2002;105:823-9.

PubMed

CrossRef

Google Scholar

44.

Hachamovitch R, Hayes S, Friedman JD, Cohen I, Shaw LJ, Germano G, et al. Determinants of risk and its temporal variation in patients with normal stress myocardial perfusion scans: What is the warranty period of a normal scan? J Am Coll Cardiol 2003;41:1329-40.

PubMed

CrossRef

Google Scholar

45.

Shaw LJ, Hachamovitch R, Heller GV, Marwick TH, Travin MI, Iskandrian AE, et al. Noninvasive strategies for the estimation of cardiac risk in stable chest pain patients. The economics of noninvasive diagnosis (end) study group. Am J Cardiol 2000;86:1-7.

PubMed

CrossRef

Google Scholar

46.

Hachamovitch R, Berman DS, Shaw LJ, Kiat H, Cohen I, Cabico JA, et al. Incremental prognostic value of myocardial perfusion single photon emission computed tomography for the prediction of cardiac death: Differential stratification for risk of cardiac death and myocardial infarction. Circulation 1998;97:535-43.

PubMed

CrossRef

Google Scholar

47.

Machecourt J, Longere P, Fagret D, Vanzetto G, Wolf JE, Polidori C, et al. Prognostic value of thallium-201 single-photon emission computed tomographic myocardial perfusion imaging according to extent of myocardial defect. Study in 1,926 patients with follow-up at 33 months. J Am Coll Cardiol 1994;23:1096-106.

PubMed

CrossRef

Google Scholar

48.

Raziei G, Tavakoli A, Seifollahi Asl S, Amoiei M, Javadi H, Assadi M. One-year prognosis of patients with normal myocardial perfusion imaging using technitium-99m sestamibi in suspected coronary artery disease: A single-center experience of 1,047 patients. Perfusion 2011;26:309-14.

PubMed

CrossRef

Google Scholar

49.

Rozanski A, Gransar H, Hayes SW, Friedman JD, Hachamovitch R, Berman DS. Comparison of long-term mortality risk following normal exercise vs adenosine myocardial perfusion SPECT. J Nucl Cardiol 2010;17:999-1008.

PubMed

CrossRef

Google Scholar

50.

Shaw LJ, Hendel RC, Cerquiera M, Mieres JH, Alazraki N, Krawczynska E, et al. Ethnic differences in the prognostic value of stress technetium-99m tetrofosmin gated single-photon emission computed tomography myocardial perfusion imaging. J Am Coll Cardiol 2005;45:1494-504.

PubMed

CrossRef

Google Scholar

51.

Shaw LJ, Hendel RC, Heller GV, Borges-Neto S, Cerqueira M, Berman DS. Prognostic estimation of coronary artery disease risk with resting perfusion abnormalities and stress ischemia on myocardial perfusion SPECT. J Nucl Cardiol 2008;15:762-73.

PubMed

Google Scholar

52.

Johnson NP, Schimmel DR Jr, Dyer SP, Leonard SM, Holly TA. Survival by stress modality in patients with a normal myocardial perfusion study. Am J Cardiol 2011;107:986-9.

PubMed

CrossRef

Google Scholar

53.

Navare SM, Mather JF, Shaw LJ, Fowler MS, Heller GV. Comparison of risk stratification with pharmacologic and exercise stress myocardial perfusion imaging: A meta-analysis. J Nucl Cardiol 2004;11:551-61.

PubMed

CrossRef

Google Scholar

54.

Shaw LJ, Bugiardini R, Merz CN. Women and ischemic heart disease: Evolving knowledge. J Am Coll Cardiol 2009;54:1561-75.

PubMed

CrossRef

Google Scholar

55.

Gibbons RJ, Abrams J, Chatterjee K, Daley J, Deedwania PC, Douglas JS, et al. ACC/AHA 2002 guideline update for the management of patients with chronic stable angina—summary article: A report of the American College of Cardiology/American Heart Association Task Force on Practice Guidelines (committee on the management of patients with chronic stable angina). J Am Coll Cardiol 2003;41:159-68.

PubMed

CrossRef

Google Scholar

56.

Sharir T, Germano G, Kavanagh PB, Lai S, Cohen I, Lewin HC, et al. Incremental prognostic value of post-stress left ventricular ejection fraction and volume by gated myocardial perfusion single photon emission computed tomography. Circulation 1999;100:1035-42.

PubMed

CrossRef

Google Scholar

57.

Navare SM, Katten D, Johnson LL, Mather JF, Fowler MS, Ahlberg AW, et al. Risk stratification with electrocardiographic-gated dobutamine stress technetium-99m sestamibi single-photon emission tomographic imaging: Value of heart rate response and assessment of left ventricular function. J Am Coll Cardiol 2006;47:781-8.

PubMed

CrossRef

Google Scholar

58.

Schenker MP, Dorbala S, Hong EC, Rybicki FJ, Hachamovitch R, Kwong RY, et al. Interrelation of coronary calcification, myocardial ischemia, and outcomes in patients with intermediate likelihood of coronary artery disease: A combined positron emission tomography/computed tomography study. Circulation 2008;117:1693-700.

PubMed

CrossRef

Google Scholar

59.

Klocke FJ, Baird MG, Lorell BH, Bateman TM, Messer JV, Berman DS, et al. ACC/AHA/ASNC guidelines for the clinical use of cardiac radionuclide imaging—executive summary: A report of the American College Of Cardiology/American Heart Association Task Force on Practice Guidelines (ACC/AHA/ASNC committee to revise the 1995 guidelines for the clinical use of cardiac radionuclide imaging). J Am Coll Cardiol 2003;42:1318-33.

PubMed

CrossRef

Google Scholar

60.

Bourque JM, Charlton GT, Holland BH, Belyea CM, Watson DD, Beller GA. Prognosis in patients achieving >/=10 mets on exercise stress testing: Was SPECT imaging useful? J Nucl Cardiol 2011;18:230-7.

PubMed

CrossRef

Google Scholar

61.

Depuey EG, Mahmarian JJ, Miller TD, Einstein AJ, Hansen CL, Holly TA, et al. Patient-centered imaging. J Nucl Cardiol 2012;19:185-215.

PubMed

CrossRef

Google Scholar

62.

Einstein AJ. Effects of radiation exposure from cardiac imaging: How good are the data? J Am Coll Cardiol 2012;59:553-65.

PubMed

CrossRef

Google Scholar

63.

64.

Fazel R, Dilsizian V, Einstein AJ, Ficaro EP, Henzlova M, Shaw LJ. Strategies for defining an optimal risk-benefit ratio for stress myocardial perfusion SPECT. J Nucl Cardiol 2011;18:385-92.

PubMed

CrossRef

Google Scholar

65.

Chen J, Einstein AJ, Fazel R, Krumholz HM, Wang Y, Ross JS, et al. Cumulative exposure to ionizing radiation from diagnostic and therapeutic cardiac imaging procedures: A population-based analysis. J Am Coll Cardiol 2010;56:702-11.

PubMed

CrossRef

Google Scholar

66.

Einstein AJ, Sanz J, Dellegrottaglie S, Milite M, Sirol M, Henzlova M, et al. Radiation dose and cancer risk estimates in 16-slice computed tomography coronary angiography. J Nucl Cardiol 2008;15:232-40.

PubMed

CrossRef

Google Scholar

67.

Chang SM, Nabi F, Xu J, Raza U, Mahmarian JJ. Normal stress-only versus standard stress/rest myocardial perfusion imaging: Similar patient mortality with reduced radiation exposure. J Am Coll Cardiol 2010;55:221-30.

PubMed

CrossRef

Google Scholar

68.

Duvall WL, Wijetunga MN, Klein TM, Razzouk L, Godbold J, Croft LB, et al. The prognosis of a normal stress-only tc-99m myocardial perfusion imaging study. J Nucl Cardiol 2010;17:370-7.

PubMed

CrossRef

Google Scholar

69.

Gibson PB, Demus D, Noto R, Hudson W, Johnson LL. Low event rate for stress-only perfusion imaging in patients evaluated for chest pain. J Am Coll Cardiol 2002;39:999-1004.

PubMed

CrossRef

Google Scholar

70.

Pazhenkottil AP, Ghadri JR, Nkoulou RN, Wolfrum M, Buechel RR, Kuest SM, et al. Improved outcome prediction by SPECT myocardial perfusion imaging after CT attenuation correction. J Nucl Med: Off Publ Soc Nucl Med 2011;52:196-200.

Google Scholar

71.

Duvall WL, Croft LB, Ginsberg ES, Einstein AJ, Guma KA, George T, et al. Reduced isotope dose and imaging time with a high-efficiency CZT SPECT camera. J Nucl Cardiol 2011;18:847-57.

PubMed

CrossRef

Google Scholar

72.

Gimelli A, Rossi G, Landi P, Marzullo P, Iervasi G, L'Abbate A, et al. Stress/rest myocardial perfusion abnormalities by gated SPECT: Still the best predictor of cardiac events in stable ischemic heart disease. J Nucl Med: Off Publ Soc Nucl Med 2009;50:546-53.

Google Scholar

73.

Berman DS, Hachamovitch R, Kiat H, Cohen I, Cabico JA, Wang FP, et al. Incremental value of prognostic testing in patients with known or suspected ischemic heart disease: A basis for optimal utilization of exercise technetium-99m sestamibi myocardial perfusion single-photon emission computed tomography. J Am Coll Cardiol 1995;26:639-47.

PubMed

CrossRef

Google Scholar

74.

Berman DS, Wong ND, Gransar H, Miranda-Peats R, Dahlbeck J, Hayes SW, et al. Relationship between stress-induced myocardial ischemia and atherosclerosis measured by coronary calcium tomography. J Am Coll Cardiol 2004;44:923-30.

PubMed

CrossRef

Google Scholar

75.

Hachamovitch R, Berman DS, Kiat H, Cohen I, Lewin H, Amanullah A, et al. Incremental prognostic value of adenosine stress myocardial perfusion single-photon emission computed tomography and impact on subsequent management in patients with or suspected of having myocardial ischemia. Am J Cardiol 1997;80:426-33.

PubMed

CrossRef

Google Scholar

76.

Hachamovitch R, Berman DS, Morise AP, Diamond GA. Statistical, epidemiological and fiscal issues in the evaluation of patients with coronary artery disease. Q J Nucl Med 1996;40:35-46.

PubMed

Google Scholar

77.

Hachamovitch R, Hayes SW, Friedman JD, Cohen I, Berman DS. Comparison of the short-term survival benefit associated with revascularization compared with medical therapy in patients with no prior coronary artery disease undergoing stress myocardial perfusion single photon emission computed tomography. Circulation 2003;107:2900-7.

PubMed

CrossRef

Google Scholar

78.

Knuuti J, Saraste A. Advances in clinical application of quantitative myocardial perfusion imaging. J Nucl Cardiol 2012. doi:

 

10.1007/s12350-012-9530-0

.

79.

Slomka PJ, Nishina H, Berman DS, Akincioglu C, Abidov A, Friedman JD, et al. Automated quantification of myocardial perfusion SPECT using simplified normal limits. J Nucl Cardiol 2005;12:66-77.

PubMed

CrossRef

Google Scholar

80.

Wolak A, Slomka PJ, Fish MB, Lorenzo S, Berman DS, Germano G. Quantitative diagnostic performance of myocardial perfusion SPECT with attenuation correction in women. J Nucl Med: Off Publ Soc Nucl Med 2008;49:915-22.

Google Scholar

81.

Wolak A, Slomka PJ, Fish MB, Lorenzo S, Acampa W, Berman DS, et al. Quantitative myocardial-perfusion SPECT: Comparison of three state-of-the-art software packages. J Nucl Cardiol 2008;15:27-34.

PubMed

CrossRef

Google Scholar

82.

Mahmarian JJ, Dakik HA, Filipchuk NG, Shaw LJ, Iskander SS, Ruddy TD, et al. An initial strategy of intensive medical therapy is comparable to that of coronary revascularization for suppression of scintigraphic ischemia in high-risk but stable survivors of acute myocardial infarction. J Am Coll Cardiol 2006;48:2458-67.

PubMed

CrossRef

Google Scholar

83.

Mahmarian JJ, Shaw LJ, Filipchuk NG, Dakik HA, Iskander SS, Ruddy TD, et al. A multinational study to establish the value of early adenosine technetium-99m sestamibi myocardial perfusion imaging in identifying a low-risk group for early hospital discharge after acute myocardial infarction. J Am Coll Cardiol 2006;48:2448-57.

PubMed

CrossRef

Google Scholar

84.

Momose M, Babazono T, Kondo C, Kobayashi H, Nakajima T, Kusakabe K. Prognostic significance of stress myocardial ECG-gated perfusion imaging in asymptomatic patients with diabetic chronic kidney disease on initiation of haemodialysis. Eur J Nucl Med Mol Imaging 2009;36:1315-21.

PubMed

CrossRef

Google Scholar

85.

Rajagopal V, Gurm HS, Brunken RC, Pothier CE, Bhatt DL, Lauer MS. Prediction of death or myocardial infarction by exercise single photon emission computed tomography perfusion scintigraphy in patients who have had recent coronary artery stenting. Am Heart J 2005;149:534-40.

PubMed

CrossRef

Google Scholar

86.

Hachamovitch R, Rozanski A, Hayes SW, Thomson LE, Germano G, Friedman JD, et al. Predicting therapeutic benefit from myocardial revascularization procedures: Are measurements of both resting left ventricular ejection fraction and stress-induced myocardial ischemia necessary? J Nucl Cardiol 2006;13:768-78.

PubMed

CrossRef

Google Scholar

87.

De Lorenzo A, Hachamovitch R, Kang X, Gransar H, Sciammarella MG, Hayes SW, et al. Prognostic value of myocardial perfusion SPECT versus exercise electrocardiography in patients with ST-segment depression on resting electrocardiography. J Nucl Cardiol 2005;12:655-61.

PubMed

CrossRef

Google Scholar

88.

Hachamovitch R, Hayes SW, Friedman JD, Cohen I, Berman DS. A prognostic score for prediction of cardiac mortality risk after adenosine stress myocardial perfusion scintigraphy. J Am Coll Cardiol 2005;45:722-9.

PubMed

CrossRef

Google Scholar

89.

Shaw LJ, Min JK, Hachamovitch R, Hendel RC, Borges-Neto S, Berman DS. Nomograms for estimating coronary artery disease prognosis with gated stress myocardial perfusion SPECT. J Nucl Cardiol 2012;19:43-52.

PubMed

CrossRef

Google Scholar

90.

Lee DS, Verocai F, Husain M, Al Khdair D, Wang X, Freeman M, et al. Cardiovascular outcomes are predicted by exercise-stress myocardial perfusion imaging: Impact on death, myocardial infarction, and coronary revascularization procedures. Am Heart J 2011;161:900-7.

PubMed

CrossRef

Google Scholar

91.

Boden WE, O'Rourke RA, Teo KK, Hartigan PM, Maron DJ, Kostuk WJ, et al. Optimal medical therapy with or without PCI for stable coronary disease. New Engl J Med 2007;356:1503-16.

PubMed

CrossRef

Google Scholar

92.

Frye RL, August P, Brooks MM, Hardison RM, Kelsey SF, MacGregor JM, et al. A randomized trial of therapies for type 2 diabetes and coronary artery disease. New Engl J Med 2009;360:2503-15.

PubMed

CrossRef

Google Scholar

93.

Moroi M, Yamashina A, Tsukamoto K, Nishimura T. Coronary revascularization does not decrease cardiac events in patients with stable ischemic heart disease but might do in those who showed moderate to severe ischemia. Int J Cardiol 2012;158(2):246–52.

Google Scholar

94.

Shaw LJ, Hachamovitch R, Eisenstein EL, Kesler KL, Heller GV, Miller DD. A primer of biostatistic and economic methods for diagnostic and prognostic modeling in nuclear cardiology: Part I. J Nucl Cardiol 1996;3:538-45.

PubMed

CrossRef

Google Scholar

95.

Shaw LJ, Eisenstein EL, Hachamovitch R, Heller GV, Miller DD. A primer of biostatistic and economic methods for diagnostic and prognostic modeling in nuclear cardiology: Part II. J Nucl Cardiol 1997;4:52-60.

PubMed

CrossRef

Google Scholar

96.

Amanullah AM, Berman DS, Erel J, Kiat H, Cohen I, Germano G, et al. Incremental prognostic value of adenosine myocardial perfusion single-photon emission computed tomography in women with suspected coronary artery disease. Am J Cardiol 1998;82:725-30.

PubMed

CrossRef

Google Scholar

97.

Kang X, Berman DS, Lewin HC, Cohen I, Friedman JD, Germano G, et al. Incremental prognostic value of myocardial perfusion single photon emission computed tomography in patients with diabetes mellitus. Am Heart J 1999;138:1025-32.

PubMed

CrossRef

Google Scholar

98.

Hachamovitch R, Shufelt C. Statistical analysis of medical data. Part I: Univariable analysis. J Nucl Cardiol 2000;7:146-52.

PubMed

CrossRef

Google Scholar

99.

Di Carli MF, Hachamovitch R, Berman DS. The art and science of predicting postrevascularization improvement in left ventricular (LV) function in patients with severely depressed LV function. J Am Coll Cardiol 2002;40:1744-7.

PubMed

CrossRef

Google Scholar

100.

Azarbal B, Hayes SW, Lewin HC, Hachamovitch R, Cohen I, Berman DS. The incremental prognostic value of percentage of heart rate reserve achieved over myocardial perfusion single-photon emission computed tomography in the prediction of cardiac death and all-cause mortality: Superiority over 85% of maximal age-predicted heart rate. J Am Coll Cardiol 2004;44:423-30.

PubMed

CrossRef

Google Scholar

101.

Lertsburapa K, Ahlberg AW, Bateman TM, Katten D, Volker L, Cullom SJ, et al. Independent and incremental prognostic value of left ventricular ejection fraction determined by stress gated rubidium 82 PET imaging in patients with known or suspected coronary artery disease. J Nucl Cardiol 2008;15:745-53.

PubMed

Google Scholar

102.

Pencina MJ, D'Agostino RB Sr, Demler OV. Novel metrics for evaluating improvement in discrimination: Net reclassification and integrated discrimination improvement for normal variables and nested models. Stat Med 2012;31:101-13.

PubMed

CrossRef

Google Scholar

103.

Pencina MJ, D'Agostino RB Sr, D'Agostino RB Jr, Vasan RS. Evaluating the added predictive ability of a new marker: From area under the roc curve to reclassification and beyond. Stat Med 2008;27:157-72. (discussion 207-112).

PubMed

CrossRef

Google Scholar

104.

Pencina MJ, D'Agostino RB Sr, Steyerberg EW. Extensions of net reclassification improvement calculations to measure usefulness of new biomarkers. Stat Med 2011;30:11-21.

PubMed

CrossRef

Google Scholar

105.

Shaw LJ, Wilson PW, Hachamovitch R, Hendel RC, Borges-Neto S, Berman DS. Improved near-term coronary artery disease risk classification with gated stress myocardial perfusion SPECT. JACC Cardiovasc Imaging 2010;3:1139-48.

PubMed

CrossRef

Google Scholar

106.

Shaw LJ, Hachamovitch R, Min J, Berman DS. Importance of residual myocardial ischemia after intervention in the genesis of cardiovascular events among patients with chronic coronary artery disease. Curr Cardiol Rep 2011;13:280-6.

PubMed

CrossRef

Google Scholar

107.

Carryer DJ, Askew JW, Hodge DO, Miller TD, Gibbons RJ. The timing and impact of follow-up studies after normal stress single-photon emission computed tomography sestamibi studies. Circ Cardiovasc Imaging 2010;3:520-6.

PubMed

CrossRef

Google Scholar

108.

Hage FG, Iskandrian AE. Heart rate response during vasodilator stress myocardial perfusion imaging: Mechanisms and implications. J Nucl Cardiol 2010;17:536-9.

PubMed

CrossRef

Google Scholar

109.

Hage FG, Dean P, Bhatia V, Iqbal F, Heo J, Iskandrian AE. The prognostic value of the heart rate response to adenosine in relation to diabetes mellitus and chronic kidney disease. Am Heart J 2011;162:356-62.

PubMed

CrossRef

Google Scholar

110.

Mathur S, Shah AR, Ahlberg AW, Katten DM, Heller GV. Blunted heart rate response as a predictor of cardiac death in patients undergoing vasodilator stress technetium-99m sestamibi gated SPECT myocardial perfusion imaging. J Nucl Cardiol 2010;17:617-24.

PubMed

CrossRef

Google Scholar

111.

Hage FG, Dean P, Iqbal F, Heo J, Iskandrian AE. A blunted heart rate response to regadenoson is an independent prognostic indicator in patients undergoing myocardial perfusion imaging. J Nucl Cardiol 2011;18(6):1086–94.

Google Scholar

112.

Iqbal F, Al Jaroudi W, Mallela R, Heo J, Iskandrian AE, Hage FG. Net reclassification improvement of cardiovascular risk in patients with normal myocardial perfusion imaging using heart rate response to vasodilator stress. J Am Coll Cardiol 2012;59:1106-352. A1324.

CrossRef

Google Scholar

113.

Sarwar A, Shaw LJ, Shapiro MD, Blankstein R, Hoffmann U, Cury RC, et al. Diagnostic and prognostic value of absence of coronary artery calcification. JACC Cardiovasc Imaging 2009;2:675-88.

PubMed

CrossRef

Google Scholar

114.

Blaha M, Budoff MJ, Shaw LJ, Khosa F, Rumberger JA, Berman D, et al. Absence of coronary artery calcification and all-cause mortality. JACC Cardiovasc Imaging 2009;2:692-700.

PubMed

CrossRef

Google Scholar

115.

Greenland P, Alpert JS, Beller GA, Benjamin EJ, Budoff MJ, Fayad ZA, et al. 2010 ACCF/AHA guideline for assessment of cardiovascular risk in asymptomatic adults: A report of the American College of Cardiology Foundation/American Heart Association Task Force on Practice Guidelines. J Am Coll Cardiol 2010;56:e50-103.

PubMed

CrossRef

Google Scholar

116.

Pazhenkottil AP, Nkoulou RN, Ghadri JR, Herzog BA, Buechel RR, Kuest SM, et al. Prognostic value of cardiac hybrid imaging integrating single-photon emission computed tomography with coronary computed tomography angiography. Eur Heart J 2011;32:1465-71.

PubMed

CrossRef

Google Scholar

117.

Pazhenkottil AP, Nkoulou RN, Ghadri JR, Herzog BA, Kuest SM, Husmann L, et al. Impact of cardiac hybrid single-photon emission computed tomography/computed tomography imaging on choice of treatment strategy in coronary artery disease. Eur Heart J 2011;32:2824-9.

PubMed

CrossRef

Google Scholar

118.

119.

Bybee KA, Lee J, Markiewicz R, Longmore R, McGhie AI, O'Keefe JH, et al. Diagnostic and clinical benefit of combined coronary calcium and perfusion assessment in patients undergoing PET/CT myocardial perfusion stress imaging. J Nucl Cardiol 2010;17:188-96.

PubMed

CrossRef

Google Scholar

120.

Herzog BA, Husmann L, Landmesser U, Kaufmann PA. Low-dose computed tomography coronary angiography and myocardial perfusion imaging: Cardiac hybrid imaging below 3msv. Eur Heart J 2009;30:644.

PubMed

CrossRef

Google Scholar

121.

van Werkhoven JM, Schuijf JD, Gaemperli O, Jukema JW, Boersma E, Wijns W, et al. Prognostic value of multislice computed tomography and gated single-photon emission computed tomography in patients with suspected coronary artery disease. J Am Coll Cardiol 2009;53:623-32.

PubMed

CrossRef

Google Scholar

122.

van Werkhoven JM, de Boer SM, Schuijf JD, Cademartiri F, Maffei E, Jukema JW, et al. Impact of clinical presentation and pretest likelihood on the relation between calcium score and computed tomographic coronary angiography. Am J Cardiol 2010;106:1675-9.

PubMed

CrossRef

Google Scholar

123.

Senthamizhchelvan S, Bravo PE, Lodge MA, Merrill J, Bengel FM, Sgouros G. Radiation dosimetry of 82rb in humans under pharmacologic stress. J Nucl Med: Off Publ Soc Nucl Med 2011;52:485-91.

Google Scholar

124.

Einstein AJ. Radiation risk from cardiac CT and nuclear cardiology: Addressing concerns with innovative solutions. J Nucl Cardiol 2011;18:561.

PubMed

CrossRef

Google Scholar

125.

Yoshinaga K, Chow BJ, Williams K, Chen L, deKemp RA, Garrard L, et al. What is the prognostic value of myocardial perfusion imaging using rubidium-82 positron emission tomography? J Am Coll Cardiol 2006;48:1029-39.

PubMed

CrossRef

Google Scholar

126.

Ziadi MC, Dekemp RA, Williams KA, Guo A, Chow BJ, Renaud JM, et al. Impaired myocardial flow reserve on rubidium-82 positron emission tomography imaging predicts adverse outcomes in patients assessed for myocardial ischemia. J Am Coll Cardiol 2011;58:740-8.

PubMed

CrossRef

Google Scholar

127.

Tio RA, Dabeshlim A, Siebelink HM, de Sutter J, Hillege HL, Zeebregts CJ, et al. Comparison between the prognostic value of left ventricular function and myocardial perfusion reserve in patients with ischemic heart disease. J Nucl Med: Off Publ Soc Nucl Med 2009;50:214-9.

Google Scholar

128.

Fukushima K, Javadi MS, Higuchi T, Lautamaki R, Merrill J, Nekolla SG, et al. Prediction of short-term cardiovascular events using quantification of global myocardial flow reserve in patients referred for clinical 82rb PET perfusion imaging. J Nucl Med 2011;52:726-32.

PubMed

CrossRef

Google Scholar

129.

Van Tosh A, Supino PG, Nichols KJ, Garza D, Horowitz SF, Reichek N. Prognosis of a normal positron emission tomography 82rb myocardial perfusion imaging study in women with no history of coronary disease. Cardiology 2010;117:301-6.

PubMed

CrossRef

Google Scholar

130.

Chow BJ, Al Shammeri OM, Beanlands RS, Chen L, deKemp RA, DaSilva J, et al. Prognostic value of treadmill exercise and dobutamine stress positron emission tomography. Can J Cardiol 2009;25:e220-4.

PubMed

CrossRef

Google Scholar

131.

Dorbala S, Hachamovitch R, Curillova Z, Thomas D, Vangala D, Kwong RY, et al. Incremental prognostic value of gated rb-82 positron emission tomography myocardial perfusion imaging over clinical variables and rest LVEF. JACC Cardiovasc Imaging 2009;2:846-54.

PubMed

CrossRef

Google Scholar

132.

Metz LD, Beattie M, Hom R, Redberg RF, Grady D, Fleischmann KE. The prognostic value of normal exercise myocardial perfusion imaging and exercise echocardiography: A meta-analysis. J Am Coll Cardiol 2007;49:227-37.

PubMed

CrossRef

Google Scholar

133.

Daniele S, Nappi C, Acampa W, Storto G, Pellegrino T, Ricci F, et al. Incremental prognostic value of coronary flow reserve assessed with single-photon emission computed tomography. J Nucl Cardiol 2011;18:612-9.

PubMed

CrossRef

Google Scholar

134.

Slomka PJ, Alexanderson E, Jacome R, Jimenez M, Romero E, Meave A, et al. Comparison of clinical tools for measurements of regional stress and rest myocardial blood flow assessed with 13N-ammonia PET/CT. J Nucl Med 2012;53:171-81.

PubMed

CrossRef

Google Scholar

135.

Schelbert HR. Positron emission tomography measurements of myocardial blood flow: Assessing coronary circulatory function and clinical implications. Heart 2012;98:592-600.

PubMed

CrossRef

Google Scholar

136.

137.

Hachamovitch R, Nutter B, Hlatky MA, Shaw LJ, Ridner ML, Dorbala S, et al. Patient management after noninvasive cardiac imaging results from sparc (study of myocardial perfusion and coronary anatomy imaging roles in coronary artery disease). J Am Coll Cardiol 2012;59:462-74.

PubMed

CrossRef

Google Scholar

138.

Califf RM, Armstrong PW, Carver JR, D'Agostino RB, Strauss WE 27th Bethesda conference: Matching the intensity of risk factor management with the hazard for coronary disease events. Task force 5. Stratification of patients into high, medium and low risk subgroups for purposes of risk factor management. J Am Coll Cardiol 1996;27:1007-19.

PubMed

CrossRef

Google Scholar

139.

Shaw LJ, Cerqueira MD, Brooks MM, Althouse AD, Sansing VV, Beller GA, et al. Impact of left ventricular function and the extent of ischemia and scar by stress myocardial perfusion imaging on prognosis and therapeutic risk reduction in diabetic patients with coronary artery disease: Results from the bypass angioplasty revascularization investigation 2 diabetes (BARI 2D) trial. J Nucl Cardiol 2012. [Epub ahead of print].

Google Scholar

140.

Bonow RO, Maurer G, Lee KL, Holly TA, Binkley PF, Desvigne-Nickens P, et al. Myocardial viability and survival in ischemic left ventricular dysfunction. New Engl J Med 2011;364:1617-25.

PubMed

CrossRef

Google Scholar

141.

Velazquez EJ, Lee KL, Deja MA, Jain A, Sopko G, Marchenko A, et al. Coronary-artery bypass surgery in patients with left ventricular dysfunction. New Engl J Med 2011;364:1607-16.

PubMed

CrossRef

Google Scholar

142.

Beanlands RS, Ruddy TD, Freeman M, Nichol G. Patient management guided by viability imaging. J Am Coll Cardiol 2001;38:1271-3.

PubMed

CrossRef

Google Scholar

143.

Shukla T, Nichol G, Wells G, deKemp RA, Davies RA, Haddad H, et al. Does FDG PET-assisted management of patients with left ventricular dysfunction improve quality of life? A substudy of the PARR-2 trial. Can J Cardiol 2012;28:54-61.

PubMed

CrossRef

Google Scholar

144.

Beanlands RS, Nichol G, Huszti E, Humen D, Racine N, Freeman M, et al. F-18-fluorodeoxyglucose positron emission tomography imaging-assisted management of patients with severe left ventricular dysfunction and suspected coronary disease: A randomized, controlled trial (PARR-2). J Am Coll Cardiol 2007;50:2002-12.

PubMed

CrossRef

Google Scholar

145.

D'Egidio G, Nichol G, Williams KA, Guo A, Garrard L, deKemp R, et al. Increasing benefit from revascularization is associated with increasing amounts of myocardial hibernation: A substudy of the PARR-2 trial. JACC Cardiovasc Imaging 2009;2:1060-8.

PubMed

CrossRef

Google Scholar

146.

Abraham A, Nichol G, Williams KA, Guo A, deKemp RA, Garrard L, et al. 18F-FDG PET imaging of myocardial viability in an experienced center with access to 18F-FDG and integration with clinical management teams: The Ottawa-five substudy of the PARR 2 trial. J Nucl Med 2010;51:567-74.

PubMed

CrossRef

Google Scholar

147.

Soman P, Lahiri A, Mieres JH, Calnon DA, Wolinsky D, Beller GA, et al. Etiology and pathophysiology of new-onset heart failure: Evaluation by myocardial perfusion imaging. J Nucl Cardiol 2009;16:82-91.

PubMed

CrossRef

Google Scholar

148.

149.

Methodology Committee of the Patient-Centered Outcomes Research Institute (PCORI). Methodological standards and patient-centeredness in comparative effectiveness research: The PCORI perspective. JAMA 2012;307:1636-40.

PubMed

CrossRef

Google Scholar

150.

Shaw LJ, Mieres JH, Hendel RH, Boden WE, Gulati M, Veledar E, et al. Comparative effectiveness of exercise electrocardiography with or without myocardial perfusion single photon emission computed tomography in women with suspected coronary artery disease: Results from the what is the optimal method for ischemia evaluation in women (women) trial. Circulation 2011;124:1239-49.

PubMed

CrossRef

Google Scholar

151.

Udelson JE, Beshansky JR, Ballin DS, Feldman JA, Griffith JL, Handler J, et al. Myocardial perfusion imaging for evaluation and triage of patients with suspected acute cardiac ischemia: A randomized controlled trial. JAMA 2002;288:2693-700.

PubMed

CrossRef

Google Scholar

152.

Hoffmann U, Bamberg F, Chae CU, Nichols JH, Rogers IS, Seneviratne SK, et al. Coronary computed tomography angiography for early triage of patients with acute chest pain: The ROMICAT (rule out myocardial infarction using computer assisted tomography) trial. J Am Coll Cardiol 2009;53:1642-50.

PubMed

CrossRef

Google Scholar

153.

Goldstein JA, Chinnaiyan KM, Abidov A, Achenbach S, Berman DS, Hayes SW, et al. The CT-STAT (coronary computed tomographic angiography for systematic triage of acute chest pain patients to treatment) trial. J Am Coll Cardiol 2011;58:1414-22.

PubMed

CrossRef

Google Scholar

154.

Goldstein JA, Gallagher MJ, O'Neill WW, Ross MA, O'Neil BJ, Raff GL. A randomized controlled trial of multi-slice coronary computed tomography for evaluation of acute chest pain. J Am Coll Cardiol 2007;49:863-71.

PubMed

CrossRef

Google Scholar

155.

Schlett CL, Banerji D, Siegel E, Bamberg F, Lehman SJ, Ferencik M, et al. Prognostic value of CT angiography for major adverse cardiac events in patients with acute chest pain from the emergency department: 2-year outcomes of the ROMICAT trial. JACC Cardiovasc Imaging 2011;4:481-91.

PubMed

CrossRef

Google Scholar

156.

Koo BK, Erglis A, Doh JH, Daniels DV, Jegere S, Kim HS, et al. Diagnosis of ischemia-causing coronary stenoses by noninvasive fractional flow reserve computed from coronary computed tomographic angiograms. Results from the prospective multicenter discover-flow (diagnosis of ischemia-causing stenoses obtained via noninvasive fractional flow reserve) study. J Am Coll Cardiol 2011;58:1989-97.

PubMed

CrossRef

Google Scholar

157.

Greenwood JP, Maredia N, Younger JF, Brown JM, Nixon J, Everett CC, et al. Cardiovascular magnetic resonance and single-photon emission computed tomography for diagnosis of coronary heart disease (CE-MARC): A prospective trial. Lancet 2012;379:453-60.

PubMed

CrossRef

Google Scholar

158.

159.

160.

161.

Hachamovitch R, Rozanski A, Shaw LJ, Stone GW, Thomson LE, Friedman JD, et al. Impact of ischaemia and scar on the therapeutic benefit derived from myocardial revascularization vs. Medical therapy among patients undergoing stress-rest myocardial perfusion scintigraphy. Eur Heart J 2011;32:1012-24.

PubMed

CrossRef

Google Scholar

162.

Lloyd-Jones DM, Dyer AR, Wang R, Daviglus ML, Greenland P. Risk factor burden in middle age and lifetime risks for cardiovascular and non-cardiovascular death (Chicago Heart Association Detection Project in Industry). Am J Cardiol 2007;99:535-40.

PubMed

CrossRef

Google Scholar

163.

Min JK, Dunning A, Lin FY, Achenbach S, Al-Mallah M, Budoff MJ, et al. Age- and sex-related differences in all-cause mortality risk based on coronary computed tomography angiography findings results from the international multicenter confirm (coronary CT angiography evaluation for clinical outcomes: An international multicenter registry) of 23,854 patients without known coronary artery disease. J Am Coll Cardiol 2011;58:849-60.

PubMed

CrossRef

Google Scholar
Copyright information
© American Society of Nuclear Cardiology 2012