Abstract
Endoscopic therapy and extracorporeal shock wave lithotripsy (ESWL) are recommended as the first choice in treating pancreatolithiasis. Endoscopic therapy is generally performed using endoscopic pancreatic sphincterotomy (EPST). Herein, we report our experience implementing a treatment protocol, combining endoscopic therapy and ESWL without EPST, for pancreatolithiasis. The inpatient treatment plan was performed every 3 months with a set number of sessions of ESWL with endoscopic pancreatic stenting (EPS) implanted or replaced. Finally, treatment was terminated when the stone was removed after implantation of a 10-Fr stent and crushed to approximately 3 mm or after spontaneous stone discharge. Eight patients were included in this study; the median time to stone disappearance was 208.5 days. The median number of inpatient treatment cycles, endoscopic retrograde cholangiopancreatography, and ESWL sessions was 2.5, 3, and 3, respectively. No serious adverse events were observed in all patients. Therefore, combining ESWL and EPS without EPST can safely treat pancreatolithiasis.
This is a preview of subscription content,
to check access.
Access this article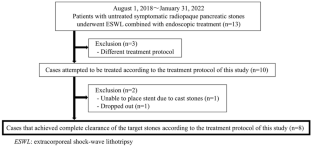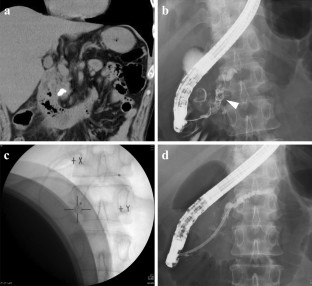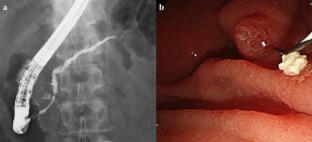 References
Dumonceau JM, Delhaye M, Tringali A, et al. Endoscopic treatment of chronic pancreatitis: European society of gastrointestinal endoscopy (ESGE) guideline - updated august 2018. Endoscopy. 2019;51:179–93.

Drewes AM, Bouwense SAW, Campbell CM, et al. Guidelines for the understanding and management of pain in chronic pancreatitis. Pancreatology. 2017;17:720–31.

Moole H, Jaeger A, Bechtold ML, et al. Success of extracorporeal shock wave lithotripsy in chronic calcific pancreatitis management: a meta-analysis and systematic review. Pancreas. 2016;45:651–8.

Suzuki Y, Sugiyama M, Inui K, et al. Management for pancreatolithiasis: a Japanese multicenter study. Pancreas. 2013;42:584–8.

Korpela T, Udd M, Tenca A, et al. Long-term results of combined ESWL and ERCP treatment of chronic calcific pancreatitis. Scand J Gastroenterol. 2016;51:866–71.

Dumonceau JM, Costamagna G, Tringali A, et al. Treatment for painful calcified chronic pancreatitis: extracorporeal shock wave lithotripsy versus endoscopic treatment: a randomised controlled trial. Gut. 2007;56:545–52.

Vaysse T, Boytchev I, Antoni G, et al. Efficacy and safety of extracorporeal shock wave lithotripsy for chronic pancreatitis. Scand J Gastroenterol. 2016;51:1380–5.

Ohara H, Hoshino M, Hayakawa T, et al. Single application extracorporeal shock wave lithotripsy is the first choice for patients with pancreatic duct stones. Am J Gastroenterol. 1996;91:1388–94.

Kondo H, Naitoh I, Ohara H, et al. Efficacy of pancreatic stenting prior to extracorporeal shock wave lithotripsy for pancreatic stones. Dig Liver Dis. 2014;46:639–44.

Inui K, Tazuma S, Yamaguchi T, et al. Treatment of pancreatic stones with extracorporeal shock wave lithotripsy: results of a multicenter survey. Pancreas. 2005;30:26–30.

Tadenuma H, Ishihara T, Yamaguchi T, et al. Long-term results of extracorporeal shockwave lithotripsy and endoscopic therapy for pancreatic stones. Clin Gastroenterol Hepatol. 2005;3:1128–35.

Thomas M, Howell DA, Carr-Locke D, et al. Mechanical lithotripsy of pancreatic and biliary stones: complications and available treatment options collected from expert centers. Am J Gastroenterol. 2007;102:1896–902.

Sherman S, Lehman GA, Hawes RH, et al. Pancreatic ductal stones: frequency of successful endoscopic removal and improvement in symptoms. Gastrointest Endosc. 1991;37:511–7.

Tandan M, Reddy DN, Talukdar R, et al. Long-term clinical outcomes of extracorporeal shockwave lithotripsy in painful chronic calcific pancreatitis. Gastrointest Endosc. 2013;78:726–33.

Choi EK, McHenry L, Watkins JL, et al. Use of intravenous secretin during extracorporeal shock wave lithotripsy to facilitate endoscopic clearance of pancreatic duct stones. Pancreatology. 2012;12:272–5.

Inui K, Igarashi Y, Irisawa A, et al. Japanese clinical guidelines for endoscopic treatment of pancreatolithiasis. Pancreas. 2015;44:1053–64.

Cotton PB, Garrow DA, Gallagher J, et al. Risk factors for complications after ERCP: a multivariate analysis of 11,497 procedures over 12 years. Gastrointest Endosc. 2009;70:80–8.

Cotton PB, Eisen GM, Aabakken L, et al. A lexicon for endoscopic adverse events: report of an ASGE workshop. Gastrointest Endosc. 2010;71:446–54.

Geenen JE, Rolny P. Endoscopic therapy of acute and chronic pancreatitis. Gastrointest Endosc. 1991;37:377–82.

Ikenberry SO, Sherman S, Hawes RH, et al. The occlusion rate of pancreatic stents. Gastrointest Endosc. 1994;40:611–3.

Binmoeller KF, Jue P, Seifert H, et al. Endoscopic pancreatic stent drainage in chronic pancreatitis and a dominant stricture: long-term results. Endoscopy. 1995;27:638–44.

Kawaguchi Y, Lin JC, Kawashima Y, et al. Risk factors for migration, fracture, and dislocation of pancreatic stents. Gastroenterol Res Pract. 2015;2015: 365457.

Yasuda I, Tomita E, Enya M, et al. Can endoscopic papillary balloon dilation really preserve sphincter of Oddi function? Gut. 2001;49:686–91.
Acknowledgements
There was no specific financial support. The case series was managed in a routine clinical context.
Ethics declarations
Conflict of interest
The authors declare that they have no conflict of interest.
Human/animal rights
All procedures followed were in accordance with the ethical standards laid down in the 1964 Declaration of Helsinki and its subsequent amendments.
Informed consent
Informed consent was obtained from all patients in this study.
Additional information
Publisher's Note
Springer Nature remains neutral with regard to jurisdictional claims in published maps and institutional affiliations.
Rights and permissions
Springer Nature or its licensor (e.g. a society or other partner) holds exclusive rights to this article under a publishing agreement with the author(s) or other rightsholder(s); author self-archiving of the accepted manuscript version of this article is solely governed by the terms of such publishing agreement and applicable law.
About this article
Cite this article
Endo, S., Kawaguchi, S., Satoh, T. et al. Extracorporeal shock wave lithotripsy and endoscopic pancreatic stenting without pancreatic sphincterotomy for the treatment of pancreatolithiasis: a case series. Clin J Gastroenterol 16, 615–622 (2023). https://doi.org/10.1007/s12328-023-01803-z
Received:

Accepted:

Published:

Issue Date:

DOI: https://doi.org/10.1007/s12328-023-01803-z
Keywords