Abstract
A 47-year-old female who was previously treated for BRCA1 germline mutant breast cancer presented with increasing back pain. Radiological and pathological investigations led to the diagnosis of pancreatic ductal adenocarcinoma with multiple hepatic metastases. Serum carbohydrate antigen 19–9 levels were highly elevated at 14,784 U/mL (normal, < 37 U/mL). After nine cycles of FOLFIRINOX treatment, radiological findings revealed remarkable shrinkage of the primary pancreatic tumor, disappearance of hepatic metastases, and normalized levels of carbohydrate antigen 19–9 levels. Because of increased neuropathy following FOLFIRINOX treatment, the patient was switched to maintenance olaparib treatment. Ten months later, her radiological response and normalized carbohydrate antigen 19-9 levels were stable. After staging laparoscopy, the patient underwent laparoscopic distal pancreatectomy as a conversion surgery. Histopathological examination revealed no signs of residual adenocarcinoma in the resected pancreatic specimens, which was diagnosed as a pathological complete response. The patient recovered without complications. Adjuvant olaparib treatment was administered with no signs of recurrence at 7 months after surgery. In conclusion, a pathologic complete response after FOLFIRINOX and olaparib maintenance treatment in hepatic metastasized pancreatic ductal adenocarcinoma is extremely rare. These bridging treatments may contribute to increased surgical resection rates and improved survival rates.
Access options
Buy single article
Instant access to the full article PDF.
USD 39.95
Price excludes VAT (USA)
Tax calculation will be finalised during checkout.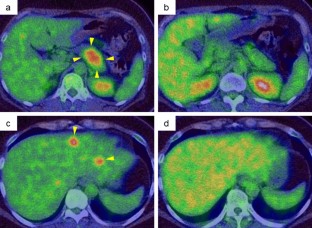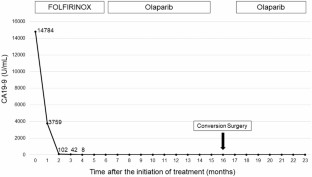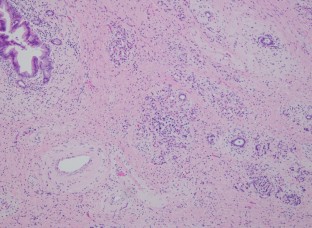 Data availability
Data will be made available by the corresponding author upon reasonable request.
Abbreviations
PDAC:

Pancreatic ductal adenocarcinoma

FOLFIRINOX:

Leucovorin, fluorouracil, irinotecan, and oxaliplatin

CT:

Computed tomography
References
Conroy T, Desseigne F, Ychou M, et al. FOLFIRINOX versus gemcitabine for metastatic pancreatic cancer. N Engl J Med. 2011;364:1817–25.

Von Hoff DD, Ervin T, Arena FP, et al. Increased survival in pancreatic cancer with nab-paclitaxel plus gemcitabine. N Engl J Med. 2013;369:1691–703.

Pietrasz D, Marthey L, Wagner M, et al. Pathologic major response after FOLFIRINOX is prognostic for patients secondary resected for borderline or locally advanced pancreatic adenocarcinoma: an AGEO-FRENCH, prospective, multicentric cohort. Ann Surg Oncol. 2015;22:S1196–205.

Schneitler S, Kröpil P, Riemer J, et al. Metastasized pancreatic carcinoma with neoadjuvant FOLFIRINOX therapy and R0 resection. World J Gastroenterol. 2015;21:6384–90.

Luu AM, Herzog T, Hoehn P, et al. FOLFIRINOX treatment leading to pathologic complete response of a locally advanced pancreatic cancer. J Gastrointest Oncol. 2018;9:E9–12.

Luu AM, Hoehn P, Vogel SR, et al. Pathologic complete response of pancreatic cancer following neoadjuvant FOLFIRINOX treatment in hepatic metastasized pancreatic cancer. Visc Med. 2019;35:387–91.

Tsujie M, Fumita S, Wakasa T, et al. A case of pathological complete response following FOLFIRINOX therapy for pancreatic adenocarcinoma with synchronous distant lymph node metastases. Int J Surg Case Rep. 2020;72:471–6.

Golan T, Kindler HL, Park JO, et al. Geographic and ethnic heterogeneity in the BRCA1/2 prescreening population for the randomized phase III POLO study of olaparib maintenance in metastatic pancreatic cancer (mPC). JCO. 2018;36:4115.

Bolton KL, Chenevix-Trench G, Goh C, et al. Association between BRCA1 and BRCA2 mutations and survival in women with invasive epithelial ovarian cancer. JAMA. 2012;307:382–90.

Golan T, Barenboim A, Lahat G, et al. Increased rate of complete pathologic response after neoadjuvant FOLFIRINOX for BRCA mutation carriers with borderline resectable pancreatic cancer. Ann Surg Oncol. 2020;27:3963–70.

Golan T, Hammel P, Reni M, et al. Maintenance olaparib for germline BRCA-mutated metastatic pancreatic cancer. N Engl J Med. 2019;381:317–27.

Ferrone CR, Marchegiani G, Hong TS, et al. Radiological and surgical implications of neoadjuvant treatment with FOLFIRINOX for locally advanced and borderline resectable pancreatic cancer. Ann Surg. 2015;261:12–7.

Boone BA, Steve J, Krasinskas AM, et al. Outcomes with FOLFIRINOX for borderline resectable and locally unresectable pancreatic cancer. J Surg Oncol. 2013;108:236–41.

Paniccia A, Edil BH, Schulick RD, et al. Neoadjuvant FOLFIRINOX application in borderline resectable pancreatic adenocarcinoma: a retrospective cohort study. Med (Baltim). 2014;93: e198.

Uesaka K, Boku N, Fukutomi A, et al. Adjuvant chemotherapy of S-1 versus gemcitabine for resected pancreatic cancer: a phase 3, open-label, randomised, non-inferiority trial (JASPAC 01). Lancet. 2016;388:248–57.

Neoptolemos JP, Palmer DH, Ghaneh P, et al. Comparison of adjuvant gemcitabine and capecitabine with gemcitabine monotherapy in patients with resected pancreatic cancer (ESPAC-4): a multicentre, open-label, randomised, phase 3 trial. Lancet. 2017;389:1011–24.

Conroy T, Hammel P, Hebbar M, et al. FOLFIRINOX or gemcitabine as adjuvant therapy for pancreatic cancer. N Engl J Med. 2018;379:2395–406.

Kondo N, Uemura K, Sumiyoshi T, et al. Prognosis following an extended duration of adjuvant gemcitabine plus S-1 chemotherapy in patients with pancreatic ductal adenocarcinoma: analysis using inverse probability of treatment weighting. J Hepatobiliary Pancreat Sci. 2022;29:911–21.
Acknowledgements
We thank our colleagues at the Department of Surgery, Clinical Oncology, Gastroenterology, and Anatomical Pathology of the Graduate School of Biomedical and Health Sciences, Hiroshima University.
Ethics declarations
Conflicts of interest
The authors declare that they have no conflict of interest.
Additional information
Publisher's Note
Springer Nature remains neutral with regard to jurisdictional claims in published maps and institutional affiliations.
Rights and permissions
Springer Nature or its licensor (e.g. a society or other partner) holds exclusive rights to this article under a publishing agreement with the author(s) or other rightsholder(s); author self-archiving of the accepted manuscript version of this article is solely governed by the terms of such publishing agreement and applicable law.
About this article
Cite this article
Okada, K., Uemura, K., Okamoto, W. et al. Pathologic complete response following FOLFIRINOX and olaparib treatment for hepatic metastasized pancreatic ductal adenocarcinoma with a germline BRCA mutation. Clin J Gastroenterol (2022). https://doi.org/10.1007/s12328-022-01741-2
Received:

Accepted:

Published:

DOI: https://doi.org/10.1007/s12328-022-01741-2
Keywords
Pancreatic ductal adenocarcinoma

BRCA

FOLFIRINOX

Olaparib

Pathologic complete response