Abstract
Endometriosis is the presence of normal endometrial tissue outside the uterus, which may appear in up to 15% of fertile female population. Bowel endometriosis is uncommon, and obstruction due to endometrial ileocolic intussusception is extremely rare. Herein, we report a case of a 27-year-old female who presented with bowel obstruction due to ileocolic intussusception secondary to endometriosis. A 27-year-old female, without pregnancies, and with a 1 year history of endometriosis presented to the emergency department referring severe abdominal pain in right lower quadrant, nausea and vomiting, she had medical history of prior episodes of mild abdominal pain due to endometriosis with OB/GYN follow-up. Physical examination revealed abdominal distension with decreased bowel movements to auscultation. A CT scan reported suspicion of intussusception. Colonoscopy was ordered, where an ileocolic intussusception was found. Diagnostic laparoscopy was performed, and the initial diagnosis was confirmed. A right hemicolectomy with extracorporeal anastomosis was achieved without any surgical complications. The patient was discharge on postoperative day 4 and continues doing well on a 12 month follow-up. Ileocolic intussusception due to endometriosis is a very rare condition, and it must be considered a differential diagnosis in female patients in reproductive age, when presenting with intestinal obstruction.
Access options
Buy single article
Instant access to the full article PDF.
USD 39.95
Price excludes VAT (USA)
Tax calculation will be finalised during checkout.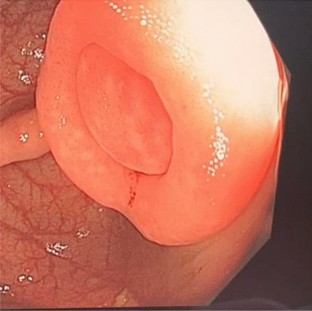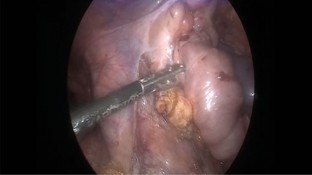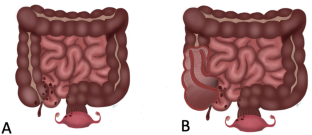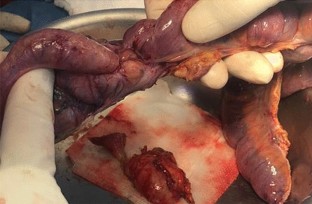 References
Goai XY, Sellayah R, Naqash N. Intussusception of terminal ileum into cecum associated with endometriosis. ANZ J Surg. 2020;90:932–3.

Katagiri H, Lefor AK, Nakata T, et al. Intussusception secondary to endometriosis of the cecum. Int J Surg Case Rep. 2014;5:890–2.

Ranaweera RKMDCD, Gamage SMK, Ubayawansa DHB, et al. Terminal ilial intussusception in an adult due to endometriosis. BMC Res Notes. 2016. https://doi.org/10.1186/s13104-016-2029-z.

Rodriguez-Lopez M, Bailon-Cuadrado M, Tejero-Pintor FJ, et al. Ileocecal intussusception extending to left colon due to endometriosis. Ann R Coll Surg Engl. 2018;100:62–3.

Indraccolo U, Trevisan P, Gasparin P, et al. Cecal endometriosis as a cause of ileocolic intussusception. J Soc Laparoendosc Surg. 2010;14:140–2.

Rivkine E, Marciano L, Polliand C, et al. Correction: ileocolic intussusception due to a cecal endometriosis: case report and review of literature. Diagn Pathol. 2018;13:2–5.

Soufi M, Mimouni A, Kharrasse G, et al. Intestinal endometriosis revealed by a ileocolic intussusception. Enliven Gynecol Obstet. 2015;02:2–5.

Guillén Paredes MP, Campillo Soto A, Martín Lorenzo JG, et al. Adult intussusception—14 case reports and their outcomes. Rev Esp Enferm Dig. 2010;102:32–40.

Gupta RK, Agrawal CS, Yadav R, et al. Intussusception in adults: institutional review. Int J Surg. 2011;9:91–5.

Scarmato VJ, Levine MS, Herlinger H, et al. Ileal endometriosis: radiographic findings in five cases. Radiology. 2000;214:509–12.

Marsicovetere P, Ivatury SJ, White B, et al. Intestinal intussusception: etiology, diagnosis, and treatment. Clin Colon Rectal Surg. 2017;30:30–9.

Yoshikawa T, Ibuki Y, Kaneko M, et al. Adult intussusception due to endometriosis arising from the uterine tube: report of a case. Hiroshima J Med Sci. 2018;67:51–4.

Le Meaux JP, Sangana G, Panel P, et al. Endométriose digestive de localisation caecale et invagination intestinale aiguë: à propos d'un cas. Gynecol Obstet Fertil. 2007;35(12):1232–4.

Yoshino M, Adachi K. Ileocolic intussusception caused by endometriosis. Am Surg. 2011;77:129–30.

Chantalat E, Tuyeras G, Leguevaque P, et al. Consequences of delayed diagnosis of acute gastrointestinal intussusception, secondary to endometriosis. J Obstet Gynaecol Res. 2017;43:595–8.
Funding
This research did not receive any specific grant from funding agencies in the public, commercial, or not-for-profit sectors.
Ethics declarations
Conflict of interest
The authors declare that they have no conflict of interest.
Human and animal rights
All procedures performed in studies involving human participants were in accordance with the ethical standards of Tecnologico de Monterrey ethics committee and have therefore been performed in accordance with the ethical standards laid down in the 1964 Declaration of Helsinki and its later amendments.
Informed consent
Written informed consent was obtained from the patient for publication of this case report and accompanying images. A copy of the written consent is available for review by the Editor-in-Chief of this journal on request.
Additional information
Publisher's Note
Springer Nature remains neutral with regard to jurisdictional claims in published maps and institutional affiliations.
About this article
Cite this article
Morales-Morales, C.A., Morales-Flores, L.F., Gonzalez-Urquijo, M. et al. Ileocolonic intussusception due to severe endometriosis. Clin J Gastroenterol 14, 1381–1385 (2021). https://doi.org/10.1007/s12328-021-01473-9
Received:

Accepted:

Published:

Issue Date:

DOI: https://doi.org/10.1007/s12328-021-01473-9
Keywords
Intussusception

Endometriosis

Bowel obstruction

Laparoscopy

Colonoscopy