Abstract
A 61-year-old man was referred to the bariatric endoscopy unit for the management of morbid obesity (BMI 47 kg/m2). He had multiple obesity-related medical comorbidities. His weight gain started 8 years after suffering smoke inhalation syndrome following an industrial accident. He sustained permanent lung parenchymal injury resulting in impaired pulmonary function. His mobility was restricted to a wheelchair and was dependent on long term oxygen therapy. He tried diet and lifestyle intervention but could not achieve significant weight loss. He was referred for bariatric surgery but was declined because of substantial comorbidities, poor pulmonary function, anesthetic risk (ASA Class 4), and risk of complications. After depleting all of his options, he sought us for endoscopic therapy. Following a successful collaboration with the anesthetist, endocrinologist, and nutritionist, we performed an endoscopic gastroplasty using the modified primary obesity surgery endoluminal procedure (POSE-2) and reduced the gastric volume. He recovered immediately without complications and achieved significant weight loss at 10 months (41 kg). He is now able to walk, the oxygen requirements have decreased, and the comorbidities have significantly improved.
Access options
Buy single article
Instant access to the full article PDF.
USD 39.95
Price includes VAT (USA)
Tax calculation will be finalised during checkout.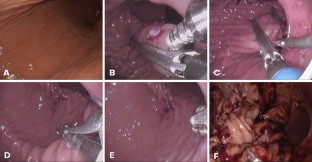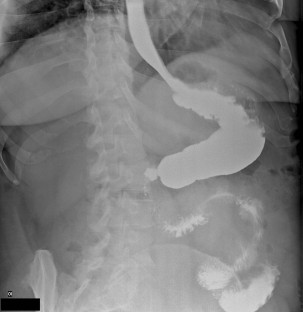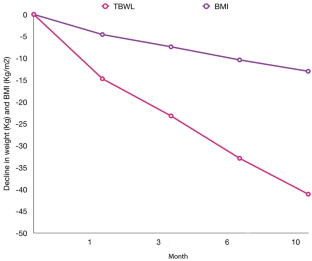 References
1.

Ward ZJ, Bleich SN, Cradock AL, et al. Projected US state-level prevalence of adult obesity and severe obesity. N Engl J Med. 2019;38:2440–50.

2.

Bhaskaran K, Dos-Santos-Silva I, Leon DA, et al. Association of BMI with overall and cause-specific mortality: a population-based cohort study of 3.6 million adults in the UK. Lancet Diabetes Endocrinol. 2018;6:944–53.

3.

Whitlock G, Lewington S, Sherliker P, et al. Body-mass index and cause-specific mortality in 900,000 adults: collaborative analyses of 57 prospective studies. Lancet. 2009;373:1083–96.

4.

Zerrweck C, Sepúlveda EM, Maydón HG, et al. Laparoscopic gastric bypass vs. sleeve gastrectomy in the super obese patient: early outcomes of an observational study. Obes Surg. 2014;24:712–7.

5.

Regan JP, Inabnet WB, Gagner M, et al. Early experience with two-stage laparoscopic Roux-en-Y gastric bypass as an alternative in the super-super obese patient. Obes Surg. 2003;13:861–4.

6.

Rogula T, Schauer P, Fouse T, et al. Prevention and management of complications in bariatric surgery. Oxford: Oxford University Press; 2018.

7.

Taylor JD, Leitman IM, Hon P, et al. Outcome and complications of gastric bypass in super-super obesity versus morbid obesity. Obes Surg. 2006;16:16–8.

8.

Lopez-Nava G, Asokkumar R, Rull A, et al. Bariatric endoscopy procedure type or follow-up: what predicted success at 1 year in 962 obese patients? Endosc Int Open. 2019;7:E1691–8.

9.

Asokkumar R, Babu MP, Bautista I, et al. The use of the overstitch for bariatric weight loss in Europe. Gastrointest Endosc Clin N Am. 2020;30(1):129–45.

10.

Lopez-Nava G, Sharaiha RZ, Vargas EJ, et al. Endoscopic sleeve gastroplasty for obesity: a multicenter study of 248 patients with 24 months follow-up. Obes Surg. 2017;27:2649–55.

11.

Singh S, de Moura DTH, Khan A, et al. Safety and efficacy of endoscopic sleeve gastroplasty worldwide for treatment of obesity: a systematic review and meta-analysis. Surg Obes Relat Dis. 2020. https://doi.org/10.1016/j.soard.2019.11.012.

12.

Charlson ME, Pompei P, Ales KL, et al. A new method of classifying prognostic comorbidity in longitudinal studies: development and validation. J Chronic Dis. 1987;40:373–83.

13.

Skulsky SL, Dang JT, Battiston, , et al. Higher edmonton obesity staging system scores are associated with complications following laparoscopic Roux-en-Y gastric bypass. Surg Endosc. 2019. https://doi.org/10.1007/s00464-019-07067-4.

14.

Lopez-Nava G, Asokkumar R, Turro AR, et al. Modified primary obesity surgery endoluminal (POSE-2) procedure for the treatment of obesity. Video GIE. 2020. https://doi.org/10.1016/j.vgie.2019.11.010.

15.

Martinez de la Victoria Muñoz E, Ortega Anta RM, Perez-Rodrigo C, Grupo Colaborativo de la Sociedad Española de Nutrición Comunitaria, et al. Dietary guidelines for the Spanish population; the new graphic icon of healthy nutrition. Nutr Hosp. 2016. https://doi.org/10.20960/nh.827.

16.

Wilson MM, Thomas DR, Rubenstein LZ, et al. Appetite assessment: simple appetite questionnaire predicts weight loss in community-dwelling adults and nursing home residents. Am J Clin Nutr. 2005;82:1074–81.

17.

Wee CC, Davis RB, Hamel MB. Comparing the SF-12 and SF-36 health status questionnaires in patients with and without obesity. Health Qual Life Outcomes. 2008;6:11.

18.

Hedjoudje A, Abu Dayyeh BK, Cheskin LJ, et al. Efficacy and safety of endoscopic sleeve gastroplasty: a systematic review and meta-analysis. Clin Gastroenterol Hepatol. 2019. https://doi.org/10.1016/j.cgh.2019.08.022.

19.

Lopez-Nava Breviere G, Bautista-Castano I, Jimenez A, et al. The primary obesity surgery endoluminal (POSE) procedure: one-year patient weight loss and safety outcomes. Surg Obes Relat Dis. 2015. https://doi.org/10.1016/j.soard.2014.09.026.

20.

Steier J, Lunt A, Hart NP, et al. Observational study of the effect of obesity on lung volumes. Thorax. 2014;69:752–9.

21.

Hodgson LE, Murphy PB, Hart N. Respiratory management of the obese patient undergoing surgery. J Thorac Dis. 2015;7:943–52.

22.

Thomas H, Agrawal S. Systematic review of obesity surgery mortality risk score—preoperative risk stratification in bariatric surgery. Obes Surg. 2012;22:1135–40.

23.

Jirapinyo P, Thompson CC. Endoscopic gastric body plication for the treatment of obesity: technical success and safety of a novel technique (with video). Gastrointest Endosc. 2020. https://doi.org/10.1016/j.gie.2020.01.030.

24.

Jirapinyo P, Thompson CC. Gastric plications for weight loss: distal primary obesity surgery endoluminal through a belt-and-suspenders approach. VideoGIE. 2018;6(3):296–300.
Ethics declarations
Conflict of interest
Dr.Gontrand Lopez-Nava is a consultant for Nitinotes Surgical, Apollo Endosurgery, and USGI Medical. All other authors have no disclosure.
Writing assistance
No assistance was obtained.
Human rights
All procedures followed have been performed in accordance with the ethical standards laid down in the 1964 Declaration of Helsinki and its later amendments.
Informed consent
Informed consent was obtained from all patients for being included in the study.
Additional information
Publisher's Note
Springer Nature remains neutral with regard to jurisdictional claims in published maps and institutional affiliations.
About this article
Cite this article
Lopez-Nava, G., Laster, J., Negi, A. et al. Endoscopic gastroplasty: an effective solution in a high-risk patient with morbid obesity. Clin J Gastroenterol 14, 489–493 (2021). https://doi.org/10.1007/s12328-020-01322-1
Received:

Accepted:

Published:

Issue Date:
Keywords
Endoscopic sleeve gastroplasty

POSE

BMI

Morbid obesity

Bariatric endoscopy