Abstract
We present the case of a 60-year-old man with a complex medical history, presenting to the hospital with generalized weakness and found to be markedly hyperglycemic. Early in the patient's hospital course, he developed abdominal pain and was found to have a small bowel obstruction secondary to intraluminal migrated surgical mesh entrapped in the terminal ileum. The bowel obstruction was relieved surgically with uncomplicated mesh removal and ileocecectomy. Surgical mesh migration is a relatively rare complication of hernia repair and abdominal wall reconstruction, and intraluminal mesh migration is an even more rare variant. Our case demonstrates key clinical and imaging features and serves as an important example of how such cases may present.
Access options
Buy single article
Instant access to the full article PDF.
US$ 39.95
Tax calculation will be finalised during checkout.
Subscribe to journal
Immediate online access to all issues from 2019. Subscription will auto renew annually.
US$ 79
Tax calculation will be finalised during checkout.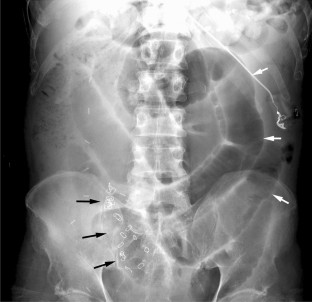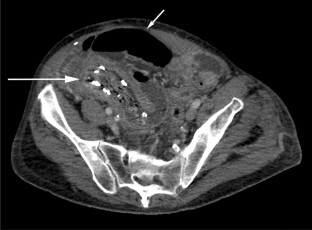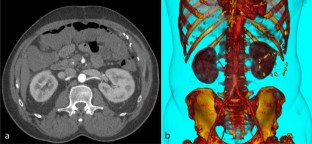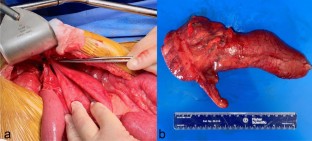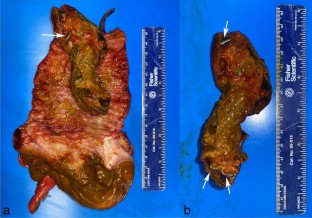 References
1.

Cassar K, Munro A. Surgical treatment of incisional hernia. BJS Br J Surg. 2002;89:534–45.

2.

Cunningham HB, Weis JJ, Taveras LR, et al. Mesh migration following abdominal hernia repair: a comprehensive review. Hernia. 2019;23:235–43.

3.

Picchio M, Muggianu A, Mancini F, et al. Complete mesh migration into the small bowel after incisional hernia repair: a case report and literature review. Acta Chir Belg. 2017;117:118–21.

4.

Gandhi D, Marcin S, Xin Z, et al. Chronic abdominal pain secondary to mesh erosion into cecum following incisional hernia repair: a case report and literature review. Ann Gastroenterol Q Publ Hell Soc Gastroenterol. 2011;24:321–4.

5.

Majeski J. Migration of wire mesh into the intestinal lumen causing an intestinal obstruction 30 years after repair of a ventral hernia. South Med J. 1998;91:496–8.

6.

Lee Y, Bae B-N. Transmural mesh migration from the abdominal wall to the rectum after hernia repair using a Prolene mesh: a case report. Ann Coloproctol Internet. 2020. https://doi.org/10.3393/ac.2020.04.19 ((cited 2020 Aug 10)).

7.

Patel R, Reid TH, Parker SG, et al. Intraluminal mesh migration causing enteroenteric and enterocutaneous fistula: a case and discussion of the 'mesh problem.' BMJ Case Rep [Internet]. 2018. https://www.ncbi.nlm.nih.gov/pmc/articles/PMC5905779/. Accessed 10 Aug 2020

8.

Tsapralis D, Vasiliades G, Zaxou Z, et al. Bowel obstruction secondary to migration of a Ventralex mesh: report of a rare complication. Hernia. 2018;22:711–4.

9.

Norton C, Culver A, Mostafa G. Intraluminal mesh migration after ventral hernia repair. J Gastrointest Surg. 2016;20:1920–2.

10.

Triantafyllou E, Anastasiadis I, Konstantinidis D, et al. Asymptomatic migration of ventral mesh for incisional hernia into the small intestine: a case report. Clin Case Rep. 2019;7:1339–41.

11.

Falk GA, Means JR, Pryor AD. A case of ventral hernia mesh migration with splenosis mimicking a gastric mass. BMJ Case Rep [Internet]. 2009. https://www.ncbi.nlm.nih.gov/pmc/articles/PMC3027525/. Accessed 10 Aug 2020

12.

Steinhagen E, Khaitov S, Steinhagen RM. Intraluminal migration of mesh following incisional hernia repair. Hernia. 2010;14:659–62.

13.

Voisard G, Feldman LS. An unusual cause of chronic anemia and abdominal pain caused by transmural mesh migration in the small bowel after laparoscopic incisional hernia repair. Hernia J Hernias Abdom Wall Surg. 2013;17:673–7.

14.

Olmi S, Uccelli M, Cesana GO, et al. Small bowel obstruction caused by mesh migration. Case report. Il G Chir. 2013;34:70–3.

15.

Alshamali M, Sallam S, Alzaid D, et al. Enterocutaneous fistula occurring 10 years after an open umbilical hernia repair with placement of an onlay polypropylene mesh: a case report. Int J Surg Case Rep. 2020;67:123–6.

16.

AlShammari A, Alyousef F, Alyousif A, et al. Chronic abdominal pain after laparoscopic hernia repair due to mesh graft migration to the cecum: a case report. Patient Saf Surg [Internet]. 2019. https://www.ncbi.nlm.nih.gov/pmc/articles/PMC6880573/. Accessed 10 Aug 2020

17.

Gavlin A, Kierans AS, Chen J, et al. Imaging and treatment of complications of abdominal and pelvic mesh repair. Radiographics. 2020;40:432–53.
Ethics declarations
Conflict of interest
Joseph Leach, Bryan Manoukian, and Lygia Stewart declare that they have no conflict of interest.
Human/animal rights
All the procedures followed have been performed in accordance with the ethical standards laid down in the 1964 Declaration of Helsinki and its later amendments.
Informed consent
Informed consent was obtained from all the patients for being included in the study.
Additional information
Publisher's Note
Springer Nature remains neutral with regard to jurisdictional claims in published maps and institutional affiliations.
About this article
Cite this article
Leach, J.R., Manoukian, B. & Stewart, L. Mesh on the move: a case report of total transmural surgical mesh migration causing bowel obstruction. Clin J Gastroenterol 14, 136–140 (2021). https://doi.org/10.1007/s12328-020-01291-5
Received:

Accepted:

Published:

Issue Date:
Keywords
Mesh

Mesh migration

Hernioplasty

Bowel obstruction