Abstract
The incidence of postoperative esophageal ulcers has been rarely reported associated with severe ulcerative colitis (UC). We report two cases of esophageal ulcers accompanied by acute necrotizing esophagitis after undergoing surgery for severe UC. Both patients, 47- and 53-year-old, were diagnosed with severe UC and underwent subtotal colectomy with sigmoid mucous fistula and ileostomy. In both cases, they had epigastralgia or digestive track bleeding and upper gastrointestinal endoscopy revealed an esophageal ulcer with acute necrotizing esophagitis accompanied by a black degeneration of mucosa after surgery. Conservative treatments improved the lesions. Esophageal stricture requiring endoscopic dilatation occurred in both cases. An acute UC requiring surgery seems to warrant caution in the merger of esophageal ulcer and acute necrotizing esophagitis.
Access options
Buy single article
Instant access to the full article PDF.
US$ 39.95
Tax calculation will be finalised during checkout.
Subscribe to journal
Immediate online access to all issues from 2019. Subscription will auto renew annually.
US$ 79
Tax calculation will be finalised during checkout.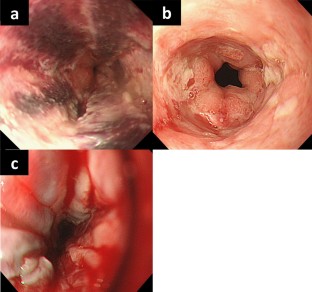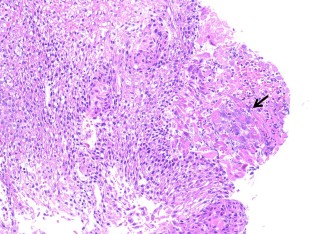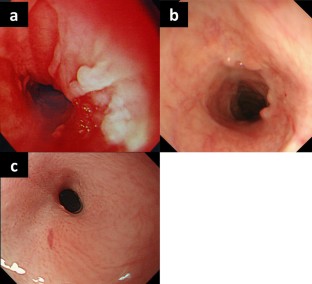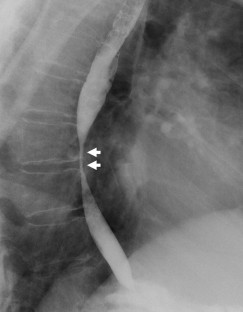 Abbreviations
UC:

Ulcerative colitis

5-ASA:

5-Aminosalicylic acid

PSL:

Prednisolone

CAP:

Cytoapheresis

STC:

Subtotal colectomy with a sigmoid mucous fistula and ileostomy

EBD:

Endoscopic balloon dilatation

DIC:

Disseminated intravascular coagulation
References
1.

Hisabe T, Matsui T, Miyaoka M, et al. Diagnosis and clinical course of ulcerative gastroduodenal lesion associated with ulcerative colitis:possible relationship with pouchitis. Dig Endosc. 2010;22:268–74.

2.

Rosendorff C, Grieve NW. Ulcerative oesophagitis in association with ulcerative colitis. Gut. 1967;8(8):344–7.

3.

Zimmerman HM, Rosenbium G, Bank S. Apthous ulcers of the esophagus in a patient with ulcerative colitis. Gastrointest Endosc. 1984;30:298–9.

4.

Ruuska T, Vaajalahti P, Arajarvi P, et al. Prospective evaluation of upper gastrointestinal mucosal lesions in children with ulcerative colitis and Crohn's disease. J Pediatr Gastroenterol Nutr. 1994;19:181–6.

5.

Asakawa A, Kojima Y, Fujii E, et al. Case of ulcerative colitis associated with oesophageal ulcer. J Int Med Res. 2000;28:191–6.

6.

Augsto F, Fernandes V, Cremers MI, et al. Acute necrotizing esophagitis: a large retrospective case series. Endoscopy. 2004;36:411–5.

7.

Gurvits GE, Shapsis A, Lau N, et al. Acute esophageal necrosis:a rare syndrome. J Gastroenterol. 2007;42:29–38.

8.

Goldenberg SP, Wain SL, Marignani P. Acute necrotizing esophagitis. Gastroenterology. 1990;98:493–6.

9.

Moreto M, Ojembarrena E, Zaballa M, et al. Idiopathic acute esophageal necrosis: not necessarily a terminal event. Endoscopy. 1993;25:534–8.

10.

Lacy BE, Toor A, Bensen SP, et al. Acute esophagealnecrosis : report of two cases and review of the literature. Gatrotintest Endosc. 1999;49:527–32.
Funding
No specific funding was disclosed.
Ethics declarations
Conflict of interest
The authors declare that they have no competing interests.
Ethical approval
The study protocol was approved by the Ethical Review Board for Clinical Studies at Yokohama Municipal Citizen's Hospital (control number 19-02-04).
Informed consent
Written informed consent was obtained from the patient for the publication of this case report and any accompanying images.
Additional information
Publisher's Note
Springer Nature remains neutral with regard to jurisdictional claims in published maps and institutional affiliations.
About this article
Cite this article
Kuroki, H., Sugita, A., Koganei, K. et al. Two cases of esophageal ulcer after surgical treatment for ulcerative colitis. Clin J Gastroenterol 13, 495–500 (2020). https://doi.org/10.1007/s12328-019-01082-7
Received:

Accepted:

Published:

Issue Date:
Keywords
Ulcerative colitis

Surgery

Esophageal ulcer

Acute necrotizing esophagitis