Abstract
Hemobilia is defined as bleeding into the biliary tract. Herein, we report a very rare case of massive hemobilia following plastic stent (PS) removal in common bile duct (CBD) cancer. A 72-year-old man with primary sclerosing cholangitis had undergone repeated insertion of a PS into the CBD. Biliary tract biopsy was performed based on suspicion of combined CBD cancer. Biopsy revealed poorly differentiated adenocarcinoma of the CBD. One month after the biliary tract biopsy, he was admitted for acute cholangitis, and endoscopic retrograde cholangiography was performed for the exchange of the PS. When one of the two biliary PSs was removed, spurting bleeding from the major papilla began abruptly. The massive bleeding caused the patient to be in a pre-shock state. A retrieval balloon catheter was compressed against the papilla for hemostasis. Although he was treated conservatively, the patient developed a bloody discharge. Upper gastrointestinal endoscopy revealed that the pulsatile bleeding beside the PSs started immediately after the removal of the coagula. Emergent contrast-enhanced computed tomography showed right hepatic artery aneurysm across the CBD. Therefore, transarterial embolization was performed. The patient's post-therapeutic course was uneventful. He received chemotherapy, but died about a half year after hemobilia occurred.
This is a preview of subscription content, log in to check access.
Access options
Buy single article
Instant access to the full article PDF.
US$ 39.95
Price includes VAT for USA
Subscribe to journal
Immediate online access to all issues from 2019. Subscription will auto renew annually.
US$ 99
This is the net price. Taxes to be calculated in checkout.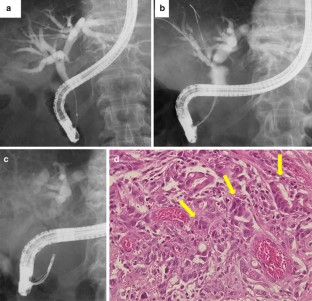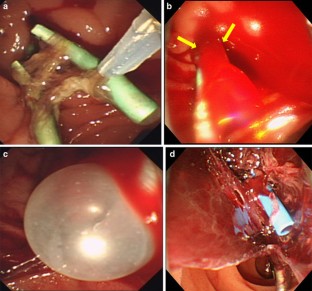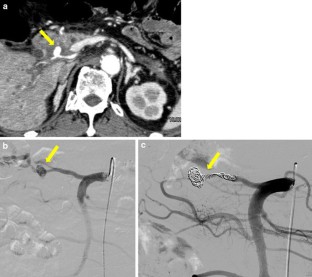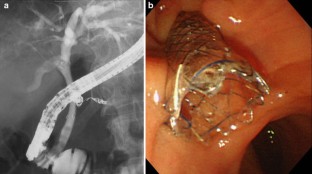 References
1.

Sandblom P. Hemorrhage into the biliary tract following trauma; traumatic hemobilia. Surgery. 1948;24:571–86.

2.

Yamauchi K, Uchida D, Kato H, et al. Recurrent bleeding from a hepatic artery pseudoaneurysm after biliary stent placement. Intern Med. 2018;57:49–52.

3.

Yasuda M, Sato H, Koyama Y, et al. Late-onset severe biliary bleeding after endoscopic pigtail plastic stent insertion. World J Gastroenterol. 2017;23:735–9.

4.

Chun JM, Ha HT, Choi YY, et al. Intrahepatic artery pseudoaneurysm-induced hemobilia caused by a plastic biliary stent after ABO-incompatible living-donor liver transplantation: a case report. Transpl Proc. 2016;48:3178–80.

5.

Tonozuka R, Itoi T, Sofuni A, et al. Hemostasis using a fully covered self-expandable metal stent for marked bleeding from the bile duct following stent removal (with videos). J Hepatobiliary Pancreat Sci. 2013;20:254–6.

6.

Inoue H, Tano S, Takayama R, et al. Right hepatic artery pseudoaneurysm: rare complication of plastic biliary stent insertion. Endoscopy. 2011;43(Suppl 2 UCTN):E396.

7.

Tsuji S, Itoi T, Sofuni A, et al. Life-threatening hemorrhage from the papilla following stent removal (with video). J Hepatobiliary Pancreat Sci. 2011;18:751–3.

8.

Frost A, Taylor MA, Parks RW. An unusual cause of haemobilia—beware the forgotten stent! Int J Clin Pract. 2007;61:877–8.

9.

Park JY, Ryu H, Bang S, et al. Hepatic artery pseudoaneurysm associated with plastic biliary stent. Yonsei Med J. 2007;48:546–8.

10.

Wolters F, Ryan B, Beets-Tan R, et al. Delayed massive hemobilia after biliary stenting. Endoscopy. 2003;35:976–7.

11.

Mutignani M, Shah SK, Bruni A, et al. Endoscopic treatment of extrahepatic bile duct strictures in patients with portal biliopathy carries a high risk of haemobilia: report of 3 cases. Dig Liver Dis. 2002;34:587–91.

12.

Conio M, Caroli-Bosc FX, Buckley M, et al. Massive hematobilia after extraction of plastic biliary endoprosthesis. J Clin Gastroenterol. 1997;25:706.
Ethics declarations
Conflict of interest
Hiroshi Miyamoto, Kumiko Tanaka, Fumika Nakamura, Takahiro Ikeda, Shinji Kitamura, Tetsuo Kimura, Koichi Okamoto, Masahiro Sogabe, Naoki Muguruma, Yoshimi Bando, and Tetsuji Takayama declare that they have no conflict of interest.
Human rights
All procedures followed have been performed in accordance with the ethical standards laid down in the 1964 Declaration of Helsinki and its later amendments
Informed consent
Informed consent was obtained from all patients for being included in the study.
Electronic supplementary material
Below is the link to the electronic supplementary material.
Video 1 When one of the two biliary plastic stents (PS) was removed using a snare, pulsatile bleeding from the major papilla began abruptly. During the bleeding, cannulation of the major papilla was performed and a guidewire was inserted into the biliary tract. A retrieval balloon catheter (B-V232P-B, Olympus Medical Systems, Tokyo, Japan) was compressed against the major papilla for hemostasis. After cessation of the bleeding from the major papilla, one PS (Flexima Biliary Stent with Delivery System, 7FrX7cm, BOSTON SCIENTIFIC CORP., Marlborough, MA, USA) was reinserted into the biliary tract (MPG 7972 KB)
About this article
Cite this article
Miyamoto, H., Tanaka, K., Nakamura, F. et al. Massive hemobilia following plastic stent removal in common bile duct cancer associated with primary sclerosing cholangitis (with video). Clin J Gastroenterol 12, 46–51 (2019). https://doi.org/10.1007/s12328-018-0888-7
Received:

Accepted:

Published:

Issue Date:
Keywords
Hemobilia

Plastic stent

Biliary tract biopsy

Primary sclerosing cholangitis

Common bile duct cancer