Abstract
An 85-year-old woman with rectal carcinoma was referred to our hospital for surgical treatment. She had a history of constipation treated with oral magnesium oxide. She received 34 g of magnesium citrate (Magcolol P®) orally for 2 days as a mechanical bowel preparation prior to the operation. Just before the operation, she suddenly developed nausea, vomiting, and cyanosis and went into cardiac arrest. Despite support by mechanical ventilation, dopamine, dobutamine, and norepinephrine, she exhibited repeated bradycardia that was nearly fatal and required temporary pacing. The following day, her laboratory tests revealed marked hypermagnesemia (14.3 mg/dL). After a hemodialysis session, she recovered dramatically and all vasopressors were withdrawn. We conclude that preoperative mechanical bowel preparation with magnesium-containing cathartics can cause fatal hypermagnesemia in elderly patients even if their renal function is normal.
Access options
Buy single article
Instant access to the full article PDF.
USD 39.95
Price excludes VAT (USA)
Tax calculation will be finalised during checkout.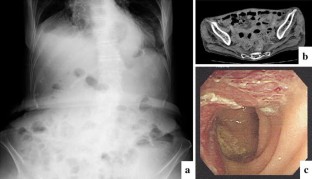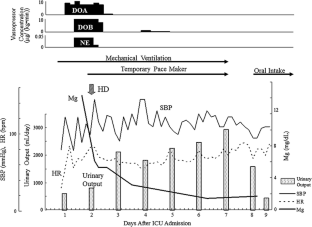 References
Elin RJ. Magnesium metabolism in health and disease. Dis Mon. 1988;34(4):161–8.

Hashizume N, Mori M. An analysis of hypermagnesemia and hypomagnesemia. Jpn J Med. 1990;29(4):368–72.

Fung MC, Weintraub M, Bowen DL. Hypermagnesemia. Elderly over-the-counter drug uses at risk. Arch Fam Med. 1995;4(8):718–23.

Kontani M, Hara A, Ohta S, Ikeda T. Hypermagnesemia induced by massive cathartic ingestion in an elderly woman without pre-existing renal dysfunction. Intern Med. 2005;44(5):448–52.

Zwerling H. Hypermagnesemia-induced hypotension and hypoventilation. JAMA. 1991;266(17):2374–5.

de Rouffignac C, Quamme G. Renal magnesium handling and its hormonal control. Physiol Rev. 1994;74(2):305–22.

Dai LJ, Ritchie G, Kerstan D, et al. Magnesium transport in the renal distal convoluted tubule. Physiol Rev. 2001;81(1):51–84.

Moe SM. Disorders involving calcium, phosphorus, and magnesium. Prim Care. 2008;35(2):215–37.

Agus MSD, Agus ZS. Cardiovascular actions of magnesium. Crit Care Clin. 2001;17(1):175–86.

Whang R, Ryder KW. Frequency of hypomagnesemia and hypermagnesemia. Requested vs. routine. JAMA. 1990;263(22):3063–4.

Kelber J, Slatopolsky E, Delmez JA. Acute effects of different concentrations of dialysate magnesium during high-efficiency dialysis. Am J Kidney Dis. 1994;24(3):453–60.

Schelling JR. Fatal hypermagnesemia. Clin Nephrol. 2000;53:61–5.

Onishi S, Yoshino S. Cathartic-induced fatal hypermagnesemia in the elderly. Intern Med. 2006;45(4):207–10.

Weber CA, Santiago RM. Hypermagnesemia. A potential complication during treatment of theophylline intoxication with oral activated charcoal and magnesemia containing cathartics. Chest. 1989;95(1):56–9.

McLaughlin SA, McKinney PE. Antacid-induced hypermagnesemia in a patient with normal renal function and bowel obstruction. Ann Pharmacother. 1998;32(3):312–5.

Kikuchi T, Kumakura S, Tanabe Y. Perioperative management for a patient with hypermagnesemia-induced shock with perforative peritonitis. J Anesth. 2010;24(3):479–81.

Golzarian J, Scott HW Jr, Richards WO. Hypermagnesemia-induced paralytic ileus. Dig Dis Sci. 1994;39(5):1138–42.
Conflict of interest
The authors declare that they have no conflict of interest.
About this article
Cite this article
Uchiyama, C., Kato, T., Tomida, K. et al. Fatal hypermagnesemia induced by preoperative colon preparation in an elderly woman: report of a case. Clin J Gastroenterol 6, 105–110 (2013). https://doi.org/10.1007/s12328-012-0353-y
Received:

Accepted:

Published:

Issue Date:

DOI: https://doi.org/10.1007/s12328-012-0353-y
Keywords
Hypermagnesemia

Dialysis

Preoperative preparation

Rectum carcinoma

Magnesium citrate