Abstract
Background
Treatment of hepatocellular carcinoma (HCC) recurrences following liver transplant (LT) is challenging. Most clinical trials of systemic therapies for advanced HCC excluded patients with any history of organ transplant. We aimed to assess the outcomes in using various systemic therapies in patients with post-LT recurrence.
Methods
Consecutive patients with HCC and recurrences following LT at a large tertiary centre from 2005 to 2018 were reviewed. Overall survival (OS), response rates and adverse events (AEs) were analysed.
Results
Forty-three consecutive patients with a recurrence of HCC following LT were identified from 2005 to 2018. Median OS from diagnosis of recurrence was 17 months (CI 11.3, 22.7). Early recurrence within 12 months of transplant was associated with a significantly worse median survival of 10 months (CI 8.5, 11.4) compared to 26 months (CI 18.8, 33.2) when recurrences occurred after 12 months from transplant (p < 0.001) with a hazard ratio of 0.104 (log-rank test, p < 0.001). A total of 41 patients had received systemic therapies and 79.1% of them were on sorafenib as the first-line treatment. Among these patients treated with sorafenib, median OS from recurrence was 14 months (CI 7.3, 20.7). Hand-foot syndrome (34.7%) was most common among AEs followed by diarrhoea (26.7%). Overall, AEs led to dose interruptions in 8.8% of patients. Notably, 47.1% of patients received subsequent lines of systemic therapies after sorafenib.
Conclusions
Early recurrence within 1 year from transplant was the most significant risk factor. Treatment efficacy and adverse events and tolerability of sorafenib were comparable with those in the setting of advanced HCC without transplant.
Access options
Buy single article
Instant access to the full article PDF.
USD 39.95
Price excludes VAT (USA)
Tax calculation will be finalised during checkout.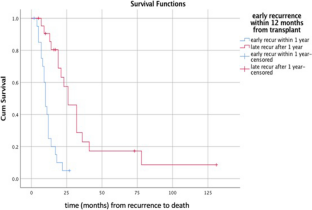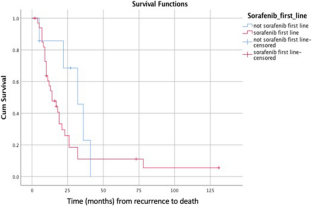 References
Mazzaferro V, Regalia E, Doci R, et al. Liver transplantation for the treatment of small hepatocellular carcinomas in patients with cirrhosis. N Engl J Med. 1996;334(11):693–9.

Yao FY, Ferrell L, Bass NM, et al. Liver transplantation for hepatocellular carcinoma: expansion of the tumor size limits does not adversely impact survival. Hepatology. 2001;33(6):1394–403.

Duffy JP, Vardanian A, Benjamin E, et al. Liver transplantation criteria for hepatocellular carcinoma should be expanded: a 22-year experience with 467 patients at UCLA. Ann Surg. 2007;246(3):502–9; discussion 9–11.

Fan ST, Poon RT, Yeung C, et al. Outcome after partial hepatectomy for hepatocellular cancer within the Milan criteria. Br J Surg. 2011;98(9):1292–300.

She WH, Chan ACY, Cheung TT, Lo CM, Chok KSH. Survival outcomes of liver transplantation for hepatocellular carcinoma in patients with normal, high and very high preoperative alpha-fetoprotein levels. World J Hepatol. 2018;10(2):308–18.

Wong TCL, Ng KKC, Fung JYY, et al. Long-term survival outcome between living donor and deceased donor liver transplant for hepatocellular carcinoma: intention-to-treat and propensity score matching analyses. Ann Surg Oncol. 2019;26(5):1454–62.

Au KP, Chok KSH. Multidisciplinary approach for post-liver transplant recurrence of hepatocellular carcinoma: a proposed management algorithm. World J Gastroenterol. 2018;24(45):5081–94.

Schlitt HJ, Mornex F, Shaked A, Trotter JF. Immunosuppression and hepatocellular carcinoma. Liver Transpl. 2011;17(Suppl 2):S159–61.

Kudo M, Finn RS, Qin S, et al. Lenvatinib versus sorafenib in first-line treatment of patients with unresectable hepatocellular carcinoma: a randomised phase 3 non-inferiority trial. Lancet. 2018;391(10126):1163–73.

Finn RS, Qin S, Ikeda M, et al. Atezolizumab plus bevacizumab in unresectable hepatocellular carcinoma. N Engl J Med. 2020;382(20):1894–905.

El-Khoueiry AB, Sangro B, Yau T, et al. Nivolumab in patients with advanced hepatocellular carcinoma (CheckMate 040): an open-label, non-comparative, phase 1/2 dose escalation and expansion trial. Lancet. 2017;389(10088):2492–502.

Yau T, Kang YK, Kim TY, et al. Efficacy and safety of nivolumab plus ipilimumab in patients with advanced hepatocellular carcinoma previously treated with sorafenib: the CheckMate 040 randomized clinical trial. JAMA Oncol. 2020;6(11):e204564.

Abou-Alfa GK, Meyer T, Cheng AL, et al. Cabozantinib in patients with advanced and progressing hepatocellular carcinoma. N Engl J Med. 2018;379(1):54–63.

Bruix J, Qin S, Merle P, et al. Regorafenib for patients with hepatocellular carcinoma who progressed on sorafenib treatment (RESORCE): a randomised, double-blind, placebo-controlled, phase 3 trial. Lancet. 2017;389(10064):56–66.

Llovet JM, Montal R, Villanueva A. Randomized trials and endpoints in advanced HCC: Role of PFS as a surrogate of survival. J Hepatol. 2019;70(6):1262–77.

National Cancer Institute. Common terminology criteria for adverse events (CTCAE). Rev. ed. Bethesda: US Dept. of Health and Human Services, National Institutes of Health, National Cancer Institute; 2009.

Kim BH, Park JW. Sorafenib for recurrent hepatocellular carcinoma after liver transplantation. J Korean Med Sci. 2018;33(45):e286.

Tan WF, Qiu ZQ, Yu Y, et al. Sorafenib extends the survival time of patients with multiple recurrences of hepatocellular carcinoma after liver transplantation. Acta Pharmacol Sin. 2010;31(12):1643–8.

Invernizzi F, Iavarone M, Zavaglia C, et al. Experience with early sorafenib treatment with mTOR Inhibitors in hepatocellular carcinoma recurring after liver transplantation. Transplantation. 2020;104(3):568–74.

Lee SK, Jang JW, Nam H, et al. Sorafenib for advanced hepatocellular carcinoma provides better prognosis after liver transplantation than without liver transplantation. Hepatol Int. 2021;15(1):137–45.

Llovet JM, Ricci S, Mazzaferro V, et al. Sorafenib in advanced hepatocellular carcinoma. N Engl J Med. 2008;359(4):378–90.

Ye SL, Yang J, Bie P, et al. Safety assessment of sorafenib in Chinese patients with unresectable hepatocellular carcinoma: subgroup analysis of the GIDEON study. BMC Cancer. 2018;18(1):247.

Zimmerman EI, Roberts JL, Li L, et al. Ontogeny and sorafenib metabolism. Clin Cancer Res. 2012;18(20):5788–95.

Iwasaki K. Metabolism of tacrolimus (FK506) and recent topics in clinical pharmacokinetics. Drug Metab Pharmacokinet. 2007;22(5):328–35.

Kirchner GI, Meier-Wiedenbach I, Manns MP. Clinical pharmacokinetics of everolimus. Clin Pharmacokinet. 2004;43(2):83–95.

Hussaarts K, van Doorn L, Bins S, et al. Combining sorafenib and immunosuppression in liver transplant recipients with hepatocellular carcinoma. Pharmaceuticals (Basel). 2021;14(1):46.

Iavarone M, Invernizzi F, Czauderna C, et al. Preliminary experience on safety of regorafenib after sorafenib failure in recurrent hepatocellular carcinoma after liver transplantation. Am J Transplant. 2019;19(11):3176–84.

Lipson EJ, Bagnasco SM, Moore J Jr, et al. Tumor regression and allograft rejection after administration of anti-PD-1. N Engl J Med. 2016;374(9):896–8.

Madariaga ML, Kreisel D, Madsen JC. Organ-specific differences in achieving tolerance. Curr Opin Organ Transpl. 2015;20(4):392–9.

Biondani P, De Martin E, Samuel D. Safety of an anti-PD-1 immune checkpoint inhibitor in a liver transplant recipient. Ann Oncol. 2018;29(1):286–7.

Gassmann D, Weiler S, Mertens JC, et al. Liver allograft failure after nivolumab treatment—a case report with systematic literature research. Transplant Direct. 2018;4(8):e376.

DeLeon TT, Salomao MA, Aqel BA, et al. Pilot evaluation of PD-1 inhibition in metastatic cancer patients with a history of liver transplantation: the Mayo Clinic experience. J Gastrointest Oncol. 2018;9(6):1054–62.

Toso C, Cader S, Mentha-Dugerdil A, et al. Factors predicting survival after post-transplant hepatocellular carcinoma recurrence. J Hepatobiliary Pancreat Sci. 2013;20(3):342–7.

Roh YN, David Kwon CH, Song S, et al. The prognosis and treatment outcomes of patients with recurrent hepatocellular carcinoma after liver transplantation. Clin Transpl. 2014;28(1):141–8.

Ho CM, Lee CH, Lee MC, et al. Survival after treatable hepatocellular carcinoma recurrence in liver recipients: a nationwide cohort analysis. Front Oncol. 2020;10:616094.
Acknowledgements
Funding
The Journal's Rapid Service Fee was funded by the authors.
Authorship
All named authors meet the International Committee of Medical Journal Editors criteria for authorship for this article, take responsibility for the integrity of the work as a whole, and have given their approval for this version to be published.
Author Contributions
All authors made substantial contributions to the conception or design of the work; or the acquisition, analysis, or interpretation of data; drafted the work or revised it critically for important intellectual content; approved the version to be published; and agree to be accountable for all aspects of the work.
Prior Presentation
Data from this manuscript was presented at ASCO 2021 as an abstract.
Disclosures
All authors confirm they have nothing to declare.
Compliance with Ethics Guidelines
We thank the participants of the study. Consent was waived in accordance to local ethics committee because of the retrospective nature of the study. This study was performed in accordance with the Declaration of Helsinki.
Data Availability
The datasets generated during the current study are available from the corresponding author on reasonable request.
About this article
Cite this article
Li, B.C.W., Chiu, J., Shing, K. et al. The Outcomes of Systemic Treatment in Recurrent Hepatocellular Carcinomas Following Liver Transplants. Adv Ther 38, 3900–3910 (2021). https://doi.org/10.1007/s12325-021-01800-z
Received:

Accepted:

Published:

Issue Date:

DOI: https://doi.org/10.1007/s12325-021-01800-z
Keywords
Hepatocellular carcinoma

Liver transplant

Recurrence

Survival

Systemic therapy