Abstract
Introduction
Chronic periodontitis is a common disorder in adults causing periodontal destruction and loss of teeth. These clinical presentations may lead to temporomandibular joint disorders (TMDs). This study aimed to examine the anatomic structures of the temporomandibular joints (TMJs) using cone-beam computed tomography (CBCT) in patients with chronic periodontitis.
Methods
Fifty patients with chronic periodontitis were enrolled in the study. Based on the severity of chronic periodontitis, these patients were divided into the mild, moderate, and severe groups. CBCT images of TMJs were acquired and reconstructed. Several indices on the reconstructed CBCT images were collected and analyzed, such as the oblique joint space parallel to the long axis of the condyle, the long axis diameter of the condyle, the vertical angle of the condyle, the inclination of the articular eminence vertical to the long axis of condyle at the oblique and sagittal positions, the depth of the fossa, and the horizontal angle of the cross-sections. The measurements between right and left sides of each patient were compared. Statistical analysis (paired samples t test) was performed.
Results
The differences of the joint space vertical to the bilateral condyles were statistically significant (P < 0.05). Additionally, in the severe periodontitis group, the distances between the inner and outer poles of the condyles were statistically different (P < 0.05).
Conclusion
In patients with chronic periodontitis, TMJ space vertical to the condyles and the distances between the outer and inner poles of the condyle may change over time. These two indices can potentially be used as indicators for diagnosis and further comparative analyses.
Access options
Buy single article
Instant access to the full article PDF.
USD 39.95
Price includes VAT (USA)
Tax calculation will be finalised during checkout.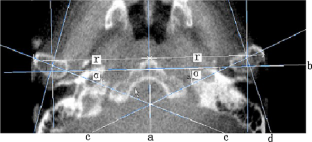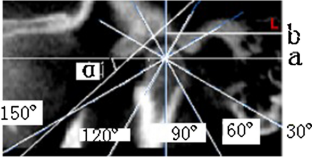 References
1.

Williams RC. Periodontal disease. N Engl J Med. 1990;322(6):373–82.

2.

Van der Velden U, Abbas F, Armand S, et al. Java project on periodontal diseases. The natural development of periodontitis: risk factors, risk predictors and risk determinants. J Clin Periodontol. 2006;33(8):540–8.

3.

Jin LJ, Lamster IB, Greenspan JS, Pitts NB, Scully C, Warnakulasuriya S. Global burden of oral diseases: emerging concepts, management and interplay with systemic health. Oral Dis. 2016;22(7):609–19.

4.

Hori K, Ono T, Nokubi T. Coordination of tongue pressure and jaw movement in mastication. J Dent Res. 2006;85(2):187–91.

5.

Lamster IB, Asadourian L, Del Carmen T, Friedman PK. The aging mouth: differentiating normal aging from disease. Periodontol 2000. 2016;72(1):96–107.

6.

Kirveskari P, Alanen P. Association between tooth loss and TMJ dysfunction. J Oral Rehabil. 1985;12(3):189–94.

7.

Garib BT, Qaradaxi SS. Temporomandibular joint problems and periodontal condition in rheumatoid arthritis patients in relation to their rheumatologic status. J Oral Maxillofac Surg. 2011;69(12):2971–8.

8.

Al-Saleh MA, Alsufyani NA, Saltaji H, Jaremko JL, Major PW. MRI and CBCT image registration of temporomandibular joint: a systematic review. J Otolaryngol Head Neck Surg. 2016;45(1):30.

9.

Larheim TA, Abrahamsson AK, Kristensen M, Arvidsson LZ. Temporomandibular joint diagnostics using CBCT. Dentomaxillofac Radiol. 2015;44(1):20140235.

10.

Wiebe CB, Putnins EE. The periodontal disease classification system of the American Academy of Periodontology—an update. J Can Dent Assoc. 2000;66(11):594–7.

11.

Chatzistavrianou D, Blair F. Diagnosis and management of chronic and aggressive periodontitis part 1: periodontal assessment and diagnosis. Dent Update. 2017;44(4):306–8.

12.

Steinhardt G. The reciprocal dependence of the periodontium and temporomandibular joint in mastication. Dtsch Zahnarztl Z. 1950;5(21):1157–73.

13.

Kroese JM, Volgenant CMC, van Schaardenburg D, Loos BG, Crielaard W, Lobbezoo F. Temporomandibular joint function, periodontal health, and oral microbiome in early rheumatoid arthritis and at-risk individuals: a prospective cohort study protocol. BDJ Open. 2020;6:7.

14.

Jeon HM, Ahn YW, Jeong SH, et al. Pattern analysis of patients with temporomandibular disorders resulting from unilateral mastication due to chronic periodontitis. J Periodontal Implant Sci. 2017;47(4):211–8.

15.

Mozzo P, Procacci C, Tacconi A, Martini PT, Andreis IA. A new volumetric CT machine for dental imaging based on the cone-beam technique: preliminary results. Eur Radiol. 1998;8(9):1558–644.
Acknowledgements
Funding
This research and the journal's rapid service fee were supported by University-level Fund of Ningxia Medical University of China (no. XM2016086), Capital Clinical Application Research and Results Promotion Project (no. Z171100001017154), General Hospital Transformation Project (2017TM-030), General Hospital Clinical Research Supporting Fund (2018FC-304M-TSYS-05), and the Natural Science Foundation of Ningxia (2020AAC03355).
Authorship
All named authors meet the International Committee of Medical Journal Editors (ICMJE) criteria for authorship for this article, take responsibility for the integrity of the work as a whole, and have given their approval for this version to be published.
Disclosures
Xiaoqian Guo, Ziyan Guo, Changyi Yang, Jingjiao Wang, Min Zhao, Yanfeng Li, and Li Wang have nothing to disclose.
Compliance with Ethics Guidelines
The study protocol was approved by the Ethics Committee of the Fourth Medical Center, Chinese PLA General Hospital. Written informed consent was obtained from all the study subjects before enrollment. The study was conducted in accordance with the Declaration of Helsinki 1964 and its later amendments.
Data Availability
The datasets generated and analyzed during the current study are available from the corresponding author on reasonable request.
About this article
Cite this article
Guo, X., Yang, C., Wang, J. et al. Comparative Analysis of the Temporomandibular Joints in Patients with Chronic Periodontitis Using Cone-Beam Computed Tomography (CBCT). Adv Ther 38, 541–549 (2021). https://doi.org/10.1007/s12325-020-01508-6
Received:

Accepted:

Published:

Issue Date:
Keywords
Chronic periodontitis

Comparative analysis

Cone-beam computed tomography (CBCT)

Temporomandibular joint

TMJ