Abstract
Introduction
Cutaneous melanoma is one of the most aggressive forms of skin neoplasms and represents a major cause of neoplastic or cancer death in Europe. Without adequate therapy, the 5-year survival rate is 15% when the disease metastasizes to distant organs. The objective of our study was to evaluate the status quo of the current treatment standards in stage IV melanoma and rationale for therapy decisions in Germany and Austria between January 2016 and September 2018.
Methods
In this retrospective, anonymized registry, data of male and female patients with unresectable advanced/metastatic BRAF-positive cutaneous melanoma treated in the first, second, and third line with registered substances were analyzed using descriptive statistics.
Results
Ninety-nine patients (50.5% male) received a total of 172 treatment lines. The first (99 patients), second (56 patients), and third (17 patients) treatment lines were documented. Within the 80.8% of patients with stage IV melanoma, targeted therapy (TT) was more frequently administered as a first-line treatment than immunotherapy (IO) with checkpoint inhibitors (59.6% TT vs. 40.4% IO). Across all lines, patients received TT in 54.7% and IO in 43.0% of the cases. As targeted agents, dabrafenib plus trametinib was predominantly prescribed (72.3%), whereas the monotherapy with anti-programmed cell death protein 1 and anti-cytotoxic T lymphocyte-associated protein 4 antibodies or their combination was prescribed similarly often (50.0% vs. 47.3%). Most commonly, the treatment type was switched from TT to IO or vice versa upon disease progression. The most frequent rationales for prescribing either TT or IO were remission pressure (72.9%) or physician's preference (45.0%), respectively. Disease progression was a more frequent cause of treatment discontinuation than undesired events.
Conclusion
Patients in Germany and Austria with unresectable advanced or metastatic BRAF-mutant melanoma predominantly receive guideline-recommended treatments. TT was more frequently administered than IO while the rationale for prescribing a specific treatment type differed between the two.
Access options
Buy single article
Instant access to the full article PDF.
USD 39.95
Price excludes VAT (USA)
Tax calculation will be finalised during checkout.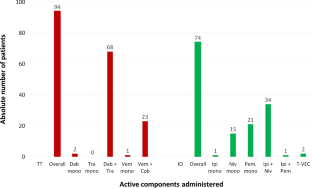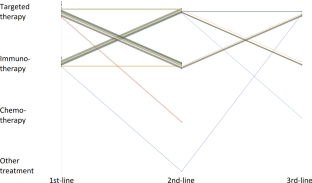 References
Ferlay J, Steliarova-Foucher E, Lortet-Tieulent J, et al. Cancer incidence and mortality patterns in Europe: estimates for 40 countries in 2012. Eur J Cancer. 2013;49(6):1374–403.

Coit DG, Thompson JA, Albertini MR, et al. NCCN clinical practice guidelines in oncology (NCCN Guidelines): cutaneous melanoma. Version 1.2020. https://www.nccn.org/professionals/physician_gls/pdf/cutaneous_melanoma.pdf. Accessed 2 Apr 2020.

Long GV, Menzies AM, Nagrial AM, et al. Prognostic and clinicopathologic associations of oncogenic BRAF in metastatic melanoma. J Clin Oncol. 2011;29(10):1239–46.

Bericht zum Krebsgeschehen in Deutschland. 2016. https://www.krebsdaten.de/Krebs/DE/Content/Publikationen/Krebsgeschehen/Krebsgeschehen_node.html. Accessed 2 Apr 2020.

National Cancer Institute. SEER Cancer Statistics Review 1975-2014. 2020. https://surveillance.cancer.gov/delay/. Accessed 2 Apr 2020.

Garbe C, Amaral T, Peris K, et al. European consensus-based interdisciplinary guideline for melanoma. Part 1: diagnostics—update 2019. Eur J Cancer. 2020;126:141–58.

Huang C, Zhu HX, Yao Y, et al. Immune checkpoint molecules. Possible future therapeutic implications in autoimmune diseases. J Autoimmun. 2019;104:102333.

Chamoto K, Al-Habsi M, Honjo T. Role of PD-1 in Immunity and diseases. Curr Top Microbiol Immunol. 2017;410:75–977.

Subleski JJ, Wiltrout RH, Weiss JM. Application of tissue-specific NK and NKT cell activity for tumor immunotherapy. J Autoimmun. 2009;33(3–4):275–81.

Zhu X, Lang J. Soluble PD-1 and PD-L1: predictive and prognostic significance in cancer. Oncotarget. 2017;8(57):97671–822.

Kailashiya V, Sharma HB, Kailashiya J. Role of CTLA4 A49G polymorphism in systemic lupus erythematosus and its geographical distribution. J Clin Pathol. 2019;72(10):659–62.

Pratilas CA, Solit DB. Targeting the mitogen-activated protein kinase pathway: physiological feedback and drug response. Clin Cancer Res. 2010;16(13):3329–34.

Roskoski R Jr. RAF protein-serine/threonine kinases: structure and regulation. Biochem Biophys Res Commun. 2010;399(3):313–7.

Kumar R, Angelini S, Czene K, et al. BRAF mutations in metastatic melanoma: a possible association with clinical outcome. Clin Cancer Res. 2003;9(9):3362–8.

Huang T, Karsy M, Zhuge J, Zhong M, Liu D. B-Raf and the inhibitors: from bench to bedside. J Hematol Oncol. 2013;6:30.

Michielin O, van Akkooi ACJ, Ascierto PA, Dummer R, Keilholz U. Cutaneous melanoma: ESMO clinical practice guidelines for diagnosis, treatment and follow-up. Ann Oncol. 2019;30:1884–901.

Gershenwald JE, Scolyer RA, Hess KR, et al. Melanoma staging: evidence-based changes in the American Joint Committee on Cancer eighth edition cancer staging manual. 2020. https://acsjournals.onlinelibrary.wiley.com/doi/epdf/10.3322/caac.21409. Accessed 17 Apr 2020.

Silva IP, Long GV. Systemic therapy in advanced melanoma: integrating targeted therapy and immunotherapy into clinical practice. Curr Opin Oncol. 2017;29(6):484–92.

Larkin J, Chiarion-Sileni V, Gonzalez R, et al. Five-year survival with combined nivolumab and ipilimumab in advanced melanoma. N Engl J Med. 2019;381(16):1535–46.

Robert C, Grob JJ, Stroyakovskiy D, et al. Five-year outcomes with dabrafenib plus trametinib in metastatic melanoma. N Engl J Med. 2019;381(7):626–36.
Acknowledgements
Funding
Sponsorship for this project was funded by Pierre Fabre Pharma GmbH (Freiburg, Germany). Pierre Fabre Pharma GmbH also provided financial support for data analysis and medical writing as well as for Advances in therapy's Rapid Service Fee.
Medical Writing, Editorial, and Other Assistance
The authors would like to acknowledge editorial support provided by Andreas Zähringer, Freiburg. We would also like to express our gratitude to Monika Schwager (Winicker Norimed GmbH, Nuremberg, Germany) for providing the statistical support in this project. Support for this assistance was funded by Pierre Fabre GmbH.
Authorship
The authors meet the International Committee of Medical Journal Editors (ICMJE) criteria for authorship for this article, take responsibility for the integrity of the work as a whole, and have given their approval for this version to be published.
Authorship Contributions
This project and the analysis were designed and conducted by B. Edlich and S. Haferkamp. All named authors participated in the development of this manuscript and in the decision to submit this manuscript for publication.
Disclosures
Sebastian Haferkamp is on the advisory board or has received honoraria and travel support from Amgen, Bristol Myers Squibb, Merck Sharp and Dohme, Novartis, Pierre Fabre, Roche, and Sanofi outside the submitted work. Mareike Alter has received an honorarium for speakers and consulting roles from Novartis, Roche, AbbVie, BMS, MSD, Merck, Pfizer, Sanofi, Sun-Pharma, and Takeda. Dirk Debus has received lecture, advisory and moderation fees as well as travel and/or participation fees for training/congresses from the following companies: Amgen, BMS, MSD, Novartis, Pierre Fabre, Roche, Sanofi. Bastian Schilling reported grants and personal fees from BMS, grants and personal fees from MSD Sharp & Dohme, personal fees from Incyte, personal fees from Novartis, personal fees from Roche, grants and personal fees from Pierre Fabre Pharmaceuticals, personal fees from Pfizer, personal fees from AMGEN, outside the submitted work. Patrick Terheyden reported speaker's honoraria from BMS, Novartis, MSD, Pierre Fabre, CureVac, Kyowa Kirin, and Roche, consultant's honoraria from BMS, Novartis, Pierre Fabre, Merck Serono, Kyowa Kirin, Sanofi, and Roche and travel support from MBS and Pierre Fabre outside the submitted work. Jochen Utikal is on the advisory board or has received honoraria and travel support from Amgen, Bristol Myers Squibb, GSK, LeoPharma, Merck Sharp and Dohme, Novartis, Pierre Fabre, Roche, and Sanofi outside the submitted work. Michael M. Sachse has received speaker honoraria from Roche Pharma, MSD Sharp & Dohme, Novartis Pharma, and Sanofi-Aventis. Thomas Haalck has received a speaker's honorarium from Pierre Fabre outside the submitted work. Ingrid Wolf has received a speaker's honorarium form BMS, MSD, Novartis, and Pierre Fabre outside the submitted work. These authors have no other relevant affiliations or financial involvement with any organization or entity with a financial interest in or financial conflict with the subject matter or materials discussed in the manuscript apart from those disclosed. Andreas Pinter has nothing to disclose.
Compliance with Ethics Guidelines
An informed consent process was not implemented in this anonymized, retrospective data analysis. The study was approved by the ethics committee of the University Hospital Regensburg, Germany (EC review number 18-935-101) and the Medical University of Graz, Austria (EC review number 30-269 ex 17/18).
Data Availability
The datasets generated during and or analyzed during the current study are not publicly available but are available from the corresponding author on reasonable request. The anonymized data from the clinical trial is archived according to the ICH-GCP requirements at Pierre Fabre Pharma GmbH, Freiburg, Germany and will not be made public.
About this article
Cite this article
Haferkamp, S., Alter, M., Debus, D. et al. Patients with BRAF-Mutant Advanced/Metastatic Melanoma: Original Research on the Treatment Reality in Germany and Austria in the Era of Choice. Adv Ther 37, 3619–3629 (2020). https://doi.org/10.1007/s12325-020-01430-x
Received:

Published:

Issue Date:

DOI: https://doi.org/10.1007/s12325-020-01430-x
Keywords
Austria

BRAF mutation

Germany

Immunotherapy

Melanoma

Targeted therapy

Treatment reality