Abstract
Introduction
Patients with multiple myeloma (MM) can develop cardiac abnormalities, predisposing them to the development of heart failure, arrhythmias, or infarction with poor prognosis. The purpose of this study is to evaluate the prognostic potential of electrocardiographic (ECG) parameters in patients with MM.
Methods
This study retrospectively included patients with MM from January 2010 to December 2018 in the First Affiliated Hospital of Xi'an Jiao Tong University. Univariate and multivariate Cox proportional hazard models were conducted to evaluate the relationship between ECG parameters and all-cause mortality in patients with MM.
Results
A total of 409 patients were included (mean age 61.3 ± 9.7 years, 59.2% male). The relationship between ECG parameters (including PR interval, voltage, QRS axis, QRS duration, and QTc interval) and all-cause mortality in patients with MM was evaluated. Overall, patients with QTc interval ≥ 400 ms have a significantly higher all-cause mortality compared to those with QTc interval < 400 ms (P < 0.001). When stratified by the International Staging System (ISS), this relationship was true for stages II and III (P < 0.01), but not stage I (P > 0.05). Patients with MM and QRS duration ≥ 120 ms had a higher all-cause mortality compared to those with QRS duration < 120 ms for women (P < 0.01) but not for men (P > 0.05). PR interval, voltage, and QRS axis did not predict mortality.
Conclusion
QTc interval was independently associated with all-cause mortality in patients with MM, especially when QTc interval was more than 400 ms in more advanced stages II and III. ECG parameters may provide prognostic potential in patients with MM and aid risk stratification of these patients.
Access options
Buy single article
Instant access to the full article PDF.
USD 39.95
Price excludes VAT (USA)
Tax calculation will be finalised during checkout.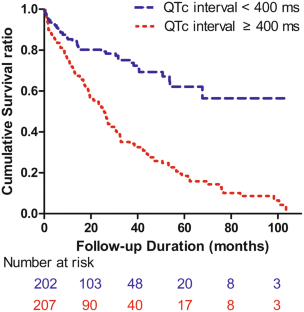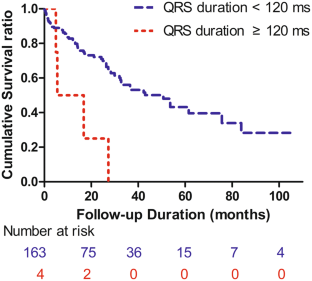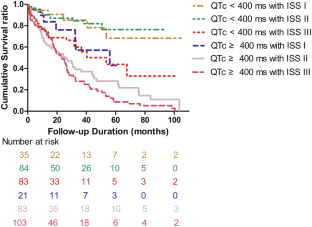 References
Kyle RA, Rajkumar SV. Multiple myeloma. N Engl J Med. 2004;351:1860–73.

Siegel R, Naishadham D, Jemal A. Cancer statistics, 2013. CA Cancer J Clin. 2013;63:11–30.

Bahlis NJ, Lazarus HM. Multiple myeloma-associated AL amyloidosis: is a distinctive therapeutic approach warranted? Bone Marrow Transplant. 2006;38:7–15.

Desikan KR, Dhodapkar MV, Hough A, et al. Incidence and impact of light chain associated (AL) amyloidosis on the prognosis of patients with multiple myeloma treated with autologous transplantation. Leuk Lymphoma. 1997;27:315–9.

Augustson BM, Begum G, Dunn JA, et al. Early mortality after diagnosis of multiple myeloma: analysis of patients entered onto the United Kingdom Medical Research Council trials between 1980 and 2002–Medical Research Council Adult Leukaemia Working Party. J Clin Oncol. 2005;23:9219–26.

Kim D, Lee GY, Choi JO, Kim K, Kim SJ, Jeon ES. Associations of electrocardiographic parameters with left ventricular longitudinal strain and prognosis in cardiac light chain amyloidosis. Sci Rep. 2019;9:7746.

Mohty D, Damy T, Cosnay P, et al. Cardiac amyloidosis: updates in diagnosis and management. Arch Cardiovasc Dis. 2013;106:528–40.

Hidayet Ş, Demir V, Turan Y, Gürel G, Taşolar MH. Evaluation of Tp-e interval, Tp-e/QT ratio, and Tp-e/QTc ratio in patients with Behçet's disease. Anatol J Cardiol. 2019;22:85–90.

Kumar SK, Callander NS, Alsina M, et al. Multiple myeloma, version 3.2017, NCCN clinical practice guidelines in oncology. J Natl Compr Cancer Netw. 2017;15:230–69.

Greipp PR, San Miguel J, Durie BG, et al. International staging system for multiple myeloma. J Clin Oncol. 2005;23:3412–20.

Palumbo A, Avet-Loiseau H, Oliva S, et al. Revised international staging system for multiple myeloma: a report from international myeloma working group. J Clin Oncol. 2015;33:2863–9.

Avet-Loiseau H, Attal M, Moreau P, et al. Genetic abnormalities and survival in multiple myeloma: the experience of the Intergroupe Francophone du Myelome. Blood. 2007;109:3489–95.

Binder M, Rajkumar SV, Ketterling RP, et al. Substratification of patients with newly diagnosed standard-risk multiple myeloma. Br J Haematol. 2019;185:254–60.

Plummer C, Driessen C, Szabo Z, Mateos MV. Management of cardiovascular risk in patients with multiple myeloma. Blood Cancer J. 2019;9:26.

Patel VG, Cornell RF. Cardiovascular complications associated with multiple myeloma therapies: incidence, pathophysiology, and management. Curr Oncol Rep. 2019;21:29.

Buss SJ, Emami M, Mereles D, et al. Longitudinal left ventricular function for prediction of survival in systemic light-chain amyloidosis: incremental value compared with clinical and biochemical markers. J Am Coll Cardiol. 2012;60:1067–76.

Koyama J, Falk RH. Prognostic significance of strain Doppler imaging in light-chain amyloidosis. JACC Cardiovasc Imaging. 2010;3:333–42.

Grogan M, Dispenzieri A, Gertz MA. Light-chain cardiac amyloidosis: strategies to promote early diagnosis and cardiac response. Heart. 2017;103:1065–72.

Cyrille NB, Goldsmith J, Alvarez J, Maurer MS. Prevalence and prognostic significance of low QRS voltage among the three main types of cardiac amyloidosis. Am J Cardiol. 2014;114:1089–93.

Zhao L, Li J, Tian Z, Fang Q. Clinical correlates and prognostic values of pseudoinfarction in cardiac light-chain amyloidosis. J Cardiol. 2016;68:426–30.

Perlini S, Salinaro F, Cappelli F, et al. Prognostic value of fragmented QRS in cardiac AL amyloidosis. Int J Cardiol. 2013;167:2156–61.

Murtagh B, Hammill SC, Gertz MA, Kyle RA, Tajik AJ, Grogan M. Electrocardiographic findings in primary systemic amyloidosis and biopsy-proven cardiac involvement. Am J Cardiol. 2005;95:535–7.

Zhang N, Gong M, Tse G, et al. Prolonged corrected QT interval in predicting atrial fibrillation: a systematic review and meta-analysis. Pacing Clin Electrophysiol PACE. 2018;41:321–7.

Chauhan K, Ackerman MJ, Crowson CS, Matteson EL, Gabriel SE. Population-based study of QT interval prolongation in patients with rheumatoid arthritis. Clin Exp Rheumatol. 2015;33:84–9.

Montanez A, Ruskin JN, Hebert PR, Lamas GA, Hennekens CH. Prolonged QTc interval and risks of total and cardiovascular mortality and sudden death in the general population: a review and qualitative overview of the prospective cohort studies. Arch Intern Med. 2004;164:943–8.

Liu P, Wang L, Han D, Sun C, Xue X, Li G. Acquired long QT syndrome in chronic kidney disease patients. Ren Fail. 2020;42:54–65.

Porthan K, Viitasalo M, Jula A, et al. Predictive value of electrocardiographic QT interval and T-wave morphology parameters for all-cause and cardiovascular mortality in a general population sample. Heart Rhythm. 2009;6(1202):1208.

Buppajarntham S, Seetha Rammohan HR, Junpaparp P, Figueredo VM. Prognostic value of prolonged QTc interval in patients with acute pulmonary embolism. Acta Cardiol. 2014;69:550–5.

Kim I-J, Yang P-S, Kim T-H, et al. Relationship between anemia and the risk of sudden cardiac arrest—a nationwide cohort study in South Korea. Circ J. 2018;82:2962–9.

Xu D, Murakoshi N, Sairenchi T, et al. Anemia and reduced kidney function as risk factors for new onset of atrial fibrillation (from the Ibaraki prefectural health study). Am J Cardiol. 2015;115:328–33.

Cherng NC, Asal NR, Kuebler JP, Lee ET, Solanki D. Prognostic factors in multiple myeloma. Cancer. 1991;67:3150–6.

Boyd KD, Ross FM, Chiecchio L, et al. Gender disparities in the tumor genetics and clinical outcome of multiple myeloma. Cancer Epidemiol Biomark Prev. 2011;20:1703–7.

Kuiper R, van Duin M, van Vliet MH, et al. Prediction of high- and low-risk multiple myeloma based on gene expression and the International Staging System. Blood. 2015;126:1996–2004.
Acknowledgements
We thank the participants of the study.
Funding
This study was funded by the Clinical Research Program of the First Affiliated Hospital of Xi'an Jiaotong University of China (XJTU1AF-CRF-2018-015). The journal's Rapid Service Fee was funded by the authors.
Authorship
All authors contributed to drafting the manuscript, reviewing the manuscript content critically, and designing and implementation of the research. All named authors meet the International Committee of Medical Journal Editors (ICMJE) criteria for authorship for this article, take responsibility for the integrity of the work as a whole, and have given their approval for this version to be published.
Disclosures
Jie Wang, Jiaqi An, Gary Tse, Pengcheng He, Haibo Liu, Aifeng Zhang, Guoliang Li, Yongxin Li, Chaofeng Sun and Yang Yan have nothing to disclose.
Compliance with Ethics Guidelines
This study analysis was conducted in accordance with the 1964 declaration of Helsinki and its later amendments and was approved by the Ethic Committee of the First Affiliated Hospital of Xi'an Jiao Tong University. Informed consent with consent to use clinical data for research purposes was obtained from all patients or relatives.
Data Availability
The datasets generated during and/or analyzed during the current study are available from the corresponding author on reasonable request.
About this article
Cite this article
Wang, J., An, J., Tse, G. et al. Prognostic Potential of Electrocardiographic Parameters in Patients with Multiple Myeloma: A Retrospective Analysis of the Multiple Myeloma Population. Adv Ther 37, 2946–2955 (2020). https://doi.org/10.1007/s12325-020-01343-9
Received:

Published:

Issue Date:

DOI: https://doi.org/10.1007/s12325-020-01343-9
Keywords
Electrocardiography

Mortality

Multiple myeloma

QTc interval