Abstract
Introduction
Claims data (IBM MarketScan Commercial and MarketScan Medicare Supplemental databases) from June 30, 2011 to September 30, 2017 were used to evaluate the cost impact of human epidermal growth factor receptor 2 (HER2)-positive metastatic breast cancer (MBC) in this retrospective cohort study.
Methods
The primary analysis compared short-term costs for patients diagnosed with HER2+ MBC at least 180 days after the end of first HER2-targeted treatment (MBC+ cohort) versus a propensity score matched cohort of patients with breast cancer who did not develop MBC (MBC− cohort). A pseudo-post period for patients in the HER2+ MBC− cohort was defined by indexing to the HER2+ treatment completion–MBC diagnosis time interval of the matched pair in the HER2+ MBC+ cohort; we then compared average monthly cost differences between these groups for the year preceding and following MBC diagnosis. In secondary analyses, we estimated medium-term aggregate and categorical healthcare costs for patients with HER2+ MBC up to 3 years post-diagnosis.
Results
In the short-term primary analysis, costs for the HER2+ MBC+ and HER2+ MBC− cohorts were largely comparable in the year preceding MBC diagnosis. Monthly direct costs were significantly higher for the HER2+ MBC+ cohort in the months immediately preceding MBC diagnosis, with differences in the range of $500–5000. Following diagnosis, total monthly costs were $13,000–34,000 higher for patients in the HER2+ MBC+ cohort vs. the HER2+ MBC− cohort. In the medium-term secondary analysis, mean per patient total costs were $218,171 [standard error (SE) $5450] in the first year following MBC diagnosis and $412,903 (SE $13,034) cumulatively over 3 years following diagnosis (among patients with complete follow-up). Primary cost contributors were outpatient visits ($195,162; SE $8043) and HER2-targeted therapy drug costs ($177,489; SE $8120).
Conclusions
HER2+ MBC is associated with high short-term and medium-term direct healthcare costs. These could be alleviated with early diagnosis and optimal standard-of-care treatment for early breast cancer, which can significantly reduce the risk of recurrence.
Access options
Buy single article
Instant access to the full article PDF.
USD 39.95
Price includes VAT (USA)
Tax calculation will be finalised during checkout.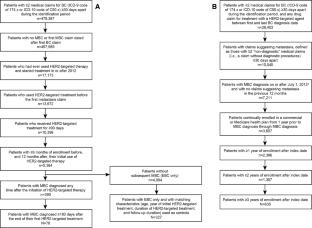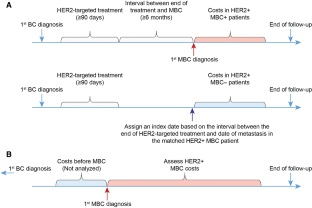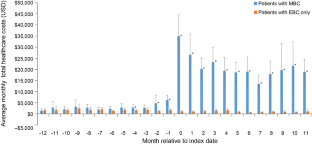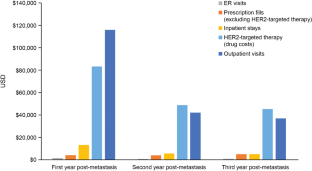 References
1.

Mariotto AB, Yabroff KR, Shao Y, Feuer EJ, Brown ML. Projections of the cost of cancer care in the United States: 2010–2020. J Natl Cancer Inst. 2011;103(2):117–28.

2.

Trogdon JG, Murphy LB, Khavjou OA, et al. Costs of chronic diseases at the state level: the chronic disease cost calculator. Prev Chronic Dis. 2015;12:E140.

3.

Chapel JM, Ritchey MD, Zhang D, Wang G. Prevalence and medical costs of chronic diseases among adult Medicaid beneficiaries. Am J Prev Med. 2017;53(6S2):S143–54.

4.

GLOBOCAN 2018. Lyon: International Agency for Research on Cancer/World Health Organization; 2019. http://gco.iarc.fr/today/data/factsheets/populations/840-united-states-of-america-fact-sheets.pdf. Accessed Jan 2019.

5.

Rahib L, Smith BD, Aizenberg R, Rosenzweig AB, Fleshman JM, Matrisian LM. Projecting cancer incidence and deaths to 2030: the unexpected burden of thyroid, liver, and pancreas cancers in the United States. Cancer Res. 2014;74(11):2913–21.

6.

Sagar B, Lin YS, Castel LD. Cost drivers for breast, lung, and colorectal cancer care in a commercially insured population over a 6-month episode: an economic analysis from a health plan perspective. J Med Econ. 2017;20(10):1018–23.

7.

Laudicella M, Walsh B, Burns E, Smith PC. Cost of care for cancer patients in England: evidence from population-based patient-level data. Br J Cancer. 2016;114(11):1286–92.

8.

Will BP, Berthelot JM, Le Petit C, Tomiak EM, Verma S, Evans WK. Estimates of the lifetime costs of breast cancer treatment in Canada. Eur J Cancer. 2000;36(6):724–35.

9.

Chen AB, Li L, Cronin AM, Brooks GA, Kavanagh BD, Schrag D. Estimating costs of care attributable to cancer: does the choice of comparison group matter? Health Serv Res. 2018;53(Suppl 1):3227–444.

10.

IBM Watson Health. IBM MarketScan Research Databases. https://ibm.com/common/ssi/cgi-bin/ssialias?htmlfid=HPS03169USEN. Accessed Jan 2019.

11.

Austin PC. An introduction to propensity score methods for reducing the effects of confounding in observational studies. Multivariate Behav Res. 2011;46(3):399–424.

12.

Mariotto AB, Etzioni R, Hurlbert M, Penberthy L, Mayer M. Estimation of the number of women living with metastatic breast cancer in the United States. Cancer Epidemiol Biomarkers Prev. 2017;26(6):809–15.

13.

Dawood SS, et al. Prognosis of women with stage IV breast cancer by HER2 status and trastuzumab treatment: an institutional based review. J Clin Oncol. 2008;26(15_suppl):1018–1018.

14.

Danese MD, Masaquel A, Santos E, Brammer M, Lee A, Lalla D. Estimated life-years saved in women with HER2-positive metastatic breast cancer receiving first-line trastuzumab and pertuzumab in the United States. Value Health. 2015;18(6):876–83.

15.

Blumen H, Fitch K, Polkus V. Comparison of treatment costs for breast cancer, by tumor stage and type of service. Am Health Drug Benefits. 2016;9(1):23–32.

16.

Frederix GW, Severens JL, Hövels AM, et al. Real world cost of human epidermal receptor 2-positive metastatic breast cancer patients: a longitudinal incidence-based observational costing study in the Netherlands and Belgium. Eur J Cancer Care (Engl). 2015;24(3):340–54.

17.

Bonastre J, Jan P, Barthe Y, Koscielny S. Metastatic breast cancer: we do need primary cost data. Breast. 2012;21(3):384–8.

18.

Howard DH, Chernew ME, Abdelgawad T, Smith GL, Sollano J, Grabowski DC. New anticancer drugs associated with large increases in costs and life expectancy. Health Aff (Millwood). 2016;35(9):1581–7.

19.

Ayoub NM, Al-Shami KM, Yaghan RJ. Immunotherapy for HER2-positive breast cancer: recent advances and combination therapeutic approaches. Breast Cancer. 2019;11:53–69.

20.

Verma V, Sprave T, Haque W, et al. A systematic review of the cost and cost-effectiveness studies of immune checkpoint inhibitors. J Immunother Cancer. 2018;6(1):128.

21.

Kelly RJ, Smith TJ. Checkpoint inhibitors in lung cancer are not immune from cost-effectiveness analysis. J Thorac Oncol. 2016;11(11):1814–6.

22.

Broeders MJM, Allgood P, Duffy SW, et al. The impact of mammography screening programmes on incidence of advanced breast cancer in Europe: a literature review. BMC Cancer. 2018;18(1):860.

23.

Fuller MS, Lee CI, Elmore JG. Breast cancer screening: an evidence-based update. Med Clin North Am. 2015;99(3):451–68.

24.

Von Minckwitz G, Procter M, De Azambuja E, et al. Adjuvant pertuzumab and trastuzumab in early HER2-positive breast cancer. New Engl J Med. 2017;377(2):122–31.

25.

Lin DY, Feuer EJ, Etzioni R, Wax Y. Estimating medical costs from incomplete follow-up data. Biometrics. 1997;53(2):419–34.

26.

Bang H, Tsiatis AA. Estimating medical costs with censored data. Biometrika. 2000;87(2):329–43.
Acknowledgements
Funding
This work and its publication was supported by F. Hoffmann-La Roche/Genentech, Inc. The study sponsor was involved in data collection, analysis, and interpretation, and writing of this report. The authors, who are employees or contracted employees of the sponsor, prepared the manuscript draft, with support from a sponsor-funded medical writer. All authors had full access to all data, were involved in data analysis/interpretation, contributed to subsequent manuscript drafting, made the final decision to submit this manuscript for publication, and vouch for the accuracy and completeness of the report. The study sponsor also funded the journal's Rapid Service fee.
Medical Writing Assistance
Support for third-party writing assistance was provided by Meredith Kalish, MD, from Ashfield Healthcare Communications (a UDG Healthcare plc company), and funded by F. Hoffmann-La Roche/Genentech, Inc.
Authorship
All named authors meet the International Committee of Medical Journal Editors (ICMJE) criteria for authorship for this article, take responsibility for the integrity of the work as a whole, and have given their approval for this version to be published.
Disclosures
Jesse A. Sussell and Arpamas Seetasith are employees of Genentech, Inc. and own stock in F. Hoffmann-La Roche. Daniel Sheinson is an employee of Genentech, Inc. and owns stock in Cigna Corp and F. Hoffmann-La Roche. Ning Wu and Bijal Shah-Manek worked as consultants for Genentech, Inc. to conduct the study reported in this manuscript; Ning Wu is currently affiliated with Biogen. All authors received non-financial support from F. Hoffmann-La Roche in the form of medical writing support for this manuscript.
Prior Presentation
Data reported in this manuscript were partially presented in an abstract at the 2018 American Society of Clinical Oncology Annual Meeting: Goertz H-P, Sheinson D, Wu N. Relationship of healthcare costs and disease progression in patients with HER2+ breast cancer. Journal of Clinical Oncology 36, no. 15_suppl.
Compliance with Ethics Guidelines
This was a retrospective analysis of completely de-identified healthcare claims data purchased from a commercial vendor; identification of individual patients (either directly or through the use of linked identifiers) was impossible. Therefore, the study was exempt from human subject regulations, and review by an institutional review board was not required.
Data Availability
The datasets analyzed during the current study are not publicly available because they were derived from commercially acquired healthcare claims data; sharing would violate the terms of existing data license agreements.
About this article
Cite this article
Sussell, J.A., Sheinson, D., Wu, N. et al. HER2-Positive Metastatic Breast Cancer: A Retrospective Cohort Study of Healthcare Costs in the Targeted-Therapy Age. Adv Ther 37, 1632–1645 (2020). https://doi.org/10.1007/s12325-020-01283-4
Received:

Published:

Issue Date:
Keywords
Breast cancer

Cancer care/oncology

Cost effectiveness/cost analysis

Costs of care/healthcare expenditures

Drug therapy