Abstract
Introduction
This study aims to evaluate the early predictive value for postoperative sepsis and 30-day mortality in liver transplant patients using sequential organ failure assessment (SOFA).
Methods
A total of 96 liver transplant patients were enrolled into this study from February 2015 to June 2018. The general information, biochemical findings, and postoperative 30-day mortality of these patients were statistically analyzed.
Results
The SOFA scores, C-reactive protein (CRP), and procalcitonin (PCT) at postoperative day (POD) 3, 5, and 7 were significantly higher in the sepsis group than in the non-sepsis group, and the differences were statistically significant. Receiver operating characteristic (ROC) curve showed that SOFA scores at POD 1, 3, 5, and 7 had higher sensitivity and specificity in predicting the incidence of sepsis within 30 days. The difference in 30-day survival rate between patients with SOFA scores of > 5 and patients with SOFA scores of ≤ 5 at POD 1–7 was statistically significant (P < 0.05).
Conclusion
SOFA scores at POD 1–7 can effectively predict the incidence of sepsis and 30-day mortality in liver transplant patients on the basis of CRP and PCT.
This is a preview of subscription content, log in to check access.
Access options
Buy single article
Instant access to the full article PDF.
US$ 39.95
Price includes VAT for USA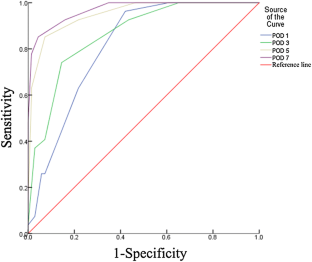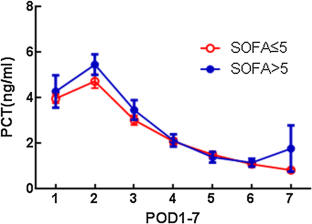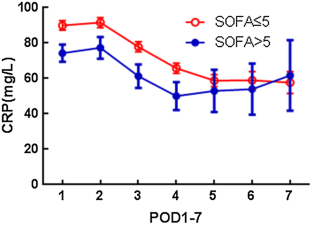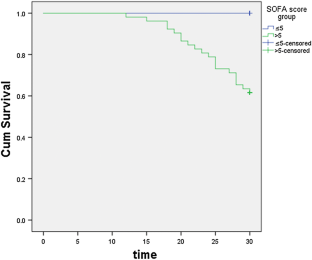 References
1.

Singer M, Deutschman CS, Seymour CW, et al. The third international consensus definitions for sepsis and septic shock (Sepsis-3.0). JAMA. 2016;315(8):801–10. https://doi.org/10.1001/jama.2016.0287.

2.

Sun HY, Cacciarelli TV, Singh N. Identifying a targeted population at high risk for infections after liver transplantation in the MELD era. Clin Transplant. 2011;25(3):420–5. https://doi.org/10.1111/j.1399-0012.2010.01262.x.

3.

Elsayed FG, Sholkamy AA, Elshazli M, Elshafie M, Naguib M. Comparison of different scoring systems in predicting short-term mortality after liver transplantation. Transplant Proc. 2015;47(4):1207–10. https://doi.org/10.1016/j.transproceed.2014.11.067.

4.

Leppke S, Leighton T, Zaun D, et al. Scientific registry of transplant recipients: collecting, analyzing, and reporting data on transplantion in the United States. Transplant Rev (Orlando). 2013;27(2):50–6. https://doi.org/10.1016/j.trre.2013.01.002.

5.

Galbois A, Das V, Carbonell N, Guidet B. Prognostic scores for cirrhotic patients admitted to an intensive care unit: which consequences for liver transplantation? Clin Res Hepatol Gastroenterol. 2013;37:455–66. https://doi.org/10.1016/j.clinre.2013.05.001.

6.

Reid GE, Grim SA, Sankary H, Benedetti E, Oberholzer J, Clark NM. Early intra-abdominal infections associated with orthotopic liver transplantation. Transplantation. 2009;87(11):1706–11. https://doi.org/10.1097/TP.0b013e3181a60338.

7.

Nie K, Ran R, Tan W, et al. Risk factors of intra-abdominal bacterial infection after liver transplantation in patients with hepatocellular carcinoma. Chin J Cancer Res. 2014;26(3):309–14. https://doi.org/10.3978/j.issn.1000-9604.2014.06.10.

8.

Wojcieki M, Milkiewicz P, Silva M. Biliary tract complications after liver transplantation: a review. Dig Surg. 2008;25(4):245–57. https://doi.org/10.1159/000144653.

9.

Dellinger RP, et al. Surviving Sepsis Campaign: international guidelines for management of severe sepsis and septic shock, 2012. Intensive Care Med. 2013;39:165–228.

10.

Jalan R, Saliba F, Pavesi M, et al. Development and validation of a prognostic score to predict mortality in patients with acute-on-chronic liver failure. J Hepatol. 2014;61(5):1038–47. https://doi.org/10.1016/j.jhep.2014.06.012.

11.

Craig DG, Zafar S, Reid TW, et al. The sequential organ failure assessment (SOFA) score is an effective triage marker following staggered paracetamol (acetaminophen) overdose. Aliment Pharmacol Ther. 2012;35(12):1408–15. https://doi.org/10.1111/j.1365-2036.2012.05102.x.

12.

Safari S, Shojaee M, Rahmati F, et al. Accuracy of SOFA score in prediction of 30-day outcome of critically ill patients. Turk J Emerg Med. 2016;16(4):146–50. https://doi.org/10.1016/j.tjem.2016.09.005.

13.

Wlodzimirow K, Abu-Hanna A. The utility of the SOFA score for predicting motality in critically ill cirrhotic patients receiving liver transplantation. Crit Care. 2013;17(2):426. https://doi.org/10.1186/cc12577.

14.

Pan HC, Jenq CC, Lee WC, et al. Scoring systems for predicting mortality after liver transplantation. PLoS One. 2014;9(9):e107138. https://doi.org/10.1371/journal.pone.0107138.

15.

Schrem H, Reichert M, Reichert B, et al. Value of the SOFA score as a predictive model for short-term survival in high-risk liver transplant recipients with a pre-transplant labMELD score ≥ 30. Langenbecks Arch Surg. 2012;397:717–26.

16.

Wong CS, Lee WC, Jenq CC, Tian YC, Chang MY, Lin CY, Fang JT, et al. Scoring short-term mortality after liver transplantation. Liver Transpl. 2010;16(2):138–46.
Acknowledgements
We thank the participants of the study.
Funding
No funding or sponsorship was received for this study or publication of this article. The article processing charges were funded by the authors.
Authorship
All named authors meet the International Committee of Medical Journal Editors (ICMJE) criteria for authorship for this article, take responsibility for the integrity of the work as a whole, and have given their approval for this version to be published.
Disclosures
Xiao-Wen Wang, Xing-Guo Niu, Jin-Xiu Li, Si-Sen Zhang, and Xian-Fa Jiao declare that they have no conflict of interest.
Compliance with Ethics Guidelines
This study was conducted in accordance with the 1964 declaration of Helsinki and its later amendments and was approved by the Ethics Committee of People's Hospital of Zhengzhou. Written informed consent was obtained from all participants.
Data Availability
The datasets generated during and/or analyzed during the current study are available from the corresponding author on reasonable request.
Electronic supplementary material
Below is the link to the electronic supplementary material.
About this article
Cite this article
Wang, X., Niu, X., Li, J. et al. SOFA Score Can Effectively Predict the Incidence of Sepsis and 30-Day Mortality in Liver Transplant Patients: A Retrospective Study. Adv Ther 36, 645–651 (2019). https://doi.org/10.1007/s12325-019-0889-z
Received:

Published:

Issue Date:
Keywords
Liver transplantation

Mortality

Sepsis

SOFA score