Abstract
Introduction
To present 12 cases of arterial priapism treated by superselective embolization and propose our management algorithm for this condition.
Methods
Between February 2013 and May 2018, 12 cases of arterial priapism caused by blunt trauma were treated by superselective embolization. The mean age of patients was 36 years (25–47 years). All of the patients had normal sexual capability before priapism (IIEF-5 scores 24–25). All patients were treated with superselective embolization after more than 3 weeks of simple conservative treatment had failed. All cases but one used a gelatin sponge as embolic agent. A microcoil was added in one case in which the gelatin sponge failed to occlude the pseudoaneurysm. After superselective embolization, ice pack and "observation" treatments continued. The sexual capability of the patients was evaluated by IIEF-5 scores at 6 months and 12 months postoperatively.
Results
The mean follow-up period was 27.2 months (13–48 months). Three patients achieved complete detumescence immediately. Nine cases needed 2–17 days to return to a flaccid nonpainful state. No patient underwent a second embolization. The time needed to improve erectile function was from 7 days to 4 months. There has been no recurrence. Eleven patients treated with gelatin sponge have normal erectile function, while one patient treated with additional microcoil embolization had mild erectile dysfunction.
Conclusion
Superselective embolization of the fistula is an effective option for arterial priapism. Absorbable agents should be used. Superselective arterial embolization should be considered after 3 weeks of conservative treatment. Patients should undergo another 3 weeks of "observation" treatment before repeated intervention.
Access options
Buy single article
Instant access to the full article PDF.
USD 39.95
Price includes VAT (USA)
Tax calculation will be finalised during checkout.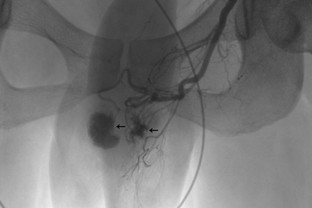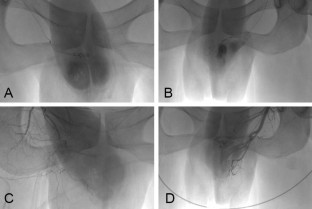 References
1.

Salonia A, Eardley I, Giuliano F, Hatzichristou D, Moncada I, Vardi Y. European Association of Urology guidelines on priapism. Eur Urol. 2014;65:480–9.

2.

Montague DK, Jarow J, Broderick GA, Dmochowski RR, Heaton JP, Lue TF. American Urological Association guideline on the management of priapism. J Urol. 2003;170:1318–24.

3.

Eland IA, van der Lei J, Stricker BH, Sturkenboom MJ. Incidence of priapism in the general population. Urology. 2001;57:970–2.

4.

Broderick GA, Kadioglu A, Bivalacqua TJ, Ghanem H, Nehra A, Shamloul R. Priapism: pathogenesis, epidemiology, and management. J Sex Med. 2010;7:476–500.

5.

Pryor J, Akkus E, Alter G, Jordan G, Lebret T, Levine L. Priapism. J Sex Med. 2004;1:116–20.

6.

Hatzichristou D, Salpiggidis G, Hatzimouratidis K, Apostolidis A, Tzortzis V, Bekos A. Management strategy for arterial priapism: therapeutic dilemmas. J Urol. 2002;168:2074–7.

7.

Moscovici J, Barret E, Galinier P, Liard A, Juricic M, Mitrofanoff P. Post-traumatic arterial priapism in the child: a study of four cases. Eur J Pediatr Surg. 2000;10:72–6.

8.

Takao T, Osuga K, Tsujimura A, Matsumiya K, Nonomura N, Okuyama A. Successful superselective arterial embolization for post-traumatic high-flow priapism. Int J Urol. 2007;14:254–6.

9.

Kuefer R, Bartsch G Jr, Herkommer K, Kramer SC, Kleinschmidt K, Volkmer BG. Changing diagnostic and therapeutic concepts in high-flow priapism. Int J Impot Res. 2005;17:109–13.

10.

Bastuba MD, Saenz de Tejada I, Dinlenc CZ, Sarazen A, Krane RJ, Goldstein I. Arterial priapism: diagnosis, treatment and long-term followup. J Urol. 1994;151:1231–7.

11.

Callewaert P, Stockx L, Bogaert G, Baert L. Post-traumatic high-flow priapism in a 6-year-old boy: management by percutaneous placement of bilateral vascular coils. Urology. 1998;52:134–7.

12.

Numan F, Cakirer S, Işlak C, et al. Posttraumatic high-flow priapism treated by N-butyl-cyanoacrylate embolization. Cardiovasc Intervent Radiol. 1996;19:278–80.

13.

O'Sullivan P, Browne R, McEniff N, Lee MJ. Treatment of "high-flow" priapism with superselective transcatheter embolization: a useful alternative to surgery. Cardiovasc Intervent Radiol. 2006;29:198–201.

14.

Numan F, Cantasdemir M, Ozbayrak M, et al. Posttraumatic nonischemic priapism treated with autologous blood clot embolization. J Sex Med. 2008;5:173–9.

15.

Cantasdemir M, Gulsen F, Solak S, Numan F. Posttraumatic high-flow priapism in children treated with autologous blood clot embolization: long-term results and review of the literature. Pediatr Radiol. 2011;41:627–32.

16.

Savoca G, Pietropaolo F, Scieri F, Bertolotto M, Mucelli FP, Belgrano E. Sexual function after highly selective embolization of cavernous artery in patients with high flow priapism: long-term followup. J Urol. 2004;172:644–7.
Acknowledgements
We thank the participants of the study. We were greatly appreciative to receive good advice concerning superselective embolization from Dr. Xindong Fan (Radiology Department, Shanghai Ninth People's Hospital, Shanghai Jiao Tong University School of Medicine, Shanghai).
Funding
The study was supported by a grant from the National Natural Science Foundation of China (No. 81600519), Shanghai Science and Technology Commission (No. 18411960500), Integrated Traditional Chinese and Western Medicine of Shanghai (ZHYY-ZXYJHZX-1-03), Program for Outstanding Medical Academic Leader. Clinical Research Program of 9th People's Hospital and Shanghai Jiao Tong University School of Medicine (JYLJ005). The article processing charges were funded by the authors.
Authorship
All named authors meet the International Committee of Medical Journal Editors (ICMJE) criteria for authorship for this article, take responsibility for the integrity of the work as a whole, and have given their approval for this version to be published.
Authorship Contributions
Wan and Yao conceived the study, participated in its design, performed the intervention, coordination and drafted the manuscript. Zheng, Guo, Liu, and Fu participated in the study design and conducted the outpatient service and the data acquisition. Wang and Xie made critical revisions to the manuscript regarding important intellectual content.
Disclosures
Xiang Wan, Hai-Jun Yao, Da-Chao Zheng, Chong Liu, Shi-Bo Fu, Jian-Hua Guo, Min-Kai Xie, and Zhong Wang have nothing to disclose.
Compliance with Ethics Guidelines
All procedures performed in studies involving human participants were in accordance with the Shanghai Ninth People's Hospital affiliated to Shanghai Jiao Tong University School of Medicine ethics committee and with the 1964 Helsinki declaration. Informed consent was obtained from all individual participants included in the study.
Data Availability
The datasets generated and/or analyzed during the current study are available from the corresponding author on reasonable request.
About this article
Cite this article
Wan, X., Yao, HJ., Zheng, DC. et al. Posttraumatic Arterial Priapism Treated with Superselective Embolization: Our Clinical Experience and a Review of the Literature. Adv Ther 36, 684–690 (2019). https://doi.org/10.1007/s12325-019-0875-5
Received:

Published:

Issue Date:
Keywords
Arterial priapism

Embolization

Erectile dysfunction

Urology