Abstract
Introduction
Lorlatinib is a third-generation tyrosine kinase inhibitor approved for the treatment of anaplastic lymphoma kinase (ALK)-positive metastatic non-small cell lung cancer; cytochrome P450 (CYP) 3A plays an important role in the metabolism of lorlatinib.
Methods
This phase 1, open-label, two-period, crossover study estimated the effect of oral rifampin (a strong CYP3A inducer) on the pharmacokinetics and safety of oral lorlatinib (NCT02804399). Healthy participants received single-dose lorlatinib 100 mg in period 1 followed by rifampin 600 mg/day (days 1–12) and single-dose lorlatinib 100 mg (day 8) in period 2. Blood samples were collected for 120 h after each dose of lorlatinib.
Results
When a single dose of lorlatinib was administered during daily dosing with rifampin (period 2), the area under the plasma concentration-time profile extrapolated to infinity (AUCinf) and maximum plasma concentration (Cmax) of lorlatinib were 14.74% [90% confidence interval (CI) 12.78%, 17.01%] and 23.88% (90% CI 21.58%, 26.43%), respectively, of those in period 1 (lorlatinib alone). A single dose of lorlatinib was well tolerated in period 1, but elevations in transaminase values were observed in all participants (grade 2–4 in 11 participants) within 1–3 days after a single dose of lorlatinib was administered with ongoing rifampin in period 2. Rifampin dosing was therefore halted. Transaminase levels subsequently returned to normal (median time to recovery: 15 days). No elevations in bilirubin were observed.
Conclusions
The addition of a single dose of lorlatinib to daily dosing with rifampin significantly reduced lorlatinib plasma exposure relative to a single dose of lorlatinib administered alone and was associated with severe but self-limiting transaminase elevations in all healthy participants. These observations support the contraindication in the product label against concomitant use of lorlatinib with all strong CYP3A inducers.
Trial registration
ClinicalTrials.gov identifier, NCT02804399.
Access options
Buy single article
Instant access to the full article PDF.
USD 39.95
Price includes VAT (USA)
Tax calculation will be finalised during checkout.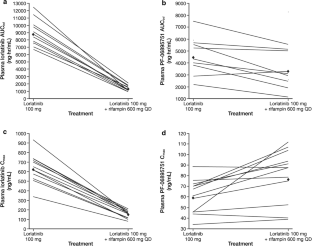 References
1.

Johnson TW, Richardson PF, Bailey S, Brooun A, Burke BJ, Collins MR, et al. Discovery of (10R)-7-amino-12-fluoro-2,10,16-trimethyl-15-oxo-10,15,16,17-tetrahydro-2H-8,4-(m etheno)pyrazolo[4,3-h][2,5,11]-benzoxadiazacyclotetradecine-3-carbonitrile (PF-06463922), a macrocyclic inhibitor of anaplastic lymphoma kinase (ALK) and c-ros oncogene 1 (ROS1) with preclinical brain exposure and broad-spectrum potency against ALK-resistant mutations. J Med Chem. 2014;57(11):4720–44.

2.

Shaw AT, Felip E, Bauer TM, Besse B, Navarro A, Postel-Vinay S, et al. Lorlatinib in non-small-cell lung cancer with ALK or ROS1 rearrangement: an international, multicentre, open-label, single-arm first-in-man phase 1 trial. Lancet Oncol. 2017;18(12):1590–9.

3.

Solomon BJ, Besse B, Bauer TM, Felip E, Soo RA, Camidge DR, et al. Lorlatinib in patients with ALK-positive non-small-cell lung cancer: results from a global phase 2 study. Lancet Oncol. 2018;19(12):1654–67.

4.

Ford SL, Sutton K, Lou Y, Zhang Z, Tenorio A, Trezza C, et al. Effect of rifampin on the single-dose pharmacokinetics of oral cabotegravir in healthy subjects. Antimicrob Agents Chemother. 2017;61(10):e00487–517.

5.

Srinivas NR. Pharmacokinetic interaction of rifampicin with oral versus intravenous anticancer drugs: challenges, dilemmas and paradoxical effects due to multiple mechanisms. Drugs R D. 2016;16(2):141–8.

6.

Robles-Diaz M, Lucena MI, Kaplowitz N, Stephens C, Medina-Caliz I, Gonzalez-Jimenez A, et al. Use of Hy's law and a new composite algorithm to predict acute liver failure in patients with drug-induced liver injury. Gastroenterology. 2014;147(1):109-18 e5.

7.

Burger DM, Agarwala S, Child M, Been-Tiktak A, Wang Y, Bertz R. Effect of rifampin on steady-state pharmacokinetics of atazanavir with ritonavir in healthy volunteers. Antimicrob Agents Chemother. 2006;50(10):3336–42.

8.

Ruslami R, Nijland HM, Alisjahbana B, Parwati I, van Crevel R, Aarnoutse RE. Pharmacokinetics and tolerability of a higher rifampin dose versus the standard dose in pulmonary tuberculosis patients. Antimicrob Agents Chemother. 2007;51(7):2546–51.

9.

Acocella G. Clinical pharmacokinetics of rifampicin. Clin Pharmacokinet. 1978;3(2):108–27.

10.

Mukai M, Uchimura T, Zhang X, Greene D, Vergeire M, Cantillon M. Effects of rifampin on the pharmacokinetics of a single dose of istradefylline in healthy subjects. J Clin Pharmacol. 2018;58(2):193–201.

11.

Nijland HM, L'Homme RF, Rongen GA, van Uden P, van Crevel R, Boeree MJ, et al. High incidence of adverse events in healthy volunteers receiving rifampicin and adjusted doses of lopinavir/ritonavir tablets. AIDS. 2008;22(8):931–5.

12.

Haas DW, Koletar SL, Laughlin L, Kendall MA, Suckow C, Gerber JG, et al. Hepatotoxicity and gastrointestinal intolerance when healthy volunteers taking rifampin add twice-daily atazanavir and ritonavir. J Acquir Immune Defic Syndr. 2009;50(3):290–3.

13.

Schmitt C, Riek M, Winters K, Schutz M, Grange S. Unexpected hepatotoxicity of rifampin and saquinavir/ritonavir in healthy male volunteers. Arch Drug Inf. 2009;2(1):8–16.

14.

Gougis P, Palmieri LJ, Funck-Brentano C, Paci A, Flippot R, Mir O, Coriat R. Major pitfalls of protein kinase inhibitors prescription: a review of their clinical pharmacology for daily use. Crit Rev Oncol Hematol. 2019;141:112–24.

15.

Dinakaran D, Sergi CM. Co-ingestion of aspirin and acetaminophen promoting fulminant liver failure: a critical review of Reye syndrome in the current perspective at the dawn of the 21st century. Clin Exp Pharmacol Physiol. 2018;45(2):117–21.

16.

Yang X, Han L. Roles of renal drug transporter in drug disposition and renal toxicity. Adv Exp Med Biol. 2019;1141:341–60. https://doi.org/10.1007/978-981-13-7647-4_7.
Acknowledgements
Pfizer Inc. and the authors thank the volunteers who participated in this study and the investigators for their contributions.
Funding
Pfizer Inc. sponsored the study, contributed to the design, and participated in the collection, analysis, and interpretation of the data and in the writing, reviewing, and final approval of the publication. The Rapid Service Fee was funded by Pfizer Inc.
Medical Writing and/or Editorial Assistance
Statistical support was provided by Sunil Nepal and Melissa O'Gorman of Pfizer Inc. Editorial support was provided by Blair Jarvis and Kate Williams and Gayle Scott of inScience Communications, Springer Healthcare (Chester, UK), and was funded by Pfizer Inc.
Authorship
All named authors meet the International Committee of Medical Journal Editors (ICMJE) criteria for authorship for this article, take responsibility for the integrity of the work as a whole, and have given their approval for this version to be published.
Disclosures
Katherine Ginman is an employee of Pfizer. Joseph Chen, Huiping Xu, Sylvester Pawlak, Gerson Peltz, Kimberly Lee, and Michelle Bergeron are emoloyees of Pfizer and own stocks in Pfizer. Yazdi K Pithavala is an employee of Pfizer, owns stock in Pfizer and has patents with Pfizer. Leonard P James owns stocks in Pfizer. At the time of the study Leonard P James was an employee of Pfizer and is currently an employee of Bristol-Myers Squibb.
Compliance with Ethics Guidelines
The study was conducted in compliance with the principles in the Declaration of Helsinki and in compliance with International Conference on Harmonization Good Clinical Practice Guidelines. The protocol was approved by the Institutional Review Board at the study center (IntegReview IORG0000689). All participants provided written informed consent before undergoing any study procedures. In addition, after the trial was under way, all participants re-consented to allow for additional analyses of blood samples.
Data Availability
Upon request, and subject to certain criteria, conditions, and exceptions (see https://www.pfizer.com/science/clinical-trials/trial-data-and-results for more information), Pfizer will provide access to individual deidentified participant data from Pfizer-sponsored global interventional clinical studies conducted for medicines, vaccines, and medical devices (1) for indications that have been approved in the US and/or EU or (2) in programs that have been terminated (i.e., development for all indications has been discontinued). Pfizer will also consider requests for the protocol, data dictionary, and statistical analysis plan. Data may be requested from Pfizer trials 24 months after study completion. The deidentified participant data will be made available to researchers whose proposals meet the research criteria and other conditions, and for which an exception does not apply, via a secure portal. To gain access, data requestors must enter into a data access agreement with Pfizer.
Electronic Supplementary Material
Below is the link to the electronic supplementary material.
About this article
Cite this article
Chen, J., Xu, H., Pawlak, S. et al. The Effect of Rifampin on the Pharmacokinetics and Safety of Lorlatinib: Results of a Phase One, Open-Label, Crossover Study in Healthy Participants. Adv Ther 37, 745–758 (2020). https://doi.org/10.1007/s12325-019-01198-9
Received:

Published:

Issue Date:
Keywords
Drug–drug interaction

Healthy participants

Lorlatinib

Pharmacokinetics

Rifampin

Safety