Abstract
Objectives
Treatment switching adjustment methods are often used to adjust for switching in oncology randomized controlled trials (RCTs). In this exploratory analysis, we apply these methods to adjust for treatment changes in the setting of an RCT followed by an extension study in relapsing–remitting multiple sclerosis.
Methods
The CLARITY trial evaluated cladribine tablets versus placebo over 96 weeks. In the 96-week CLARITY Extension, patients who received placebo in CLARITY received cladribine tablets; patients who received cladribine tablets in CLARITY were re-randomized to placebo or cladribine tablets. End points were time to first qualifying relapse (FQR) and time to 3- and 6-month confirmed disability progression (3mCDP, 6mCDP). We aimed to compare the effectiveness of cladribine tablets with placebo over CLARITY and the extension. The rank-preserving structural failure time model (RPSFTM) and iterative parameter estimation (IPE) were used to estimate what would have happened if patients had received placebo in CLARITY and the extension versus patients that received cladribine tablets and switched to placebo. To gauge whether treatment effect waned after the 96 weeks of CLARITY, we compared hazard ratios (HRs) from the adjustment analysis with HRs from CLARITY.
Results
The RPSFTM resulted in an HR of 0.48 [95% confidence interval (CI) 0.36–0.62] for FQR, 0.62 (95% CI 0.46–0.84) for 3mCDP and 0.62 (95% CI 0.44–0.88) for 6mCDP. IPE algorithm results were similar. CLARITY HRs were 0.44 (95% CI 0.34–0.58), 0.60 (95% CI 0.41–0.87) and 0.58 (95% CI 0.40–0.83) for FQR, 3mCDP and 6mCDP, respectively.
Conclusions
Treatment switching adjustment methods are applicable in non-oncology settings. Adjusted CLARITY plus CLARITY Extension HRs were similar to the CLARITY HRs, demonstrating significant treatment benefits associated with cladribine tablets versus placebo.
Funding
EMD Serono, Inc. (a business of Merck KGaA, Darmstadt, Germany).
Access options
Buy single article
Instant access to the full article PDF.
USD 39.95
Price excludes VAT (USA)
Tax calculation will be finalised during checkout.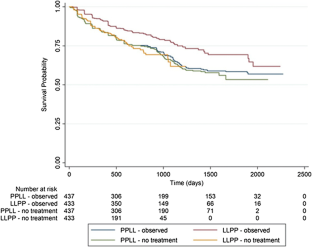 References
Latimer NR, Bell H, Abrams KR, Amonkar MM, Casey M. Adjusting for treatment switching in the METRIC study shows further improved overall survival with trametinib compared with chemotherapy. Cancer Med. 2016;5(5):806–15. https://doi.org/10.1002/cam4.643.

Latimer NR, Henshall C, Siebert U, Bell H. Treatment switching: statistical and decision-making challenges and approaches. Int J Technol Assess Health Care. 2016;32(3):160–6. https://doi.org/10.1017/S026646231600026X.

Latimer NR, Abrams KR, Amonkar MM, Stapelkamp C, Swann RS. Adjusting for the confounding effects of treatment switching—the BREAK-3 trial: dabrafenib versus dacarbazine. Oncologist. 2015;20(7):798–805. https://doi.org/10.1634/theoncologist.2014-0429.

Latimer NR, Abrams KR. NICE DSU technical support document 16: adjusting survival time estimates in the presence of treatment switching. Sheffield: Decision Support Unit; 2014.

Latimer NR. Treatment switching in oncology trials and the acceptability of adjustment methods. Expert Rev Pharmacoecon Outcomes Res. 2015;15(4):561–4. https://doi.org/10.1586/14737167.2015.1037835.

Robins JM, Tsiatis AA. Correcting for noncompliance in randomized trials using rank preserving structural failure time models. Commun Stat Theory Methods. 1991;20(8):2609–31.

Branson M, Whitehead J. Estimating a treatment effect in survival studies in which patients switch treatment. Stat Med. 2002;21(17):2449–63. https://doi.org/10.1002/sim.1219.

Robins JM, Finkelstein DM. Correcting for noncompliance and dependent censoring in an AIDS Clinical Trial with inverse probability of censoring weighted (IPCW) log-rank tests. Biometrics. 2000;56(3):779–88.

Latimer NR, Abrams KR, Lambert PC, Crowther MJ, Wailoo AJ, Morden JP, et al. Adjusting survival time estimates to account for treatment switching in randomized controlled trials—an economic evaluation context: methods, limitations, and recommendations. Med Decis Mak. 2014;34(3):387–402. https://doi.org/10.1177/0272989X13520192.

Weinshenker BG. Epidemiology of multiple sclerosis. Neurol Clin. 1996;14(2):291–308.

Goodin DS, Frohman EM, Garmany GP Jr, Halper J, Likosky WH, Lublin FD, et al. Disease modifying therapies in multiple sclerosis: report of the Therapeutics and Technology Assessment Subcommittee of the American Academy of Neurology and the MS Council for Clinical Practice Guidelines. Neurology. 2002;58(2):169–78.

Giovannoni G, Comi G, Cook S, Rammohan K, Rieckmann P, Soelberg Sorensen P, et al. A placebo-controlled trial of oral cladribine for relapsing multiple sclerosis. N Engl J Med. 2010;362(5):416–26. https://doi.org/10.1056/NEJMoa0902533.

eMC. MAVENCLAD 10 mg tablets. 2017. https://www.medicines.org.uk/emc/medicine/34044. Accessed 18 Dec 2017.

World Medical Association. WMA declaration of Helsinki—ethical principles for medical research involving human subjects. 2017. https://www.wma.net/policies-post/wma-declaration-of-helsinki-ethical-principles-for-medical-research-involving-human-subjects/. Accessed 14 Jul 2017.

Dixon JR. The international conference on harmonization good clinical practice guideline. Qual Assur. 1999;6(2):65–74.

White IR, Walker S, Babiker AG. strbee: randomization-based efficacy estimator. Strata J. 2002;2(2):140–50.

Bell Gorrod H, Latimer NR, Damian D, Hettle R, Harty GT, Wong LS. Impact of non-randomised drop-out on treatment switching adjustment in the relapsing-remitting multiple sclerosis CLARITY trial and the CLARITY Extension study. Value Health. 2019;22(7):772–6.

Thompson AJ, Baranzini SE, Geurts J, Hemmer B, Ciccarelli O. Multiple sclerosis. Lancet (London, England). 2018;391(10130):1622–36. https://doi.org/10.1016/s0140-6736(18)30481-1.

Meng X, Chin PS, Hashmonay R, Zahur Islam M, Cutter G. Effect of switching from intramuscular interferon beta-1a to oral fingolimod on time to relapse in patients with relapsing-remitting multiple sclerosis enrolled in a 1-year extension of TRANSFORMS. Contemp Clin Trials. 2015;41:69–74. https://doi.org/10.1016/j.cct.2014.12.011.

White IR, Babiker AG, Walker S, Darbyshire JH. Randomization-based methods for correcting for treatment changes: examples from the Concorde trial. Stat Med. 1999;18(19):2617–34.
Acknowledgements
The authors thank the participants of the study.
Funding
Financial support for this study, medical writing support and article processing charges were provided entirely by EMD Serono, Inc. (a business of Merck KGaA, Darmstadt, Germany). The funding agreement ensured the authors' independence in designing the study, interpreting the data, writing and publishing the report. All authors had full access to all of the data in this study and take complete responsibility for the integrity of the data and accuracy of the data analysis.
Medical Writing Assistance
The authors also thank Jason Allaire, PhD, of Generativity Solutions Group for his assistance with editing the paper. Medical writing assistance was funded by EMD Serono, Inc.
Authorship
All named authors meet the International Committee of Medical Journal Editors (ICMJE) criteria for authorship for this article, take responsibility for the integrity of the work as a whole, and have given their approval for this version to be published.
Disclosures
Nicholas R. Latimer reports having received consultancy fees for providing modeling advice to Astra Zeneca, BMS and Pfizer and funding from EMD Serono, Inc. (a business of Merck KGaA, Darmstadt, Germany) to undertake the analysis presented in this paper. NRL was supported by the National Institute for Health Research (NIHR Post Doctoral Fellowship, Dr. Nicholas Latimer, PDF-2015-08-022) while contributing to this work. He is now supported by Yorkshire Cancer Research (award reference number S406NL). The views expressed in this publication are those of the author(s) and not necessarily those of the NHS, the National Institute for Health Research, the Department of Health or Yorkshire Cancer Research. Helen Bell Gorrod declares that The University of Sheffield has received funding for consultancy work for pharmaceutical companies, which covered the cost of their time spent working on projects. Helen Bell Gorrod received personal consulting fees from PharmaMar, fees for providing training courses on statistical methods to Merck EMD Serono and Pfizer, fees for attending an advisory board meeting and funding to present the work at a conference and has claimed back travel expenses from Merck EMD Serono. Robert Hettle was an employee of PAREXEL International, who received payment for consultancy support to EMD Serono during the conduct of this analysis. Doris Damian is an employee of EMD Serono, Inc. (a business of Merck KGaA, Darmstadt, Germany). Gerard T. Harty is an employee of EMD Serono, Inc. (a business of Merck KGaA, Darmstadt, Germany). Schiffon Wong is an employee of EMD Serono, Inc. (a business of Merck KGaA, Darmstadt, Germany).
Compliance with Ethics Guidelines
CLARITY and the CLARITY Extension were conducted in accordance with the Declaration of Helsinki (1964) and its later amendments [14] and the Good Clinical Practice guidelines in accordance with the International Conference of Harmonisation [15]. The protocols for CLARITY and CLARITY Extension were reviewed and approved by the relevant local review board or ethics committee at each participating study center. Further information has been published previously elsewhere [12]. Due to ethical considerations, patients who received placebo in CLARITY received low-dose cladribine tablets in the extension; thus, no group received placebo in both CLARITY and CLARITY Extension.
Data Availability
The datasets generated during and/or analyzed during the current study are not publicly available because this was a randomized clinical trial but are available from the corresponding author on reasonable request.
About this article
Cite this article
Bell Gorrod, H., Latimer, N.R., Damian, D. et al. Assessing the Long-Term Effectiveness of Cladribine vs. Placebo in the Relapsing-Remitting Multiple Sclerosis CLARITY Randomized Controlled Trial and CLARITY Extension Using Treatment Switching Adjustment Methods. Adv Ther 37, 225–239 (2020). https://doi.org/10.1007/s12325-019-01140-z
Received:

Published:

Issue Date:

DOI: https://doi.org/10.1007/s12325-019-01140-z
Keywords
Adjustment methods

Iterative parameter estimation

Multiple sclerosis

Neurology

Rank-preserving structural failure time model

Time-to-event

Treatment switching