Abstract
Introduction
Characterization of the clinical and economic impact of opioid-related adverse drug events (ORADEs) after total knee arthroplasty (TKA) may guide provider and hospital system approach to managing postoperative pain after TKA. Our analysis quantifies the rate of potential ORADEs after TKA, the impact of potential ORADEs on length of stay (LOS) and hospital revenue, as well as their association with specific patient risk factors and comorbid clinical conditions.
Methods
We conducted a retrospective study using the Centers for Medicare and Medicaid Services administrative database to analyze Medicare discharges involving two knee replacement surgery diagnosis-related groups (DRGs) in order to identify potential ORADEs. The impact of potential ORADEs on mean hospital LOS and hospital revenue was analyzed.
Results
The potential ORADE rate in patients who underwent TKA was 25,523 out of 316,858 records analyzed (8.0%). The mean LOS for patients who experienced a potential ORADE was 1.04 days longer than those without an ORADE. The mean hospital revenue per day with a potential ORADE was $1334 (USD) less than without an ORADE. Potential ORADEs were significantly associated with poor patient outcomes such as pneumonia, septicemia, and shock.
Conclusion
Potential ORADEs in TKA are associated with longer hospitalizations, decreased hospital revenue, and poor patient outcomes. Certain risk factors may predispose patients to experiencing an ORADE, and thus perioperative pain management strategies that reduce the frequency of ORADEs particularly in at-risk patients can improve patient satisfaction and increase hospital revenue following TKAs.
Access options
Buy single article
Instant access to the full article PDF.
US$ 39.95
Tax calculation will be finalised during checkout.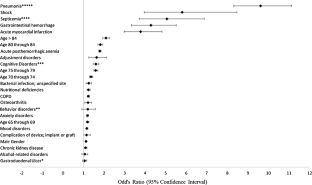 Acknowledgements
Dexur Research and Analytics provided data for this study.
Funding
No funding or sponsorship was received for this study or publication of this article.
Authorship
All named authors meet the International Committee of Medical Journal Editors (ICMJE) criteria for authorship for this article, take responsibility for the integrity of the work as a whole, and have given their approval for this version to be published.
Authorship Contributions
Mark R. Jones and MaryJo E. Kramer contributed equally to this work.
Disclosures
Mark R. Jones, MaryJo E. Kramer, Ethan Brovman, and Sascha Beutler have nothing to disclose. Alan Kaye: member of the journal's Editorial Board. Nikhilesh Rao: Mallinckrodt Pharmaceuticals (Subscription Service). Richard Urman: has received funding for unrelated research from Merck, Mallinckrodt, and Medtronic.
Compliance and Ethics Guidelines
Since LDS data do not contain specific direct identifiers as defined in the Health Insurance Portability and Accountability Act (HIPAA) Privacy Rule, this study was exempted by the institutional review board.
Data Availability
The datasets generated during and/or analyzed during the current study are available from the corresponding author on reasonable request.
About this article
Cite this article
Jones, M.R., Kramer, M.E., Beutler, S.S. et al. The Association Between Potential Opioid-Related Adverse Drug Events and Outcomes in Total Knee Arthroplasty: A Retrospective Study. Adv Ther 37, 200–212 (2020). https://doi.org/10.1007/s12325-019-01122-1
Received:

Published:

Issue Date:
Keywords
Adverse event

Arthroplasty

Complications

Cost

Joint surgery

Opioids

Length of stay

Total knee arthroplasty